Toilet Paper Wedding Gowns and More
Lazies, If I ever run out of my fabric stash, I'm heading to the grocery store for some t-paper. We have a couple of fun finds to share today.
Yo-Yo s Are Here
First, an update from Clover Needlecraft – the new Quick Yo-Yo Makers have arrived and are in the process of shipping to distributors and store owners. Give it another week before you see them in stock at your favorite quilt shop.
Toilet Paper Wedding Dress
From Kathleen Fascinella's Fahion-Incubator blog:
Speaking of wedding gowns, Sally sends a link to something truly weird. Toilet paper wedding gowns. Her friend who sent her the link (Inez Foose) says "When you think about it, one usually wears their gown only once, so why not make it disposable. Ideal for someone who expects a crappy marriage." Ha ha ha ha ha. For those in the throes of task avoidance, the 2007 contest for best gown runs from May 1 to July 31, 2007 so it's not to late to enter.

First place winner. Image from Cheap Chic Weddings.com
Renegade Craft Fair
Michaela Murphy had a nice post over at Be Sew Stylish regarding the Renegade Craft Fair in Hipster Brooklyn:
Renegade took place at McCarren Park Pool. We literally stepped into the pool and found ourselves in a sea of booths filled with all kinds of handmade goodies for us to ohh and ahh over.
Kaye Wood
Kaye Wood recently started a blog here.
Bookmark Challenge
Jen Funk Weber of Funk & Weber Designs is hosting a Bookmark Challenge.
Cool Cuppa Quilt
The fabulous crafty blog Whip Up posted about this cool Coffee Sleeve Quilt by Siohban of the blog Magpie & Cake.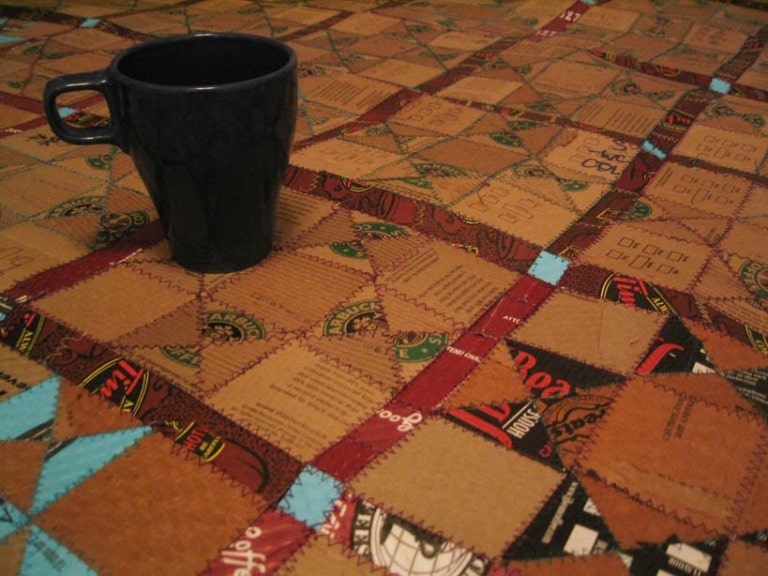 I'll take a cuppa nine-patch venti. Image from Siohban of Magpie & Cake.
Enter To Win
The Great Adorn Giveaway – from Adorn magazine. Enter to win an embellisher. If you haven't had a chance to check out Adorn magazine, pick one up if you can.
New to our blog? Subscribe to get emails so you don't miss a juicy morsel.
Like and share this post with your stitchy friends.
Join me in the Lazy Girl community on Facebook here: Facebook Lazy Girl
Enjoy!
Joan
Facebook Lazy Girl
Pinterest Joan Hawley
Pinterest Lazy Girl Community
Instagram @JoanHawley
Twitter LazyGirlJoan