New Sew-In Labels For Your Bag or Purse Creations
Lazies, I have a new product to share with you today, and a clue for the ones I'll announce next week.
New: Sew-In Labels
Brand new to Lazy Girl Designs is our sew-in label. This is the first item to sport our new logo, too! Thank you to all who posted lovely comments about the new logo!
The sew-in label is due to the requests of the Lazies in my Yahoo group. The Lazies wanted a nice, woven, custom label to sew into their Lazy Girl creations.
They asked, and who am I to argue?
We went through a number of design ideas and options including sew-in, iron-on, different lengths, shape, etc. Going with the majority, we settled on a simple label that can be stitched in place. Ideally, the label is designed for use on the lining of a bag creation. But, you could sew it anywhere.
Here's a close-up of the label


Details
Item #602 'Sew-In Labels'
4 labels to a pack with a suggested retail of $3.
Size: 2 1/2″ wide by 1″ high.
Black with periwinkle double-stitched text.
These just came in last week, so they may not be in stock yet at your favorite store.
Here's a graphic of the packaging front and back, with a label superimposed: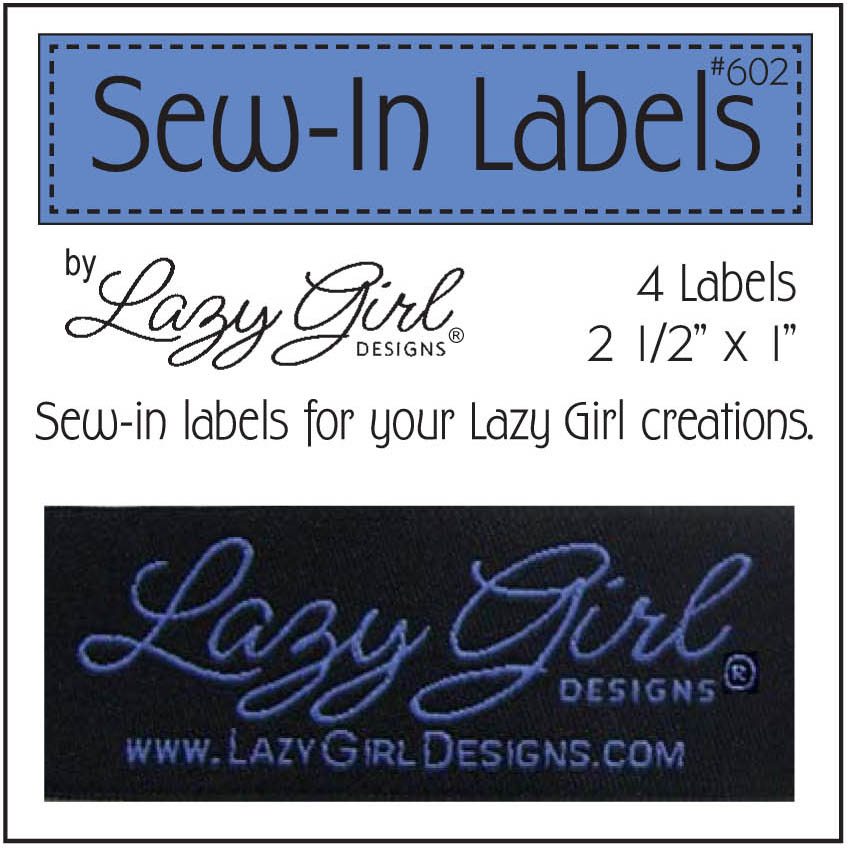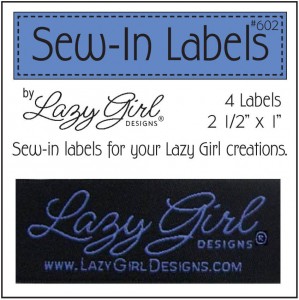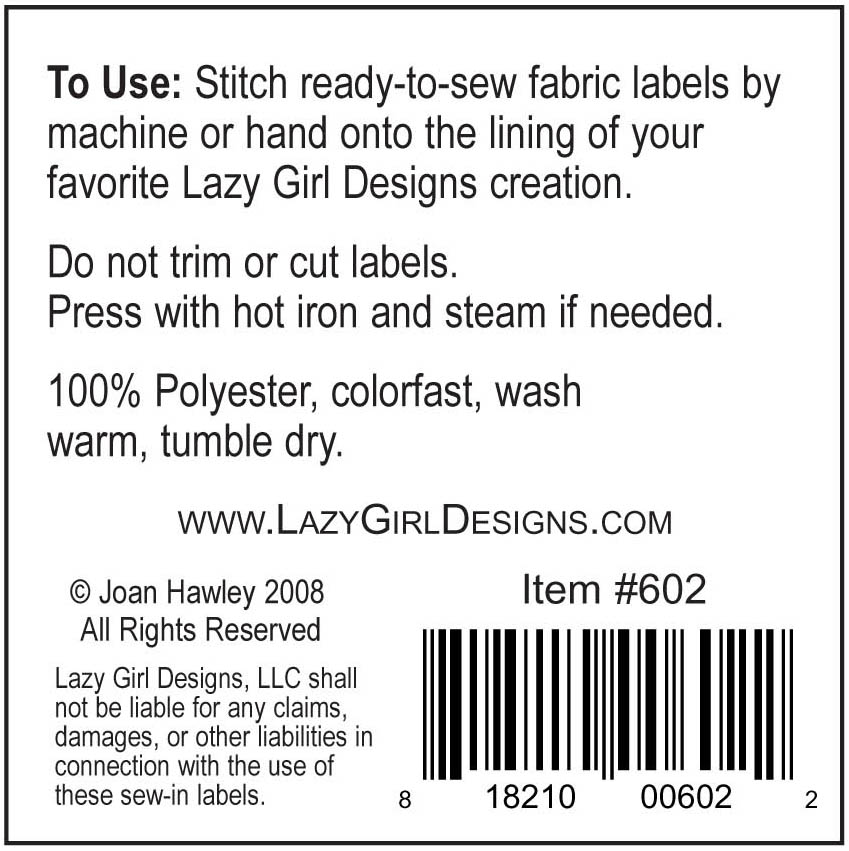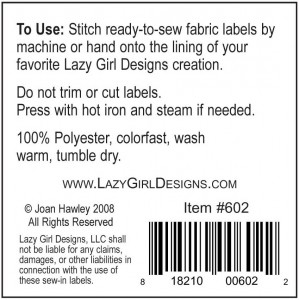 Small and Fun
Compared to the physical size of my patterns and other products, these labels are tiny. They fit inside a 3″ x 3″ zip top plastic bag. Looking at a whole pile of them – they are just about as cute as can be.
Win Some Labels
Post a comment by the end of the day Wednesday May 7, 2008 and I'll draw a name to win a package of the new Sew-In Labels. And if you have any tips for working with sew-in labels, please put those in your comments. Thanks! I'll edit this post with the name of the winner later this week.
More News Next Week
Lazies, I've been working on a new product line for the last five months and I expect to unveil it next week. If you are heading to the International Quilt Market in Portland, OR, this month, ask your favorite distributor to see samples. While I am not attending the show, the new products are. And be sure to check out the 'In The Bag' SchoolHouse session by Susan Fuquay of American Quilt Retailer before the show – she has samples!
You Want Clues?
Well, it's bag-related, handy, and comes in ten colors. It's something that I've wanted for all of my bag-making years. So I finally decided to have them manufactured. Until next week…
Edit 5/8/08 – Winner for drawing
Lazies, Donna from Littleton, CO, was selected to win the Sew-In Labels. Congrats Donna!
Enjoy!
Joan
[tags]custom sewing labels[/tags]