New Press Perfect Boxed Set!
Lazies, So many of you requested a boxed set of the new Press Perfect products that Clover jumped into action and made it happen! Introducing Press Perfect Essentials, 10 Piece Collection, item 9045. The Essentials set is available now!!!! In time for holiday gift giving! Details below.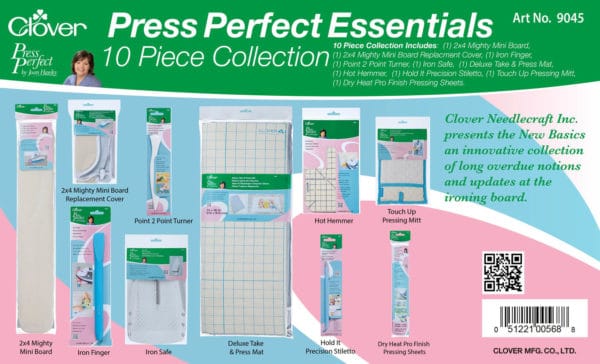 Press Perfect Essentials, item 9045
Press Perfect Essentials
Clover Needlecraft Inc. presents the New Basics, an innovative collection of long overdue updated notions at the ironing board.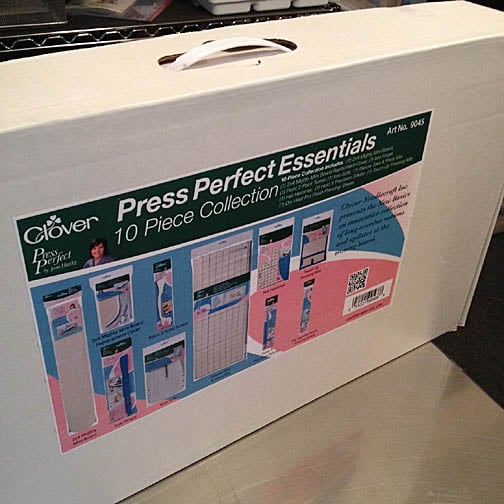 The Essentials come in a smart box with a convenient handle.
Great for storing or carrying your goodies with you.
Look at this big box of beautiful!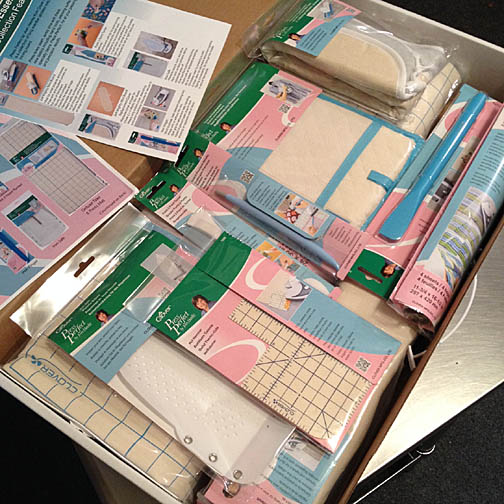 10 Piece Collection Includes:
(1) 2×4 Mighty Mini Board
(1) 2×4 Mighty Mini Board Replacement Cover
(1) Iron Finger
(1) Point 2 Point Turner
(1) Iron Safe
(1) Deluxe Take & Press Mat
(1) Hot Hemmer
(1) Hold It Precision Stiletto
(1) Touch Up Pressing Mitt
(1) Dry Heat Pro Finish Pressing Sheets
List price: $237.70
Do You Have a Favorite?
Well, they are all in there! Whether you can't wait to get you hands on the Hot Hemmer, the Iron Finger, the Hold It Precision Stiletto or others, all ten pieces are in the collection! Waiting to meet you and find a home in your sewing room.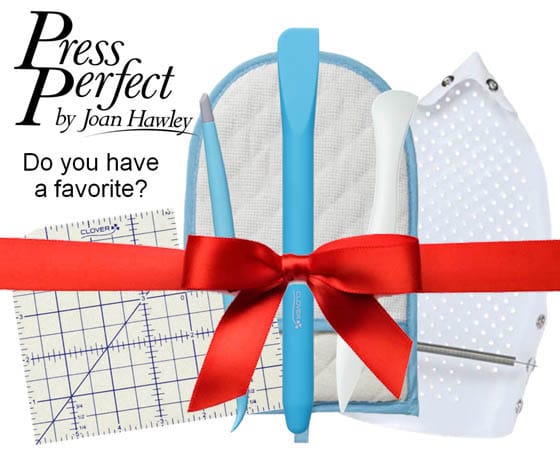 Shhh, Don't Tell!
Psssst, I'll confess, I'm partial to the 2×4 Mighty Mini Board. Don't tell the others! Why is the Mighty Mini so big in my heart? Read all about it in my blog post here. The Mighty Mini is a premier piece in the Press Perfect line. The need for a finishing and detail board like this got the whole thing going.
Where To Buy
The Essentials boxed set is available now through your local quilt shop or you can order online through Clover. Shop owners, contact Clover or call Checker Distributors (item 9045CV isn't on their website yet) to order for your shop.
Want To Know More?
Browse the Press Perfect products at our website to read more about each item.
Enjoy!
Joan