Make a Bag Worth Bragging About!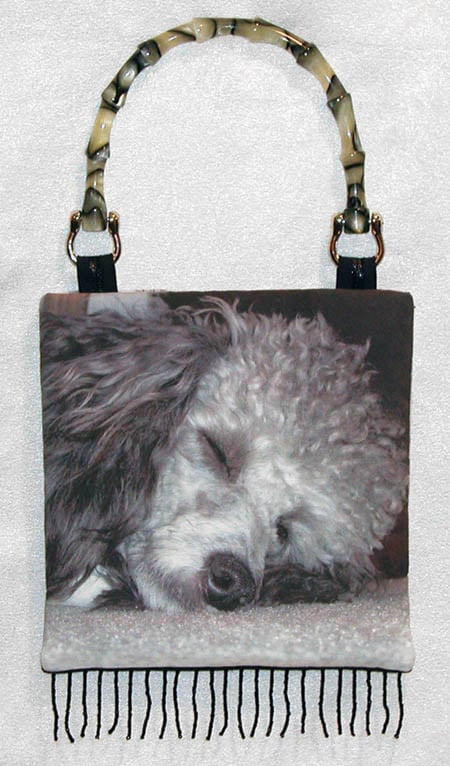 I love this bag!  This is my 'doggie bag', which I made using fabric sheets and my inkjet printer. Claim the free printable tutorial below!
Have you considered making a little handbag of photo treasures? It's easier than you might think, it's a great way to carry photos with you, and the bag is sure to be a conversation starter where ever you go. I used pictures of my dog Honey and her sister Sweetie for this example. Sweetie lives next door and the girls get together for play dates.  This is Honey taking a snooze.
I used one of our free project sheets that work with a number of our designs. I've prepared an idea sheet to use with fabric printer sheets and Microsoft Word to create your Brag Bag.
I used our Katy Bags pattern #121 and letter-sized cotton fabric printer sheets. The project sheet includes directions on how to use the text box function in Microsoft Word to locate photos where you like.  You can use any bag design and incorporate your own treasures into the construction.
I decided to make this project to take with me for my trip to Tokyo, Japan, in May 2005.  When I had visited the year before, a number of people shared pictures of their pets via their cell phone camera. I decided that carrying Honey and Sweetie around with me would be a great ice-breaker – and it was.
On one evening, Carolyn and I went shopping at the mall. We walked into a store called 'The Dog Depot' and I held-up my purse for the staff to see. I was accepted as a dog-lover immediately.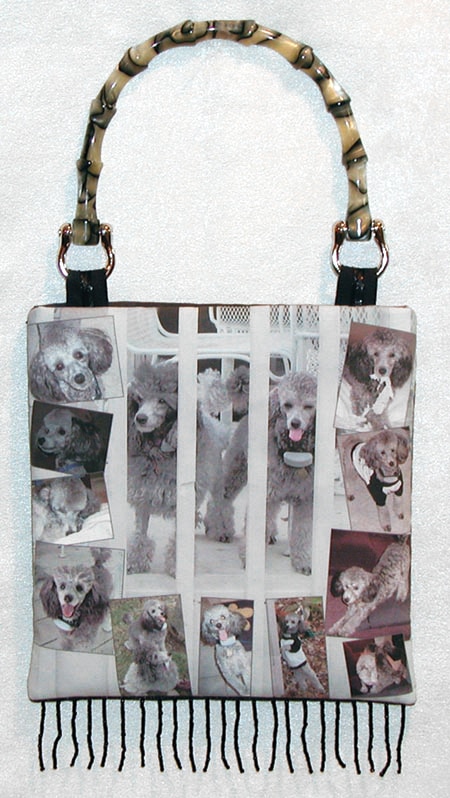 Here's the back of the doggie bag. I had so many pictures that it was hard to choose.  So I used a bunch of little pictures.  I love the big picture in the middle of Honey and Sweetie sticking their noses between the rails of the deck at Sweetie's house. Sweetie is on the left, Honey is sticking her tongue out. I placed small pictures of the girls all around the big center picture.
To get started, I first made any adjustments to the photos in my photo program.  I resized, cropped, rotated, etc.  Then I used the text box function to locate photos all over the print area.
The free printable tutorial idea sheet includes step-by-step directions for working with Microsoft Word text boxes for photo placement. The handle shown is one of a pair offered by Clover, item #6333.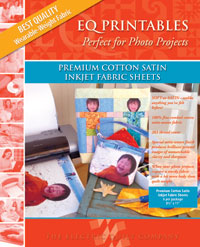 I really like the feel of the cotton satin finish injet fabric sheets from The Electric Quilt Company. Here's what the package looks like. They have a fabulous finish and a little more body than your basic cotton sheet. This will give your project a 'richness' with fabulous drape. I especially like the plastic backing which pulls off easily in one try and does not tear like the paper backing on other products.  I've had problems with the paper back ripping off in pieces, leaving little shards that are difficult to remove.
The cotton satin printer sheets from EQ are item #P-CS811, six sheets to a pack with good instructions.
Enjoy!
Joan