How To Embellish With Fusible Thread
Lazies, Here's a creative and easy way to use a quilt design to embellish a purse. Claim the free printable tutorial below.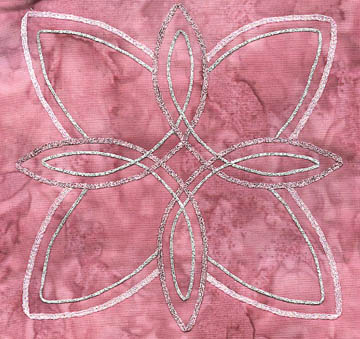 Fusible decorative threads embellish this quilt pattern.
Quilt designs and stencils are guides for thread embellishments in the form of quilting. Although we usually quilt along these design lines, they can be used as a guide for any number of other embellishment techniques.
In this example, Jacqui Smith, of Hantex Ltd, used two of Mrs. K's Iron-on threads from Kreinik to embellish our Katy Bags (LGD121) design.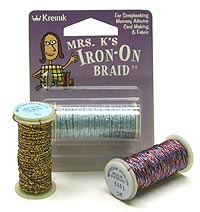 Items Needed:
– Katy Bags pattern #121 from Lazy Girl Designs.
– Fabrics and supplies as listed on Katy Bags for one purse.
– Quilt design and marking pencil to transfer design.
– Mrs. K's Iron-On threads in your choice of color and types.
– Clover Mini Iron.
– Applique (or other non-stick) pressing sheet.
How-To:
– Construct the Katy Bags to 'Step 7 – Embellish to Your Heart's Content!'.
– Once you have found the embellishment zone, transfer a quilt design to the cover fabric.
– If you like, hold the project in place while you work by pinning it to your ironing board while you apply the iron-on threads.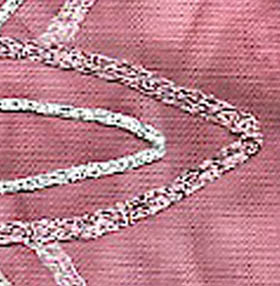 Notice where threads start and stop. Notice how threads
fold back on themselves to make sharp turns.
– Follow the quilt design and fuse the decorative threads to your project. Take care to ensure that the ends of the threads are neatly tucked under an overlapping section. If you make a mistake, just re-iron and peel away while warm, re-position and iron again.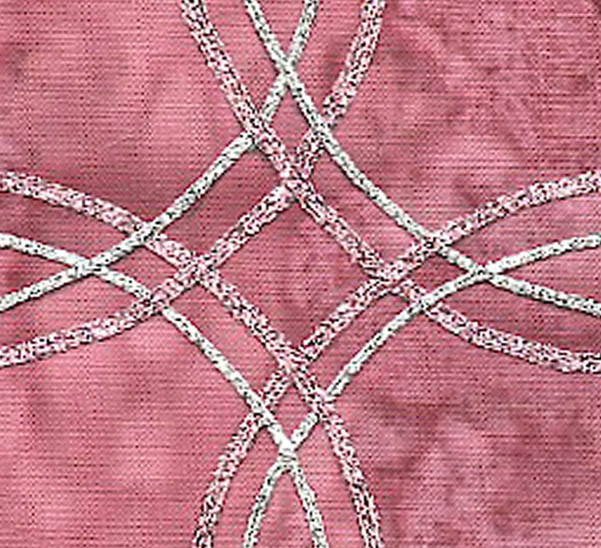 Threads overlap and fuse in place.
– Mrs. K's Iron-On threads are fusible on both sides so you need to cover the thread with a non-stick pressing sheet while you fuse it in place. Because these threads are fusible on both sides, you can fold the threads for sharp design corners. Hand wash in cold water or dry clean. If threads come loose, fuse again to secure.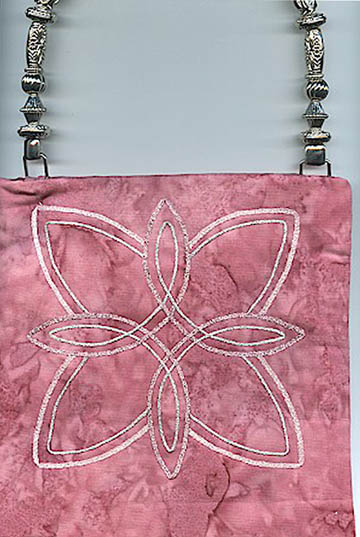 Finished Katy Bags design embellished with fusible threads.
Step By Step:
Kreinik offers a fabulous step by step tutorial to using their fusible threads at their website here.
Other Ideas:
– Use quilt designs as the guide for any embellishment technique such as decorative stitches, fabric paint, fibers, bead work, buttons, chenille strips, or applique.
Thank you Jacqui for sharing your beautiful project with us.
Enjoy!
Joan
Download this Freebie
Enter your email address below to instantly download this freebie now!