The Essential Supplies for Stiff Stuff Crafts Part 2
Lazies, I have a few more supplies to tell you about for working with our new Girls: Button Boats, Prezzies, Tray Chic, and Gifty Card Holders. I reviewed marking tools in the previous post here. These crafty projects are quick and simple and use just a few goodies. In this post: interfacing, buttons, ties, rulers, needles, and tape.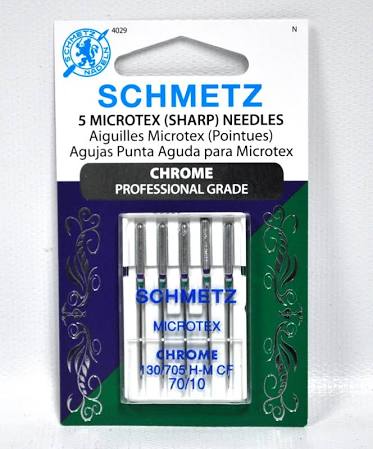 Schmetz Chrome Professional Grade needles, Microtex size 70/10
Stiff Stuff Craft Patterns
Here are the new patterns, all based on 10″ squares. All four use the same basic construction and supplies. Here's a link if you missed their announcement.
Interfacings
I use three of my Lazy Girl Interfacing products for all of these projects.
– Stiff Stuff firm sew-in interfacing is the structure for our projects.
– Fusi-Bond Lite is the adhesive to hold fabrics to the Stiff Stuff.
– Slicker laminates your paper templates.
Stiff Stuff, available in pre-cut squares or yardage on the bolt:
Pre-cut 10″ squares SLG107SQ
20″ x 10 yard bolt SLG107
20″ x 20 yard bolt SLG10720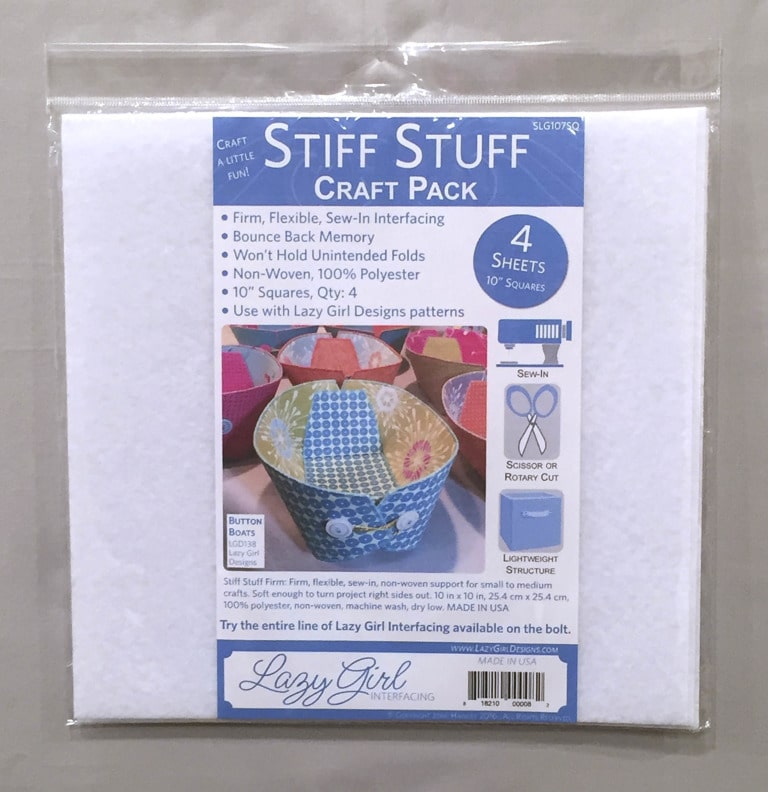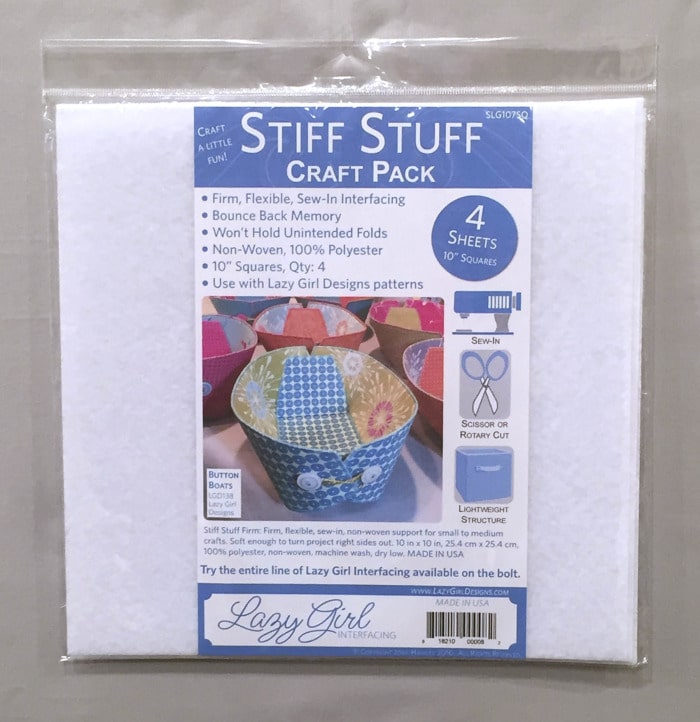 Fusi-Bond Lite fusible web 17″ x 20 yard bolt SLG101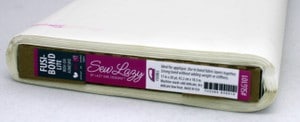 Slicker Iron-On Vinyl
Each of the patterns contains project templates. You'll need to trace the template shape onto paper or template plastic. I recommend tracing onto paper then using my Slicker to 'laminate' both sides of the paper and trim. See my handy tutorial here: Slickest Way To Make Templates
Available in 17″ x 10 yard on the bolt SLG102

Buttons
I love buttons. Three of the projects use buttons for closures, without button holes! Check out my tutorial for easily sewing a button on my machine here: Button-ease Tutorial
Just Another Button Company has come to the rescue with perfectly packaged buttons for these patterns. One Snack Pack of 8 buttons in two sizes and finishes is enough to make all the patterns. Sweet!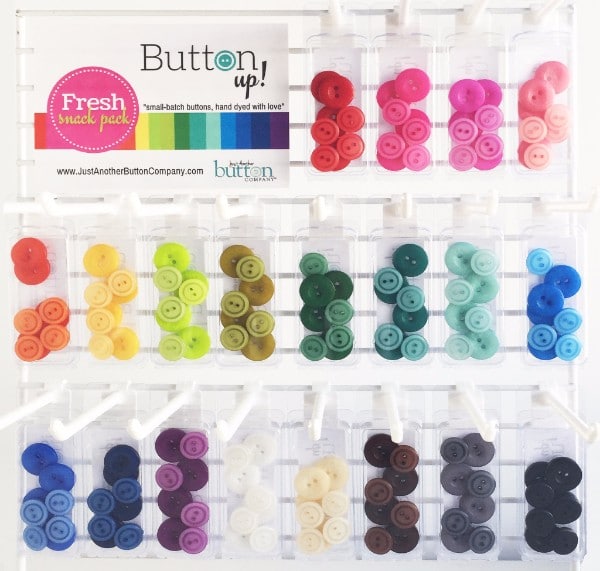 Embroidery Floss, Yarn, Ribbon for Ties
Closures are made with buttons and ties. I love the size #3 pearl cotton embroidery floss from Weeks Dye Works for ties. I've also used baker's twine, yarn, and narrow ribbon for ties.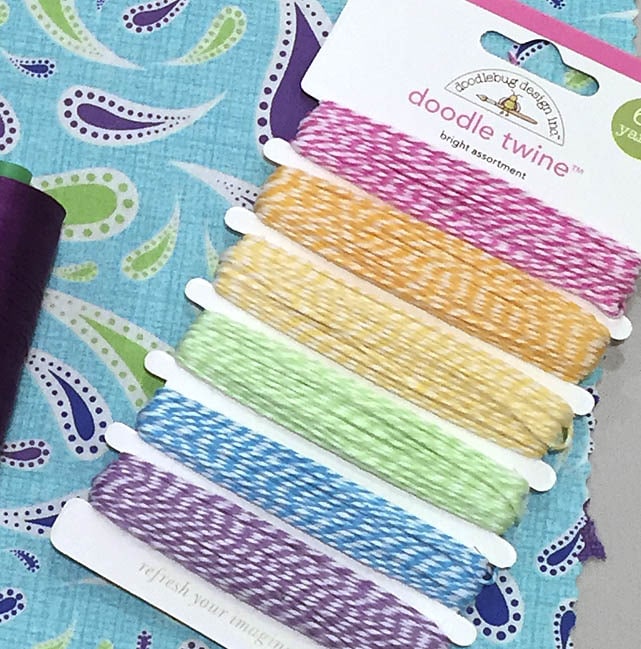 Rulers
All of these projects are based on 10″ squares. So smaller rulers make sense here. I have two to recommend. A small rectangular ruler and a square ruler. Both of the ones I use are from Creative Grids. The square ruler is nice if you are cutting fabric from yardage or fat quarters. The small ruler is nice for trimming or making small cuts.
CGR312 Rectangle 3″ x 12 1/2″
CGR10 Square 10 1/2″ x 10 1/2″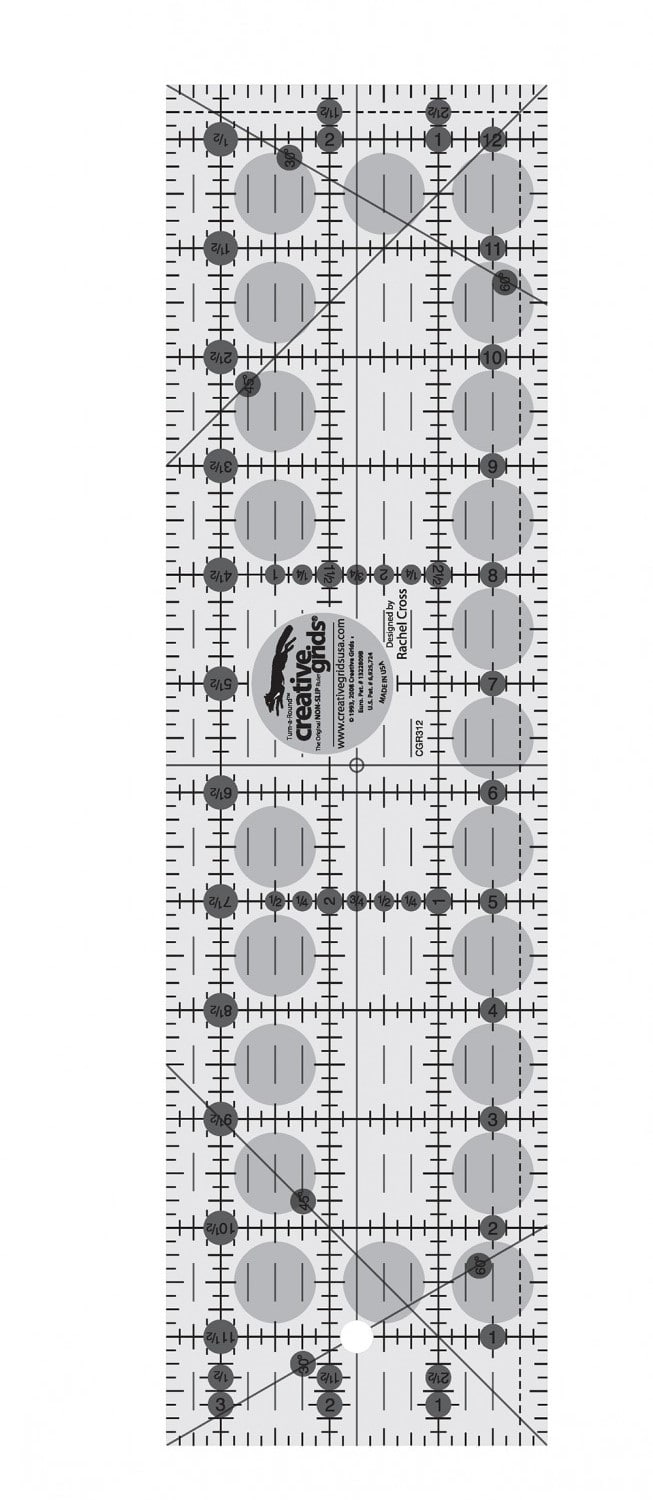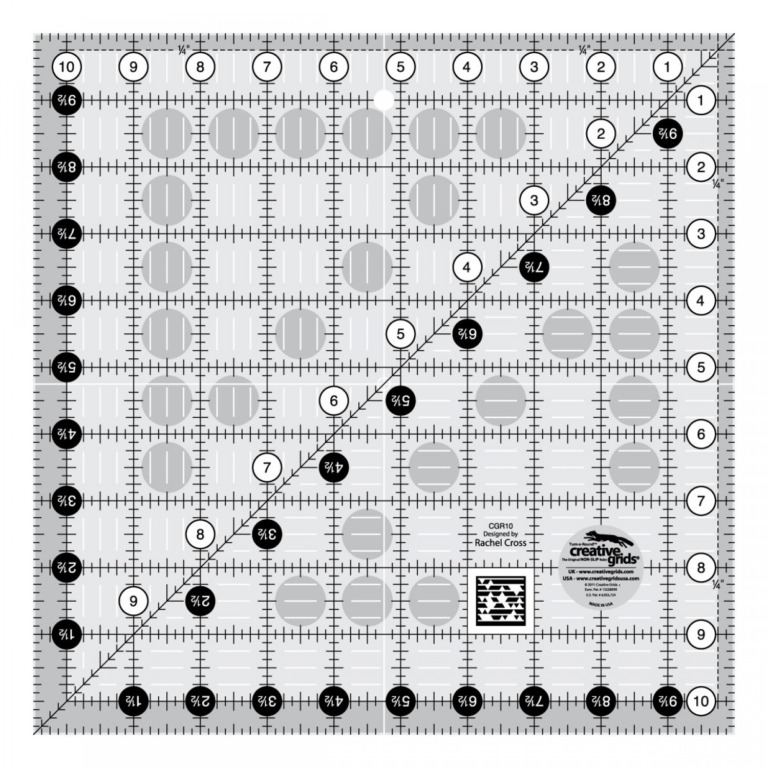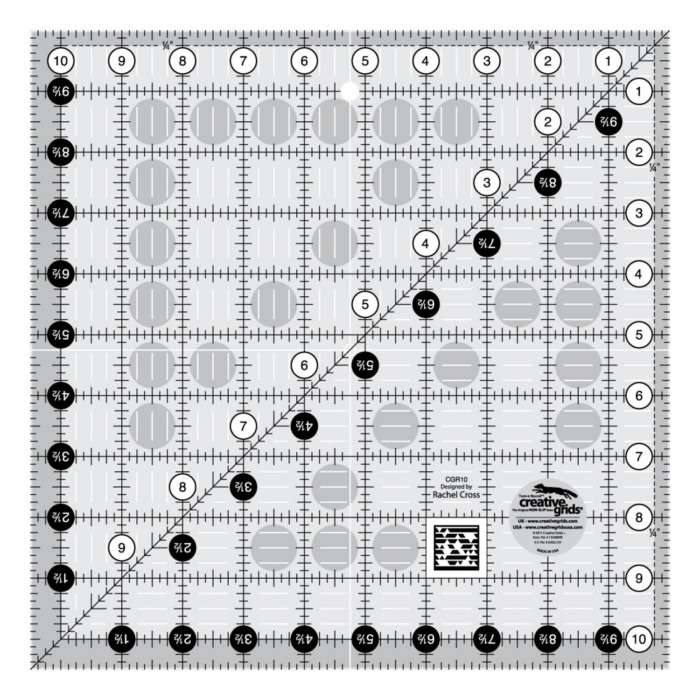 Sewing Machine Needles
All of these projects include stitching through a couple layers of fusible web, which could create some build-up on your machine needle. This happened to me with regular sewing machine needles. The build-up did not interfere, or create problems. But I switched to the new Chrome Professional Grade needles from Schmetz and saw a dramatic reduction in build-up on the needle. Wow!
Today's sewing machines stitch faster than ever. At approximately 1,000 stitches a minute, a machine needle can heat up due to the friction of stitching at that pace. A warm needle can cause any fusible in your project to warm/melt a little and make it possible to attach to the needle, causing some build up of adhesive and fibers.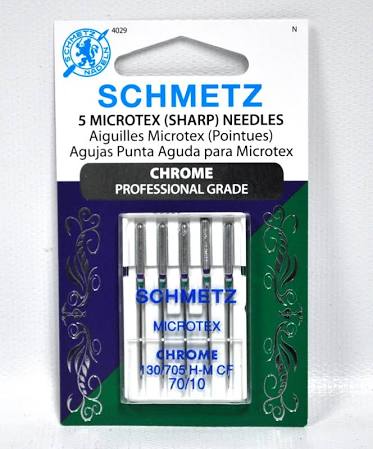 Chrome Professional Grade Microtex size 70/10
The new Chrome Professional Grade Schmetz needles were dramatically better at preventing build-up. I've made a bunch of our new designs and I only saw a little build-up while working on one project – I might not have let the adhesive cool and cure before stitching. If you run into issues, remember to let the adhesive in your project cool completely, and you can stitch more slowly.
I worked with the size 70/10 Microtex needles. Look for the distinctive coloring on the package. The Chrome Professional Grade have two colors representing the type (Microtex) and the size (70/10).
Tape
Yes, simple desk tape, such as Scotch brand. I use it instead of pins or clips for all of these projects. We saw how I used it to stabilize buttons when sewing them on by machine. For Button Boats, I need what I call 'flat pins', which is where the tape comes in. If I need to secure something in the middle of a project and I don't want the distortion of pins lifting the project – I go for the tape every time.
Talk To Me
What do you think? Are you ready for some crafty, fusi, stitchy fun?
Please like and share this post with your stitchy friends. Join the Lazy Girl community on Facebook here: Facebook Lazy Girl
Enjoy!
Joan
Note: This post contains Amazon affiliate links. I make a commission when you order items through those links.
Instagram @JoanHawley
Facebook Lazy Girl
Craftsy My Zipper Classes
Pinterest Joan Hawley
Twitter LazyGirlJoan
Save
Save
Save
Save
Save
Save
Save
Save
Save
Save
Save
Save
Save
Save
Save
Save
Save
Save
Save
Save
Save
Save
Save
Save
Save
Save
Save
Save
Save
Save
Save
Save
Save
Save
Save
Save
Save
Save
Save
Save