Video Tutorial: No-Strap Face Mask For Haircuts
Video tutorial: No strap face mask for hair cuts.
Lazies, I want a face mask option with no straps or ear loops to wear for haircut appointments. I couldn't find a strapless face mask, so I designed one. This quick and easy disposable no-strap face mask means there won't be anything coming between my stylist's sheers and my ears when I get my hair cut. Watch the video tutorial, then grab your FREE printable tutorial (valued at $9.95) below! Bonus – Don't miss my personal tips for getting a haircut later in the post.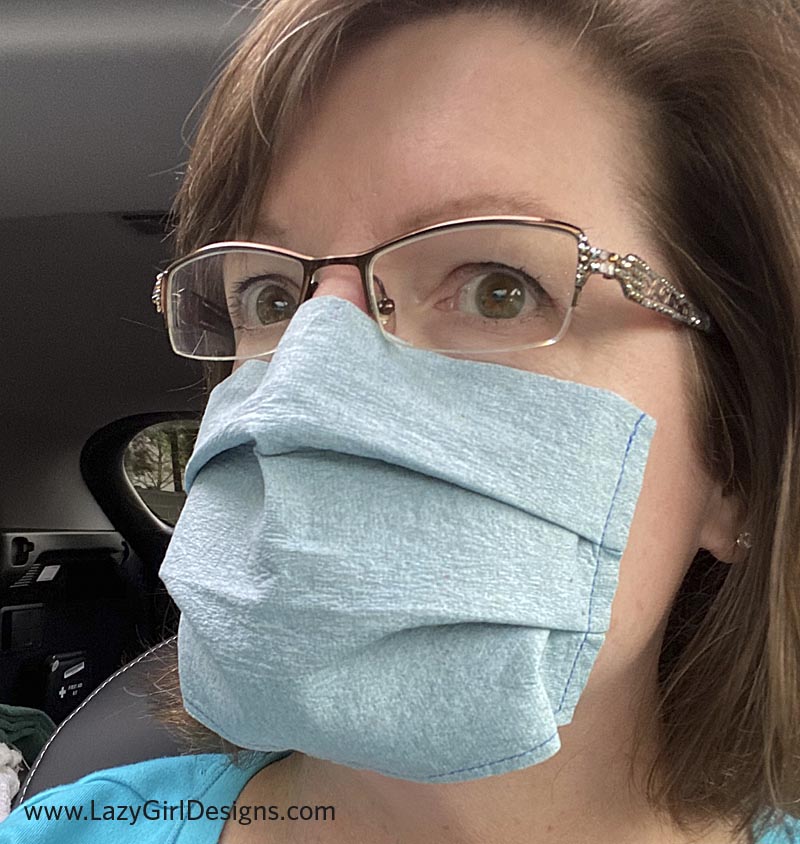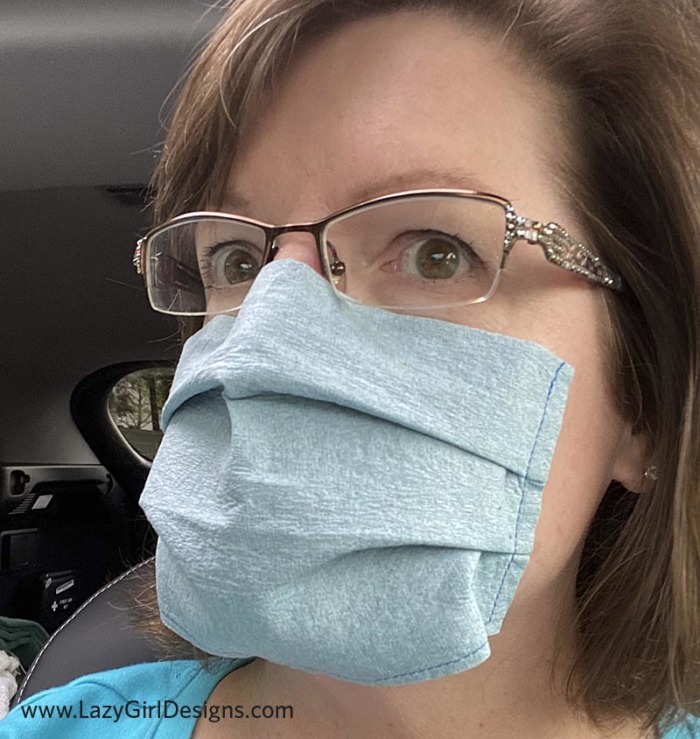 Notice there are no ear loops or straps?
Make a disposable face mask to use at the hair salon.
NOTE: Lazy Girl Designs makes no medical claims regarding the effectiveness of the information and ideas included in this post. Do your research and use your best judgment.
Disposable Shop Towel No-Strap Face Mask
I picked up a roll of blue mechanic's shop towels which rated well for filtration after seeing them in an article (supplies and article links at end of the post). There were two brands that rated well in filter tests.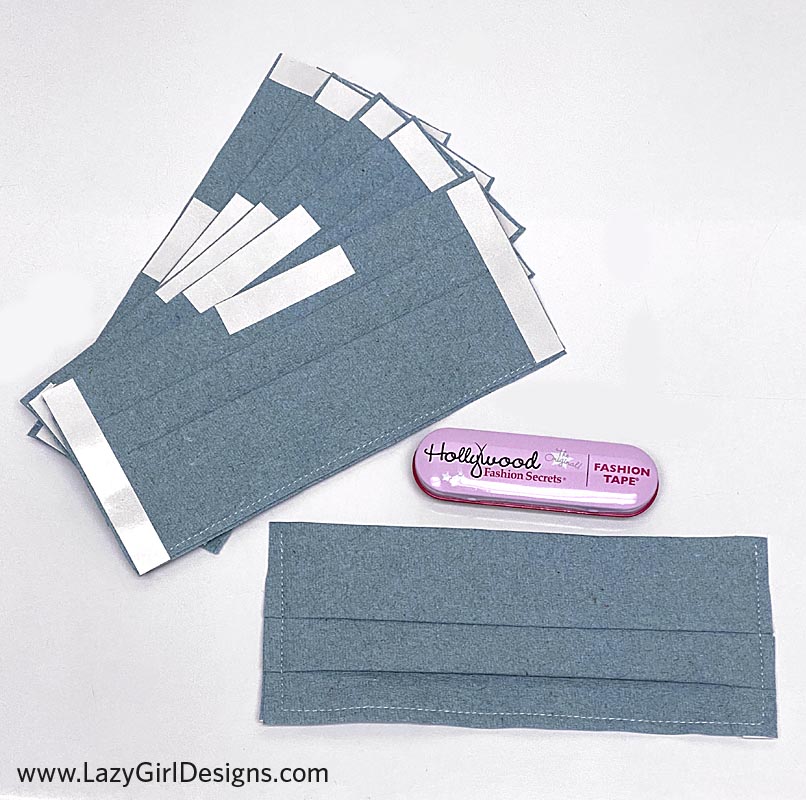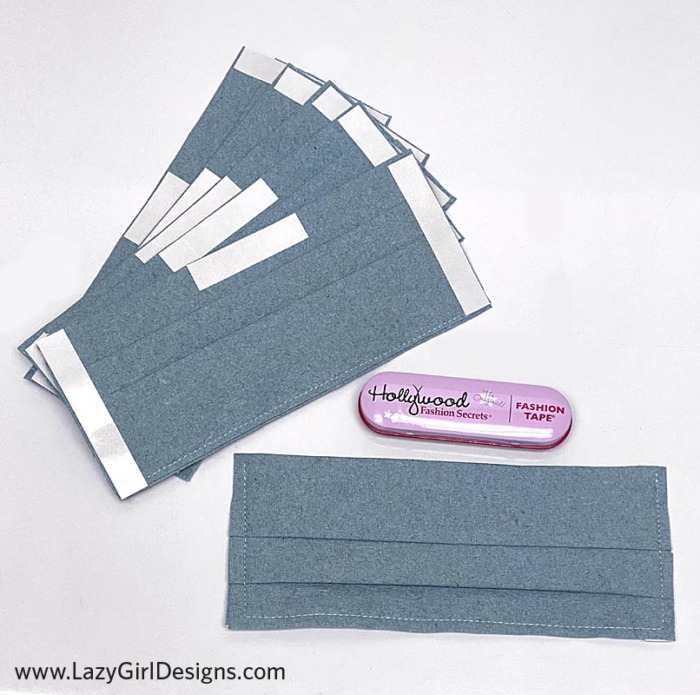 Make a bunch of disposable face masks with
mechanic's shop towels and adhesive fashion tape.
Perfect for getting your hair cut.
What is Fashion Tape
Double-sided fashion tape is the sticky stuff used to hold clothing in place, like keeping your swimsuit from going astray while competing in a beauty pageant.
Let me tell you, this stuff is sticky! I travel with fashion tape and use it to hold window drapes together to keep the room dark at night.
Since I already had some on hand, it was a natural option to use with these blue shop towels to hold a no-strap face mask in place.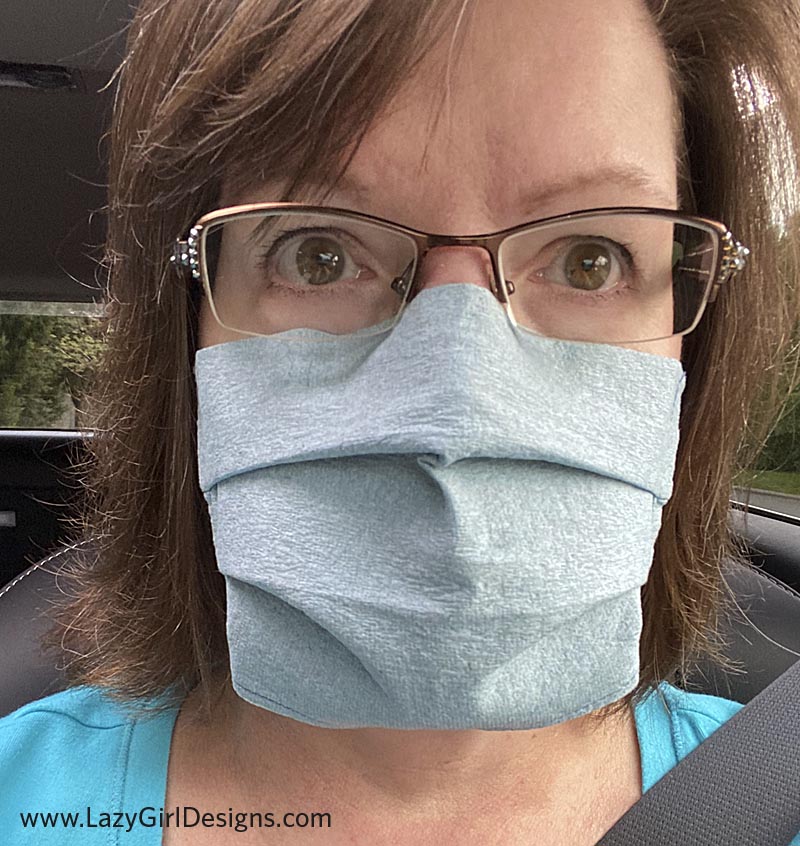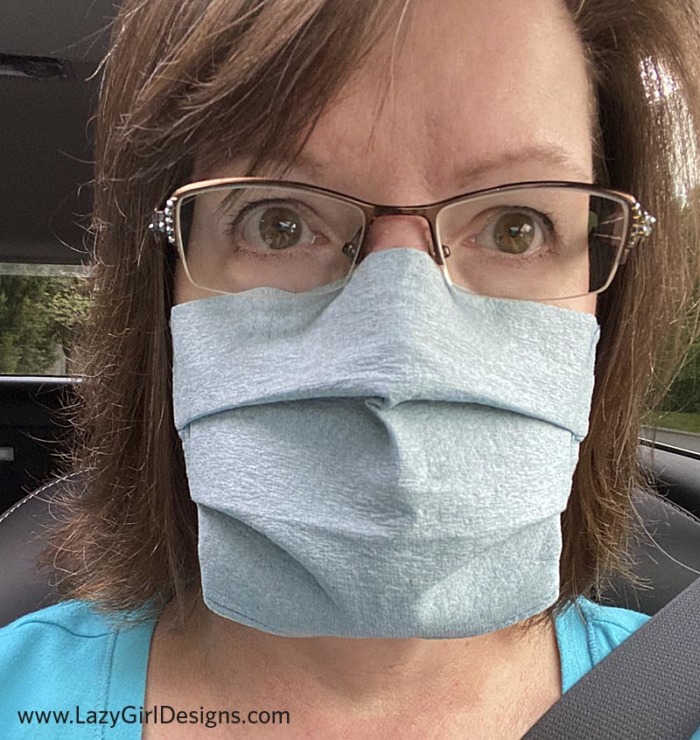 I used fashion tape around the edges of this disposable face mask
for a good seal that won't fog my glasses and holds the mask in place
with NO EAR LOOPS OR TIES.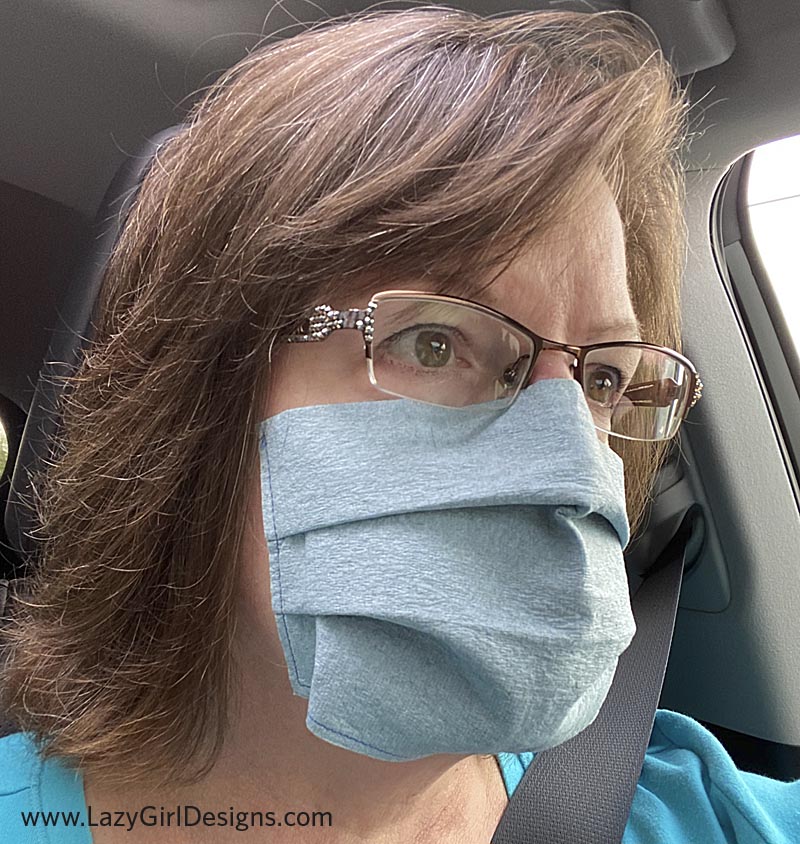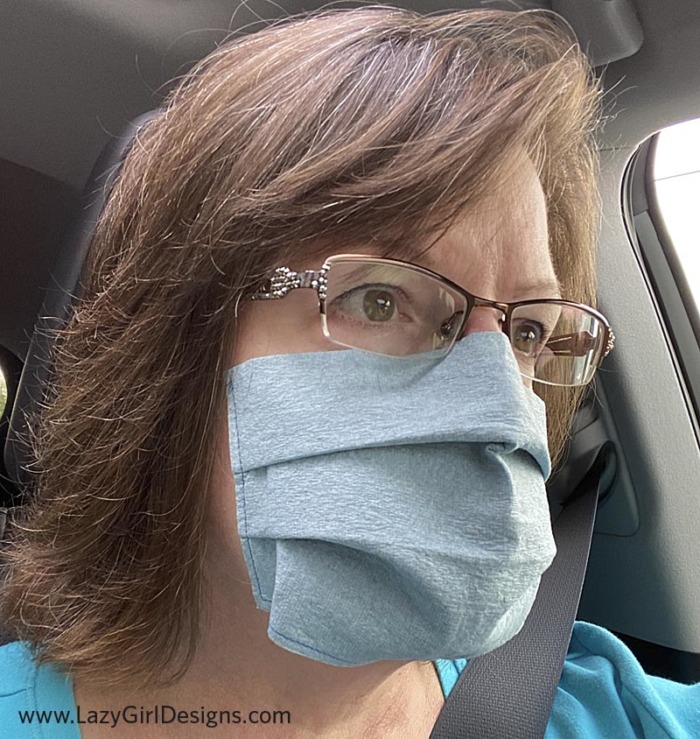 This mask was comfortable to wear for hours.
It stayed out of the way during my haircut appointment.
Supplies to Make Disposable Strapless Face Mask
Truly, these are disposable. Make a practice one and see how it fits, then make any adjustments necessary. Then make a few ahead of time and keep them handy just in case. Remember to grab your FREE printable tutorial (valued at $9.95) below.
Blue Shop Towels
Fashion Tape
Sewing Machine or Stapler
Cutting Tools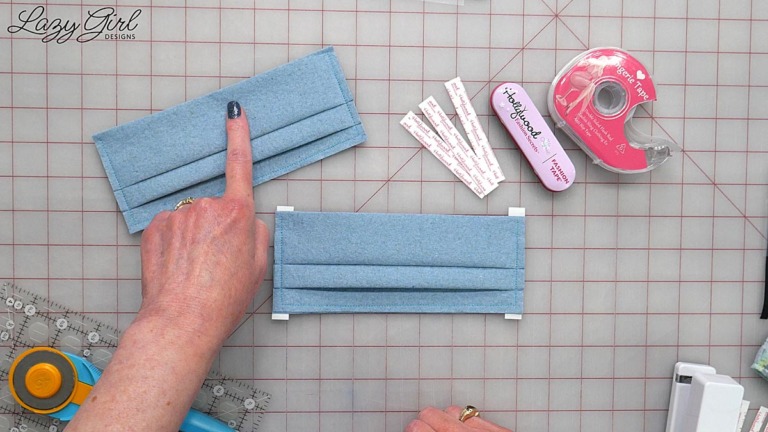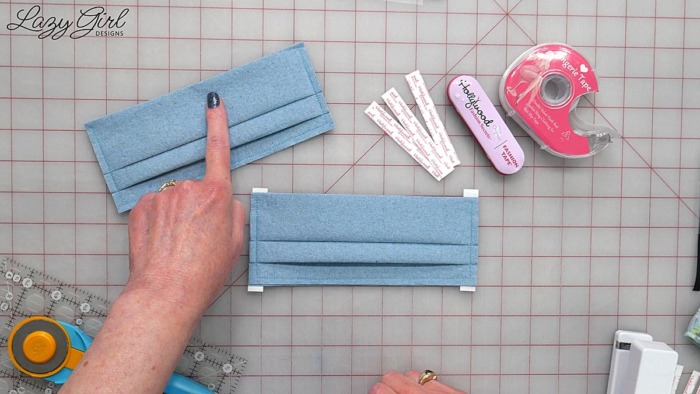 Make a simple pleated face mask from
blue shop towels and
double-sided fashion tape.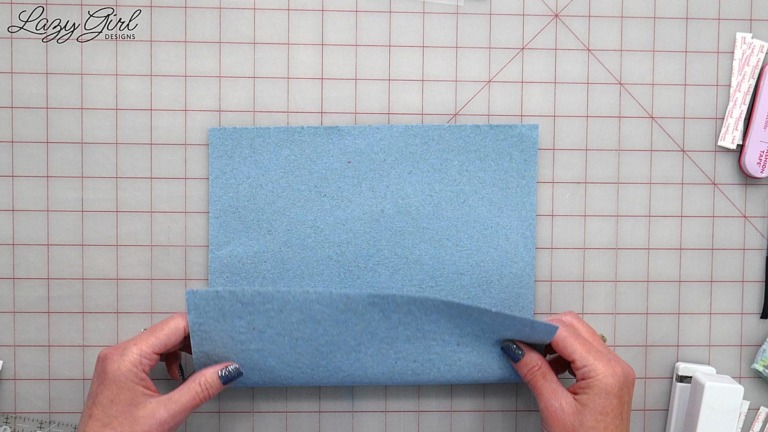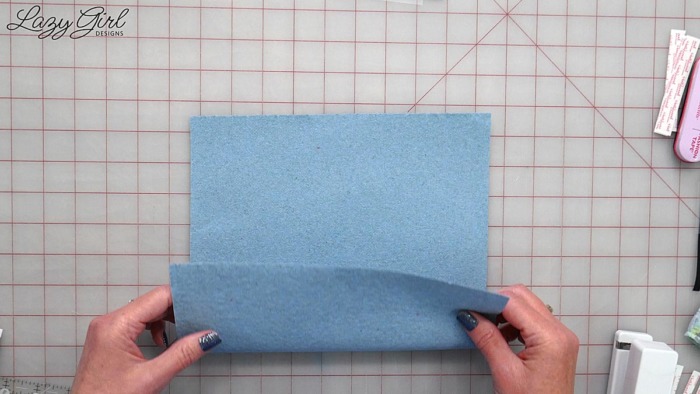 The towels are 10″ by 12″.
Fold in half to measure 10″ wide x 6″ tall.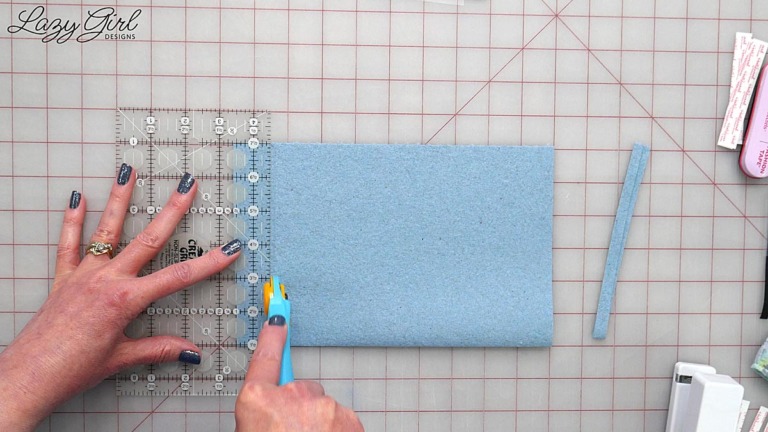 Trim to 7 1/2″ wide along the fold and 6″ tall.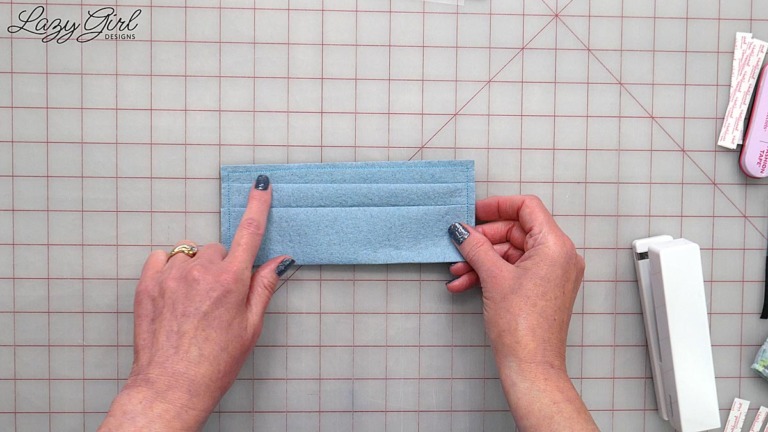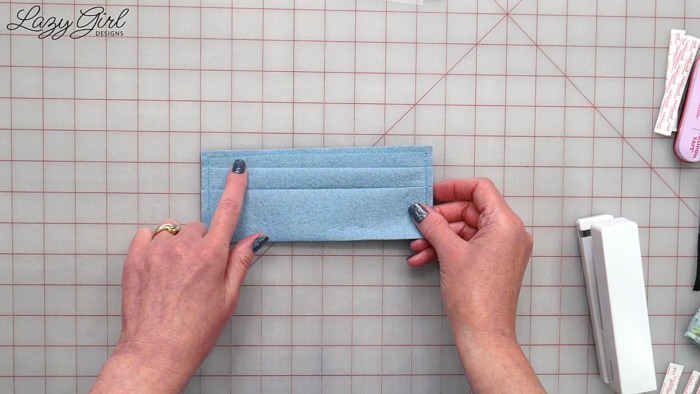 Add two pleats and press with your hands.
Stitch the pleats and the long open edge, or use a stapler to staple the pleats.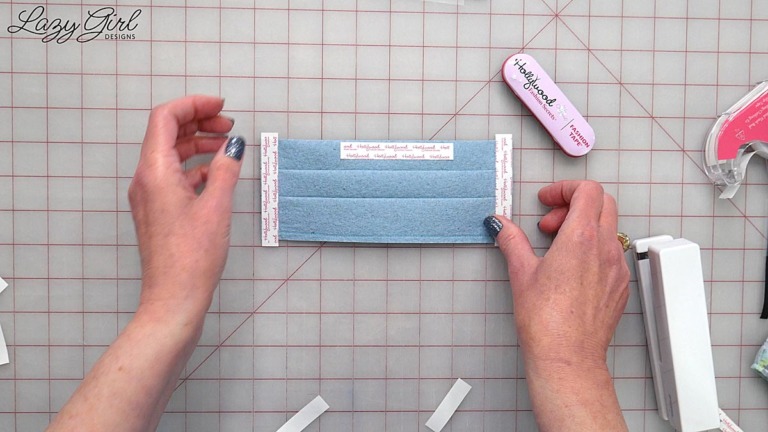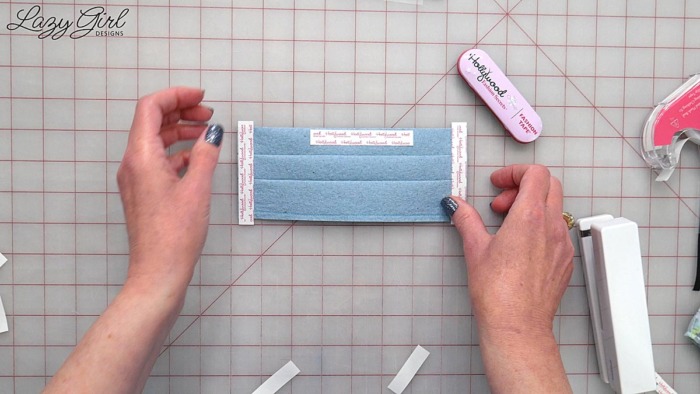 Center a piece of fashion tape along the top fold.
Add pieces along both side edges.
Get the free printable tutorial below.
Subscribe Now to get news, updates, and exclusive content from Joan.
Considerations For Making and Using No-Strap Adhesive Face Mask
Is your face oily/dirty? That may affect the adhesive bond.
Pre-test the towels and tape for sensitivities or allergies.
Do you have some delicate hair at the side of my face toward your ears? I found out the hard way that I do – or at least I did before removing a mask with the fashion tape.
The fashion tape may be too strong for thin, delicate, or older skin. Do a test and see what you think. I used a complete tape strip that was a half-inch wide. If that's too much, cut the strip to 1/4″ or 1/8″ wide. The different tape brands have different strength adhesive, so try another brand. Again, do a test mask to see what works best for you.
I applied fashion tape across the entire top edge of the mask for a first test run.
I also added a short piece of tape to hold the mask under my chinny-chin-chin.
No-Strap Fabric Face Mask
Another idea is to use the adhesive strips on a regular fabric face mask. Either make some strapless fabric masks that can be re-used, or use tape on your regular fabric mask and fold the ties/loops to the lining. Remember to remove the fashion tape before washing the fabric mask.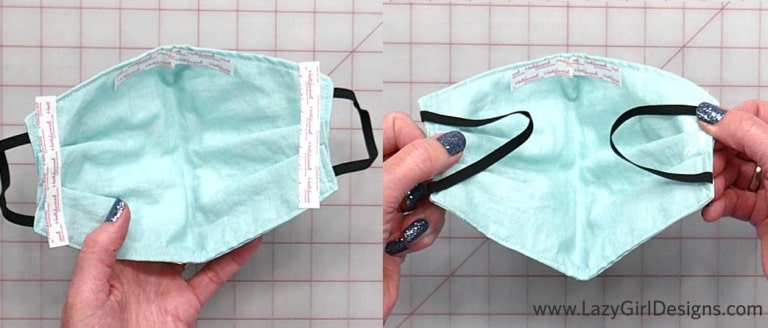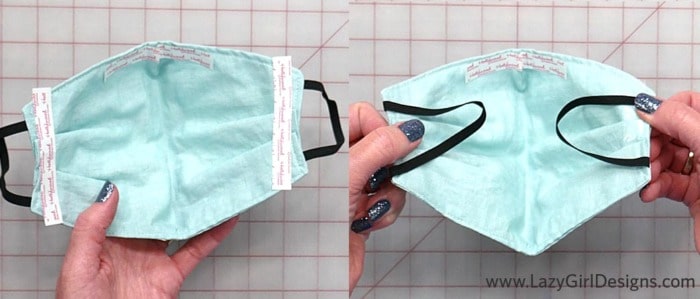 Use fashion tape on a fabric face mask.
Fold the ear loops to the lining and stick to the fashion tape.
Shown is the A.B. Face Mask by a Nurse made with ear loops and no binding.
How To Apply The Adhesive Face Mask
The end of the video tutorial shows how I apply the no-strap adhesive disposable paper towel face mask:
Make and apply a test mask to see what works best for you.
Wash your hands before handling and putting a face mask on.
Remove the paper liners from the fashion tape.
Center the mask over your nose and press in place.
Smoothing along the top edge under your eyes.
Then place the side edges against your cheeks and press in place.
Finally, pull the bottom edge of the mask at the center and pull down to cover your chin.
Be gentle in removing the mask. The fashion tape is sticky and it might be sensitive to pull off along your nose and cheeks.
Throw the mask away then wash your hands.
This post contains affiliate links. I may make a commission when you buy through these links at no additional cost to you.
Supplies: Blue Mechanic's Shop Towels and Fashion Tape
I like Hollywood Fashion Tape. It's available in strips or on the roll.

Subscribe Now to get news, updates, and exclusive content from Joan.
Here are the shop towels I use. ToolBox Shop Towels


Article referencing the testing of blue shop towels for filtering at Business Insider.
Remember to grab your FREE printable tutorial (valued at $9.95) below.
More Face Mask Posts and Lazy Girl Tutorials:
Easy No-Sew Face Mask Hack for Adjustable Ear Loops
Face mask pattern recommendations
More Lazy Girl Tutorials and Hacks
Bonus Tips When Getting A Haircut
1. Get a Dry Cut – My big secret is that I get a dry haircut. I don't have my hair washed during the appointment. Best of all, it keeps my hair appointments short, to about 15 minutes.
2. Wash and Style Right Before You Go – I arrive with freshly styled hair which shows the stylist what I want and how my hair behaves when I style it. I can quickly point out any problem areas.
3. Get a Cut Outside in the Fresh Air – Due to concerns about catching something, I asked my stylist to put a chair outside (or open windows/doors for cross-flow) and cut my hair outside of the salon. He obliged. For my recent hair appointment, I got my hair cut on a beautiful warm day, outside in the sun while wearing my no-strap disposable face mask.
Here's My Protocol When I Come Home From An Outing:
Shoes stay outside the house and are sprayed with a disinfectant spray
All clothes go in the washing machine
Remove disposable mask and throw away, wash hands
Blow nose, shower, gargle with mouthwash
Follow my Pinterest board for Face Surgical Masks, Scrub Caps, Hospital Gowns for quick links to projects I like.
That's Pinterest-ing!
Follow me on Pinterest and pin this post to your Pinterest boards.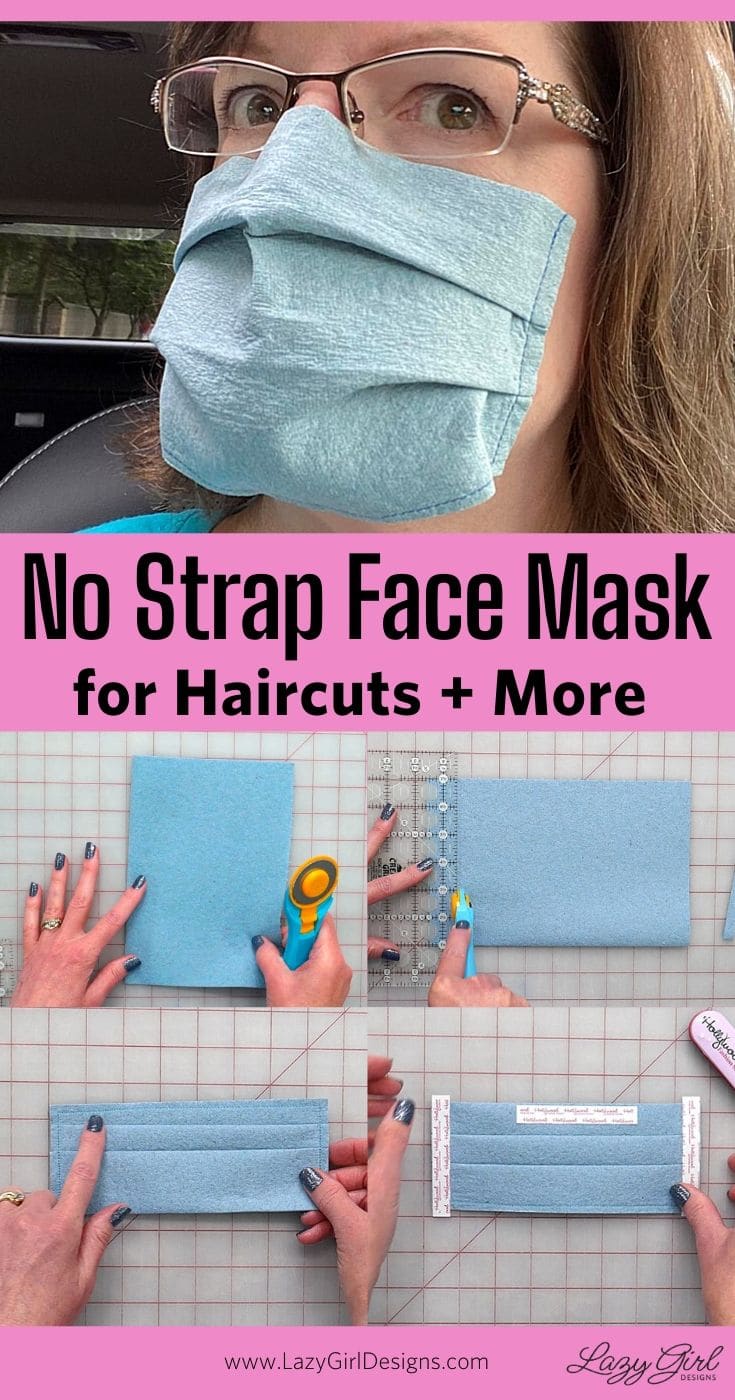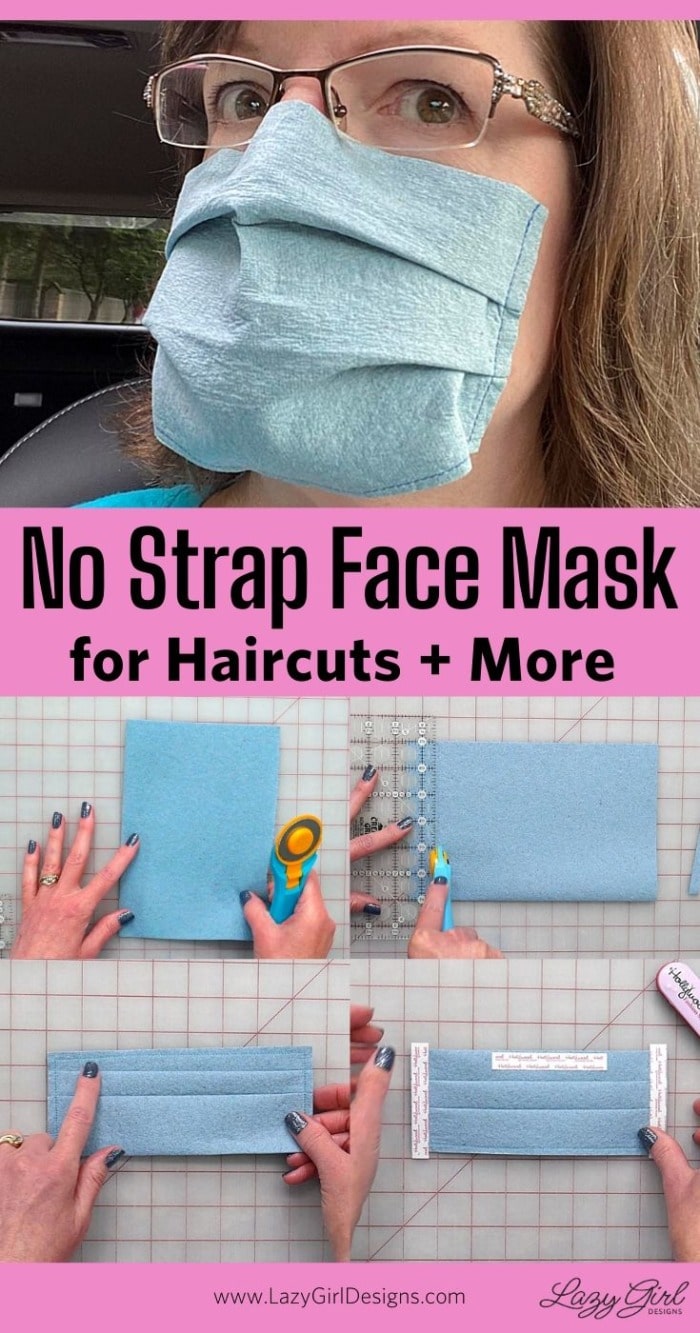 Subscribe Now to get news, updates, and exclusive content from Joan.
Enjoy!
Joan
Joan's Sewing Group | Pinterest
Like and share this post with your stitchy friends.
Download this Freebie
Enter your email address below to instantly download this freebie now!