Tutorial: Easy Pillow Case With Contrasting Hem
If you're new here, welcome to Lazy Girl Designs blog. If you'd like to read about making your own purse, zipper tips, tutorials, and sewing resources on a regular basis, please consider subscribing to the RSS feed. Thanks for visiting!
Lazies, I have a quick and easy way to make a pillow case in a snap. I know, it's already an easy project. How much easier could it get? Well, let's see.
Here's my finished pillow case. I made this for my nephew who loves the Tom and Jerry cartoon. Fabrics by Quilting Treasures. This project is great for cotton novelty and large scale prints.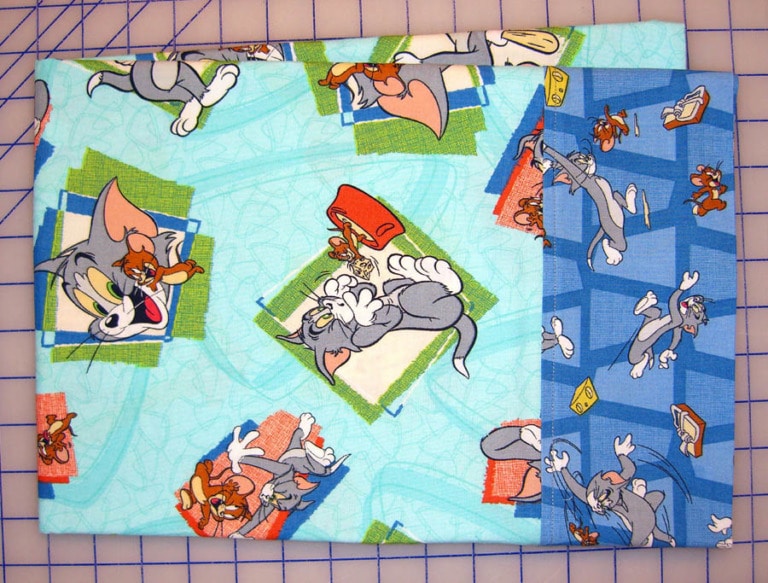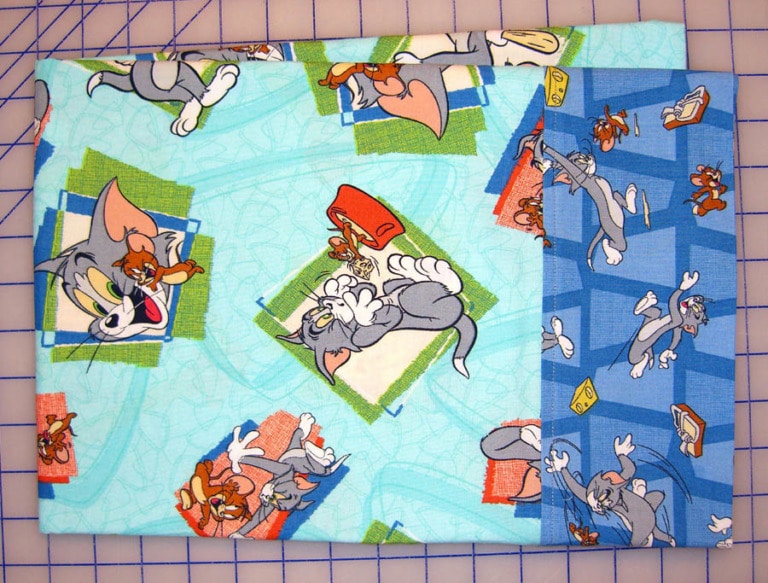 I didn't have a pattern, but I did have a plan. I used a standard pillow case as a guide for size.
The Lazy Part
I attached and finished the hem in one step. The hem is actually a tube turned right sides out. When sewing the tube, sew the body of the case into the seam at the same time. I showed this to some of my friends, thinking I was being clever, and they all said – yep, that's how I do it. Some even add piping or other trim in the seam. Smart Girls.
Materials: I used 100% cotton, washed and pressed. Cut on the straight of grain.
Body of case – cut one at 26″ x 42″
Hem – cut one at 9″ x width of fabric, at least 43″
Note: I left the hem fabric wider than the body fabric.
Step 1
Lay hem fabric flat, with right side up.
Place body fabric on top, right side up, match long edge as shown toward bottom of photo.
Scrunch body fabric together into a pile as shown.
(Click any images to enlarge.)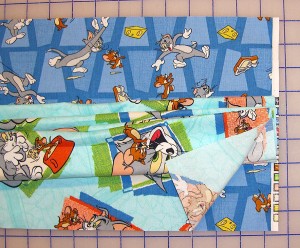 Step 2
Wrap hem fabric over body fabric, match long edges and pin.
Use a one quarter inch seam allowance and stitch long edge.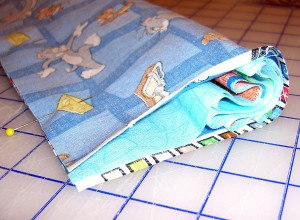 Step 3
Turn hem fabric right sides out and press. Don't worry, it's easy to turn by hand.
The hem is finished on the inside and outside of the case and the body fabric is attached at the seam.
Topstitch along hem close to the seam at the body fabric.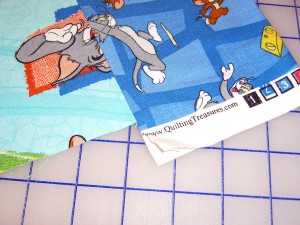 Step 4
I started with the hem fabric wider than the body fabric so they could be trimmed to meet perfectly after sewn in place.
Finish with a French seam.
Fold the case wrong sides together, matching all edges.
Trim extra hem length to match body fabric.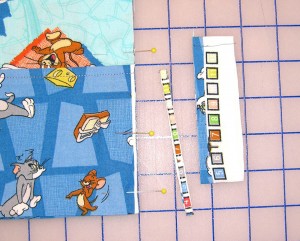 Step 5
Use one quarter inch seam and stitch side and bottom edges.
Press and trim corner as shown. Trim seam allowances to approximately 1/8″.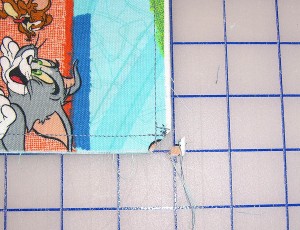 Finish
Turn case wrong side out and stitch along side and bottom seam one more time to encase the seam allowance.
Note
Pressing at each step of the way is important for a nice clean finish. I pressed the seams to one side rather than pressing open like a traditional French seam.
I found a video demonstration on how to do a French seam on YouTube here.
This is a great serger project, too. Skip the French seam and finish right sides together with serged seams.
Enjoy!
Joan