Shrinkage: Don't Get Fleeced On Your Next Bag Project!
Lazies, Does your fusible fleece shrink? Not sure – go test it. It could be affecting your projects. Some of the fleece products on the market today do shrink. When making a bag, you might have wondered why your project looks a little wonky when you cut everything perfectly. Or the bag lining seems really big, but it was cut the same size. In a word: shrinkage.
I recently ran out of my beloved Dreamy Fusible Fleece. The mill I work with decided not to make it any more. That started a search for a new mill and testing prototypes. One prototype in particular shrank when exposed to heat. No thank you, I'll try elsewhere. Meanwhile, let me show you what I'm talking about.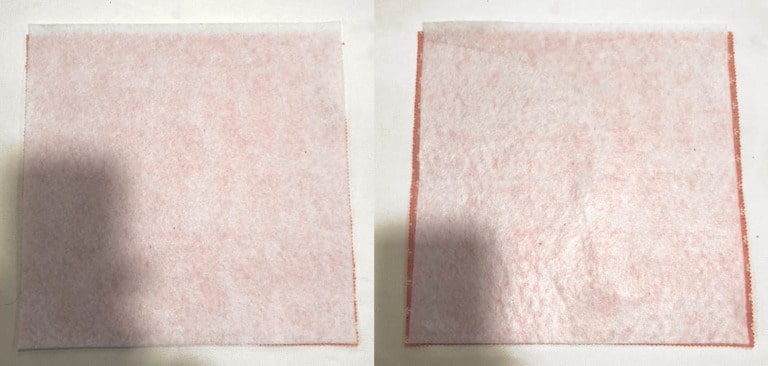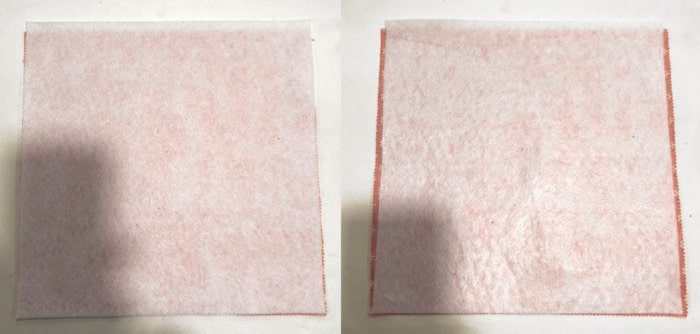 Prototype Fusible Fleece: Before and After
(Pardon the partial eclipse of my phone.)
Note: Fusible fleece shown in this example. The results were the same for the sew-in fleece.
Left image: The fleece and pre-shrunk fabric are 10″ wide, you can see that they match at the side and bottom edges.
Right Image: When fused according to directions, the fleece shrank in from the side edges of the fabric. There was little shrinkage at the bottom edge.
But Wait…
And if shrinkage isn't bad enough, fleece shrinking could also cause wrinkles, which I now call shrinkles (shrinkage + wrinkles).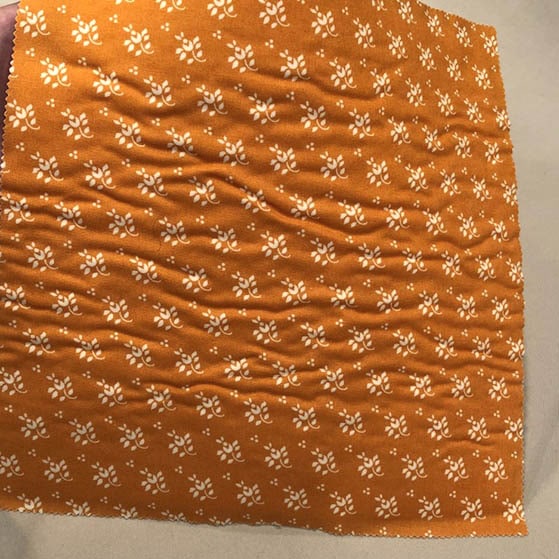 These shrinkles happened because the fleece shrank and the fabric didn't. Also, notice all the wrinkles are in one direction. The fleece shrank in one direction, either across the bolt from selvage to selvage, or lengthwise. Doesn't matter which.
Prototype Fleece
Next, I tested the fleece prototype by itself to rule out the fabric as the issue. I hovered a hot iron over the fleece and used the steam button. My goal was to expose the fleece to the amount of heat and steam it would encounter while constructing a bag. Guess what – it shrank about 5%. The mill said the product relies on adhesion to fabric to stabilize and prevent shrinkage, otherwise it is expected to shrink 5-7%. Wow! That doesn't wash with me.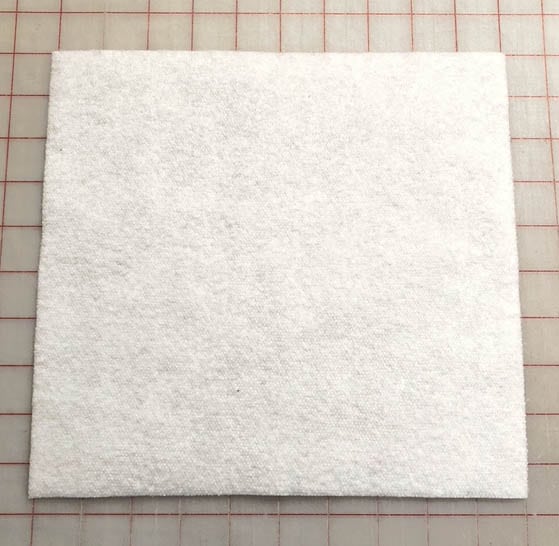 That edge is creeping up (literally) close to 1/2″.
Bizzarro Land
This is just plain odd. In the image above, the edge shrank more than the corners. I'm not sure what's at play here. I tried to use even exposure to the elements. That little bowing along the edge showed up when fused to fabric, too.
NOTE: Rest assured – I am not using that prototype product for my Dreamy Fleece, sew-in or fusible. I'll be out of stock until I can find a mill that can reliably make a product I like. That means it could be a while and I'm sorry about that.
Reality Check – The Other Guys
I've used fleece from many manufacturers and most have some shrinkage. The worst offenders have approximately 5% shrinkage. Most are no more than 1-2% shrinkage, which I find acceptable. Some have no perceptible shrinkage.
After the scary incident with this prototype, I went to my years-old fleece stash and tested all the brands I had on hand. Note – these are old samples and may not represent what's currently available. I don't know. I've been working with my own fleece and haven't bought anything new in years.
Shrinkage can happen across the width, or along the length, or both. I cut 10in squares of fabric and fleece. Fuse, then re-measure. It's not scientific, it's logical. To rule out fabric shrinkage, pre-shrink (or wash) the fabric.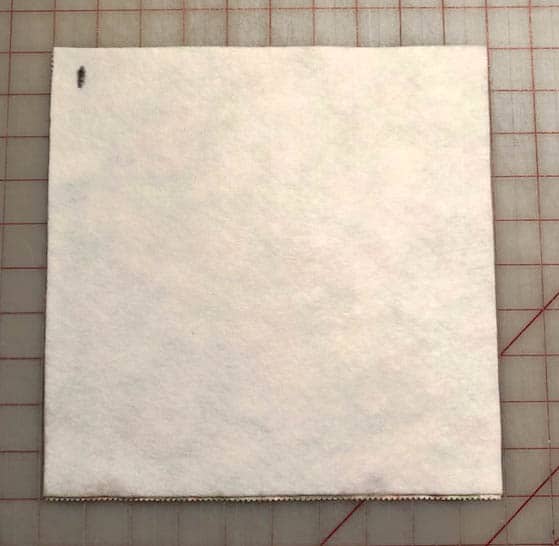 Above: Marginal shrinkage. Not quite 1/8″ over 10″.
Fleece pulled away from the fabric at the bottom edge.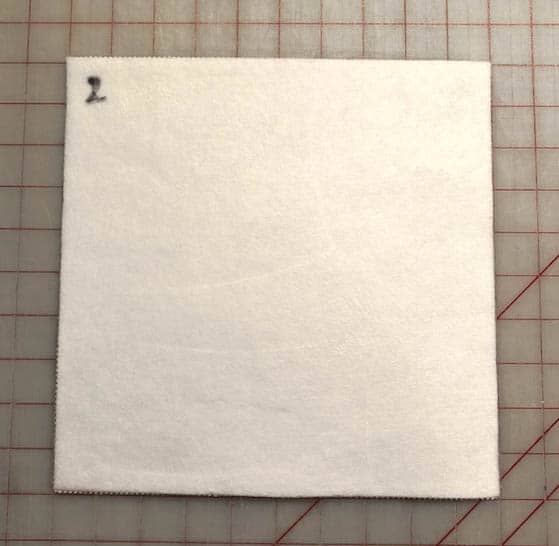 Above: No perceptible shrinkage.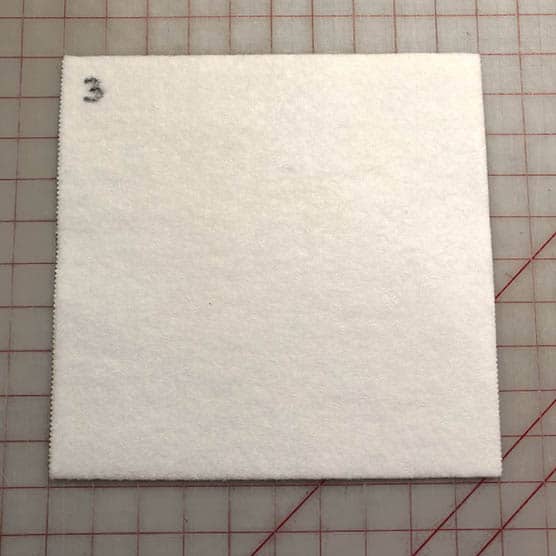 Above: Shrinkage of just more than 1/8″.
Fabric and fleece shrank at the bottom edge.
The Other Side Of The Coin
The fleece in the image above also created a cellulite appearance on the fabric side. The fleece has an uneven surface with a lot of adhesive. The adhesive sucks the fabric down into the fleece for instant cellulite. Our projects deserve better.
All three of these samples have an acceptable amount of shrinkage in my opinion.
I know you are wondering which brands I tested. It doesn't matter. Products change over time. It's simply best to test. Find one you like and know how it behaves.
Curious: Top vs. Bottom
One thing I discovered while testing all of this is that shrinkage can vary based on how you fuse: fleece on top vs. fleece on bottom.
I had slightly more shrinkage when fusing with the fleece on top, with the fabric face down on the pressing surface.
How Does Shrinkage Affect Our Projects
For easy math, let's work with a bag project 20″ wide x 10″ tall.
Shrinkage of 5% is 1″ across the width and 1/2″ top to bottom. That's substantial!
A smaller amount of shrinkage at 2% is about 3/8″ across the bag and only 1/5″ top to bottom.
Using one fusible on the outside of the bag, and another on the lining could be the culprit behind a baggy lining, seeming to be too big for the bag.
What To Do
Whenever you buy an interfacing, test it before using it in your project. Some brands work with the same mill from batch to batch and offer a consistent product. Some don't. If the product looks different than the last time you bought it – it probably is. Test it again.
How To Test
Cut a 2″ x 10″ piece off the selvage edge and another off the cut edge. Pre-shrink the fabric. Then fuse the two test samples to the fabric and re-measure.
Press your project fabric really well before beginning and think of that as pre-shrinking.
You can always work with larger pieces of fabric and fleece, fuse them together, then cut the pieces you need.
For linings, consider doing a little 'tailoring' by increasing the side seam allowances. And you can trim the height down a smidge, too.
Dreamy Fusible and Sew-In Fleece
My fleece is wonderful. It has a dreamy, cloudy feel, with a smooth surface and the right amount of adhesive to get the job done. It's the best of all worlds. I will continue to look for a new mill.
NOTE: Rest assured – I am not using the prototype product shown in this post for my Dreamy Fleece, sew-in or fusible. I'll be out of stock until I can find a mill that can reliably make a product I like. That means it could be a while and I'm sorry about that. We do have some packaged cuts of sew-in and fusible Dreamy left. Contact me if interested.
Subscribe to receive emails for my blog and newsletters about new patterns and project ideas.
Enjoy!
Joan
Joan's Sewing Group | Pinterest | Instagram | Twitter
Like and share this post with your stitchy friends.