Stitch Wedding Essentials With These Handy Patterns
Lazies, What do you do when you are a sewist, there's a wedding in the family, and you want to share some love? As the matron of honor, Julie Herman of Jaybird Quilts thought it was important to spoil the bridesmaids & moms with gifts of wedding essentials for sister-in-law Leora and fiancé Carl's big day. She made each of the 12 ladies a Becca Bag, a Sweetpea Pod, and a Fobio key fob. Read on to see these extraordinary gems. Then we'll talk a little about how Julie customized these projects for this special occasion.
Becca To The Rescue!
Who wouldn't love a Becca full of beauty essentials? Look at all of the goodness that fits in there.
Check out this sea of gorgeous personalized Becca Bags! Julie relied on Spoonflower to print fabric with names, then she simply pieced the name strips with two other fabrics to create the outside of the bag.
Sweetpea Pods To Hold Sweets
Even I'm shocked at all the goodies that fit inside Sweetpea.
Julie says don't be afraid to personalize your projects. I am diggin' these bite-sized goodies.
A little bit of love for everyone. Hello ladies!
Fobio Comes In Handy!
Finally, Julie made a Fobio for everyone, too! Fobio can be attached to either Sweetpea or Becca to create a wristlet.
I love the gradation of zipper pulls on the Fobios.
Fabric Planning
Let's look at how Julie personalized all of these beauties for the lovely ladies in the wedding. Julie stayed within the wedding colors for the fabrics and zips.
Let me tell you, I know Julie has made a ton of Sweetpea Pods, Beccas, and Fobios so she knows her way around these projects. Julie designed and had fabric printed at @spoonflower for both bags.
Julie purchased the flower artwork and then she created her own fabric design to make sure the flowers and names landed perfectly for these custom Sweetpeas. I love seeing projects during construction.
These personalized Becca Bags are such a great idea. I love how Julie incorporated the name.
Julie says: Fabrics can shape the occasion, so don't be afraid to piece or print/embroider to customize.
The Result
Everyone who received these beauties felt it was incredibly special that Julie used scraps of the wedding quilt.
Here's a peek inside Sweetpea.
Go-To Patterns
Be sure you have some quick, easy, and customizable patterns in your collection.
Here are the three patterns Julie used for these bridesmaid gifts.
Becca Bags: Three fabric fat quarters, a bit of fusible fleece and a zipper.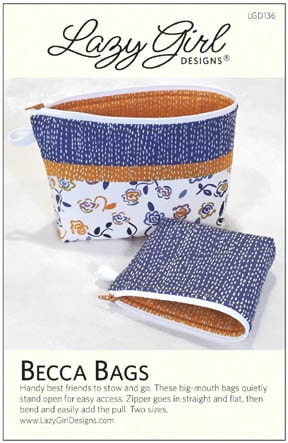 – – – – –
Sweetpea Pods: Two 10″ fabric squares, a bit of fleece and a zipper.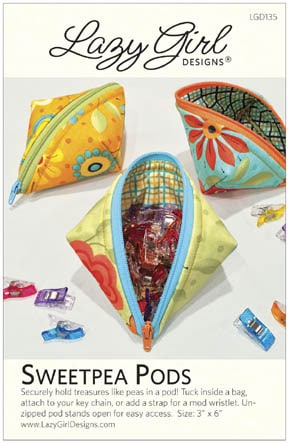 – – – – –
Fobio Key Fob: A 2″ fabric strip, a bit of fusible interfacing and a zipper.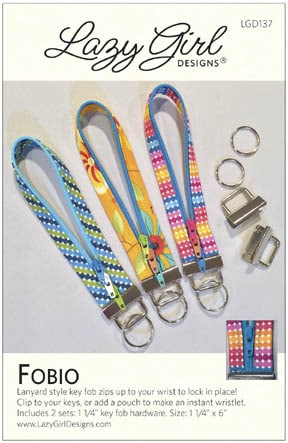 – – – – –
Julie Herman and Jaybird Quilts
Thank you, Julie, for sharing this story and these beauties with us.
Keep up with Julie and Jaybird Quilts:
Facebook
Pinterest
Instagram
Lazies, post a comment for Julie and send a little love to the happy couple, Leora and Carl.
Like and share this post with your stitchy friends.
Join the Lazy Girl community on Facebook here: Facebook Lazy Girl
Enjoy!
Joan
PS: See more of Leora and Carl's wedding here: #KaplanWonGoldfarb
Project photos courtesy of Julie Herman