Adorable And Clever Gifts Are Just A Yo-Yo Away
Lazies, I'm a little late with my usual Monday post – I know, it's Tuesday. Blame my hubster Michael. He surprised me with a trip to see friends for a long weekend as an early b-day present. (Today's my birthday!) So, grab a cuppa-cuppa and raise your mug in a java toast while you read about these adorable gifts.
Julie Bridgeman shares her adorable A-Door-Ables with us today in the next 'Show Us Your Lazy!' project feature.
Julie used the Lazy Girl Designs 'A-Door-Ables' fabric accessory sewing pattern (LGD109) and the two original sizes of Clover Needlecraft Quick Yo-Yo Maker tools to make these beautiful and clever gifts.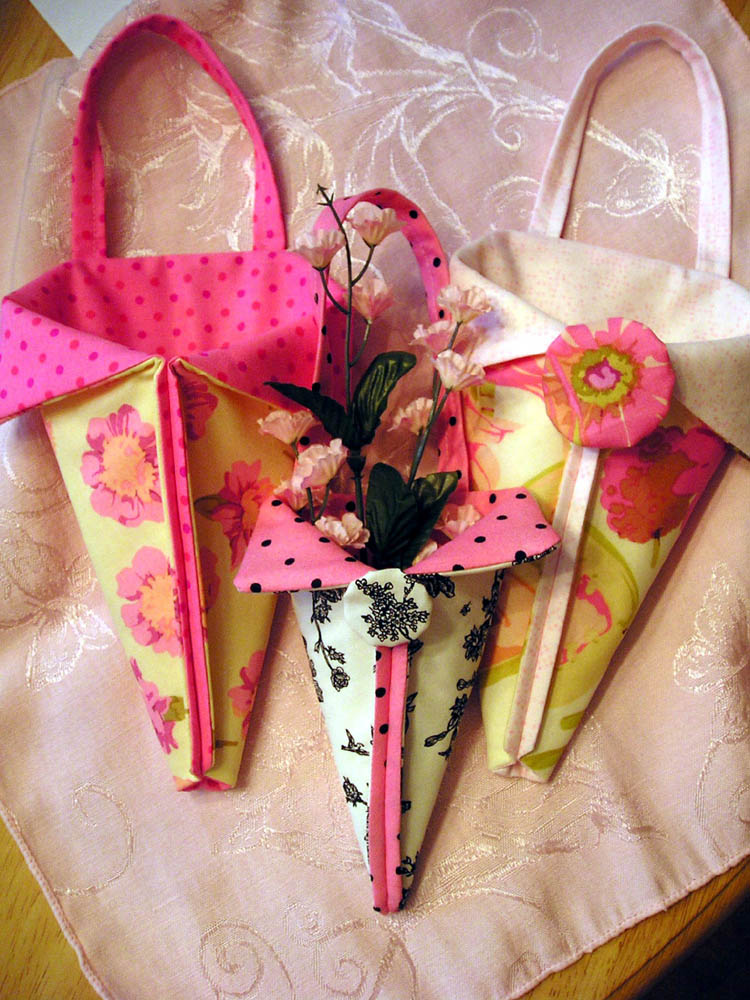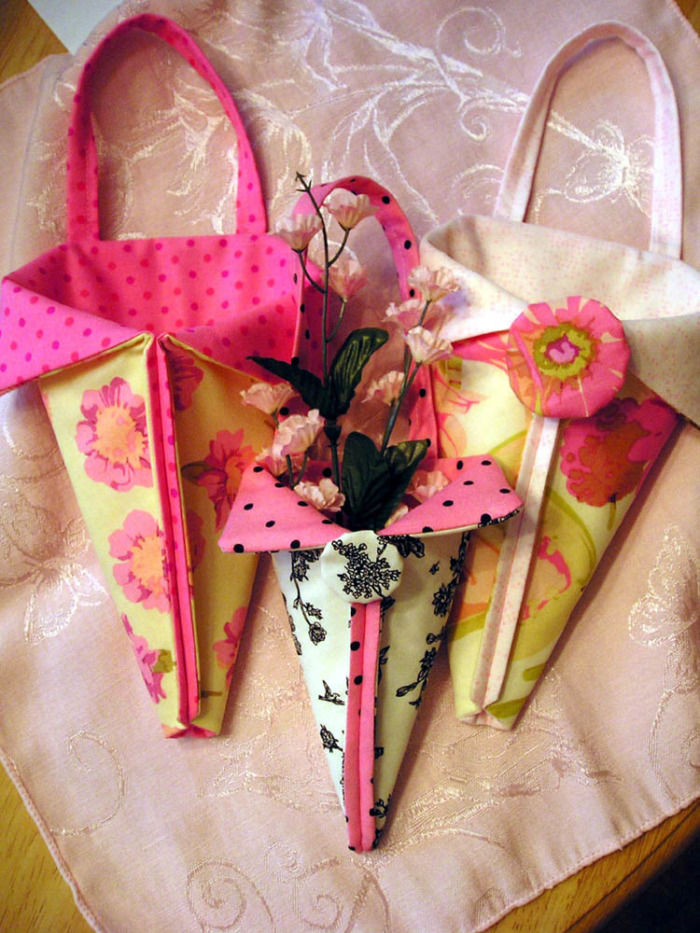 Large size shown at left and right, small size in center.
Here's Julie:
Here are a few of the A-Door-Ables projects I have sewn together using yo-yos. What a fun pattern! On two of the A-Door-Ables I have attached yo-yos.
I am using the A-Door-Ables for teacher gifts. I have made other ones for children's gifts and attached them to gift bags. They look so pretty on gift bags with silk flowers.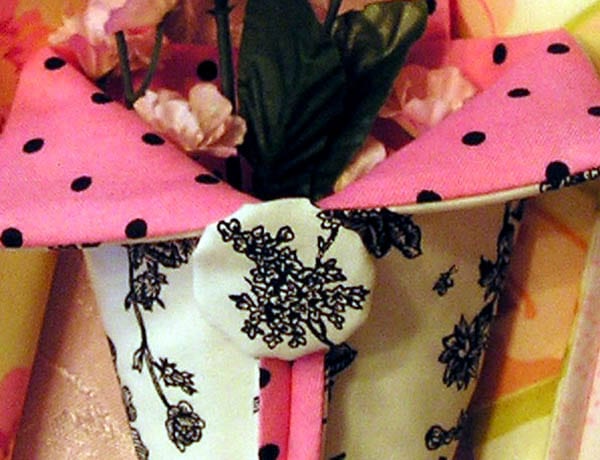 Julie centered the black floral motif on this yo-yo.
Depending on the fabric used, they can be for a baby's room, a girl's room, a teacher, a neighbor, etc. Instead of flowers inside, how about small gifts like jewelry, gift certificates, fat quarters, candy, or a stuffed animal?
I am going to make a few for the holidays in festive fabric and hang them from garland going up the staircase.
You can also hang them from door knobs, backs of dining room chairs, chest of drawer handles, chandeliers, and kitchen cabinet knobs. The possibilities are endless! I attached yo-yos onto them when there was a motif in the fabric that I wanted to bring out.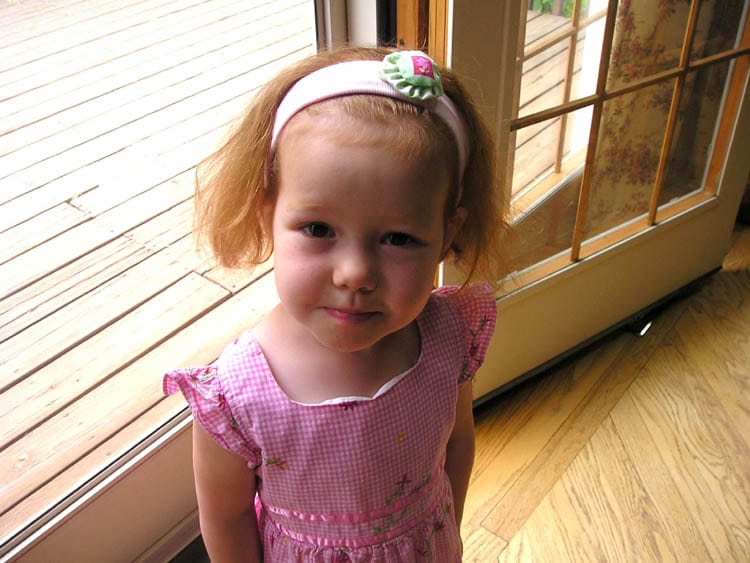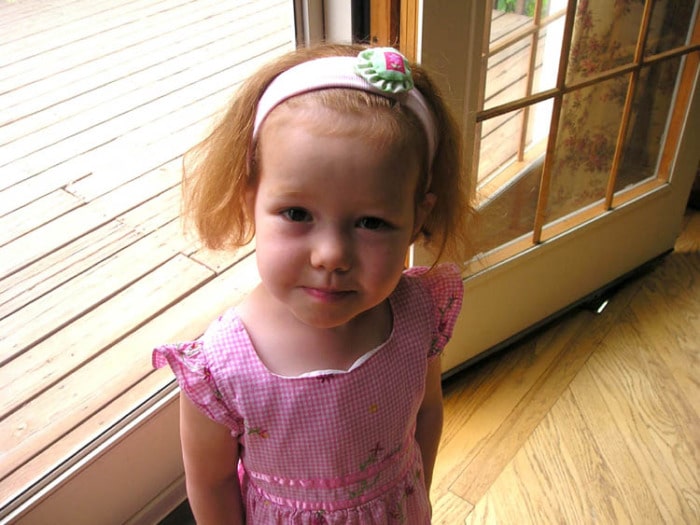 Sarah wearing yo-yo hair clip on her headband.
This is Sarah. I made more yo-yos that I have turned into hair accessories for my little girls. I put a snap clip on the back of each one.
I used mostly 20s and 30s repro fabric but I'm sure someone could get a totally different look using other color schemes.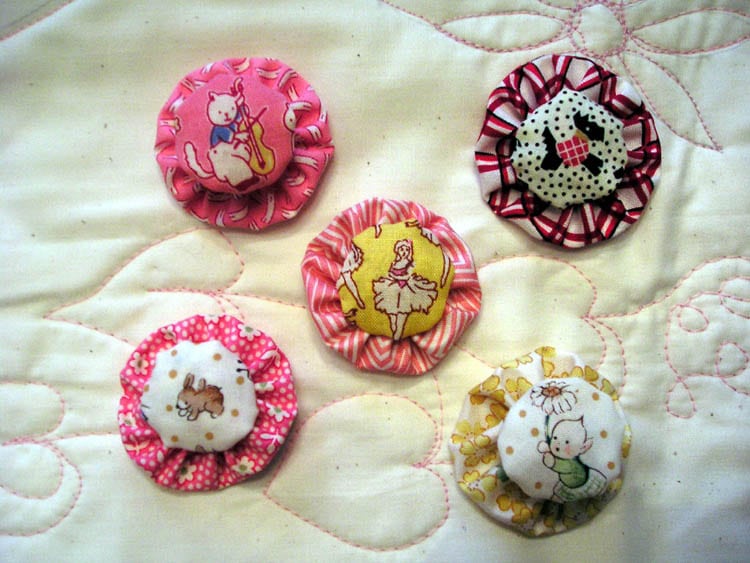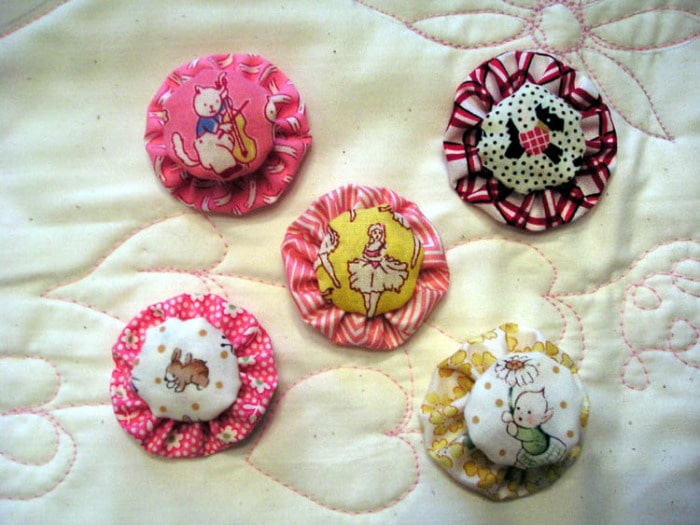 Using the Clover tools, I made large and small yo-yos. Some hair clips are made up of one yo-yo and some are made up of a small yo-yo sewn onto a large yo-yo.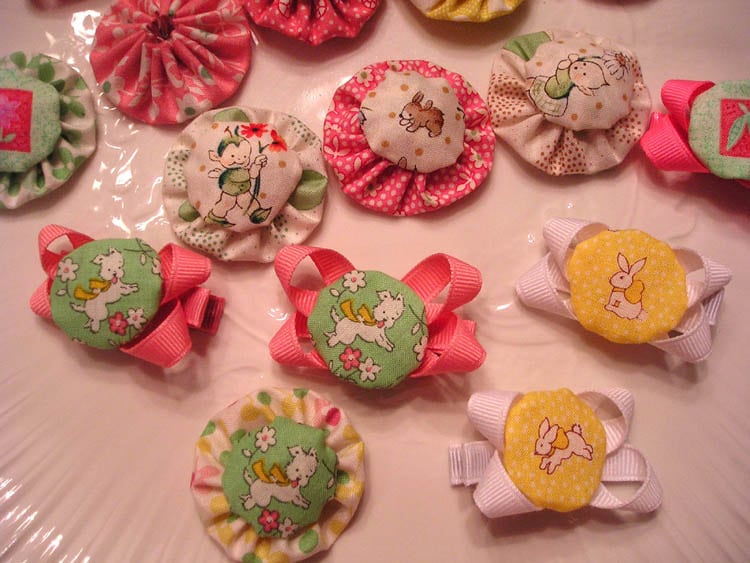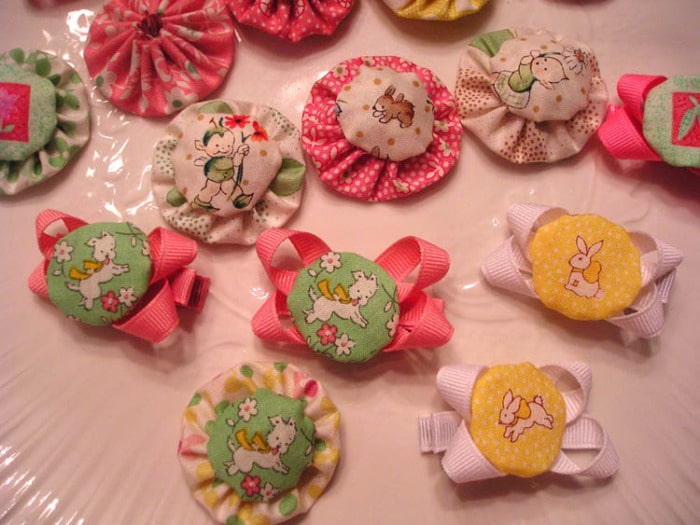 For some of the small ones, I attached 3/8″ grosgrain ribbon behind the yo-yo for an extra special touch. I secured small snap clips to the backs of the yo-yos. To do this, I inserted the top half of the snap clip into a piece of felt and then attached the felt to the fabric. This gives it a cleaner look.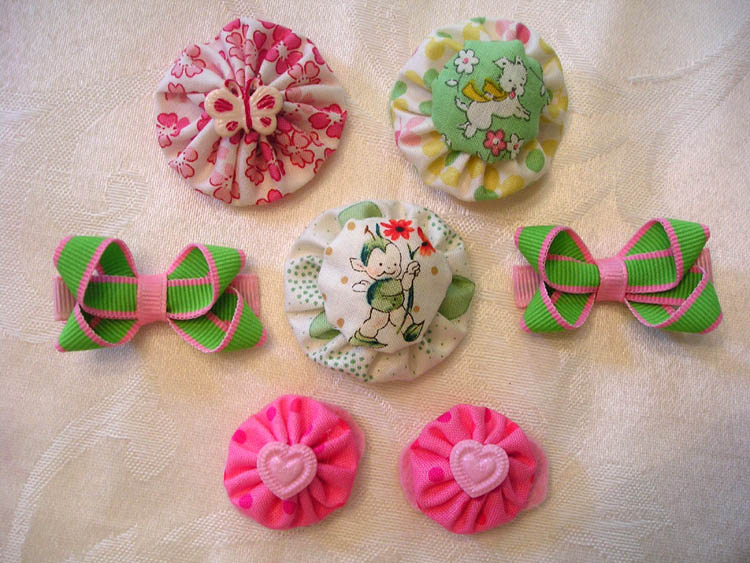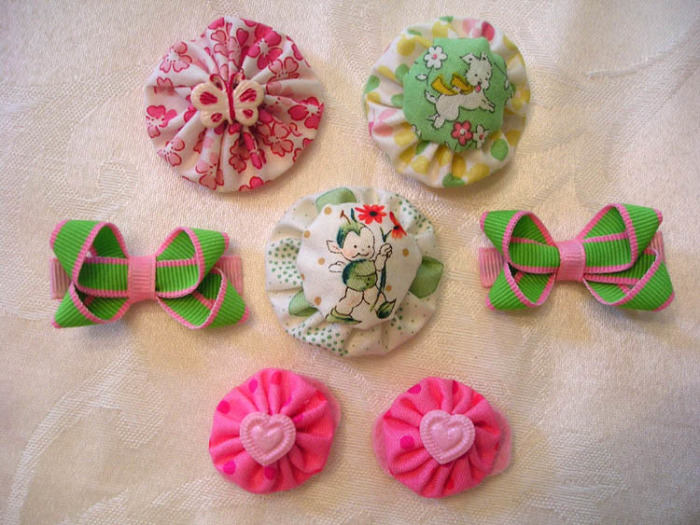 I love the new Clover tools! I've never made yo-yos before and have become addicted now!
Thanks! – Lazy Girl Julie
Thank you for sharing your creations with us! Julie used the small round (item #7001) and large round (item #7002) Clover Needlecraft Quick Yo-Yo Makers.
Quick Yo-Yo Makers from Clover Needlecraft Inc. This is an affiliate link to Amazon.com and I will make a small commission if you buy through this link.
Original Sizes:
Round – Small, #8700
Round – Large, #8701
I recently posted a tutorial for using these tools to make yo-yos here. The tutorial describes how to place your fabric to center a focal feature for the back of the yo-yo, as Julie did on many of her projects. Julie centered the round opening in the yo-yo maker tray directly over a motif, (such as the scottie dog in the fourth picture), to make sure it was centered and the right size to fit on the back of a finished yo-yo.
Subscribe to our blog so you don't miss a juicy morsel.
Our A-Door-Ables pattern includes pattern pieces to make two sizes. Not including the handle, the small size finishes to approximately 5 1/2″ tall, the large finishes to approximately 7 1/2″ tall. While one fat quarter of fabric is plenty to make either size, use two or more fabrics to coordinate and accent as Julie did.
New to our blog? Subscribe to get emails so you don't miss a juicy morsel.
Like and share this post with your stitchy friends.
Join me in the Lazy Girl community on Facebook here: Facebook Lazy Girl
Enjoy!
Joan
Facebook Lazy Girl
Pinterest Joan Hawley
Instagram @JoanHawley
Twitter LazyGirlJoan