Turn Four Fat Quarters Into Your Next Favorite Purse
Lazies, We add another beauty to our 'Show Us Your Lazy!' project series today. This is where we feature a project you've made from our designs. Sabra Rounds of Fabric Lovers Unite! recently made this precious Lazy Girl Designs Veronica Pocketbook (LGD119) quilted purse.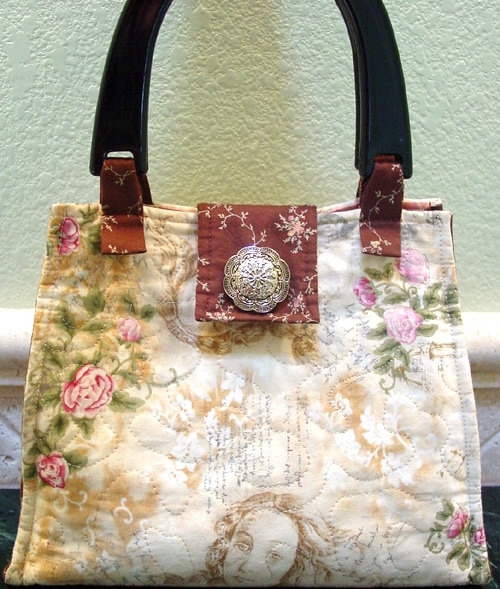 'Veronica Pocketbook' by Sabra Rounds. Click image to enlarge.
Here's Sabra:
I love my Veronica purse! I get so many compliments on this purse it's unbelievable. People just can't believe that I made it myself.
The Veronica purse that I made is very special to me for a couple of reasons.
First off, the fabric I used for it was 4 fat quarters that I won as a door prize at a local quilt show. The show happened to be on Mother's Day last year. I was feeling a little "blue" as my husband had to work, so I decided to take my three girls (ages 15, 13, and 6) to the quilt show.
We had a lot of fun picking out quilts we liked and looking at all the displays. Winning the fat quarters was like icing on the cake. I knew I wanted to use them right away, and the Veronica purse was the perfect project. Every time I look at my purse, I remember that Mother's Day.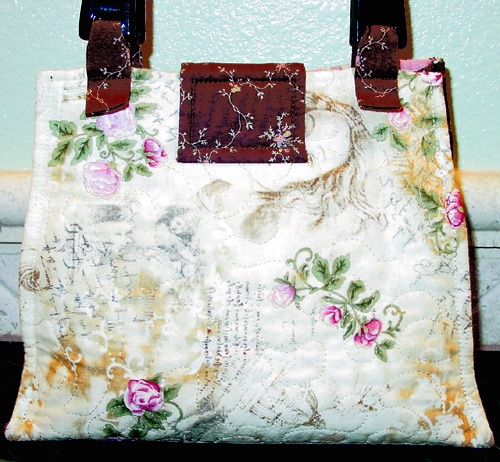 Back view of Sabra's Veronica. Click image to enlarge.
This purse was also my first attempt at free-motion quilting! My stitches are not very even, but I was so proud of myself when I finished the quilting—I had overcome my fear of "letting go" and actually had fun!
For some reason free-motion quilting had me scared to death. This pattern was such a nice, manageable size to do, though, so I convinced myself I would be OK, and I did it. I'm still not perfect at free-motion (and if you look closely at the picture you'll see all sizes of stitches!), but doing this project helped me to conquer my fear, and now I look forward to it—imagine that!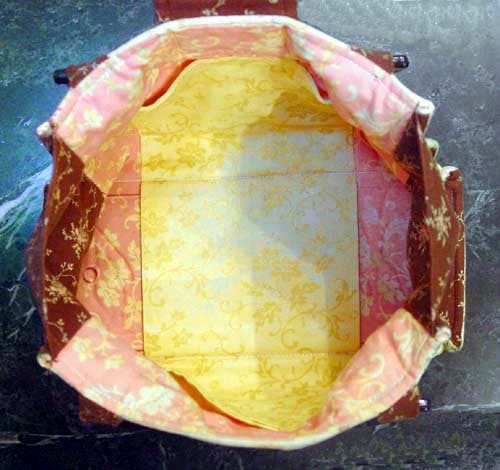 View of inside. Click image to enlarge.
I must say that the Lazy Girl designs are some of my favorites! They are so easy to use even my two teen daughters made their own Veronica purses, and I hardly had to help them at all. That says a lot right there! Thanks, Joan, for making great patterns that are so easy to use and quick to complete, and thanks for letting me share my story!
– Lazy Girl Sabra
Thanks Sabra! I love Sabra's use of fabric. She used the same delicate print for the tab closure, handle tabs and side panels – effortlessly tying the whole bag together. The surprising bright and cheery pink lines her Veronica and the yellow fabric for the pocket is a well chosen stand-out. Together, the pink and yellow tones relate to the exterior fabrics. It's fun, unexpected, and balanced. And I love that button on the flap closure – it's perfect!
The Veronica Pocketbook pattern LGD119 was my first full-color set of instructions with color photographs. I know, that tidbit of information is too exciting for words. But it was a huge leap forward for me. Each part of the project is color-coded, so you can follow the parts of the project each step of the way. Very Lazy.
Veronica uses 4 fat quarters of fabric, a bit of batting, a pair of handles and a flap decoration to get the job done. See the back of the pattern here for more info.
Three years ago, Lazy Girl Designs hosted the nationwide 'Laziest Shop In America' challenge featuring the Veronica Pocketbook. Read about the challenge results here.
Buy the Veronica Pocketbook pattern here or from a store listed here.
Subscribe to our blog so you don't miss a juicy morsel.