How To Make An Adorable Fabric Bag With Face Mask Elastic
Quick and easy drawstring pouches from face mask elastic for all occasions.
Got extra elastic sitting around looking for the perfect project? This quick and easy drawstring pouch is made from leftover face mask elastic! These Cutie Pie Pouches come together quickly, fit in the palm of your hand, and are perfect for all those little things that need a home. Grab the FREE pattern below (a $9.95 value) or enroll in class for the pattern and video for free (a $19.95 value) for a limited time – details below.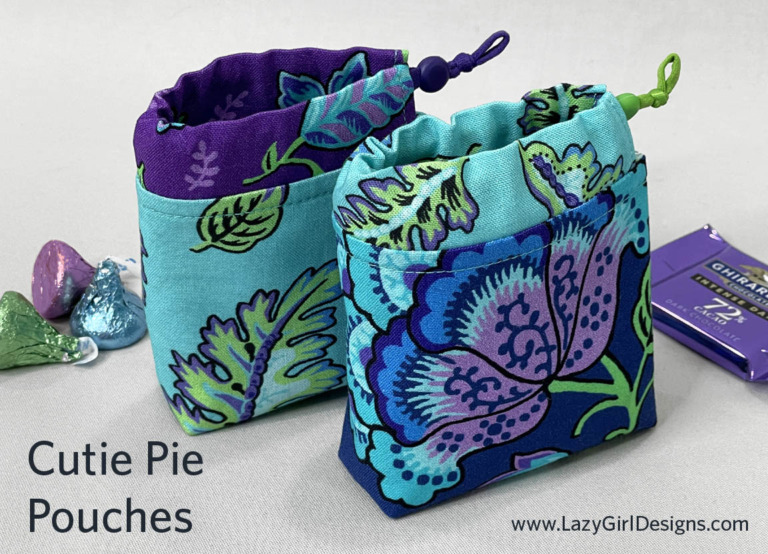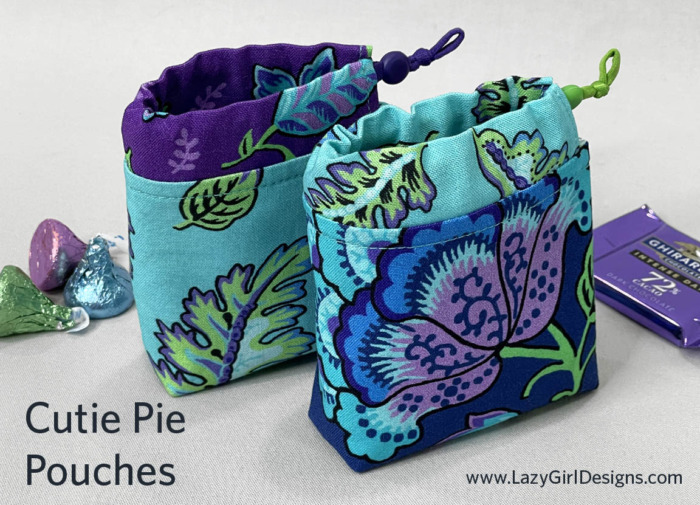 Cutie Pie Pouches drawstring bags.
Why These Pouches are Special
Just one piece of face mask elastic plus a slider is the secret sauce that makes this irresistible fabric pouch so quick, easy, and functional.
With Easter just around the corner, you can stitch these sweethearts up in no time, fill with candy, and tuck them inside every Easter basket.
Somehow I ended up with an assortment of elastic in different sizes and colors and it is all just sitting amongst my sewing supplies, giving me the stink eye – waiting to become something!
Well, I can't blame them. In the last couple of years, elastic has been hard to find at times, then readily abundant. I even found pre-cut elastic with silicone sliders attached to make face masks. I had to see what they were about so I bought some. I may have bought too many.
But, my over-shopping led me to come up with this project to use this bounty of bouncy, stretchy goodness.
How To Use Small Drawstring Pouches
At about 3-inches by 3.5-inches, these Cutie Pie Pouches are about the size of the palm of my hand. But the bag design can easily be made larger, taller, wider, etc, for other things.
These small, soft-sided fabric bags are perfect for candy bags, to hold board game pieces, and to keep small supplies together.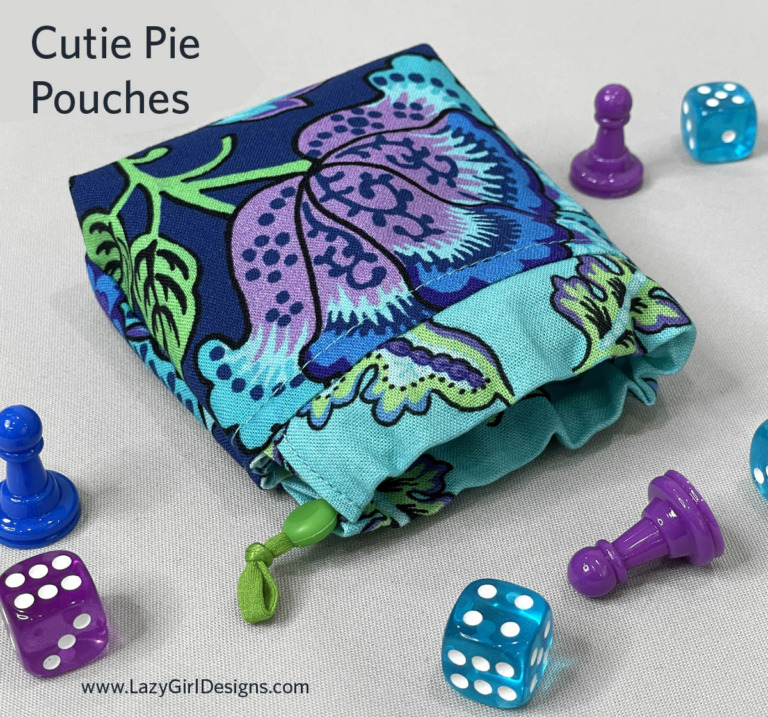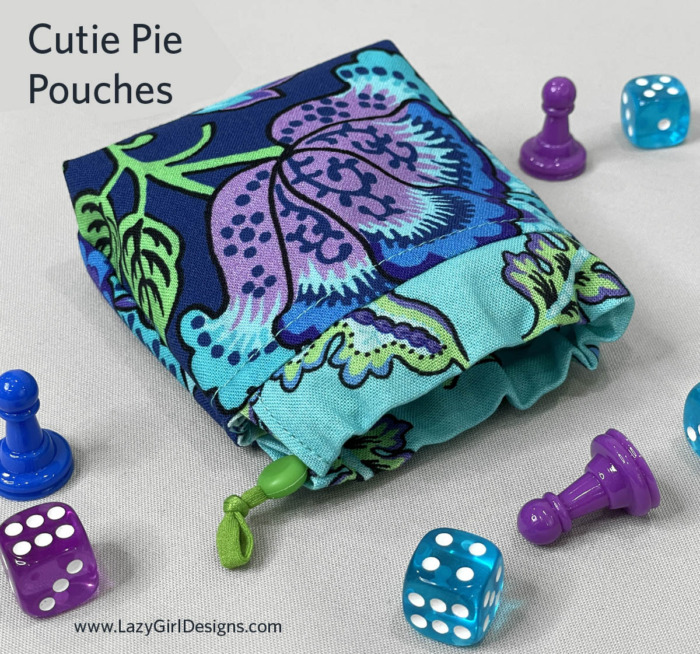 Never lose game pieces again.
Cutie Pie Pouches are perfect for a spool of thread and some sewing supplies to take with you on the go. Just remember, like most drawstring bags, they don't close completely, so they are not appropriate for really tiny things that can work their way out of the bag.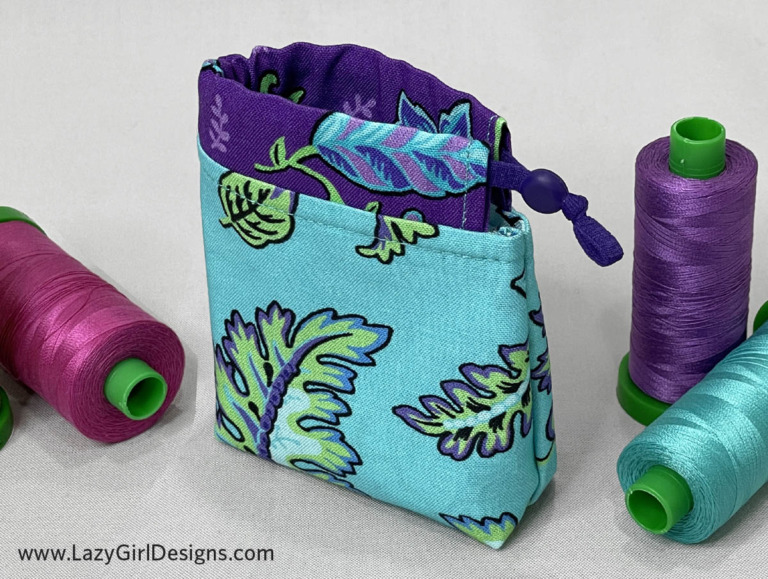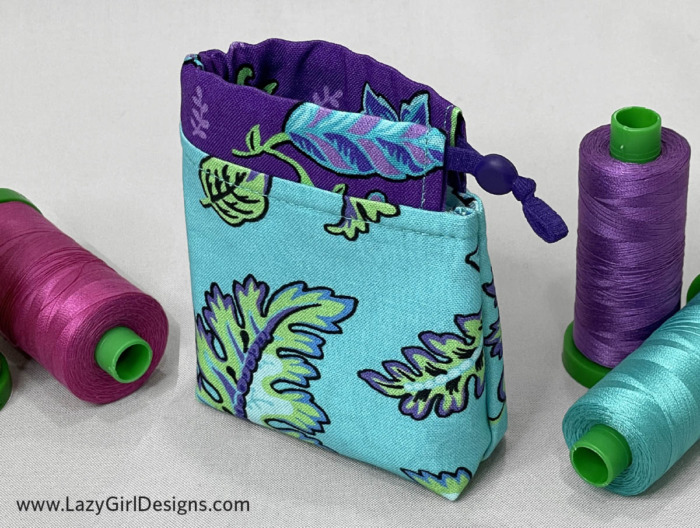 Talk about a cute sewing kit! Yes please, I'll need many!

Do you have some fabulous fabrics leftover from a pack of 10-inch squares? Make a whole collection of these Cuties.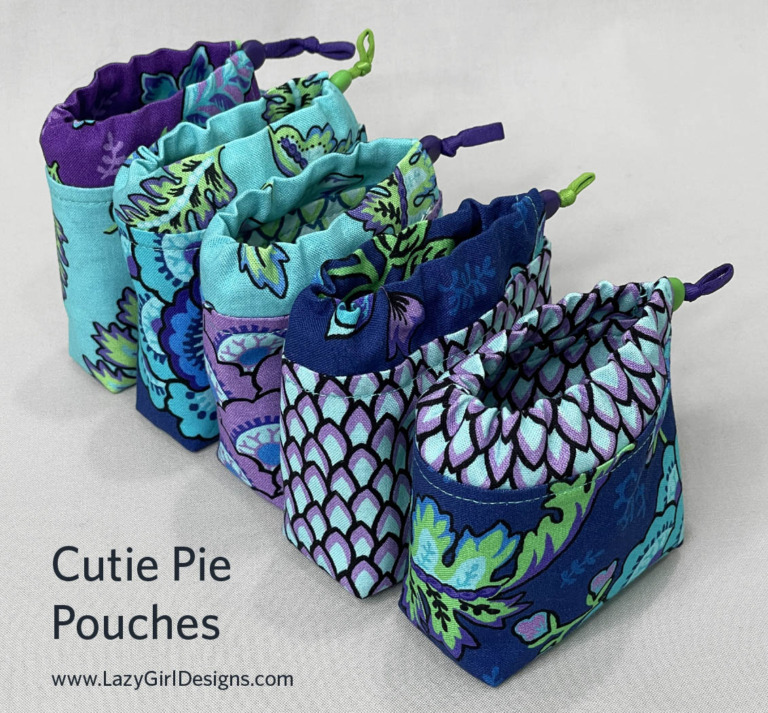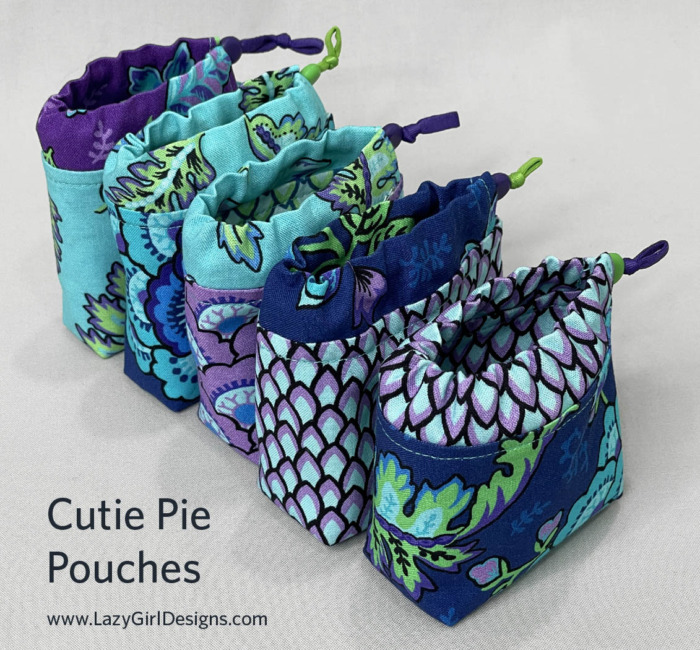 Fabrics are 'Madelyn', curated by Joan Hawley for QT Fabrics.
Available late summer 2022.
Note: This post contains affiliate links. I may earn a commission if you order through those links at no additional cost to you.
The Project: Cutie Pie Pouches
Let's take a look at the project. Two 10-inch squares of fabric and two pieces of 8-10 inch elastic will make two bags. Plus you'll need two sliders for the drawstring closure.
Supplies: Makes two, size 3" x 3 1/2"
– Two 10" squares of coordinating fabric
– Two 8 -10" long pieces of 1/4" wide elastic for the drawstring
– Two sliders for drawstring closure: Silicone Sliders for face mask elastic or 9mm Pony beads
Supply links for elastic, sliders, and the tools shown.
You'll need some basic sewing supplies and notions, too. In particular, a bobby pin and a bodkin are handy. If you don't have these items, you probably have something on hand that will do the same job.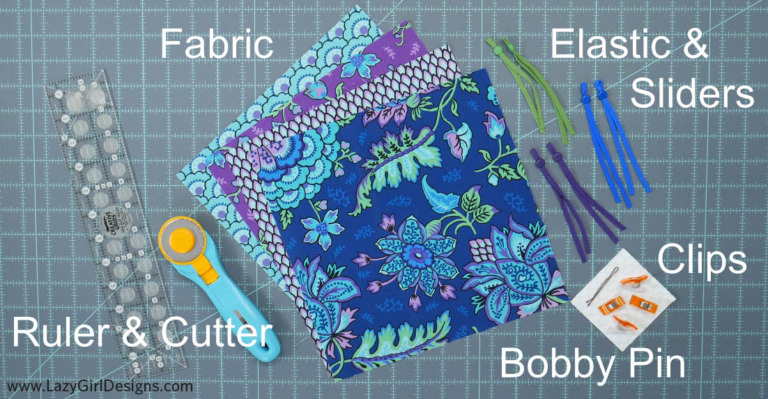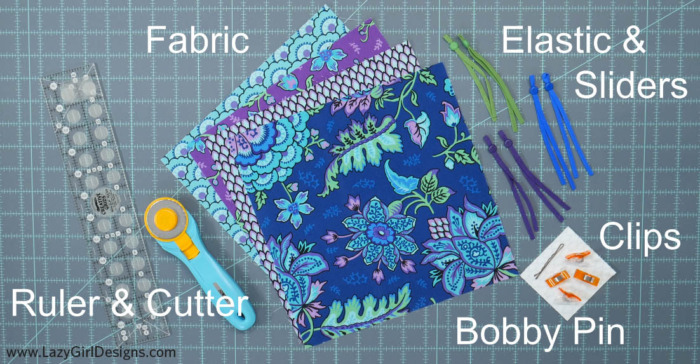 Supplies to make Cutie Pie Pouches.
How to Make Cutie Pie Pouches
These adorable bags are simple to make. They really are as easy as: stack, cut, stitch, and turn. Make these on your own, or join Joan in class (details below) for the complete step-by-step process and we'll make these little cuties together.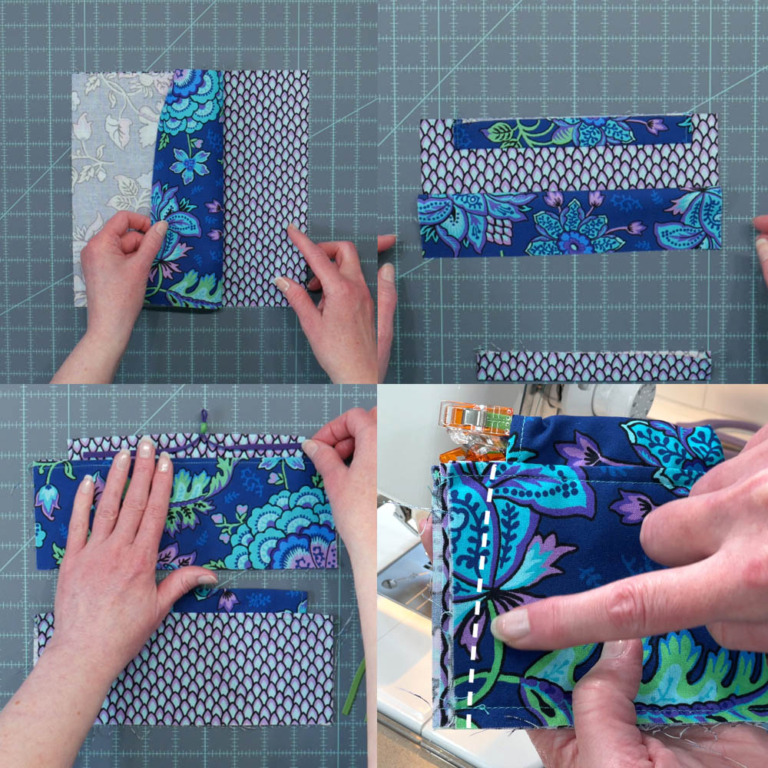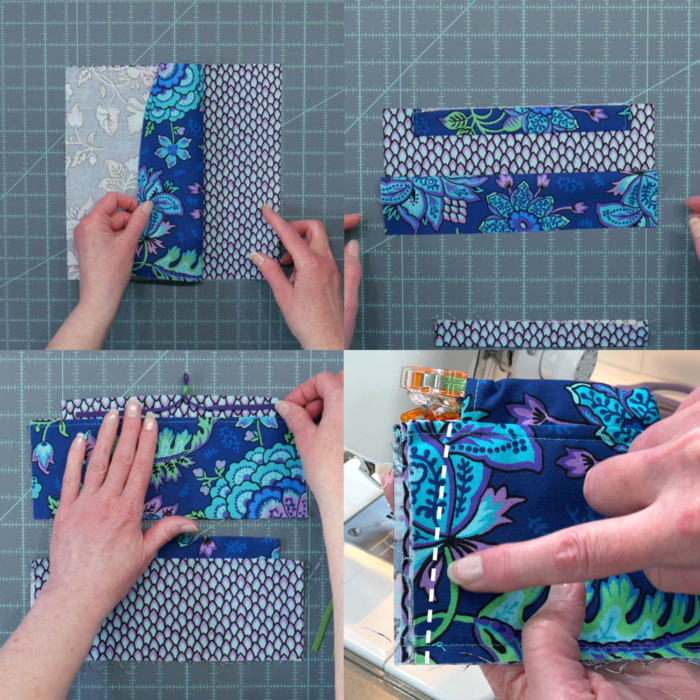 Stack, cut, stitch and turn
to make these quick pouches.
Elastic and Closure Options for Drawstring Bag
Elastic between 1/8″ and 1/4″ wide work really well for this project. You can see in the image below that the elastic is different lengths. Use pieces between 8″-10″ for this project.
There are some fun options to add a slider to the elastic for a closure. The white and black sliders are silicone and you can get them by themselves or already attached to pre-cut pieces of elastic.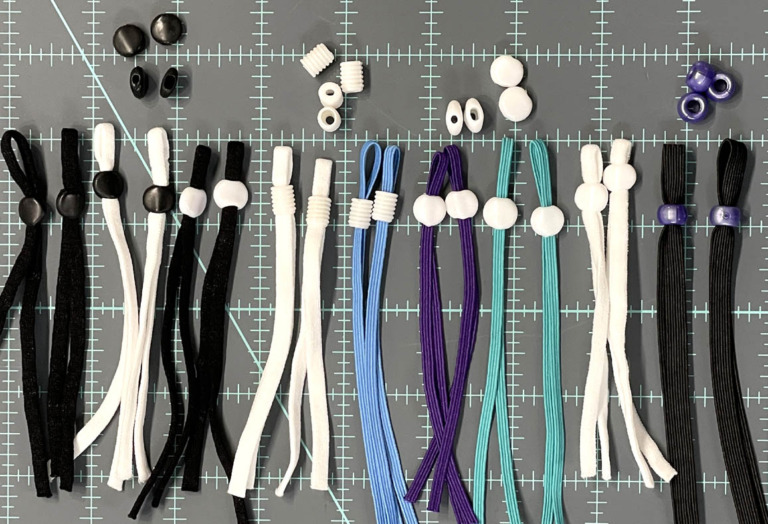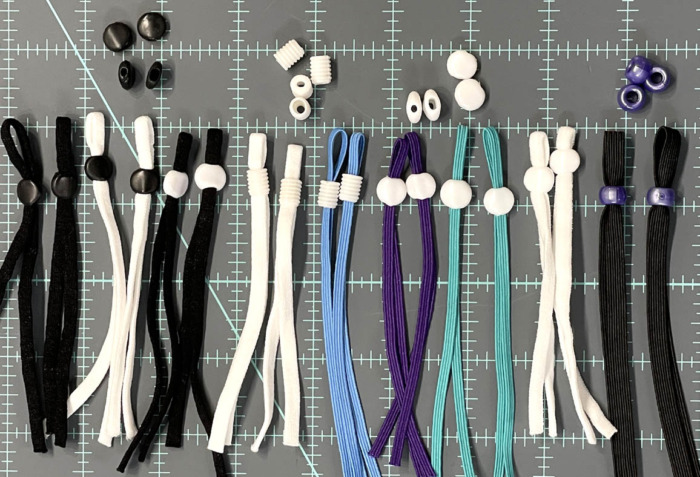 Take a close look at the holes on the white sliders. Next to each set of sliders, two sliders are standing on end so you can see their holes. Each slider has a large opening and a small opening. Feed elastic through the large opening and out through the small opening, which offers the tension to keep the slider from sliding.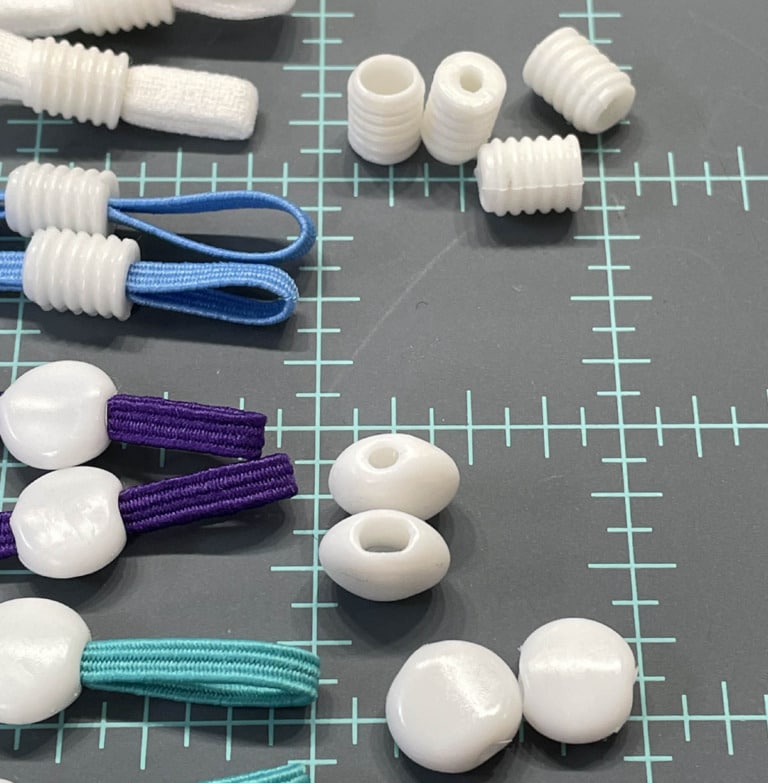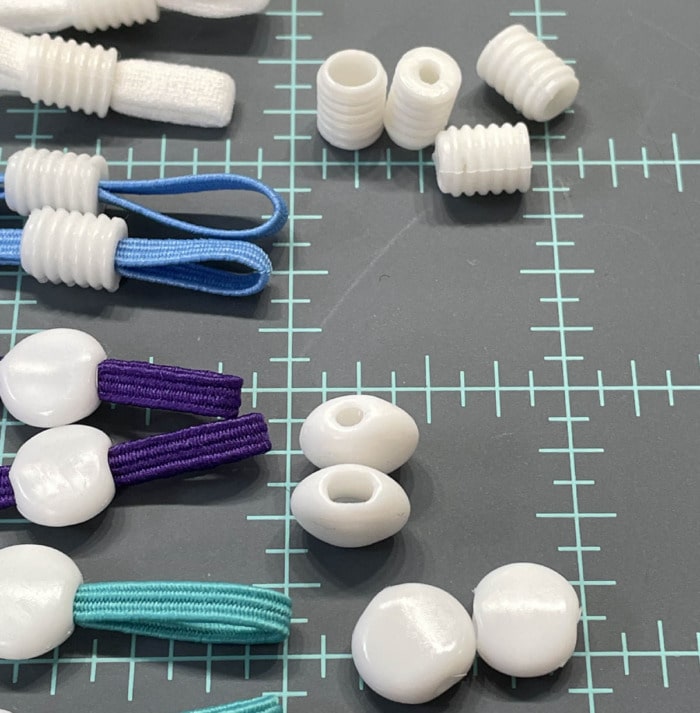 Silicone sliders for the drawstring.
The purple beads below are 9mm Pony beads. They work very well with 1/4″ wide elastic, but they are too big for the 1/8″ elastic.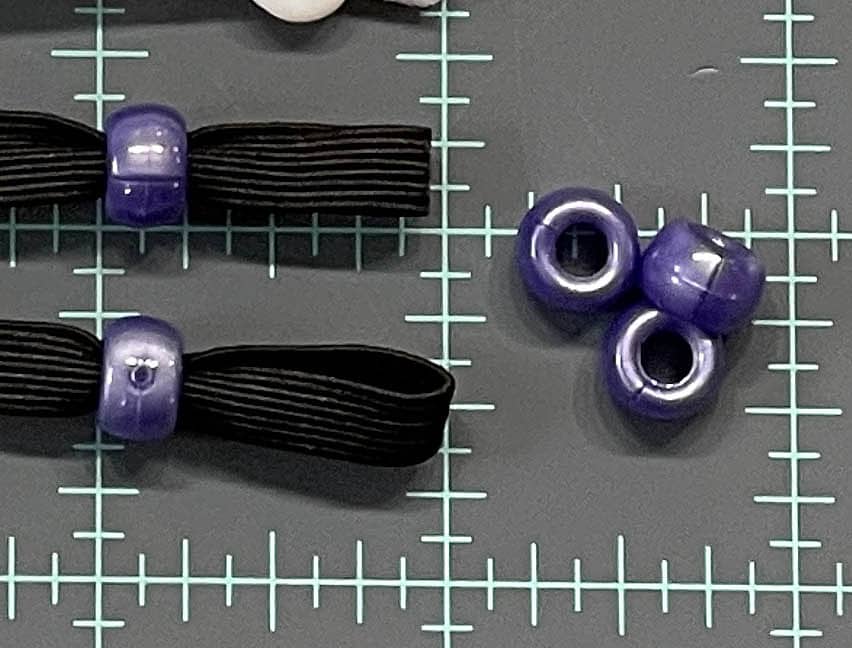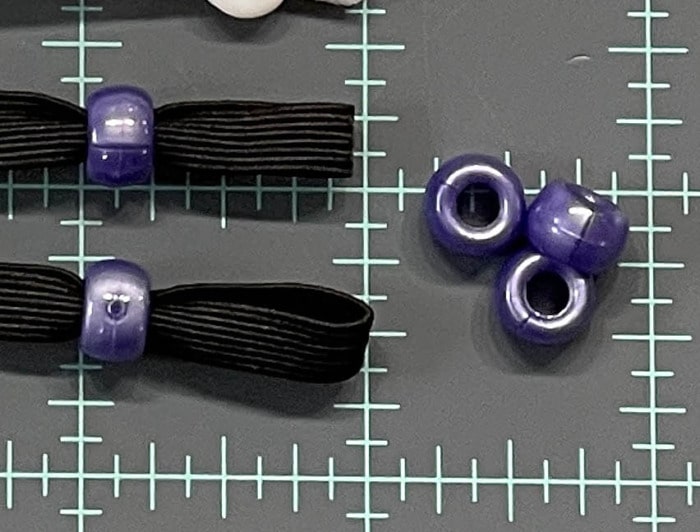 Pony beads for the drawstring.
Supplies for Cutie Pie Pouches
I've put together links for elastic, sliders, and the tools.
Cutie Pie Pouches Drawstring Bag Pattern
Here's a quick video overview of the project.
[mv_video doNotAutoplayNorOptimizePlacement="false" doNotOptimizePlacement="true" jsonLd="true" key="ourevhbprebzo58vqsx4″ ratio="16:9″ thumbnail="https://mediavine-res.cloudinary.com/video/upload/ourevhbprebzo58vqsx4.jpg" title="Cutie Pie Pouches Promo" volume="70″]
Pattern: Cutie Pie Pouches Drawstring Bag Pattern
That's all there is to this sweet little drawstring bag! Remember to grab your printable tutorial below or join Joan in class for the pattern and video tutorial, use code CUTIEPIEPOUCHES at checkout to enroll for FREE for a limited time (valued at $19.95).

Download this Freebie
Enter your email address below to instantly download this freebie now!
Like and share this post with your stitchy friends.
That's Pinterest-ing!
Save this image project to your Pinterest board for safekeeping.
Follow me on Pinterest and pin this post to your Pinterest boards.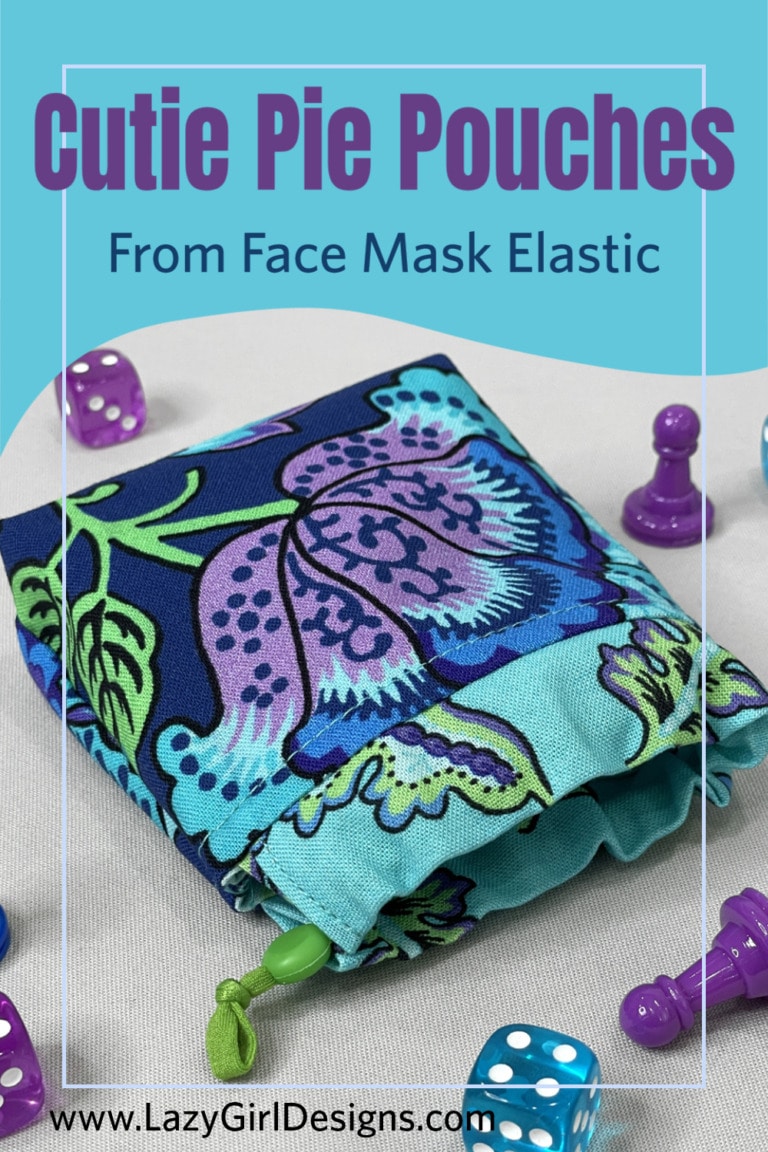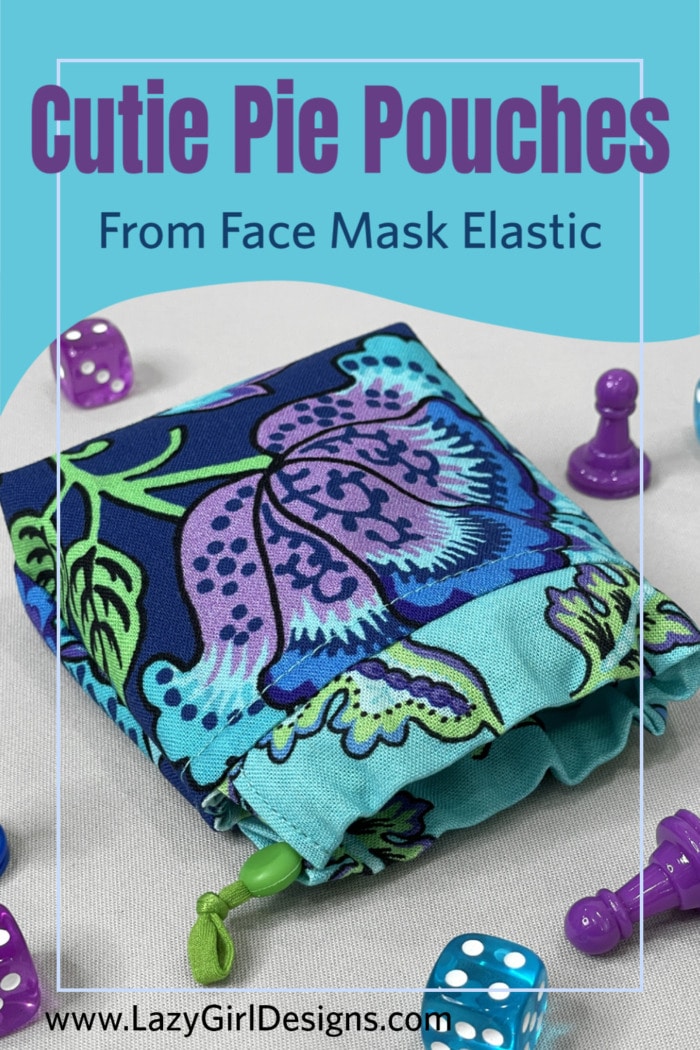 Enjoy!
Joan
Sew With Joan Online Classes | Joan's Sewing Group | Pinterest