Wonder Wallet Pattern Gets A New Cover Girl
Lazies, We've found a new 'cover girl' for our very popular Lazy Girl Designs 'Wonder Wallet' pattern (#LGD211). Here she is: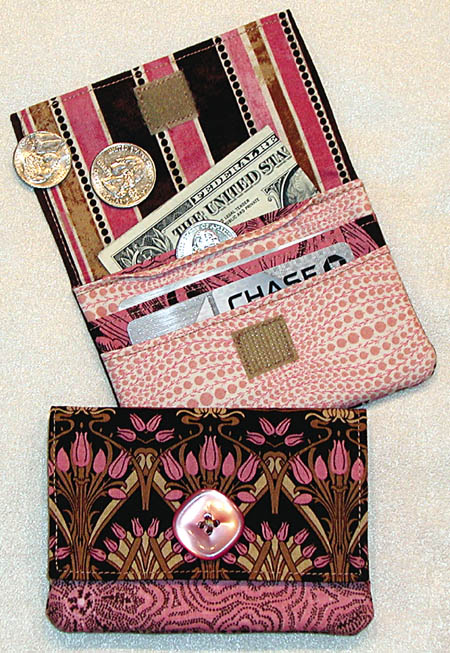 It seems unbelievable to me, but our little Wonder Wallet pattern will turn 10 years old in just a few months. From the very start, we've had fabric with little bees and apples on it, (designed by Debbie Mumm), for the cover girls. Well, those bees have served us well, but they are tired. So we are setting them free and turning to pinker pastures.
You can see the old cover and read about the 'secret' to our Wonder Wallet here.
The cover isn't the only thing I've updated. While the original pattern is wonderful, I took this 'birthday' opportunity to add tips and extra ideas that many of you Wonder Wallet enthusiasts have sent me over the years.
'Thank You' to the Lazies in my Yahoo group and Lazies everywhere for sharing ideas and feedback with each other and me.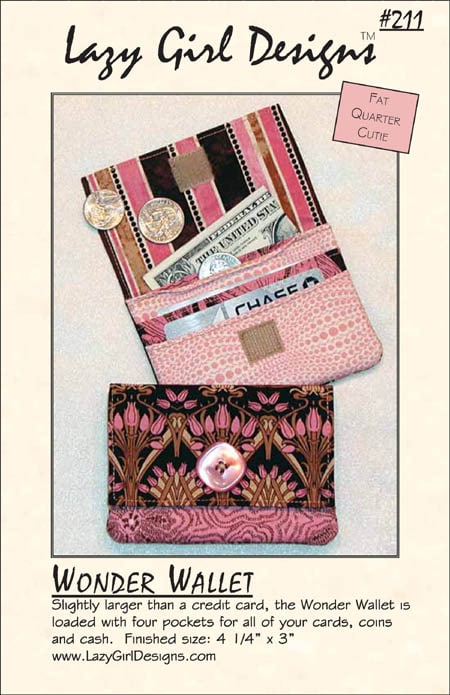 Updates to the pattern include:
– Put the cover Velcro on at the end of the project.
– Optional – interfacing for the cover only.
– Optional – round the corners of the cover.
– Adjust the placement for the Velcro on pocket #1.
– Fold down the edge of pocket #3 and press to create a lip for easy access to the coin pocket.
If you already have the original fabulous Wonder Wallet, I don't want you to miss out on these tips and ideas. So, I've made them available in a one-page PDF. If you have the original pattern, these will make sense.
Just print the file below and keep it with your pattern so you'll have this information handy for the next time you 'feel a wave of Wonder Wallets coming' – as Glenda proclaimed at the end of last Monday's post.
Wonder Wallet pattern updates: wonder_wallet_update.pdf
You can see the pattern description and supply list here: wonder_wallet_back_cover.pdf
Now, as for that beautiful fabric, I fell in love with it the moment I saw it. It's 'Tulip Nouveau' by Ro Gregg for Northcott Fabrics. You can see the line here: 'Pink Chocolate'. Nice job Ro! And a big 'Thank You' to Northcott Fabrics for supplying the fabric for our cover samples.
Please keep in mind that the new covers just arrived last week. Give it a couple of weeks for this version with the new cover girls to be in stock at your local quilt shop.
Enjoy!
Joan Hawley
Lazy Girl Designs