Get Lazy In A Whole New Way By Combining Elements Of Our Patterns
Lazies, I recently received a package in the mail from Lazy Girl Glenda Beasley.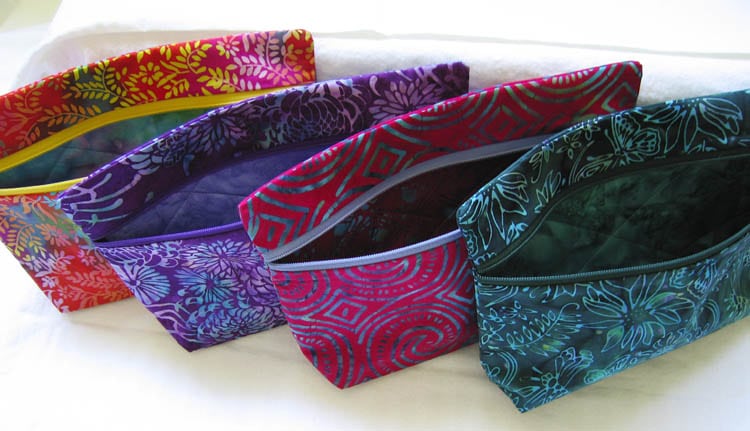 The boxed bottom corners allow the 'Perfect Nickies'
to stand up all nice and pretty.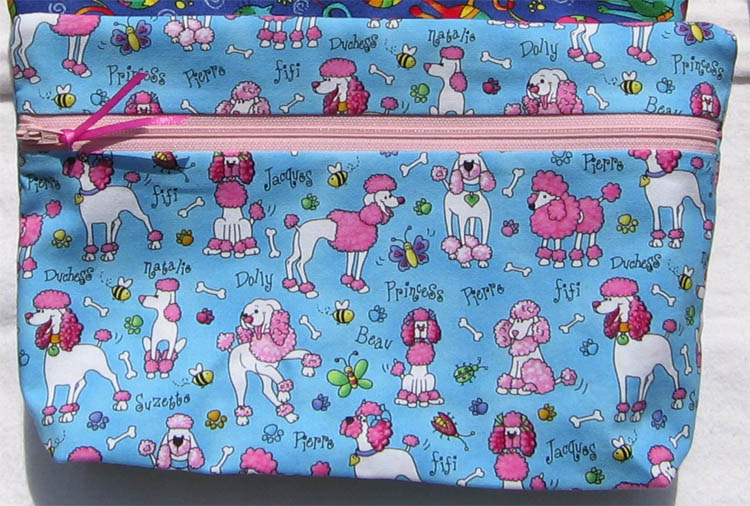 Glenda sent me the cutest little pouch made with poodle fabrics, along with a letter that is a gift unto itself.
She has been combining elements of two of my patterns – Perfect Pouch and Purse-Nickies.
Glenda is a delightful long-time member of my Yahoo Group and I thought you might enjoy getting to know her just as I have. Well, Glenda's letter tickled me and I asked her if I could share it with you and she said yes. Glenda's Perfect Nickies are the latest entry in our 'Show Us Your Lazy' project feature.
From Glenda:
Hi Joan, Remember me? The obsessive Lazy Girl, who can't make just one?
It all started with the Wonder Wallets, and I've made close to 200 by now, with many more to come.
I went on to the Take-Along Bags, but managed to stop at about a dozen. And, I've made check book covers, paperback book covers, needle cases, a Sassy Bag, and Runaround Bag and several Purse-Nickities. Most of the rest of your pattern line is just waiting their turn to come out and play.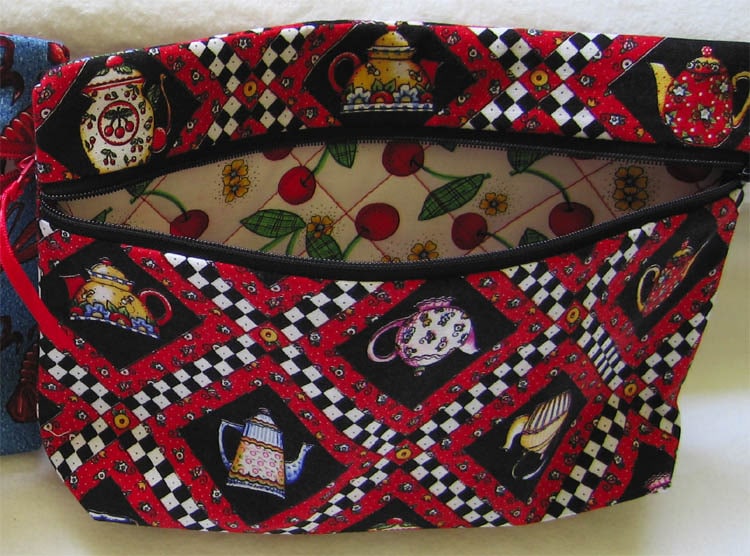 I love Glenda's fabric combinations.
Well, along the way, I made a Perfect Pouch. Hmmm, nice. Then I made a larger one, in golf fabrics for my husband to use as a portfolio as he runs a couple of golf groups and has to carry paperwork back and forth. It was larger than normal, so I quilted the back. Oh, and loose threads in his papers would be bad, so I zig zagged the inside edges. Hmmm, nicer!
Well, I needed a little something for my granddaughter's birthday, and I considered my options. I chose bright bunny fabric, with a carrot fabric for the lining, and made a medium Perfect Pouch. Then, I got out my Purse-Nickitie pattern and followed those directions to box the ends just like Nickie.
Oh, the cuteness meter was off the scale! And, I fell off the deep end.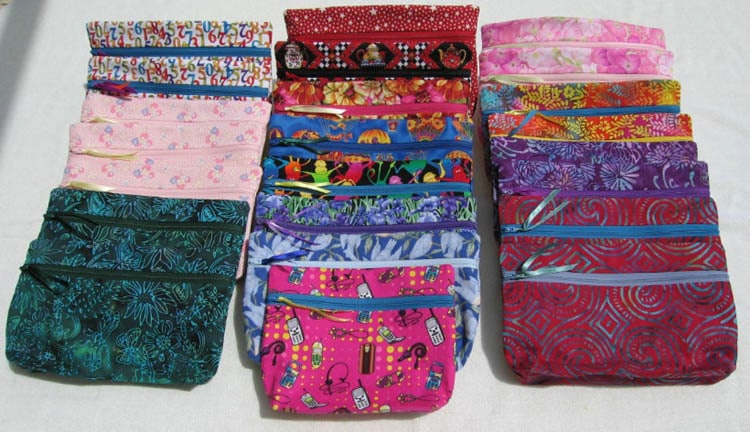 Results of Glenda's marathon sewing sprees.
All of this happened just six short weeks ago, and I finished my 40th one this morning. I have several more started, and many more sets planned. It seems like each one is cuter than the one before! The recipients have all been thrilled, of course, and everyone who sees them wants to know how to get on my "list" so I'll make them something. It is great fun choosing the perfect fabric for each person.
I figured I should show you first hand what I'm doing, and why I can't stop. Well, the other day I found this adorable poodle fabric and knew it was meant for you. I hope you understand just how much I love your patterns, and appreciate your genius. Your wonderful patterns add so much enjoyment to my life.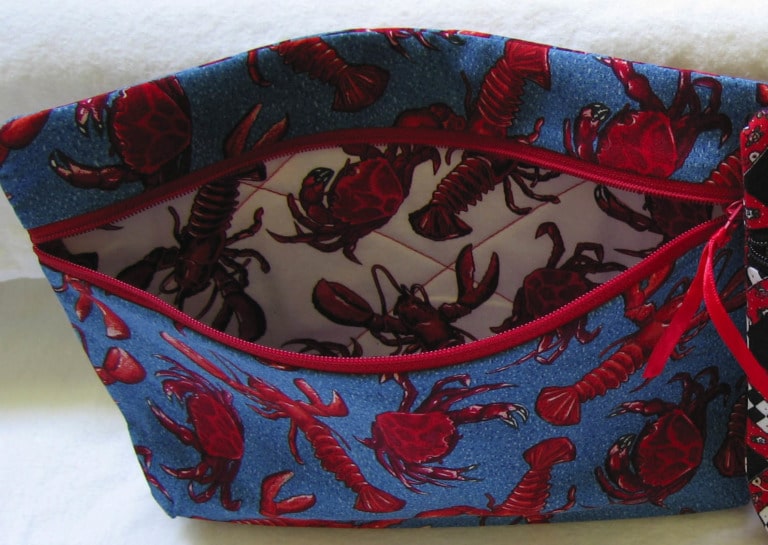 Seafood fun!
I've had a great time in my sewing room recently. I really enjoy having a finished product (or six) after every sewing session. I normally sew them in batches of three alike and use production-line sewing. The only hard part is deciding which fabrics to use next, and what color zipper to use.
I have a few more comments about why I am so crazy about these Perfect Nickies. They can be made in any size, and all dimensions can be adjusted. The medium Perfect Pouch with Nickie's 2 inch bottom is just right for carrying take along sewing supplies, or as a cosmetic bag. Made the same width and depth, but just shorter, gives you a wonderful pencil case. Made a bit smaller, it turned out perfect for my cell phone charger and manual. With a wider bottom, it can hold larger items, like a camera, tube of sunscreen, large pill bottles–you name it, the possibilities are endless. And, I have great plans for a larger one.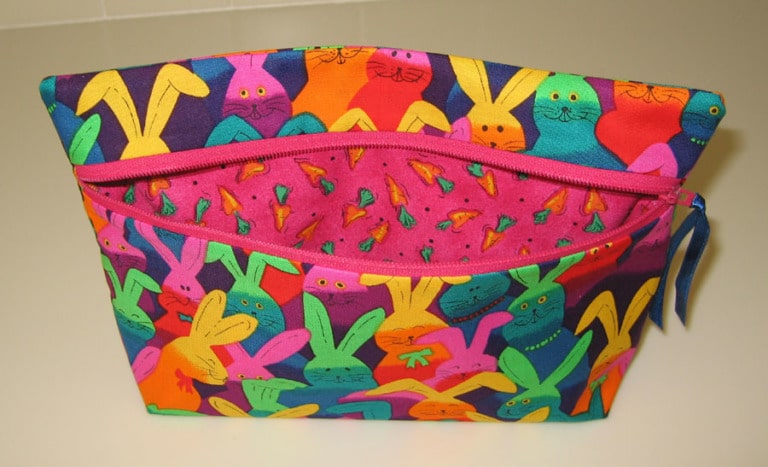 Bunnies and carrots.
I will tell you this–often, I've heard people, usually quilters, say that they have tons of fabric. My standard reply, is WOW, I only have one and a half (tons, that is). And, how do I know this? The military weighed it! We were living in Korea and moving to Qatar. We were allowed to take 4000 pounds of household goods. So, I took my fabric stash, and we each took a few clothes. That's it–no dishes, bedding, appliances–nothing but my fabric stash, 2 sewing machines, quilt books, and the usual tools and toys for quilting. For the two years that we lived in Korea, I went to the fabric market at least once a week, and bought as much as I could carry home on the subway. And, I'm pretty strong, so that was a lot. I guess my hobby while we were in Korea was building my stash, and now I'm using it up, and having a great time.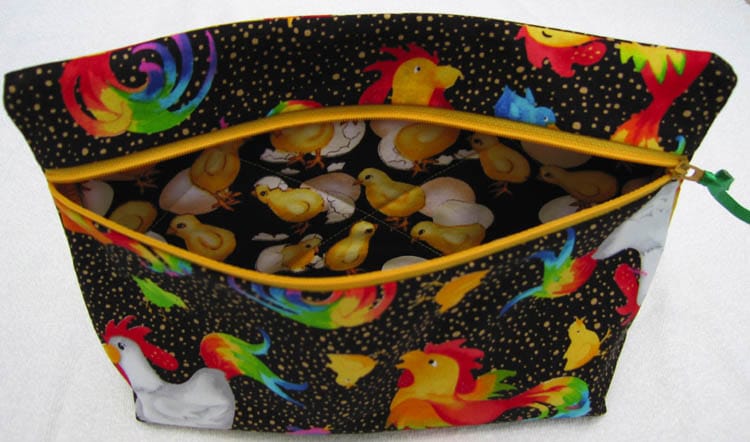 Philosophically Lazy
Which came first, the chicken or the egg?
And, the Sew-Easy zipper technique is so easy! Hmmm, is that how it got its name? Zip-Tastic isn't hard, but Sew-Easy just seems like magic. When I can sit down and install a dozen zippers in one sitting–you know it has to be easy! And, yes, I do sometimes work on a dozen at a time. The right Perfect Nickie can be a gift all by itself, or it can be filled with something to carry out the theme. They are quick and easy, and inexpensive to make. I know that I'll be making many more Perfect Nickies.
Thank you for all you do to make sewing fun.
– Lazy Girl Glenda, who feels a wave of Wonder Wallets coming on as well–I hit a button sale last week, and am fully stocked again.
Thanks Glenda! You can see our patterns that Glenda mentioned here at our website. The 'Perfect Nickies' are a hybrid of two of our patterns. The Purse-Nickities (LGD117) shown below in red/yellow and the Perfect Pouches (LGD113) shown in blue. The two patterns have different construction methodologies and zipper installations. Glenda combined elements of each pattern into one project.

Nickie is the red/yellow striped bag at the top of the picture.
The blue bags are Perfect Pouches.
Enjoy!
Joan