What's Black and White and I Want It?
Lazies, What's black and white and I want it? Any of these bags. I have a few more pics of samples headed to Quilt Market this week. Interestingly enough, both fabric lines shown today use the always popular combination of black and white. Oh baby, how I love black and white fabrics. Saying goodbye to these Girls will not be easy. Actually, these first two have already left home. Goodbye, sweet loves!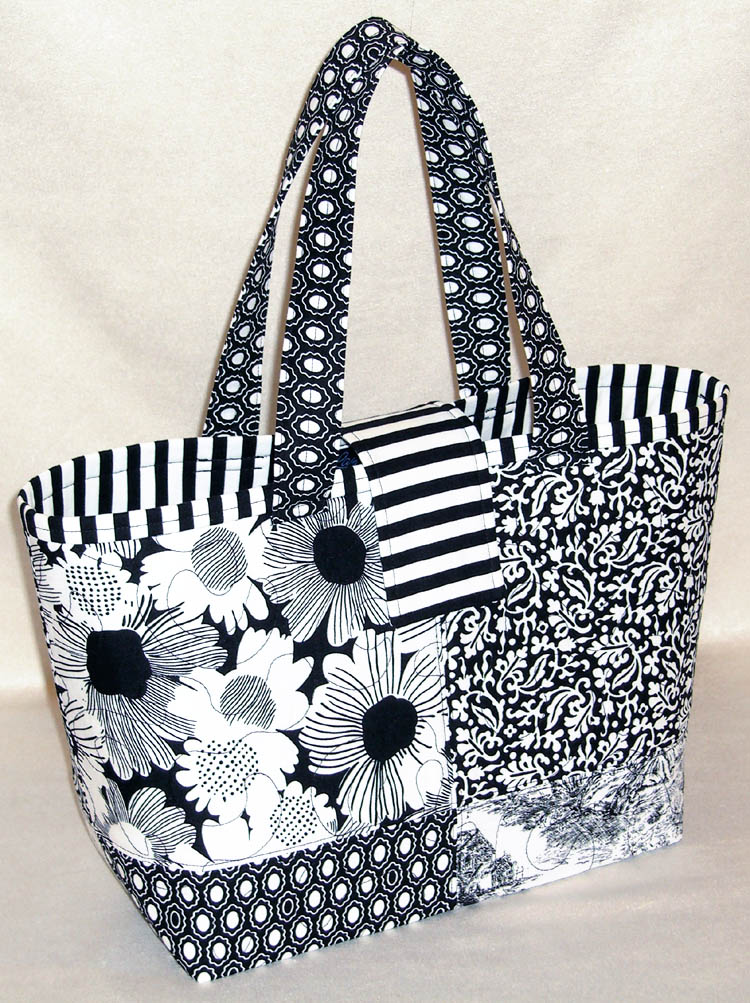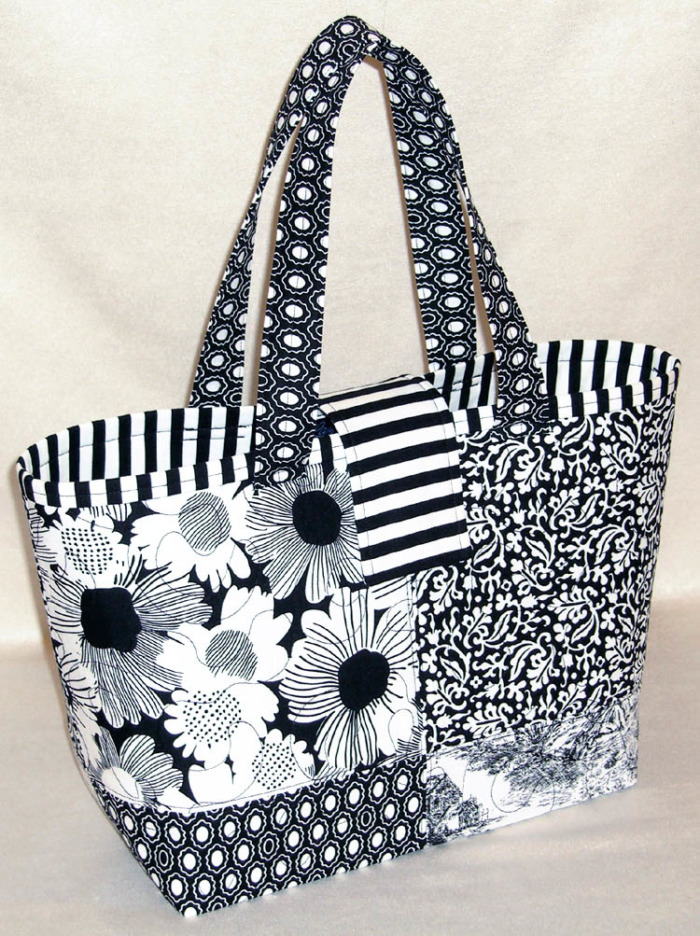 'Lily' Miranda Day Bag
'Lily' by Alice Kennedy for Timeless Treasures is just as beautiful and graphic in person as it is in these samples. This is the kind of collection that I want yards of. Yards! There are more prints available than I used in these samples.
I used four fabrics for the outside of Miranda. The Miranda pattern calls for two. I thought these graphic beauties would be better showcased by using one fabric for each of the four quilted panels that make up the front of Miranda. I did the same thing on the back.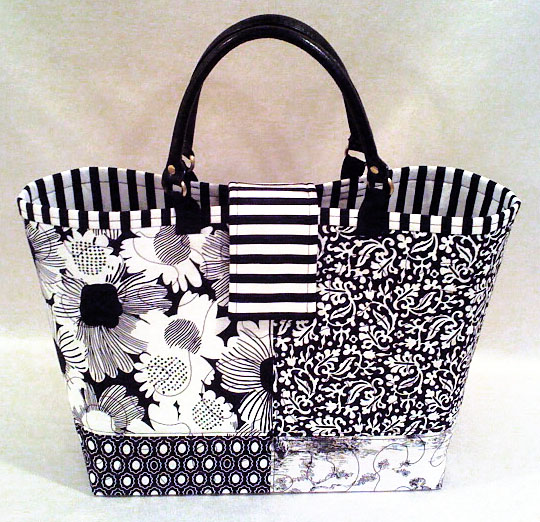 Above is another 'Lily' Miranda, but I used my fav 13″ black faux leather handles on this little cutie. Look at what a difference fashion handles make on the same bag. I like both fabric and fashion handles. Each gives the final product a different personality. Below is an inside peek. Love those stripes.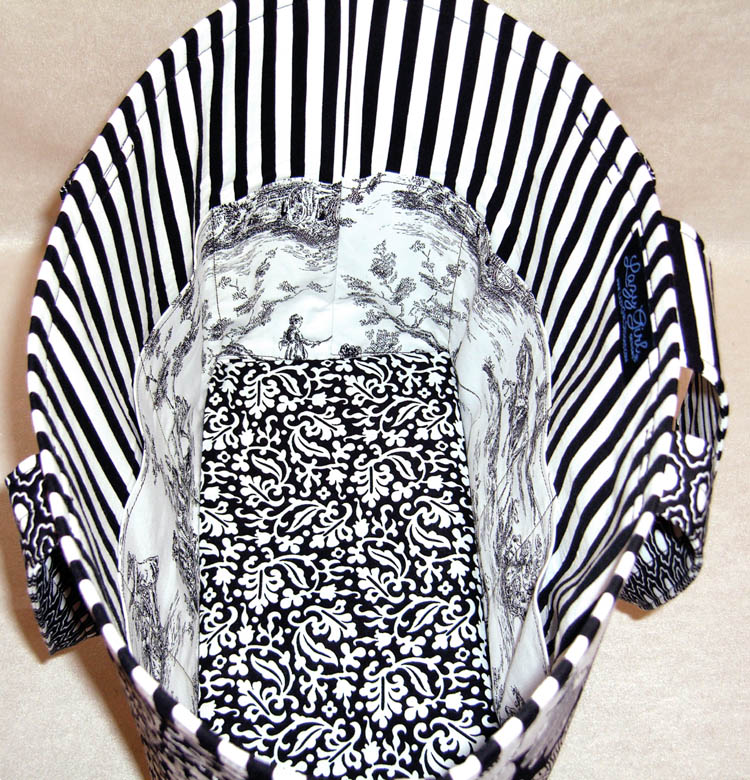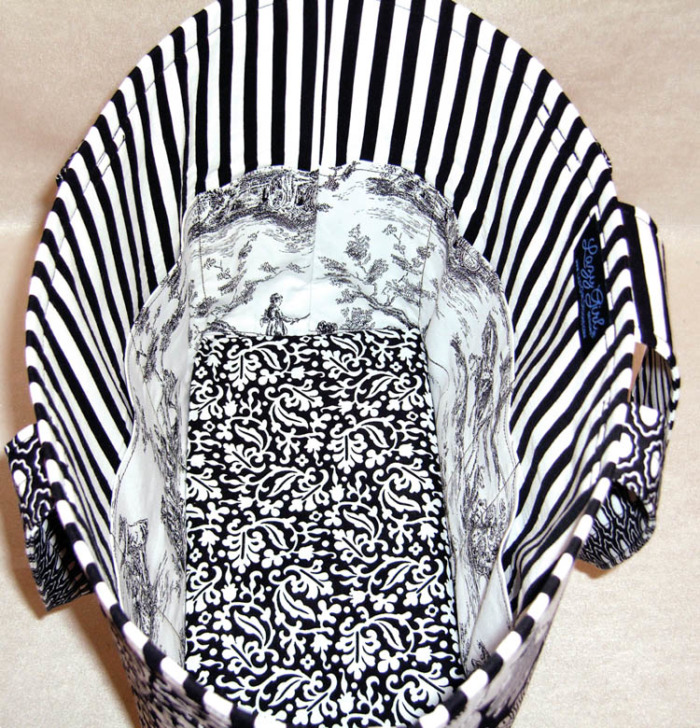 'Lilliana' Claire Handbag
I think Gail Kessler of Andover Fabrics designed her beautiful 'Lilliana' collection just for me. It's absolutely perfect for my designs. I'll go into more detail about this in a future post. What goes with black and white? Just about any accent color you can think of. In this case, a warm burst of golden yellow.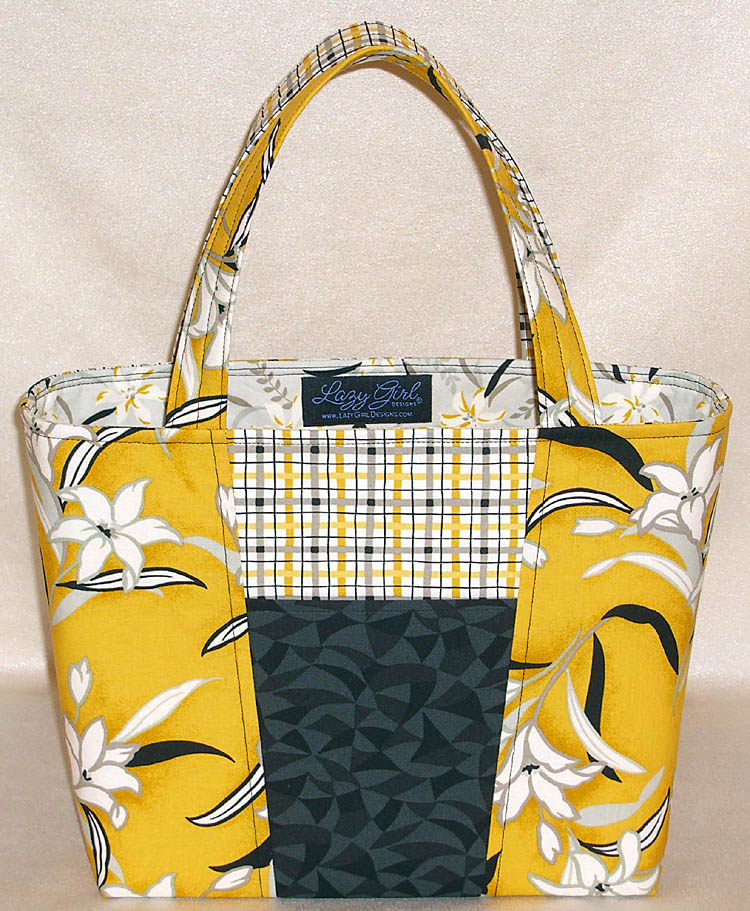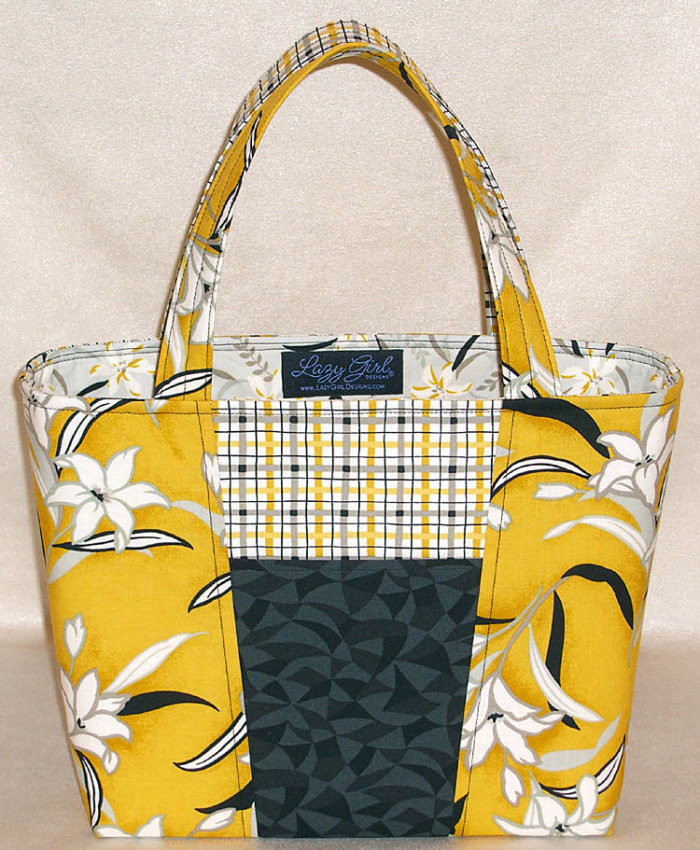 I love plaids and stripes on Claire. In the picture below, you can see that the plaid pattern matches up perfectly across the bag. They match because of how the bag goes together. Cut one piece for the back, then cut the center out.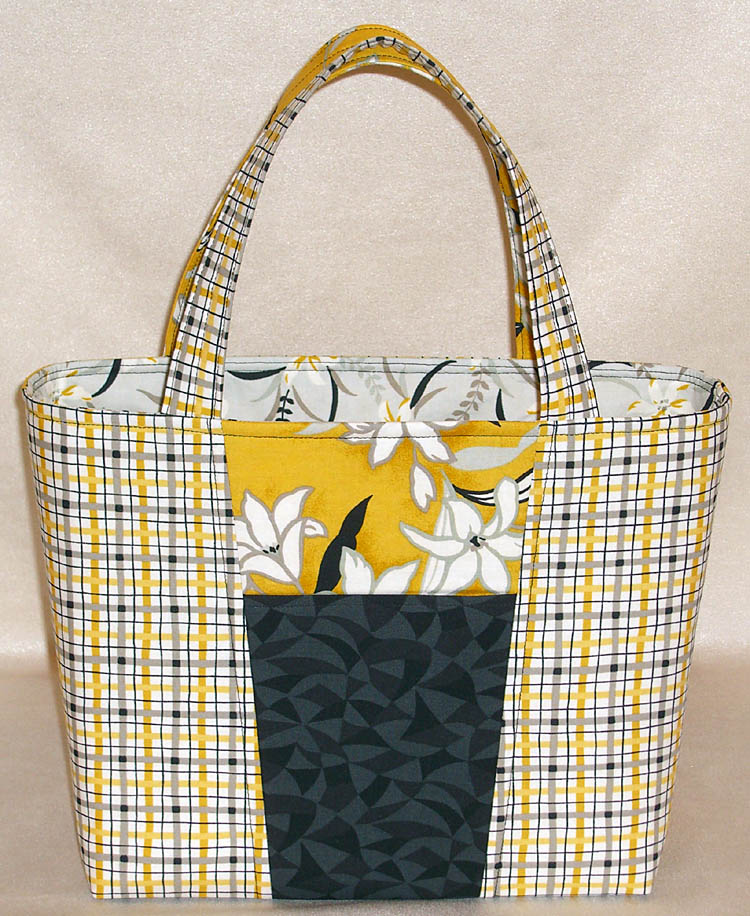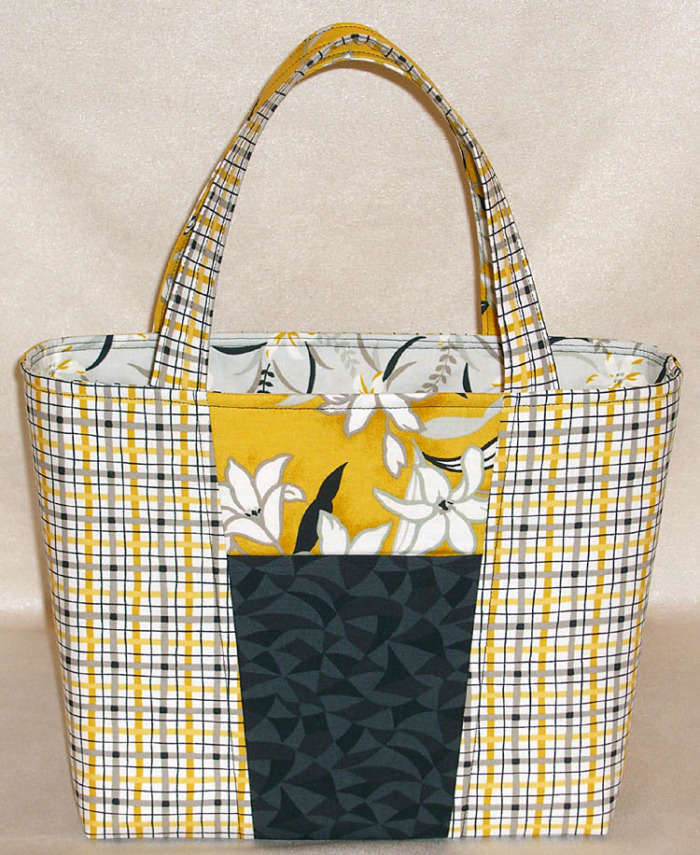 Finally, a glimpse of the inside. I added a yellow fabric for the pockets and another fun print to cover the Bag-E-Bottom purse base. Look at that – it's just a good time in there!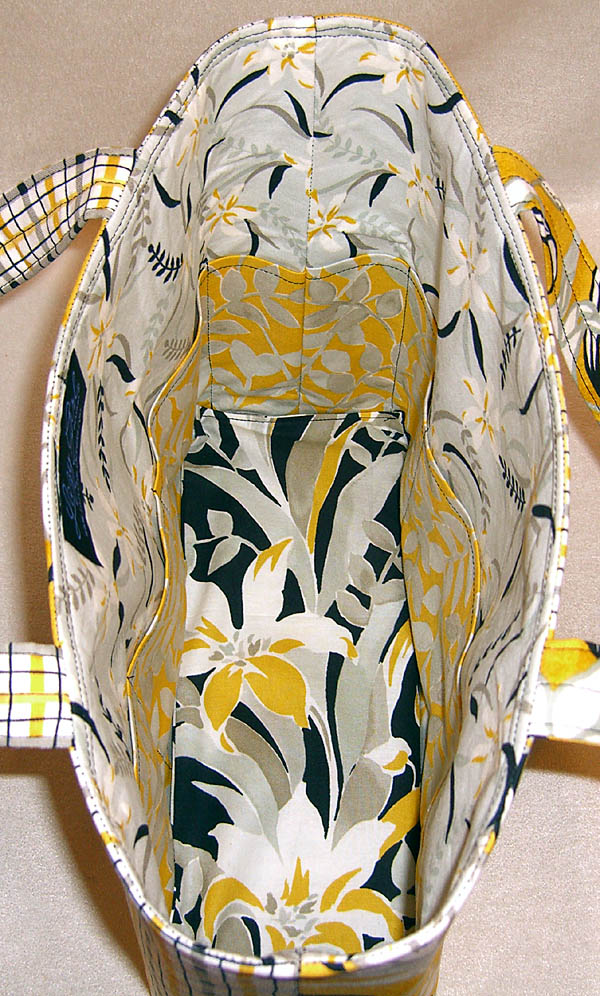 New fabrics inspire me
I love dressing up my designs in new fabrics. Seeing new fabrics is an inspiration for me. New fabrics follow seasonal color trends, styles of prints, and can even evoke a mood or feeling. The fabrics showcased this week and last week, will debut at Market this week and be available in a few month.
They have clear and crisp colorings. They are cheery, strong and contemporary. Modern, upbeat, and warm.
These are confident feel-good fabrics. Wouldn't you love to browse through bolt after bolt of fabrics that evoke such positive and bright feelings? Next time you are looking for some inspiration, make a point to stop by your local quilt shop (in person or online) and give yourself a fabric high.
Remember to sign up for quilt shop e-newsletters, too. Nothing Lazier than arranging for someone to send you emails with pretty pics of new fabrics!
Next week
I'll have a few more creations to share next week. And I may post them at our Lazy Girl Facebook page before then. Here's where the Lazies are hangin' out at Facebook: www.facebook.com/LazyGirl. Love to have you join us there.
New to our blog? Subscribe to get emails so you don't miss a juicy morsel.
Like and share this post with your stitchy friends.
Join me in the Lazy Girl community on Facebook here: Facebook Lazy Girl
Enjoy!
Joan
Facebook Lazy Girl
Pinterest Joan Hawley
Pinterest Lazy Girl Community
Instagram @JoanHawley
Twitter LazyGirlJoan
Note: This post contains Amazon affiliate links. I make a commission when you order items through that link.