Why The Miranda Day Bag Sewing Pattern Is Special
Lazies, I have a bit of a mixed bag for you today. Pretty pictures of Miranda Day Bag made by a few special Lazies and me. And some details about why the Miranda Day Bag #LGD123 sewing pattern is so special. This easy sewing pattern is the perfect bag for a day on the go. This modest sized tote bag is roomy and filled with inside pockets. Use bold fabric prints with contrast for great results.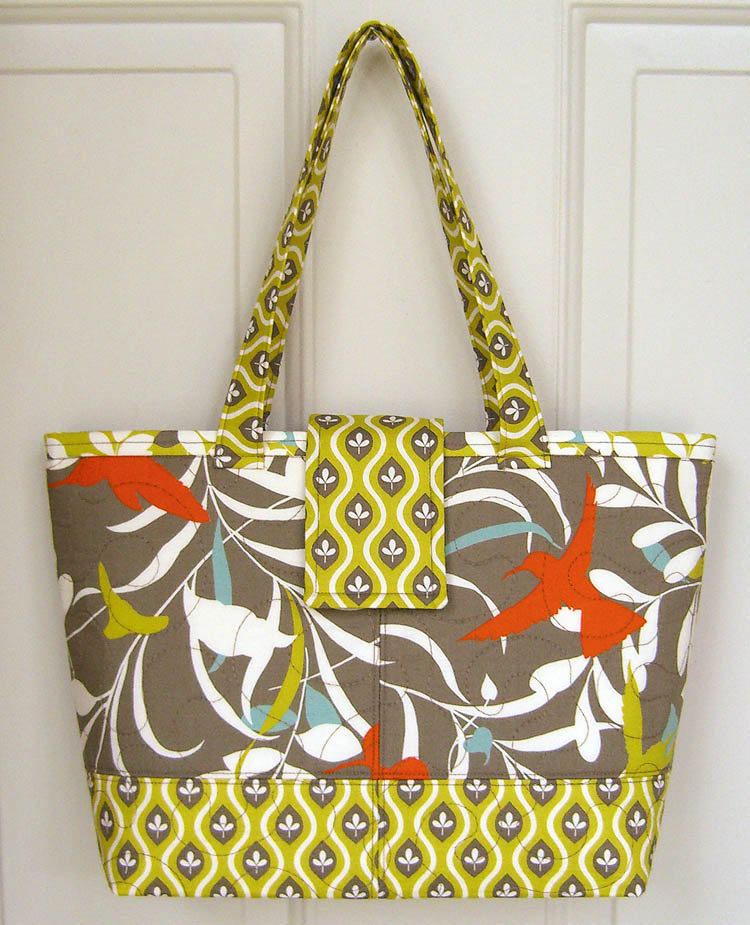 Where To Buy
The Miranda Day Bag pattern is available on our website here.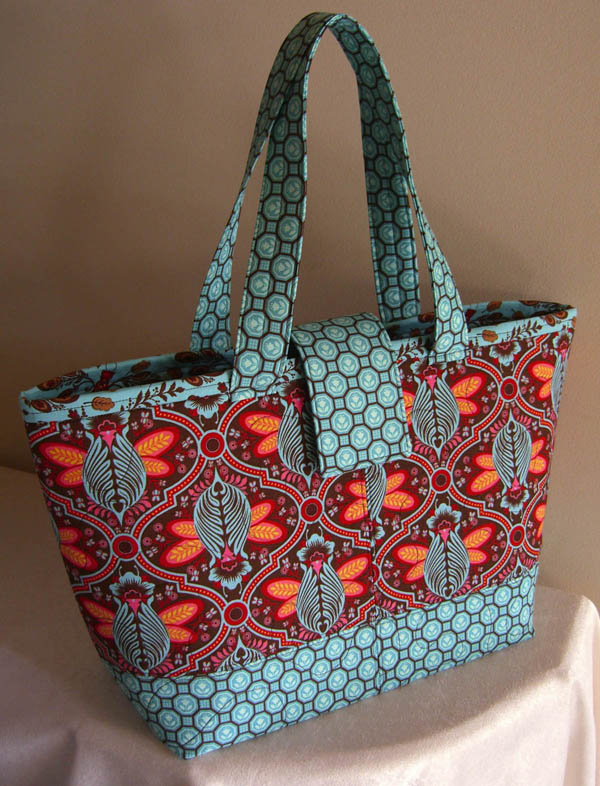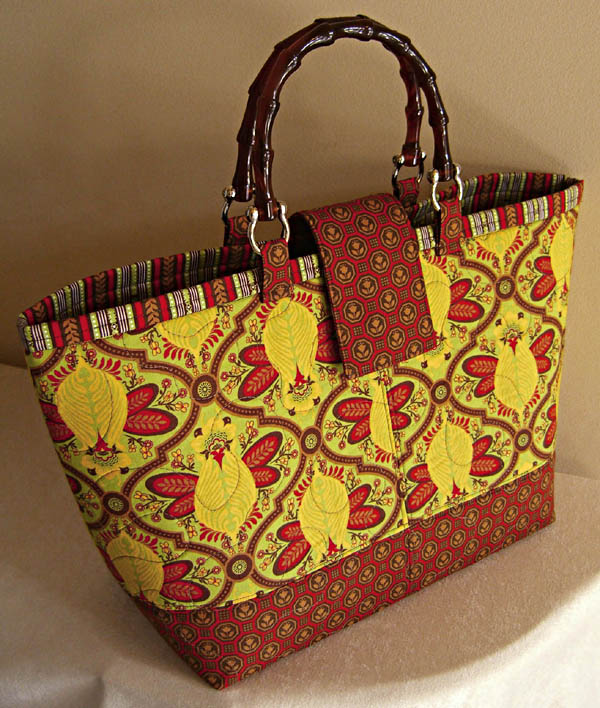 Follow our Tote Bag board at Pinterest.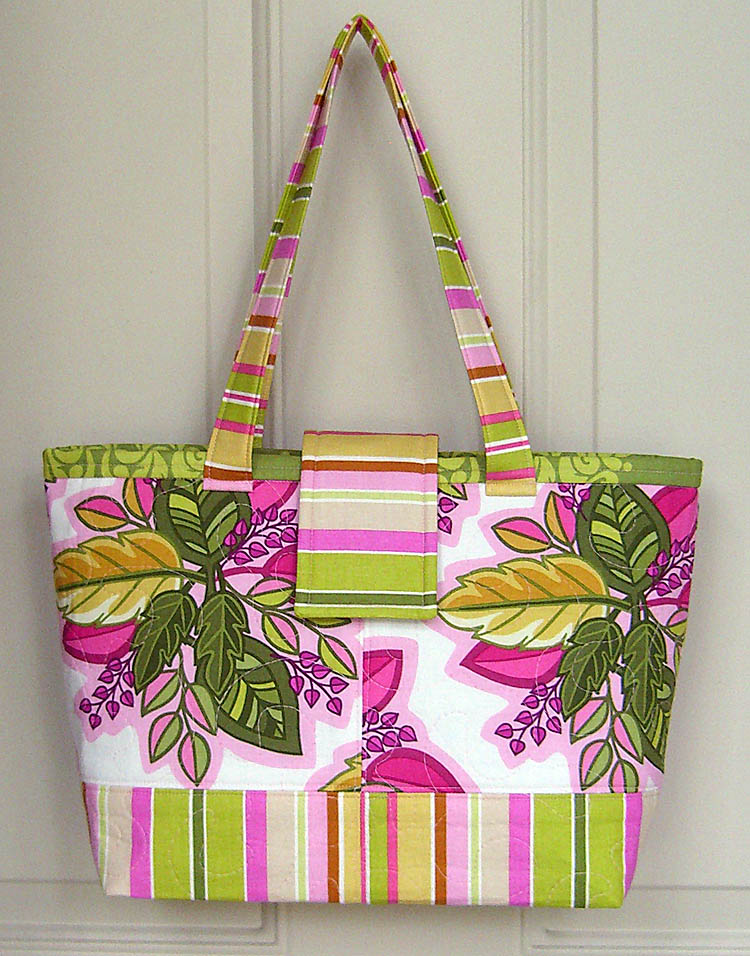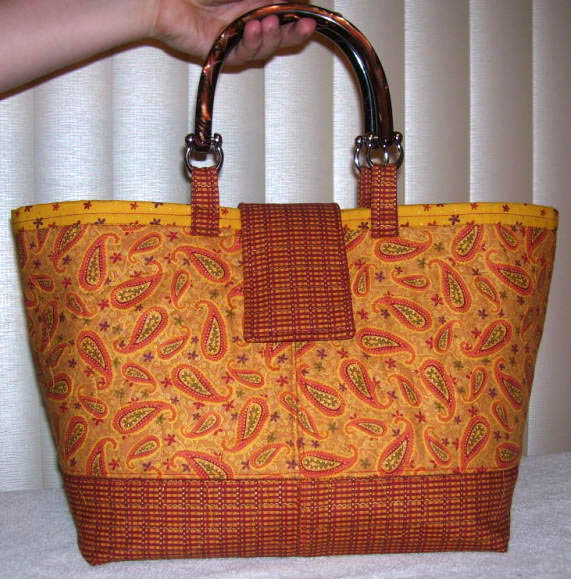 Miranda in beautiful oranges by Jessica.
Miranda Is A Book Posing As A Pattern
The Miranda Day Bag pattern is an 8 page, full-color book. She's printed on sheets of hearty glossy paper, collated, then folded and stapled with a finished size of 8 1/2″ by 11″.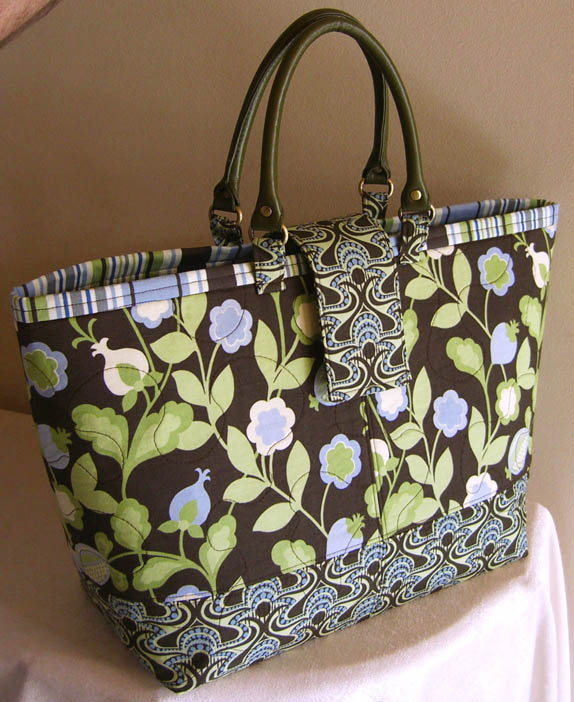 A Book At A Pattern Price
The book is folded once more to fit into a pattern bag. So, you'll find Miranda in the pattern section of your favorite quilt shop, along with our other designs. The book format is a bit more expensive on my end, but I feel this upgrade is worth it, and I'm not passing that extra cost on.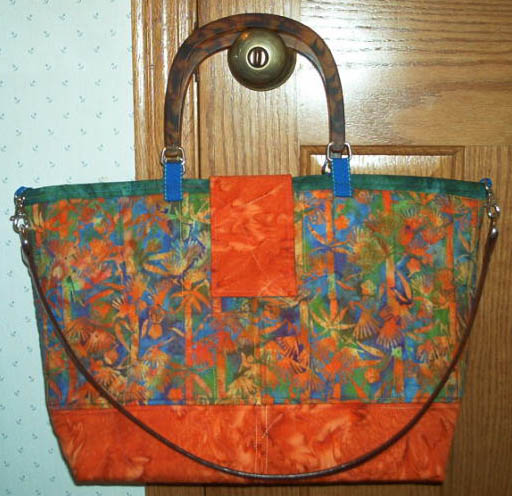 Miranda by Carolyn Griffin of Far-Flung Quilts.
Breathing Room
As you know, I'm rather chatty. I did my best to keep the text/narrative in Miranda to a minimum. I am excited to announce that there is only one paragraph of dialogue in Miranda. And that's the description on the back of the pattern. All other text is bullet lists of instructions or titles/headers. This created more 'white' space.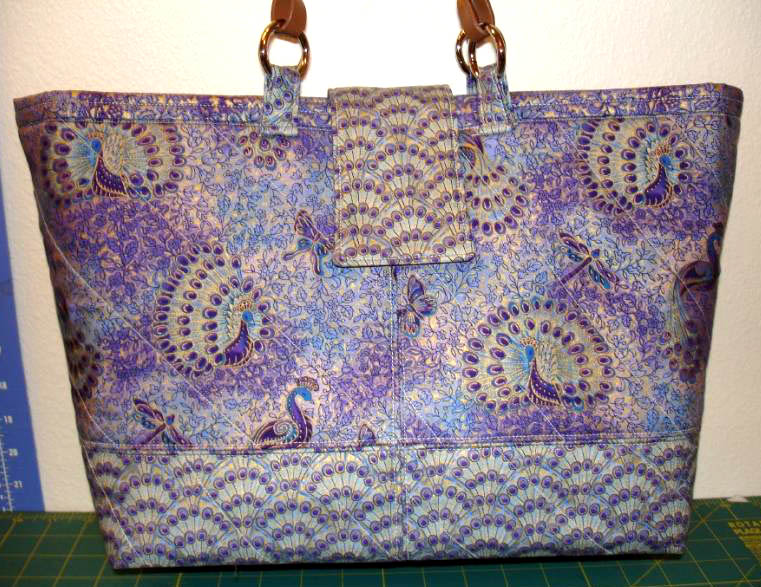 Gorgeous purple peacocks with striking leather shoulder straps by Karen Randolph.
White Is A Color
I was the first in the quilting industry to offer full-color patterns a few years ago. And I went wild with that color. Hey, I was paying for it, so I flooded the background for edge-to-edge fun. In the spirit of 'white' space, I removed the soft background color from the instruction portion of the Miranda pattern. The background color is still there for the front/back cover. I also chose mellower/softer fabric colors for the step-by-step photographs, so it is softer to the eye as you work through the pattern.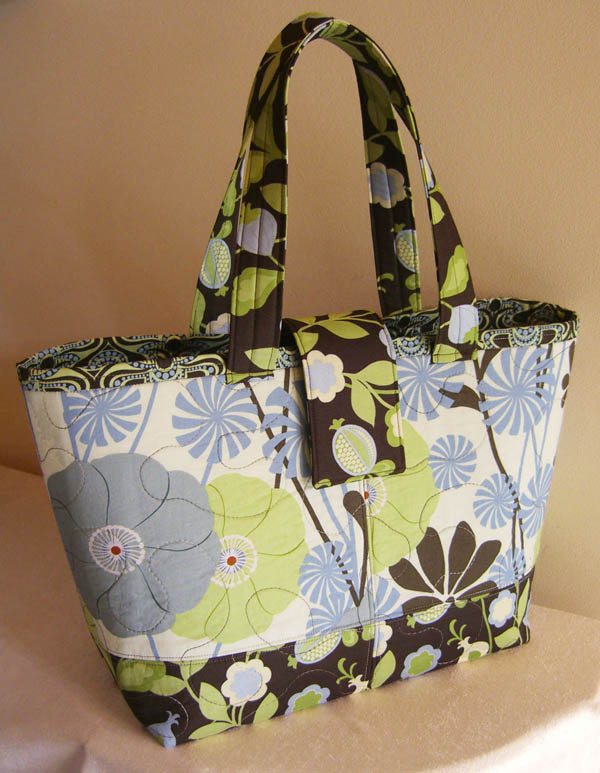 More Visuals Please
There are more photographs, and they are a bit bigger than in previous patterns. Instructions are bullet items under each photo. You should be able to look at the pictures and work through the project.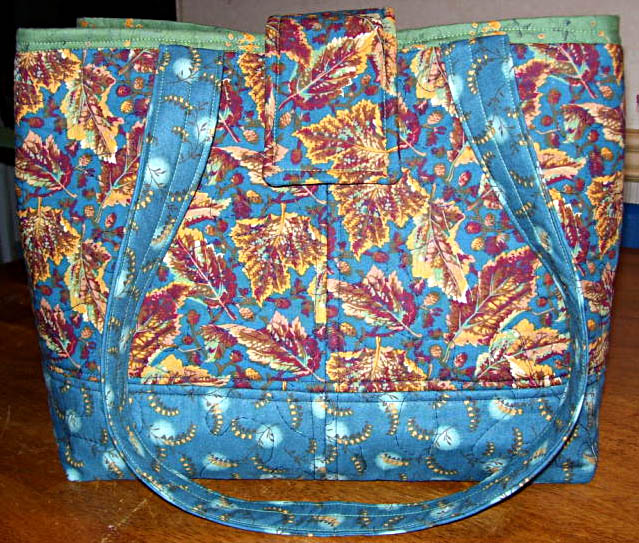 Beautiful blues and greens by Sharon Phagan
Cutting Diagrams
I've included cutting layouts for all four fabrics, batting, and interfacing. Keep in mind that this is a rotary cut project; no pattern pieces are included. Rotary cut the strips, then re-cut for the pieces needed.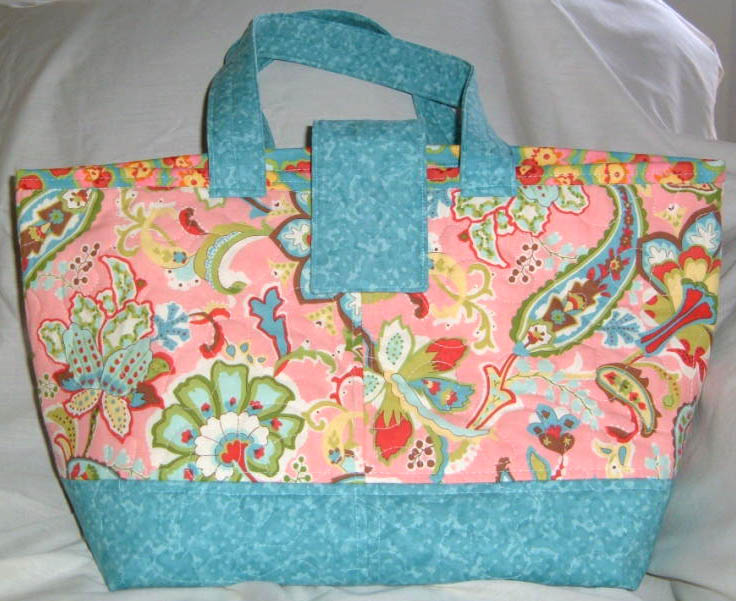 A Miranda by Lazy Sister Susan Congdon for her daughter.
Miranda By The Numbers
From start to finish, Miranda took nine weeks and approx. 400 hours of work. That's from the time the design started pouring out of me until she went off to the printer. And this was in addition to my usual duties of running the company and being Lazy.
Where To Buy
The Miranda Day Bag pattern is available on our website here.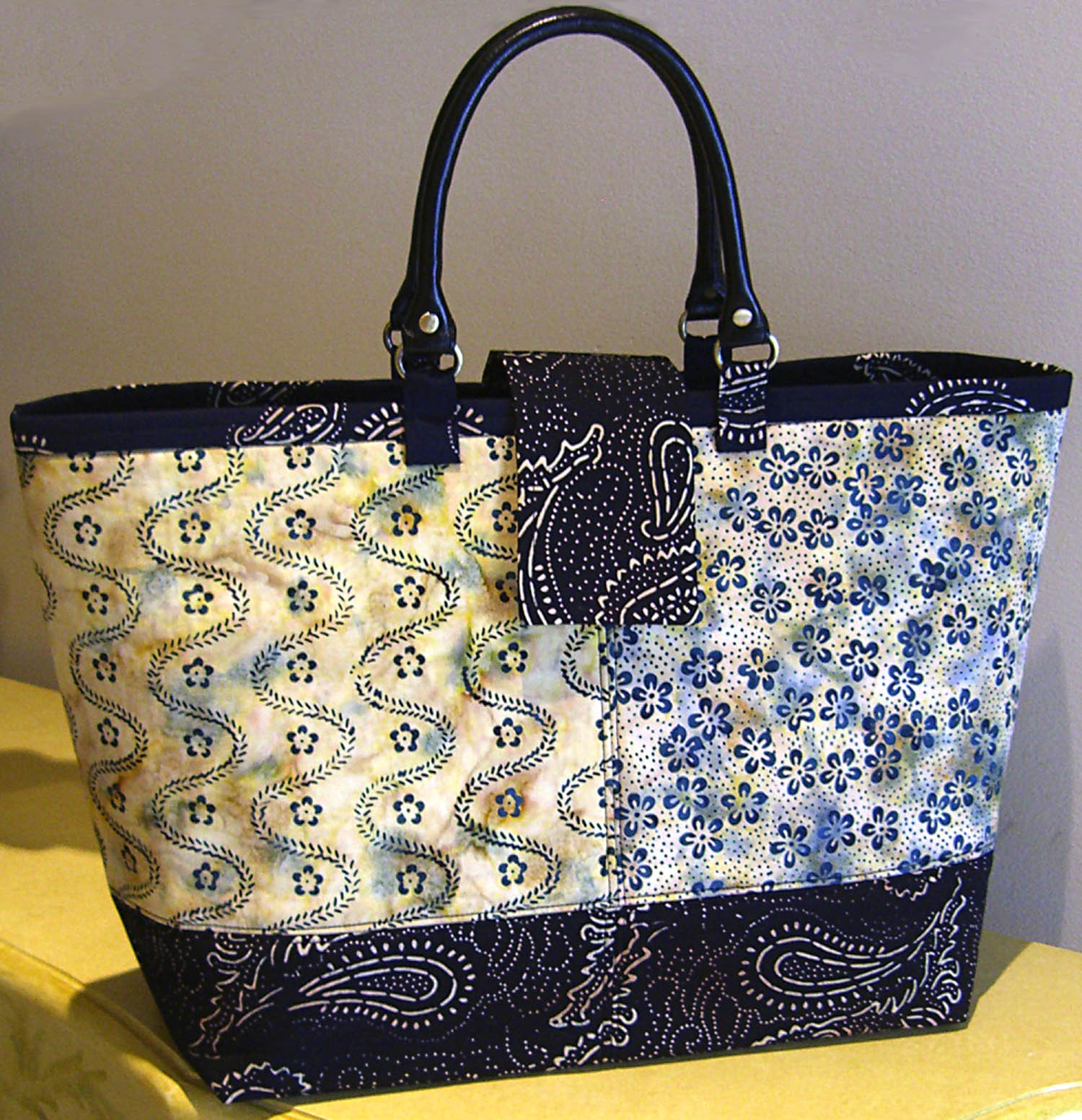 Subscribe to receive emails for my blog and newsletters about new patterns and project ideas.
Enjoy!
Joan
Joan's Sewing Group | Pinterest
Like and share this post with your stitchy friends.