Tutorial: 'Wrap & Fold' Technique For Perfect Handles Every Time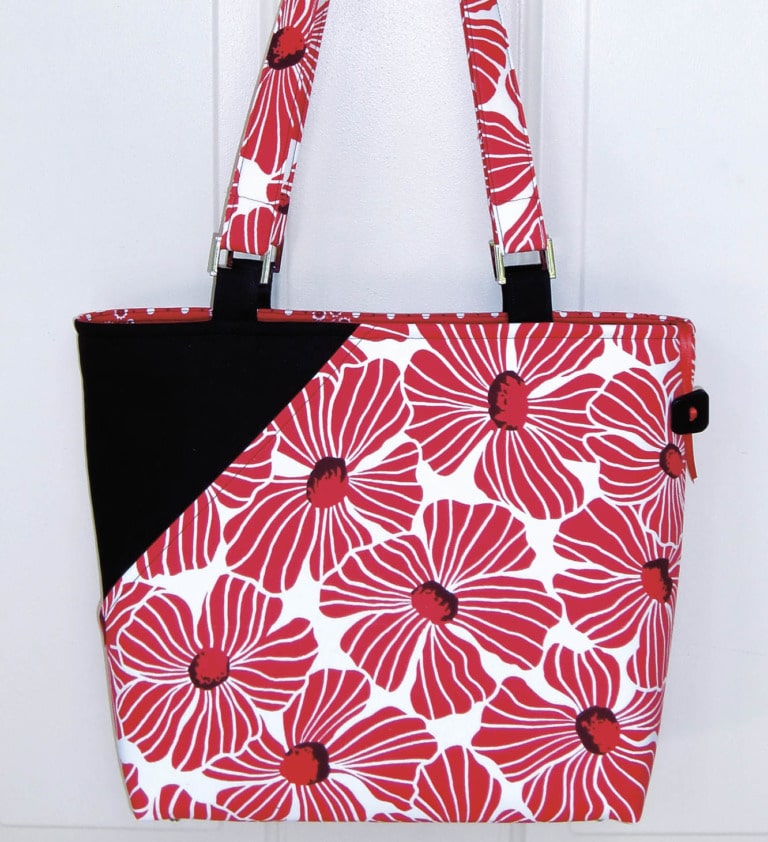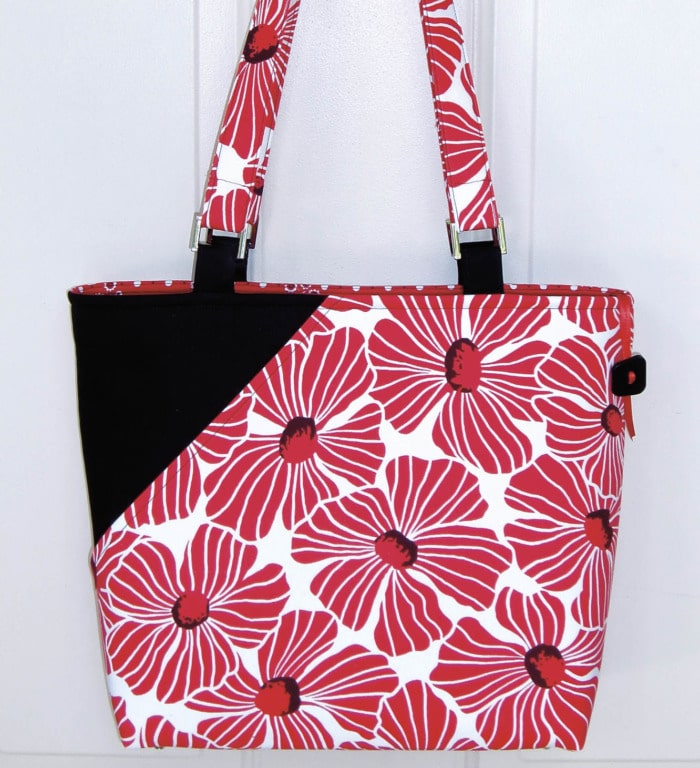 Lazy Girl Designs 'Candice', shown with perfect handles
made the Wrap and Fold way. (LGD130)
Lazies, Making perfect handles for your next bag creation is easier to achieve than you might think with our Wrap and Fold technique. Conventional construction methodologies might suggest making a fabric tube, turn it right sides out and stuff with supportive batting or filling. All I have to say to that is: Ewwww. And we can do better.
While making and turning tubes is do-able, it's fraught with issues. My chief complaint is achieving consistency, and that's an issue from start to finish. I just don't think it's a good way to go when better results can be achieved with a different approach.
My line of bag and accessory patterns are loaded with my new and alternative techniques such as 'Wrap and Fold' that are easy to achieve with great results.
To make great looking handles the 'Wrap and Fold' way start with a good selection of batting/interfacing. I like to use a combination of low-loft fusible batting/fleece and a medium/heavy fusible interfacing. My product recommendations are below.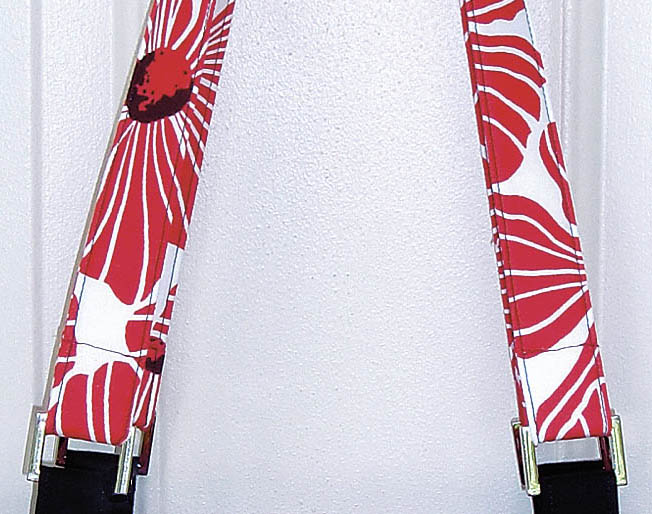 Easy to achieve fabric handles for your next bag project.
Wrap and Fold Technique
Wrap and Fold is easy, accurate and works for any size handle. The concept is to wrap fabric around stacked batting/interfacing much like wrapping a hotdog in a crescent roll to make a pig in a blanket. In our case, the hotdog is a flat piece of batting and the tasty crescent roll is the fabric.
Let's take a look at the technique, then I'll explain all the details and important points below. The fabric ends can be left open for handles sewn into the seam of a bag. Fold the ends in for finished handles to use with 'D' rings.

Materials: Cut 2 of each
Fabric 3.5″ x 28″
Batting 1″ x 27″
Interfacing 7/8″ x 27″
Make Handles
Plain Handles: Leave short ends unfolded as shown in first picture.
Handles with 'D' Rings: Fold 1/4" of short ends to wrong side and press as shown in second picture.
– Fold 1/2" of fabric on long edge to wrong side, press.
– Place batting into fold, fuse.
– Center and fuse interfacing on top of batting.
– Keep fabric/batting together, fold toward raw edge of fabric, press.
– Wrap remaining fabric to front of handle as shown, press.
– Lift final fold, tuck raw edge.
– Re-fold, matching folded edges, concealing raw fabric edges.
– Use walking foot and stitch through all layers around all edges.
– Plain Handles: Trim away ends without batting/interfacing. Trim handles to 27".
– 'D' Ring handles: Handles are ready to go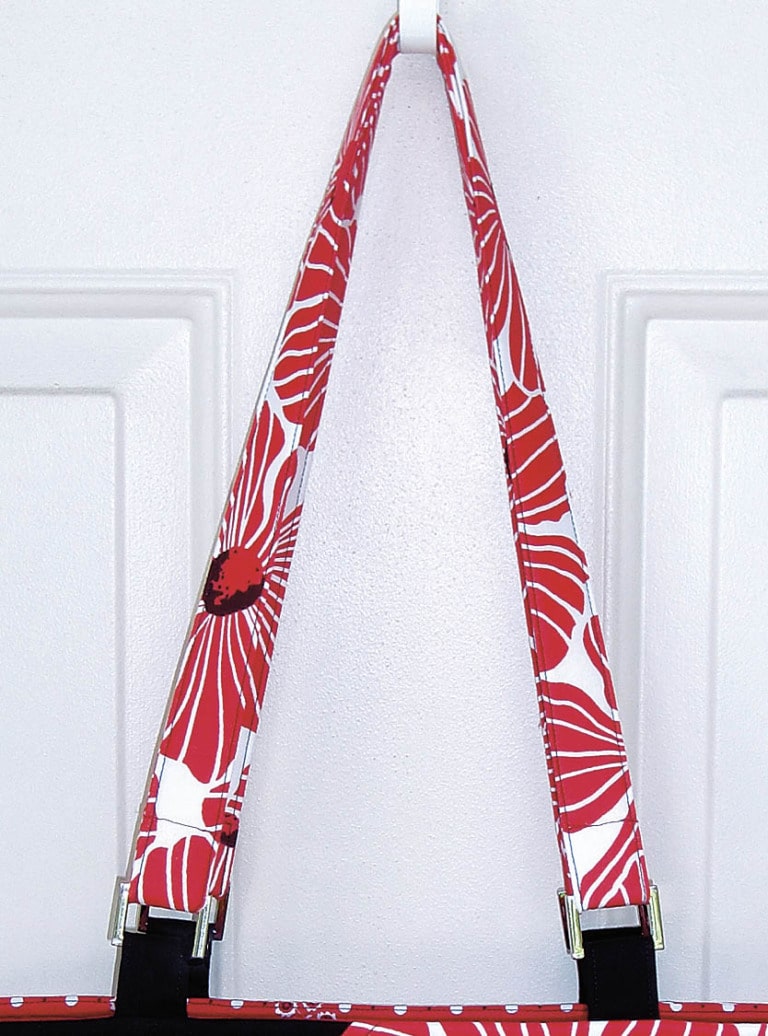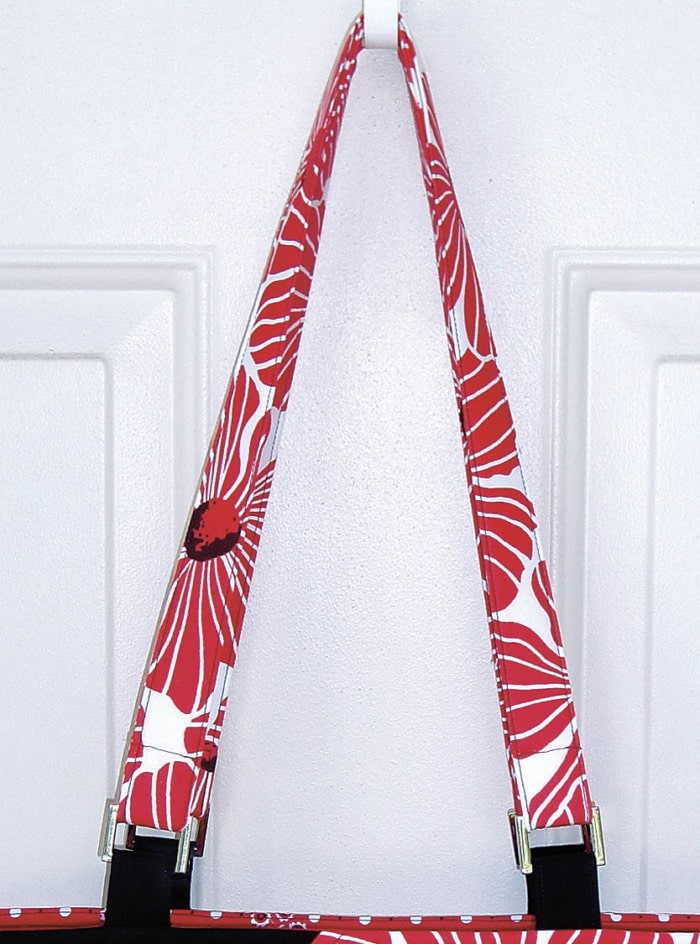 Nice, long, even, consistent handles. Shown with rectangular ring attachment.
Batting
A confident piece of batting will hold its shape when wrapped with fabric. By 'confident' I mean the difference between soft and drapey batting suitable for a baby quilt versus a more firm low-loft batting with more structure ideal for giving bags great posture. The batting should be more firm than the fabric. I like batting with fusible on one side, rather than both sides.
Pellon #987F
Therm-O-Web #2425
Bosal #325
Interfacing
The interfacing adds a nearly invisible layer of strength to the handles. It helps keep the handles from stretching and helps them to lay flat as opposed to rolling or possibly folding in on themselves.
The interfacing is also cut slightly narrower than the batting for strategic reasons. First of all, it can easily be centered over the slightly wider batting. This is important. If the long lengths of the batting and interfacing were the same size, they'd need to be aligned/stacked perfectly or it would result in overhang of one material and inconsistencies in the finished handle.
Most importantly, though, by cutting the interfacing narrower and centering it atop the batting, you've guaranteed that the firm cut edge of the medium/heavyweight interfacing won't touch the soft and cushy fabric edges of the handle. This will keep the handles soft and prevent the interfacing from wearing through the fabric.
Pellon Decor Bond #809
Therm-O-Web #2434
Bosal #334
New to our blog? Subscribe to get emails so you don't miss a juicy morsel.
Like and share this post with your stitchy friends.
Join me in the Lazy Girl community on Facebook here: Facebook Lazy Girl
Happy handles to you!
Joan
Facebook Lazy Girl
Pinterest Joan Hawley
Pinterest Lazy Girl Community
Instagram @JoanHawley
Twitter LazyGirlJoan
Note: This post contains Amazon affiliate links. I make a commission when you order items through that link.