Tutorial – Add a Pocket Flap Closure To a Tote
Lazies, How would you like a little more privacy and security for the pockets in your favorite tote, purse or bag? Adding a flap closure using the new Fusion fusible Velcro is a wonderful way to make the most of this versatile notion. Be sure to grab a FREE printable tutorial (a $9.95 value) below.
Talk About Lazy!
Since the 'Fusion' version of Velcro is a fusible, pieces of Velcro can be added at any time during – or after – a project! The possibilities are absolutely Lazy! Otherwise, use sew-in Velcro or hook-and-loop tape and add the pocket flap while constructing the bag.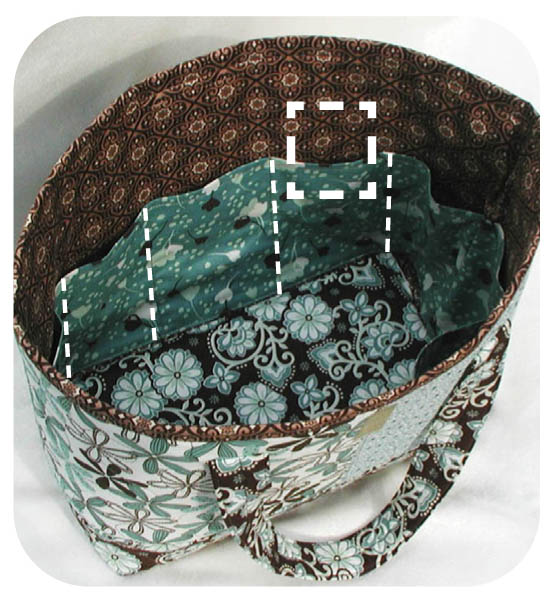 Add safety and privacy to an open-top pocket.
The white dotted square indicates where a flap closure will be added to the lining for one of these pockets.
Pockety Goodness
The Miranda Day Bag from Lazy Girl Designs (pattern #LGD123), is loaded with 10 'pockets in the round' as shown here. I've highlighted the pockets in the picture above with the white dashed lines.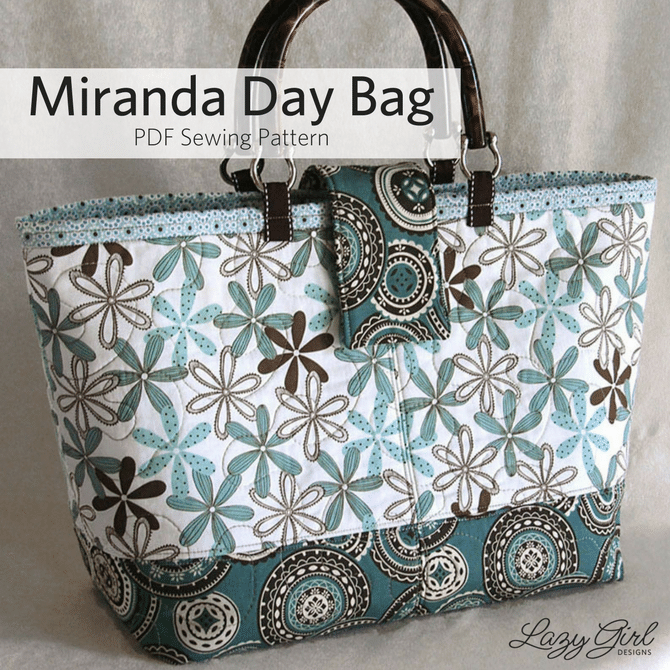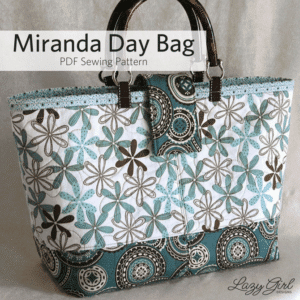 Lazy Exclusive!
The information contained in this tutorial is not included in the Miranda Day Bag pattern. Print the tutorial (end of this post) and keep it with your pattern.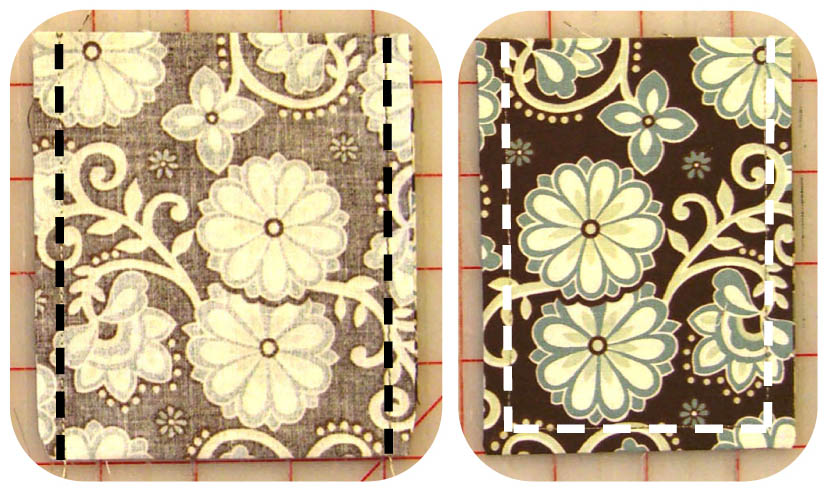 Make a simple flap from coordinating fabric.
Make a Flap
– Cut a piece of fabric the width of the pocket by 9" high. My pocket is 4" wide.
– Fold flap fabric in half, right sides together, matching short edges (should measure 4" x 4 1/2").
– Use 1/4" seam allowance, stitch side edges.
– Turn right sides out and press.
– Topstitch along the three finished edges, press.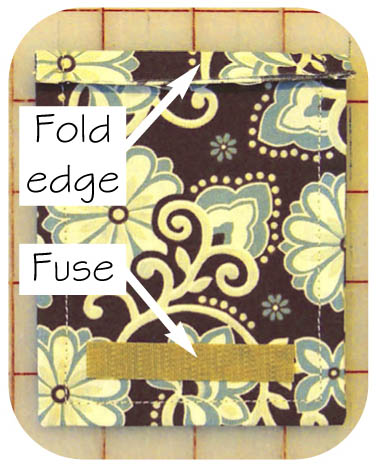 A little attention to the back of the flap.
The Back Side of Flap
– Fold 1/4" at raw edge to the back side of the flap and press.
– Cut rough half of Velcro 1 1/2" to 2" long. Then cut it down the center lengthwise, approx 3/8".
– Attach Velcro to back of flap at least 1/2" from edges. Note: Follow manufacturer's directions for fusing.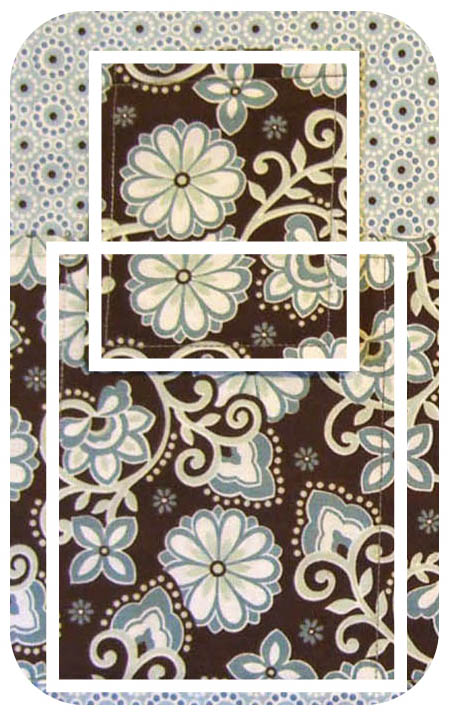 Overlap the pocket and flap so Velcro can meet.
Attach Flap and Velcro
– Flap and pocket should overlap 1 1/2" as shown with the two white boxes in the picture above.
– Stitch top edge of flap to lining as shown in the picture below.
– See 'Note' at the end to learn how to fuse rather than sew flap to bag.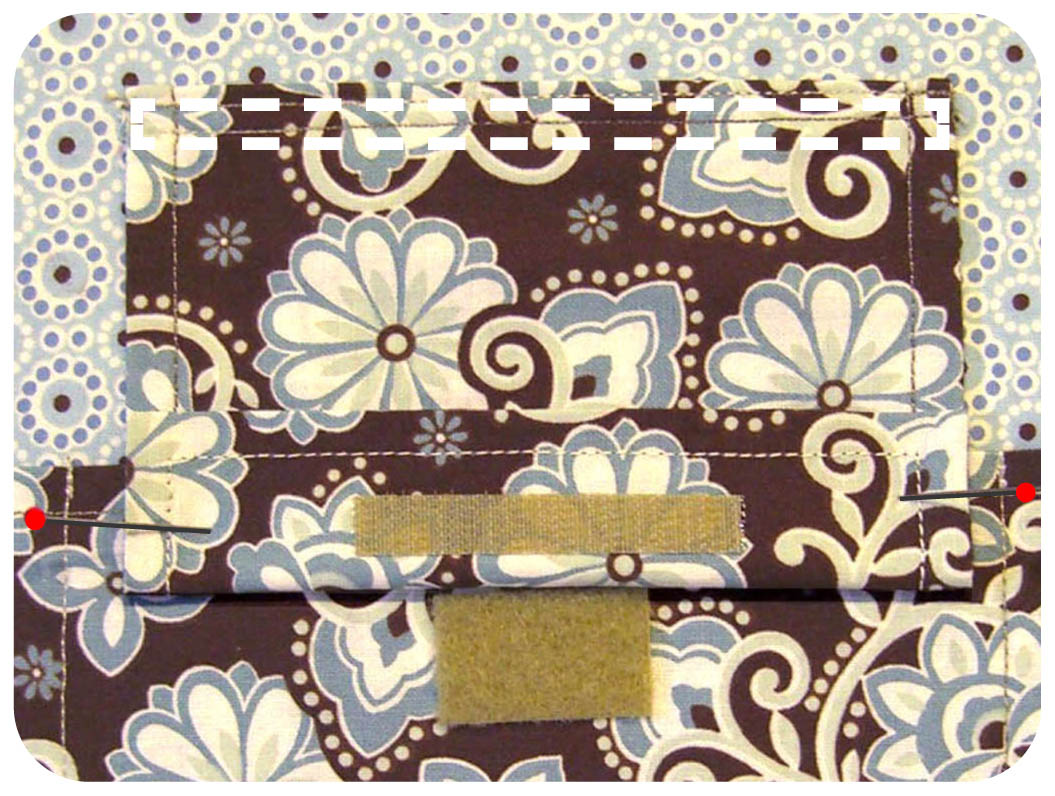 – Stitch a box pattern (shown in white toward top of picture) big enough to conceal the raw edge on back of flap.
– With flap in place, fold bottom edge back to reveal rough piece of Velcro and pin.
– Cut 1″ piece of soft half of Velcro and attach to pocket, centered below the Velcro on the flap.
– Note: I've sewn the flap closure in place in this tutorial. To add a flap to a finished bag, attach Velcro 'Fusion' to the top edge of the back of the flap, cover the raw fabric edge. Then fuse Velcro to the lining to match.
Pocket flap is done!
Be sure to grab a FREE printable tutorial (a $9.95 value) below.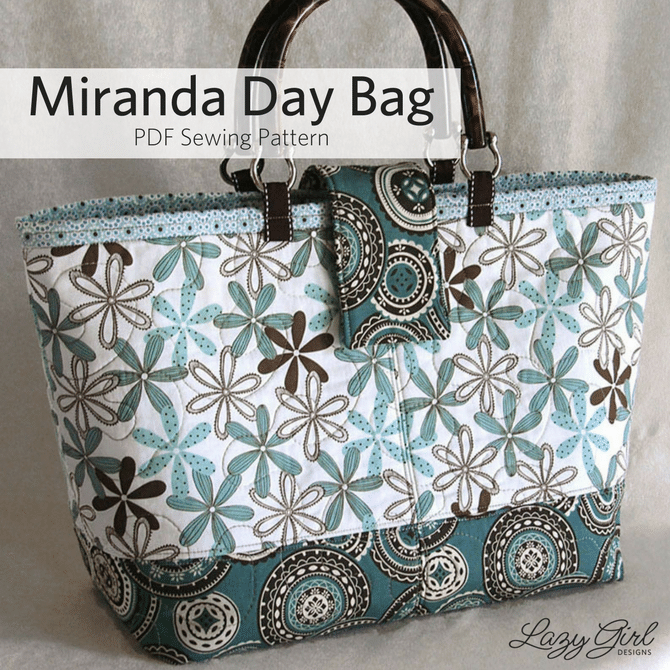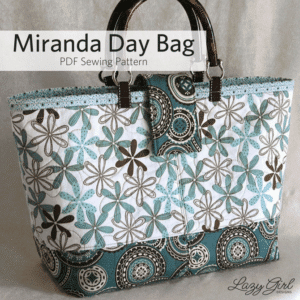 Subscribe Now to get news, updates, and exclusive content from Joan.
Enjoy!
Joan
Joan's Sewing Group | Pinterest
Download this Freebie
Enter your email address below to instantly download this freebie now!
Like and share this post with your stitchy friends.