How to Steal a Bigger Pocket
Lazies, Sometimes the flat, slip pockets near the side seams on our bag projects are barely useful. They can be difficult to access, hold very little and feel like a waste of good pocket potential. Gathering and pleating are the usual techniques for making a pocket hold more. Let me show you my oh-so-Lazy technique to 'steal' your way to a bigger pocket.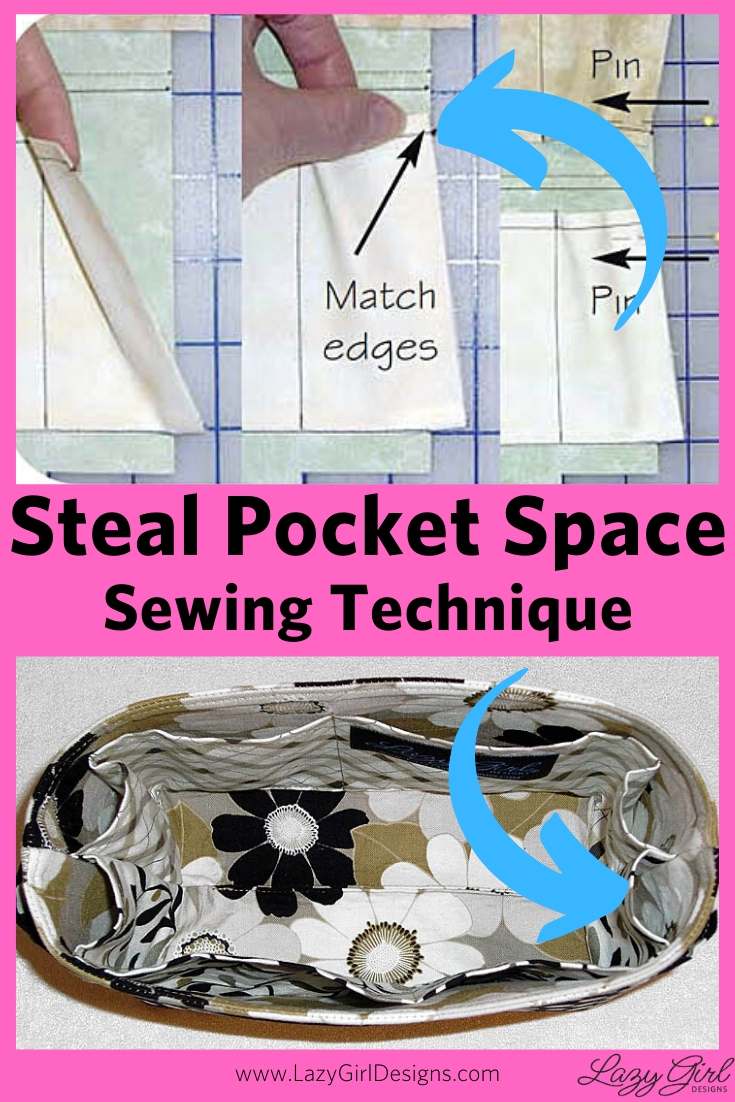 The Secret To Bigger Pockets

Here's a peek inside the Suzi Purse Insert which includes flat, slip pockets around the inside. Slip pockets are tubes of fabric, pressed flat, and sewn to the lining fabric. It's a simple, quick, and easy method to add pockets.
The small pockets at the sides are not flat against the lining fabric, they bow out a little. This little bit of extra space makes these pockets easier to use and easier to hold things. The small pockets are perfect for pens, pencils, nail file, etc.
Here's a look at the goodies shown in the picture above:
Steal a Pocket Technique
Shhhh, we are going to steal fabric from the seam allowance to make these flat pockets more spacious! This simple technique can be used over and over again on many projects and works best for small pockets near a seam.
For Suzi, make the pocket panel 1/4″ – 1/2″ wider than needed on each side. Don't go overboard, a little goes a long way on a small project like this.
After stitching a flat pocket panel in place along the bottom edge and making pocket divisions, simply slide the top corner of the pocket over to match edge of the project and stitch in place. This effectively 'gathers' without gathering. Then pin the bulk out of the way for final construction.


Here's a view of the seam allowance where we stole fabric for the pockets, shown in green and blue below.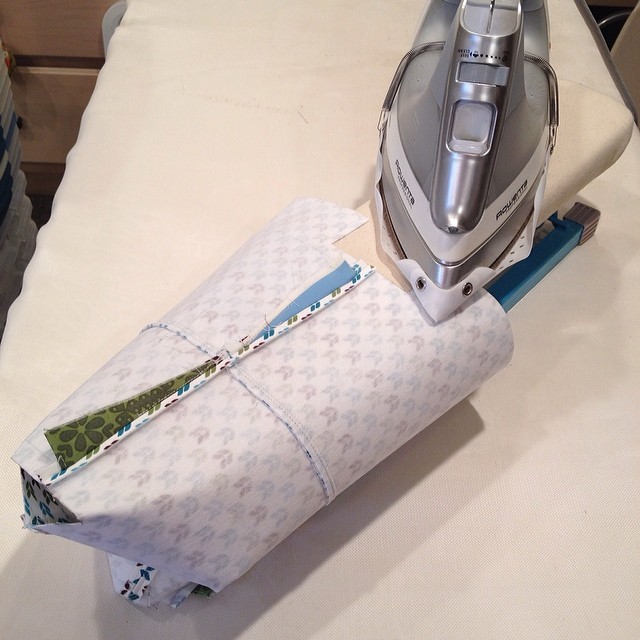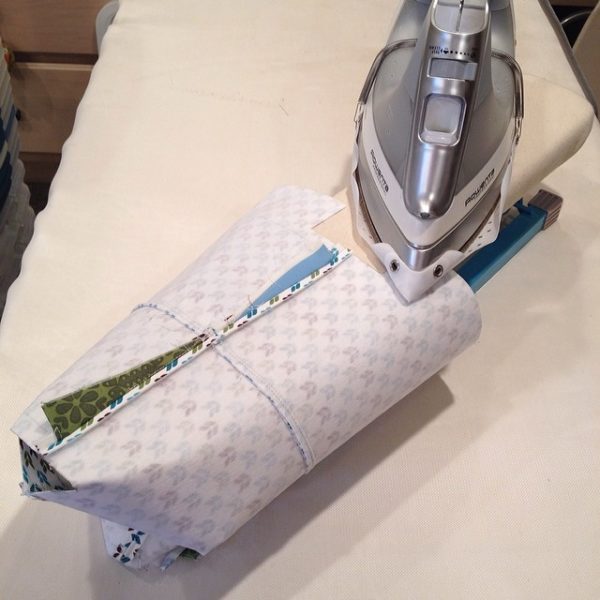 Get The Suzi Sewing Pattern
Suzi is available in our digital store here: Suzi Purse Insert & More pattern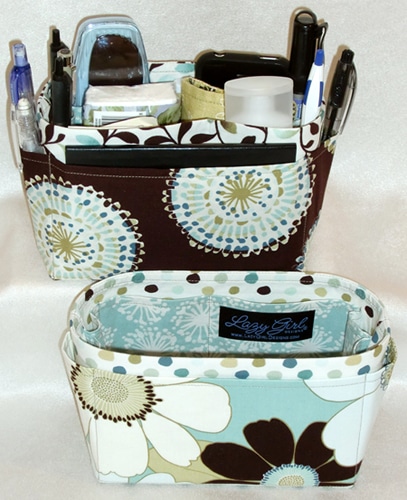 Suzi Purse Insert, Lazy Girl Designs item #LGD129.
Fits Inside A Purse, Tote, or Handbag
Suzi is designed to be big enough to hold and organize all the little loose things, yet small enough to allow room to use the inside purse pockets and carry other things like a water bottle, too.
Junk Drawer, Inner Purse, or Purse Insert
Suzi is perfect for all those essential extras we carry with us. Simply load your goodies to keep them tame in your current purse, then while she's still fully loaded, move Suzi from purse to purse when needed. Or, since they are so simple and quick, make one for each purse.
Lots of Inside and Outside Pockets
Suzi has one large front pocket and several inside pockets. This is the small size and measures: 3″ deep by 6 1/2″ wide by 4 1/2″ tall. The medium/large size is two inches wider at 8 1/2″.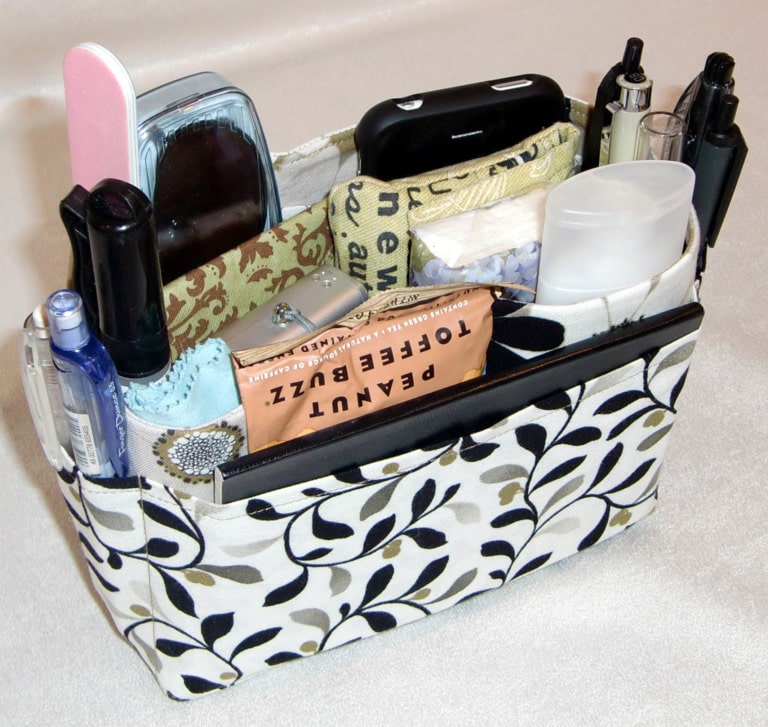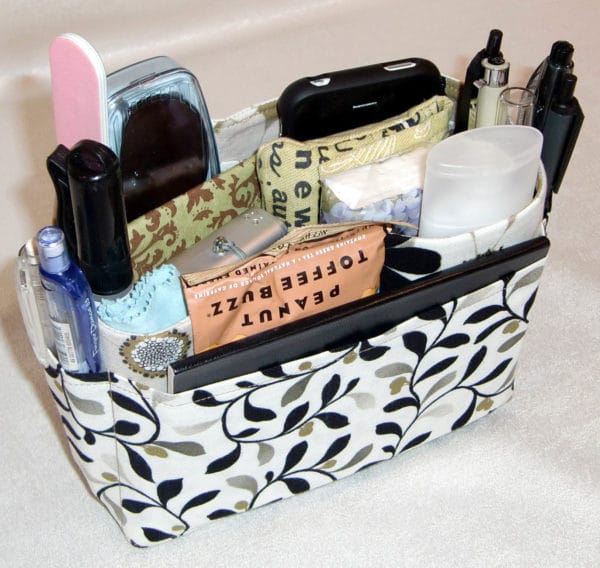 I can see it all, and access each item. That peanut toffee buzz snack bar is calling me.
Organize Your Desktop, Sewing Room, and Drawers
Are you already dreaming of more possible uses for Suzi? She's a great desktop organizer or basket. I already have a Suzi by my sewing machine, holding many of my sewing notions, rotary cutter, machine needles, point turner, etc, etc, etc…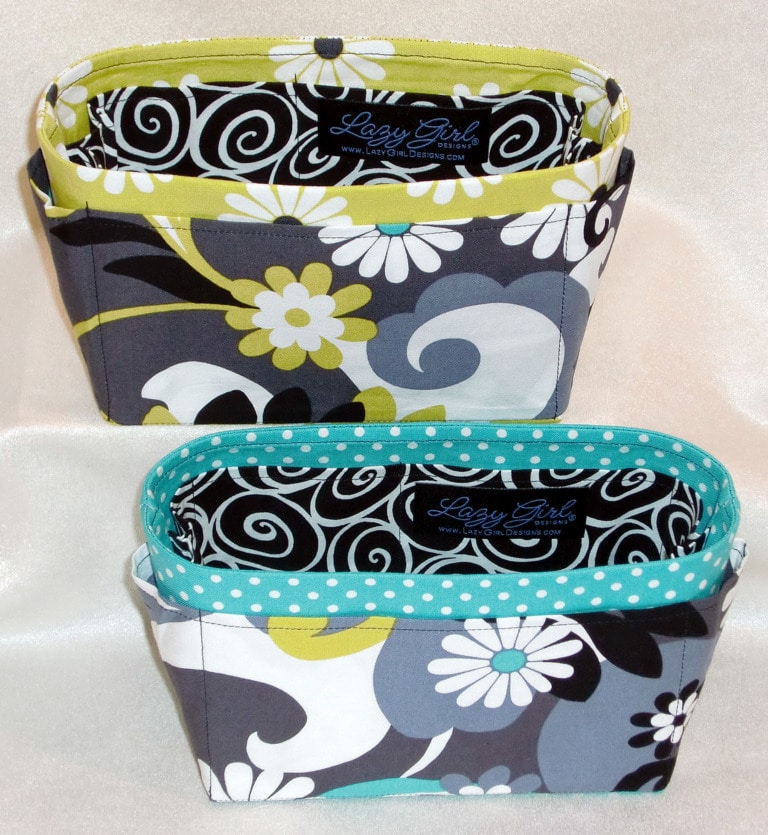 Quick Sewing Project
Best of all, Suzi is quick to make. With just two to three fat quarters of fabric and a bit of Face-It Firm interfacing by Lazy Girl Designs, you'll have your first Suzi made in no time.
There's a good chance you have some fat quarters sitting around waiting for your attention. Go re-introduce yourself to that fabric, grab a bit of interfacing and hop to it.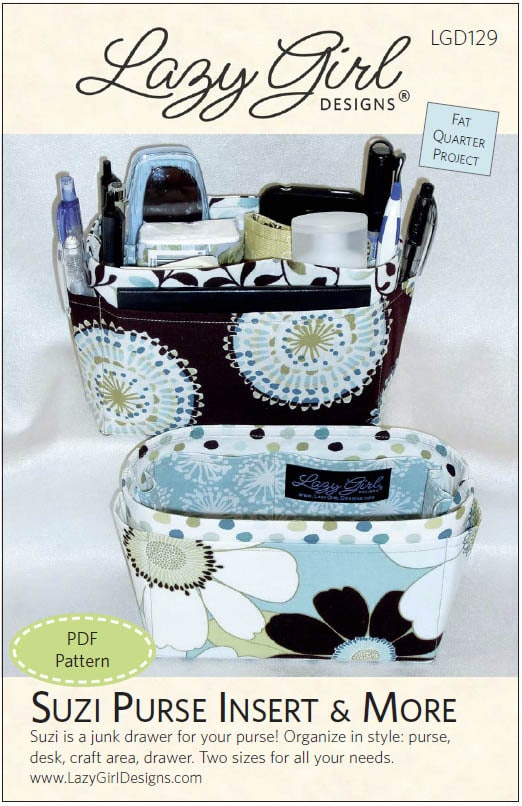 That's Pinterest-ing!
Follow me on Pinterest and pin this post to your Pinterest boards.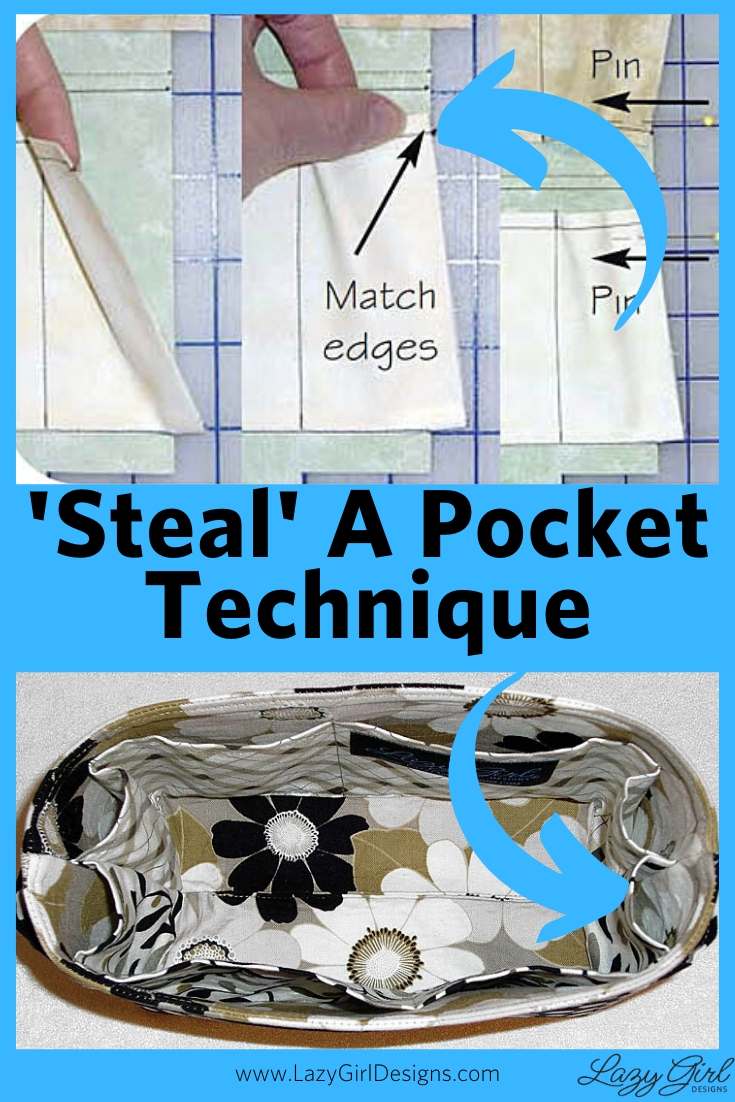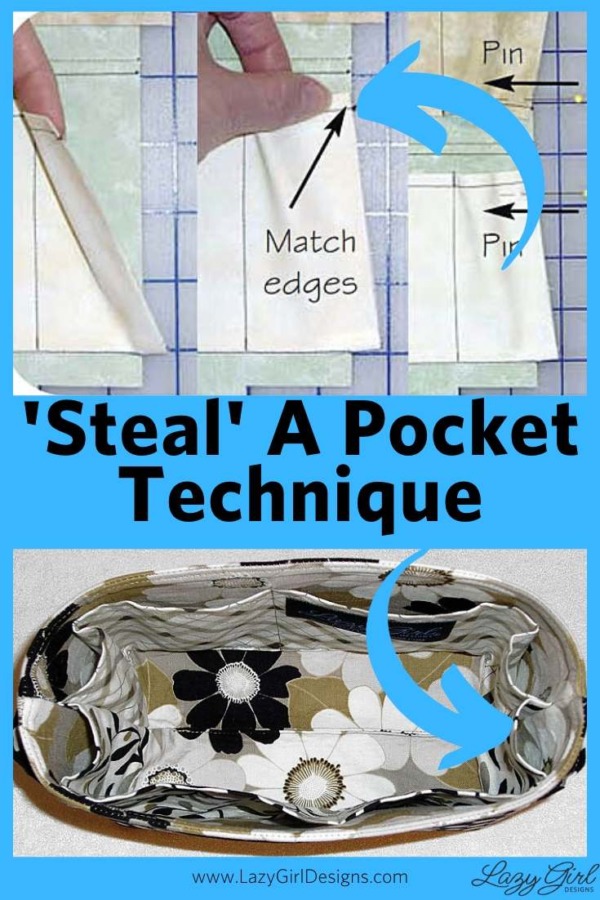 Subscribe to receive emails for my blog and newsletters about new patterns and project ideas.
Enjoy!
Joan
Joan's Sewing Group | Pinterest
Like and share this post with your stitchy friends.