Know Before You Sew: How to Pick Fabrics Before Taking the First Stitch
Tips for perfect fabric placement for your next bag project.

Lazies, Wouldn't it be nice if you could see how fabrics are going to look on your bag before sewing? When it comes to picking fabric for my next bag project, I want to 'know before I sew'. So….how do you 'try on' fabric before actually making a bag?
Just like picking actors for a movie – audition the players.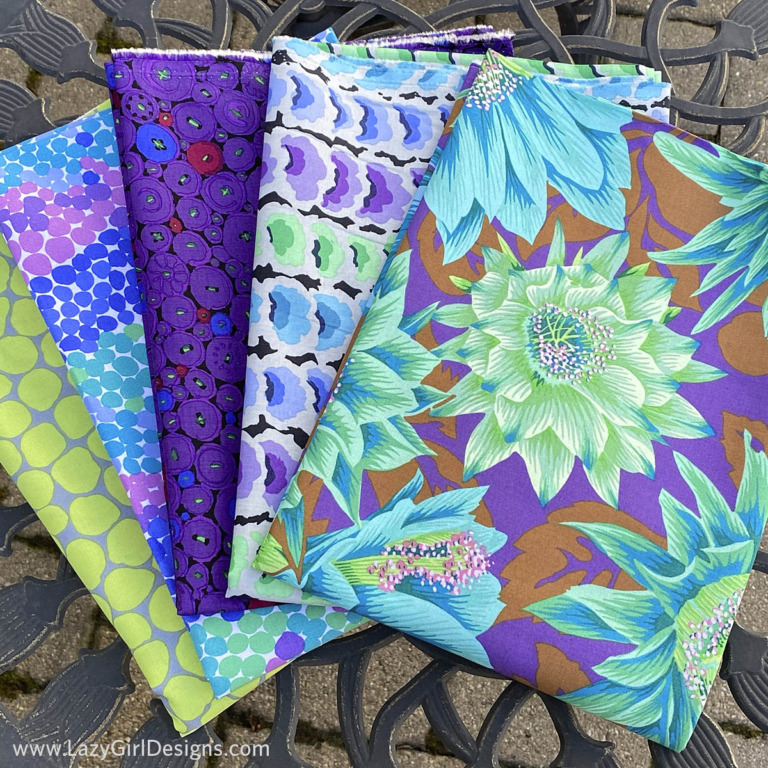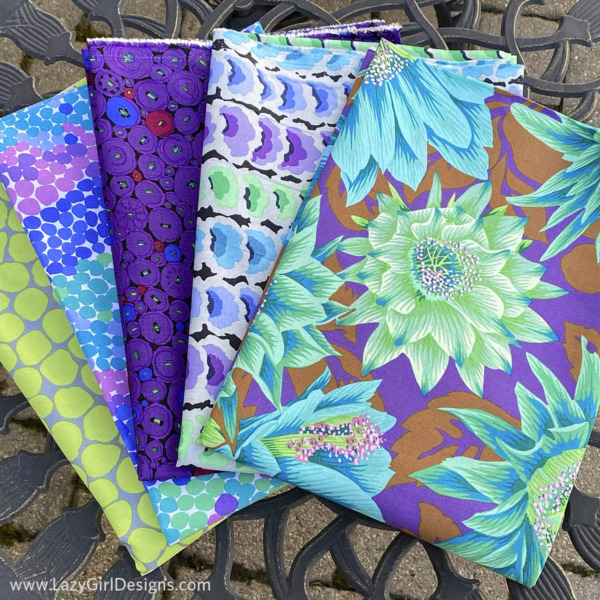 Yum, yum, give me some…of each!
Fabrics are from the 2021 Kaffe Fassett Collective.
I selected the big bold fabrics above to make my Harper Holdall zip top tote bag. Harper is a large tote and can carry a strong print with large design elements such as this amazing flower. Here are a few views of a finished Harper to get an idea of how the fabrics play together on the main parts of the bag.
You can see the outside, handles, and lining when the bag is unzipped. The zipper plays the part of an accent color in this performance.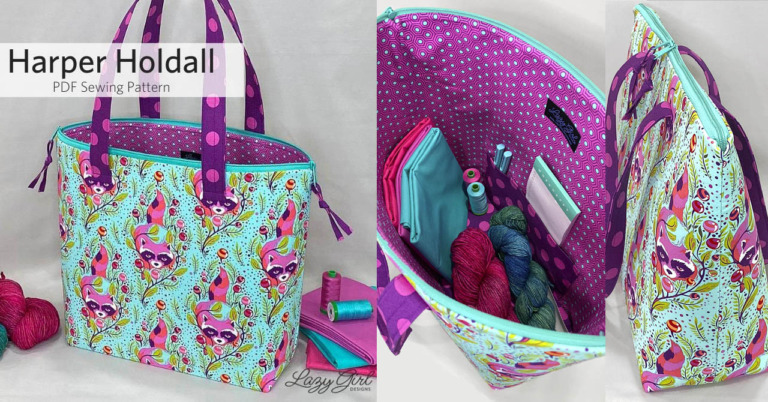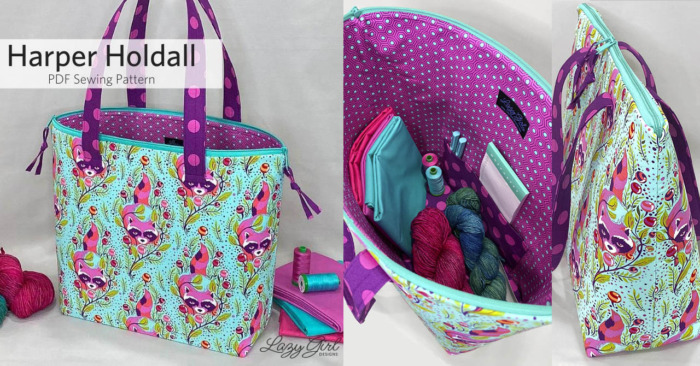 Harper Holdall zip top tote bag is available as a pattern or an online class.
Tips for Auditioning Fabrics
Most of my pattern designs use 3-4 fabrics: a feature and a few supporting best friends. When I buy fabrics on prospect – not knowing how I'll use them, or which part of the bag they'll become – I buy 4-5 different pieces so I have options.
There can be all kinds of variables in the fabric grouping at this point: scale, color, print style, directional fabric, light/medium/dark, and more.
Auditioning the fabrics to see how each one looks and behaves for each part of the project will ensure a great result.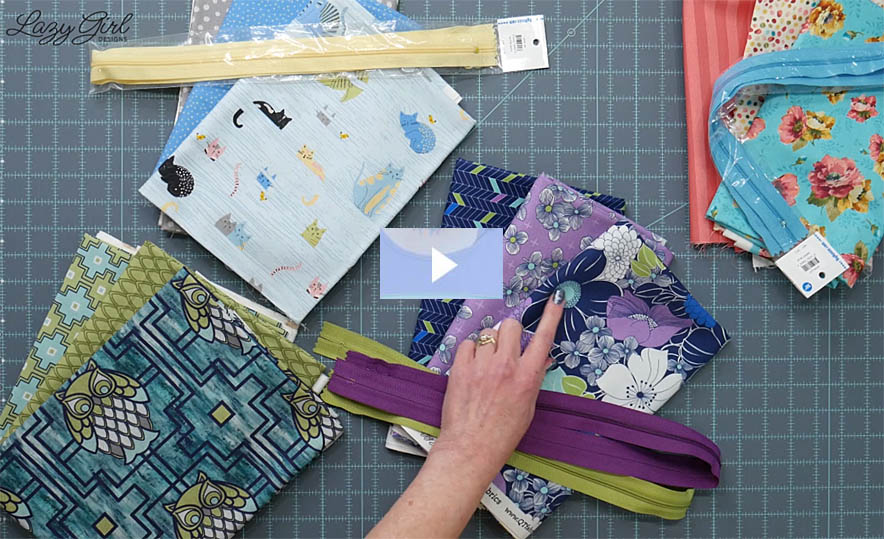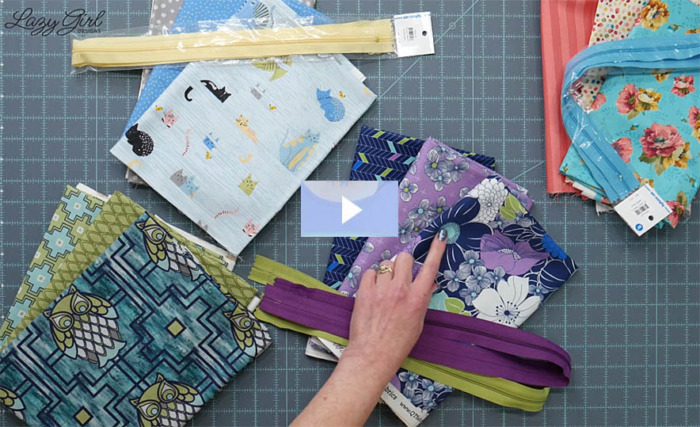 FREE PREVIEW: Watch how I audition fabrics and zips in this free preview
lesson of the Harper Holdall class.
Tip 1: Start with the outside of the bag.
Choose your best guess for the feature fabric and simply fold the fabric to a shape and size similar to the finished project (shown in Tip 2 below) to get a feel for how that fabric will look on the completed bag. Doing so will give you an idea how much of the print you'll see and were different design elements will land.
Next, do the same for other parts on the outside of the bag including handles and any pockets. For handles, roll the yardage to a size similar to the handle and place it on the outside fabric where the handle will be sewn.
Remember to do the same for other design elements. This first step is an easy way to hone in on primary fabric selections.
Tip 2: Take a picture of each combo with your phone or camera.
If you have several good options, take a picture of each. Somehow, taking a picture filters out the emotional noise and let's me see just the fabrics.
Oh my, these are all fun options. Notice how the striped fabrics behave on 'U' shaped handles.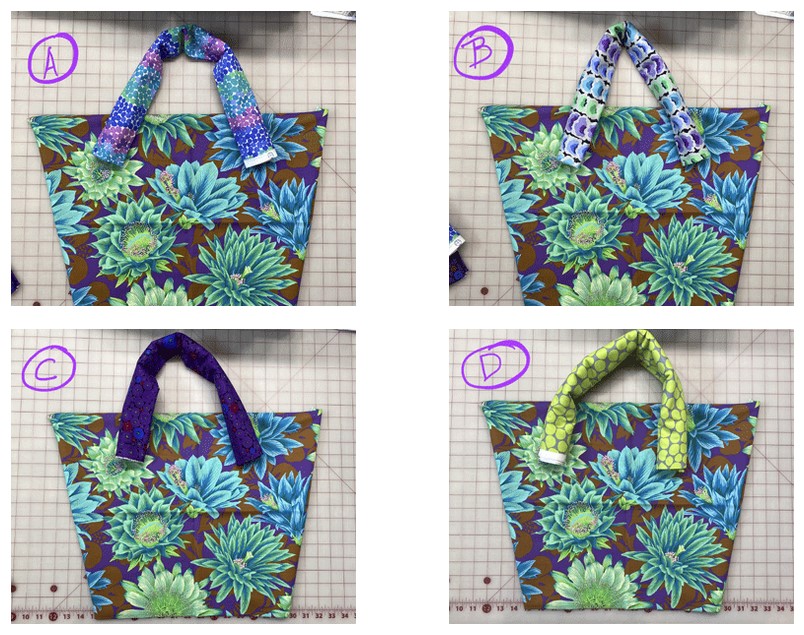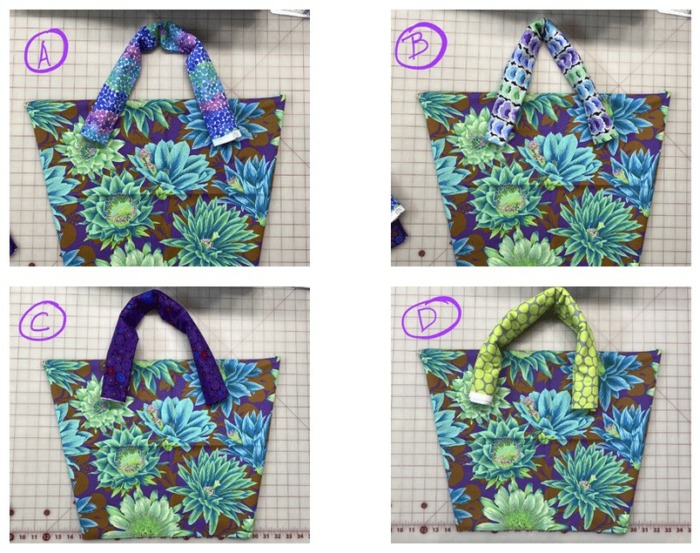 All of these handle auditions look good.
Lots of yummy options!
Tip 3: Remember to 'hint' at the lining fabric
Once you've decided on the outside of the project, start interviewing lining fabrics. While the lining is tucked away inside the bag, it does interact with the outside fabrics when the bag is open. So it's good to audition the lining fabric, too.
To do so, add the lining fabric under the fabric arrangement so just a bit, (shown below), or a hint, of it sticks out past the feature fabric. This is a good representation of the amount of lining fabric you'll see when the bag is unzipped.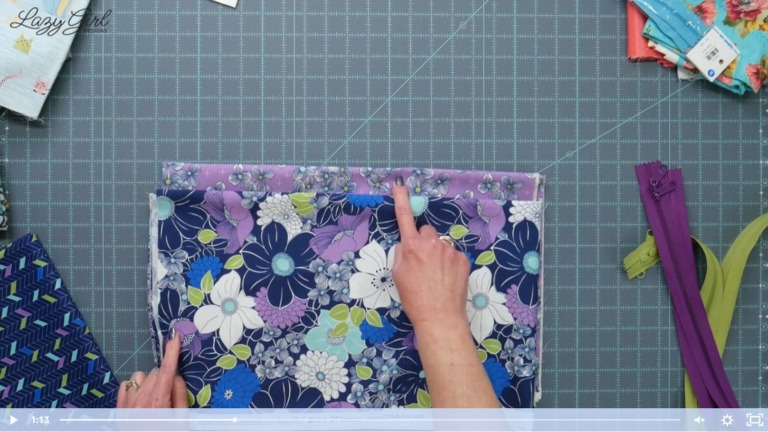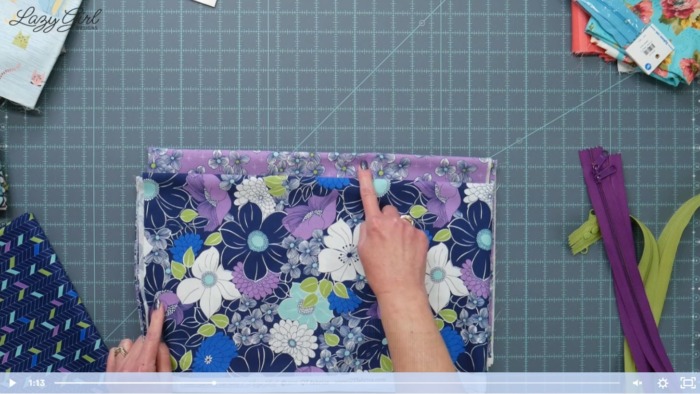 See how to audition fabrics and zips in this free preview
lesson of the Harper Holdall class.
Review, Regroup, then Sew!
As you work your way through each step, you may or may not like your initial selections, so be open to playing a bit as you audition each part of the project, then decide on final placement.
Use these tips to audition fabrics for any project.
For more tips like these, check out Tips for a Successful Bag Project
That's Pinterest-ing!
Follow me on Pinterest and pin this post to your Pinterest boards.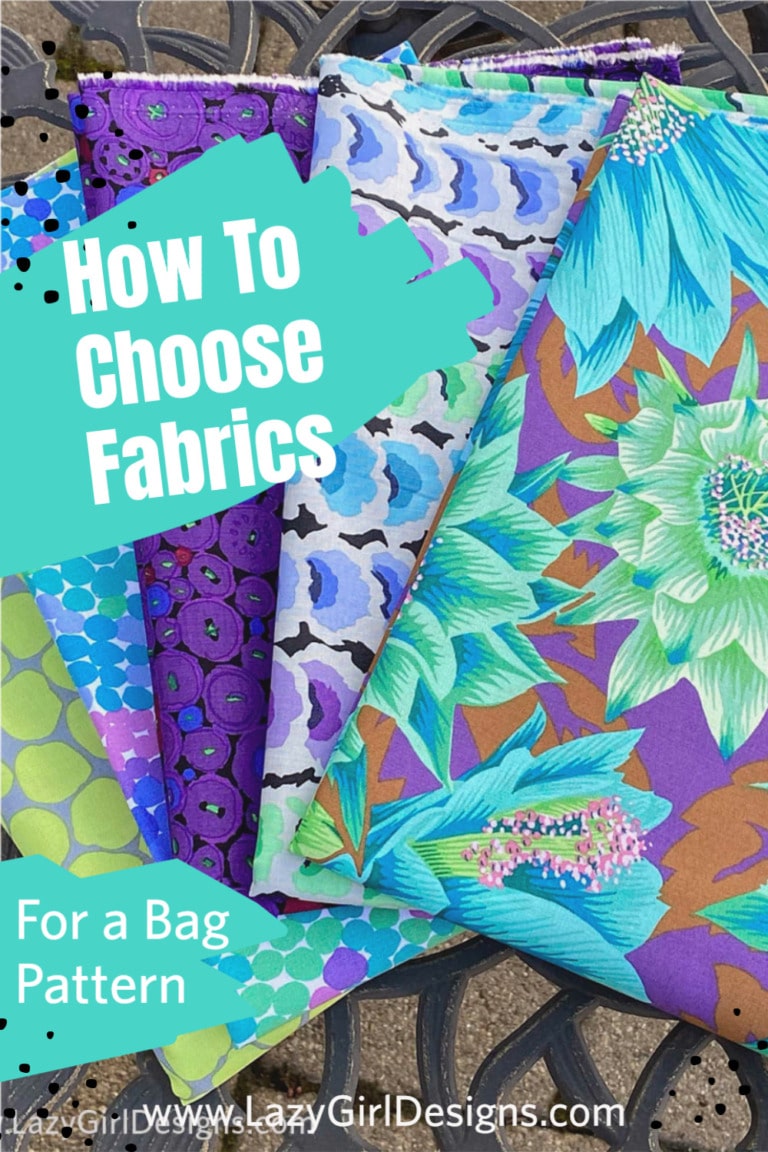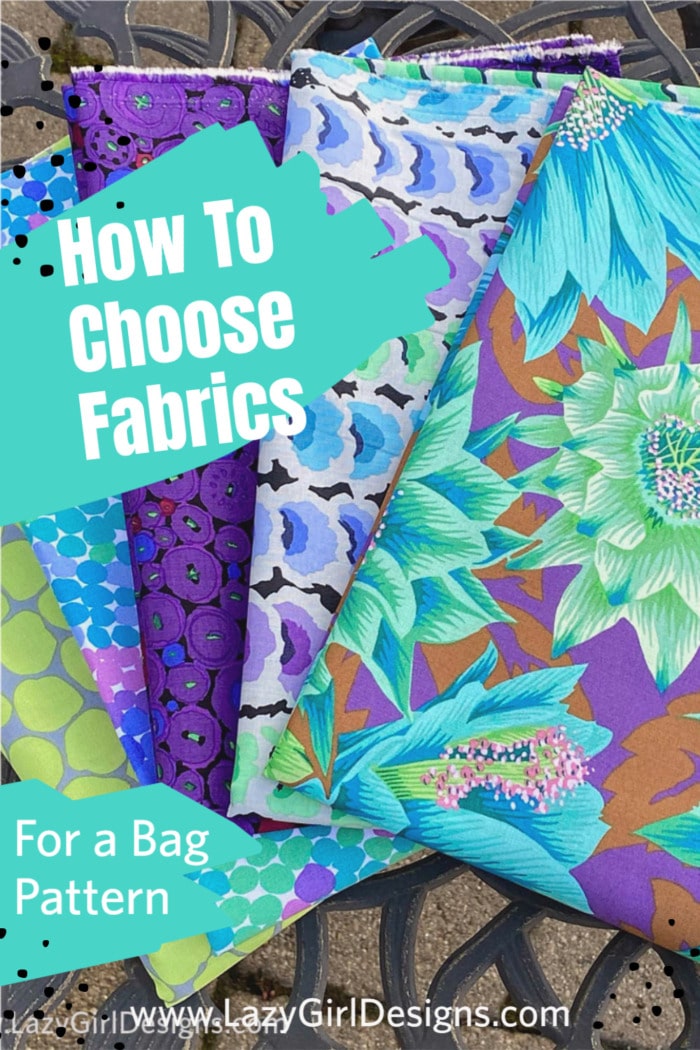 Subscribe to receive emails for my blog and newsletters about new patterns and project ideas.
Enjoy!
Joan
Sew With Joan Online Classes | Joan's Sewing Group | Pinterest
Like and share this post with your stitchy friends