Get Lazy On Facebook
Lazies, Did you know I'm hanging out at Facebook? There is a lot of quilty stuff, and tons of quilty people hanging out with each other there.
I know, you are thinking 'I don't need another online social network to suck my day away'. I hear ya. But, it's fun and I like seeing what everyone is up to. I'm hooked. And I'd love you to consider joining me there.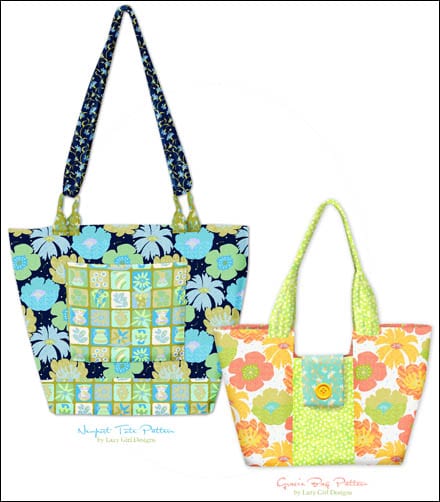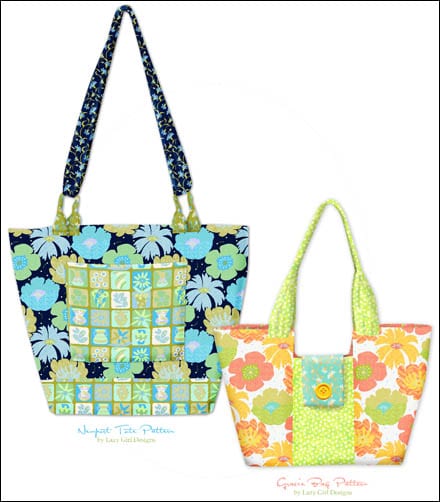 Computer rendering.
An example of why I like Facebook
Just this weekend, creative gal Yolanda Fundora (author, quilter, fabric designer, cool chick) gave us a sneak preview of her upcoming fabric line for Blank Quilting which will be introduced this fall. How cool is that?
Above is a computer generated rendering showing Yolanda's 'Garden Party' fabrics on the Lazy Girl Designs Newport Tote and Gracie Handbag. Pretty cool. Love that limey green!
How To
Go here to join us at facebook: www.Facebook.com
What to do once you are there
– Search for your friends, family, favorite designers, companies: Clover Needlecraft, Pat Sloan, Kaye Wood, etc.
– Create a group or page for your guild, quilt shop, or family.
– Join pages for your favorite people, causes, etc: Alton Brown from Good Eats, Karina's Kitchen for great recipes, Anti-GMO stop genetically modifying our food.
– Create an event. Putting a family picnic together? Create an event and everyone can tell you if they are attending and what they are bringing.
– Check out the applications. You can play a game, throw a snowball, send gifts, etc: I had lots of snowball fights this winter and got nice presents placed under my virtual Christmas tree.
Note: these fabrics are not yet available. They will be introduced this fall and usually shipped to quilt shops a few months after that.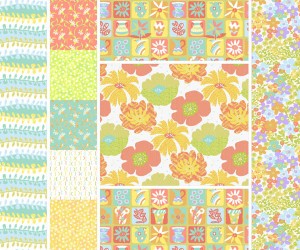 'Garden Party' fabric line in bright colorway.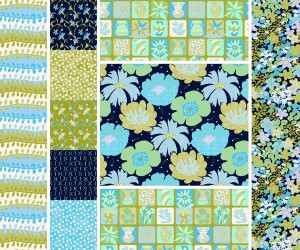 'Garden Party' fabric line in olive colorway.
You can follow along with Yolanda on her Visual Thinking blog here. Check the side bar of her blog for some of her cool creative endeavors – books, etc.
I hope to see you at Facebook.
Enjoy!
Joan
Images courtesy of Yolanda Fundora.