Part 1: Behind the Scenes at Craftsy
Lazies, You know the mess that happens behind the scenes in our lives? Well today I share Part 1 of the mess behind the scenes for my latest Craftsy class. This is my second class. Use this link to enroll in either of my two Craftsy classes by June 14, 2016 to save 50% and you'll be entered in a giveaway to win free enrollment for another class of your choice. Sometimes I feel like my own little three ring circus, or perhaps Pigpen from the Peanuts cartoon. A walking, talking cornucopia of hair-ball-ness gathered around my ankles as I sprint through life with a smile on my face. Welcome to my world. Let's take a look at things…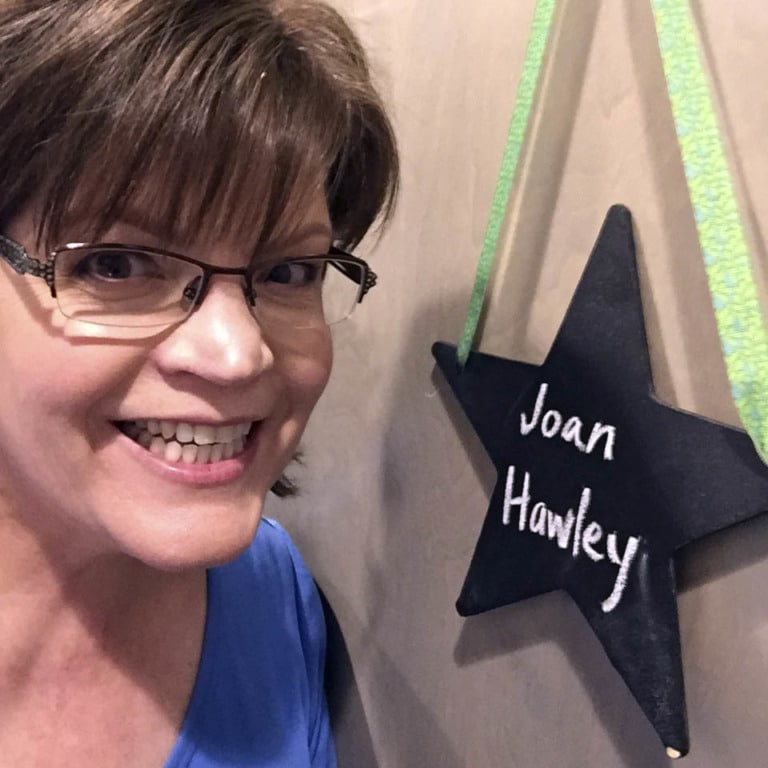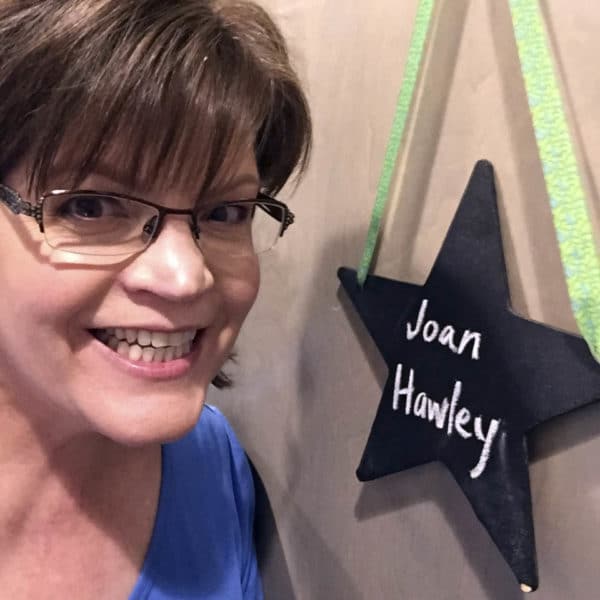 Things are quite interesting behind this door…
Plan the Class
Craftsy contacted me about doing another zipper class – fun! Write up a few ideas, pitch the ideas, focus on one, write it up so it can be submitted for consideration. After that, write it all up again, but in more detail. That means outlining the entire class, start to finish, every step of the way. After that, clarify and flesh out the outline so it's really thorough. Yes, really, a 44 page outline/script, covering needle position, tools, techniques, process…everything!
So, months of prep, phone calls and emails with producers. Plan the projects. What are they, how are they made. What to show on camera – prepare those samples or step-outs at home. Then on to the fun stuff – supplies for these samples.
Fabrics
Oh yeah, I picked up some amazing fabrics by Tula Pink. It is a joy to find fabrics that make your heart sing.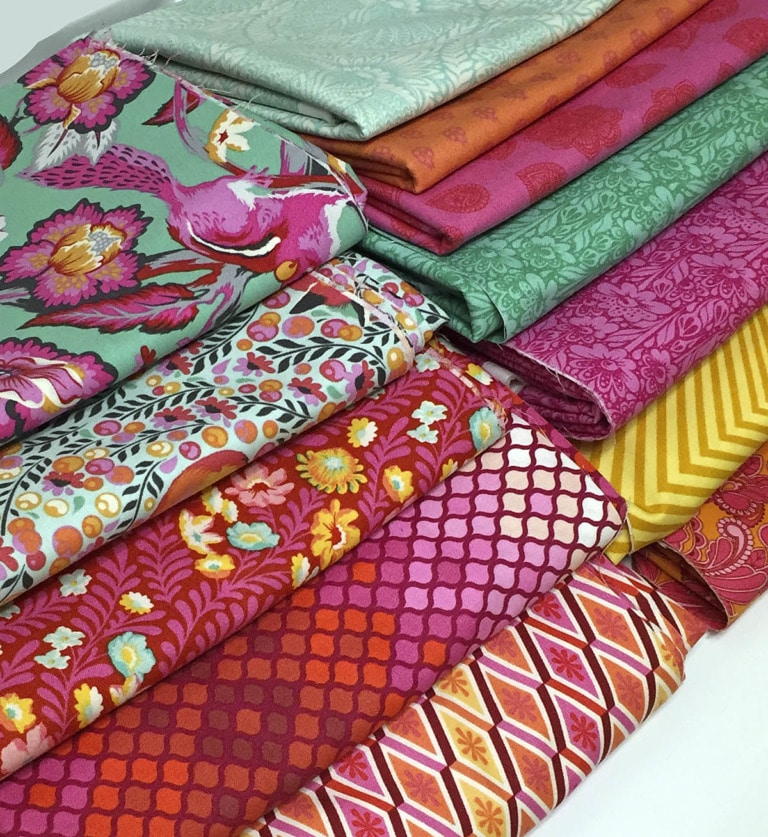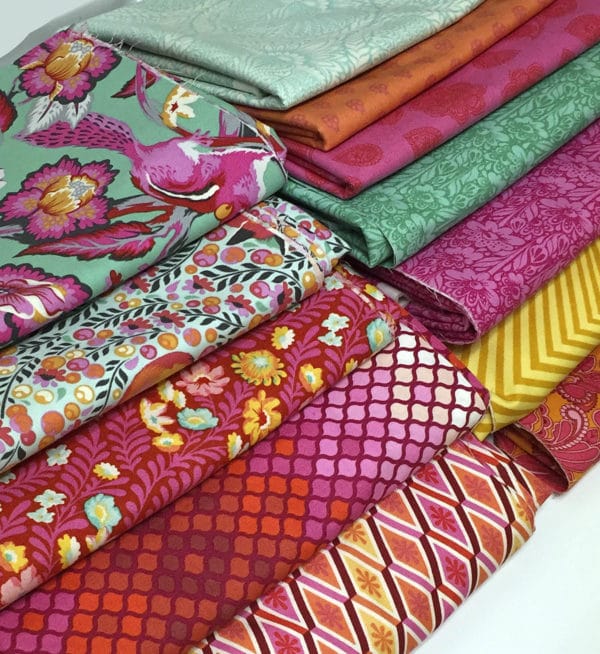 Tula Pink fabrics including Chipper, True Colors and Eden.
Zippers, Baby!
Hello zipper hotline? I'm going to need a lot of zippers, please! Yes, lots of colors, and multiples of each. Plenty of zipper pulls, too. Lots of zipper-cutting went on. 'Step-outs' are different phases of project completion. So, it's kind of like this. Make step 1, then 1+2, 1+2+3, etc. Making the project lots of times from start to a different point in construction.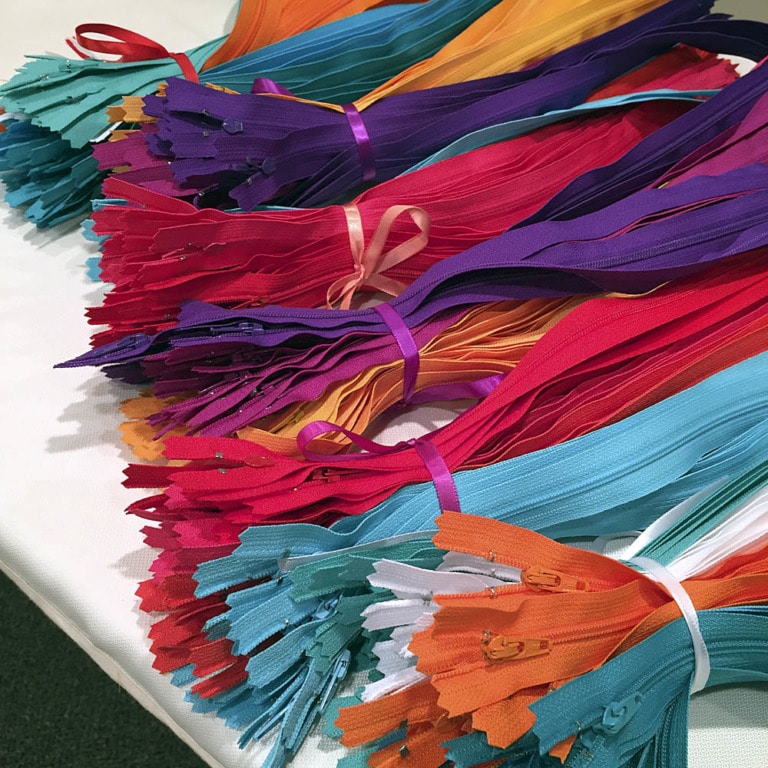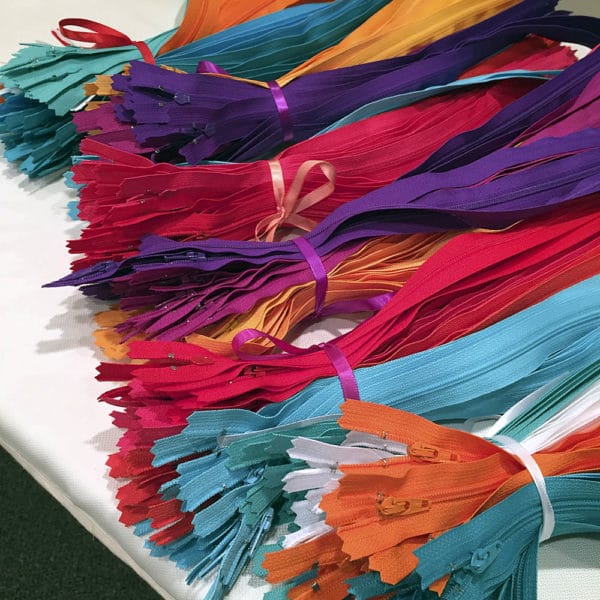 Naturally, my journey included a b'-ton of zippers! Oh sweet eye-candy!
Somehow, this seems like the easy part. Get some fabric and zips, stitch up some eye candy goodness. Done. Okay, what could possibly be left to do?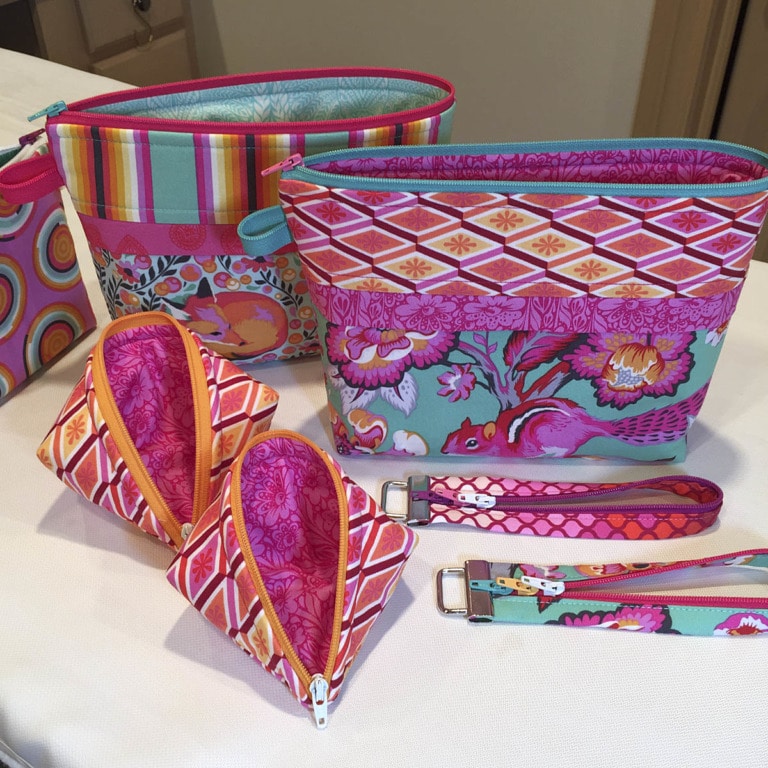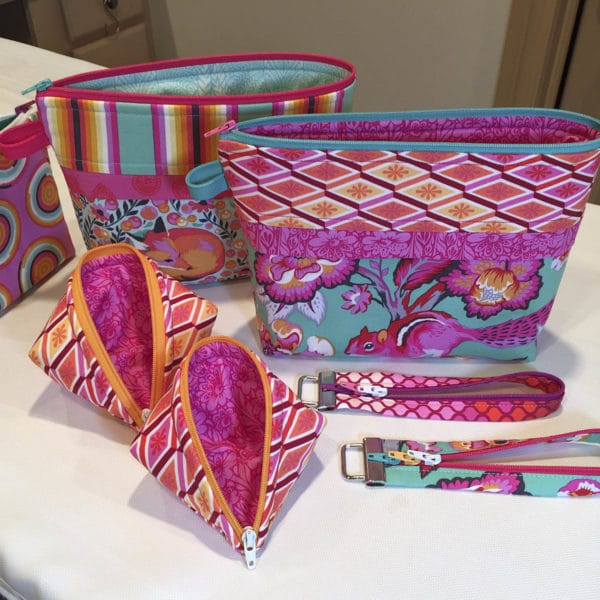 Sweetpea Pods, Becca Bags and Fobio key fobs.
Ah, the magic! It all came together in these beautiful samples for the class.
Packing is Easy – Ha!
Let me tell you about the mental gymnastics of packing my stuff to travel with me to Denver. For instance, to transport step-outs of the Becca Bags in mid-progress, I either had to fold everything to fit in a standard bag or find a long flat storage solution. I can't pack until I know how to pack. I don't know how to prepare until I know what it's going in to. Is your brain hurting yet? Unpacking is easy. Unload, dump, put away. Packing is a creative challenge.
Bring Everything
I needed to bring all of my stuff with me to Denver: supplies, thread, presser feet, notions, extra fabric, extra zippers, step-outs, samples – anything I use during the creations of these projects and might need to show on camera, or need during the class. And, bring extra of everything I might need, just in case. These packing cubes helped.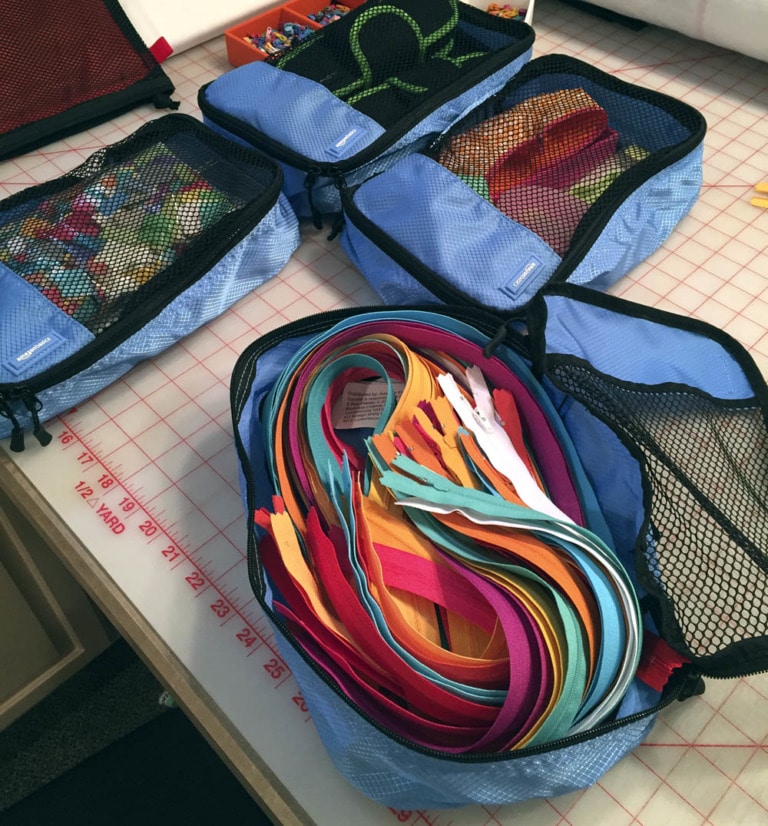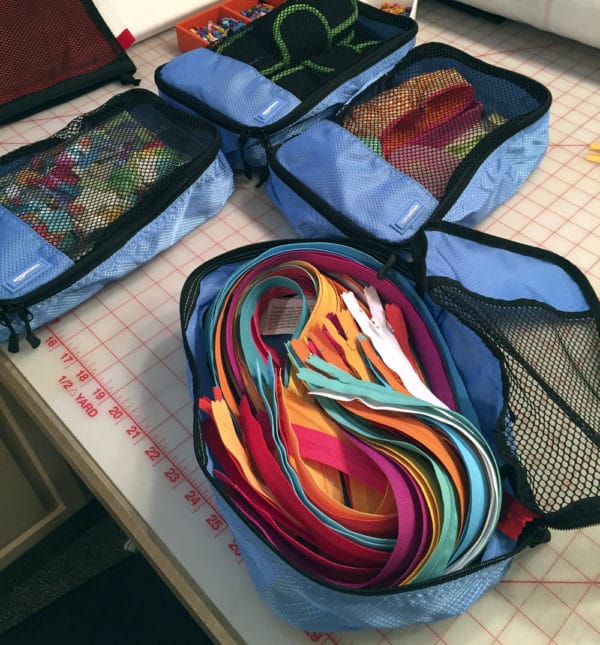 Packing cubes help corral and transport
these cuties, as well as all sorts of things.
I found these here.
Zip Bag Magic
I'm a maker, so I made something. I got out two handy dandy 2.5 gallon Hefty brand zip bags, cut off the bottoms and sewed them together. There you go. Long, flat storage with the bonus of unzipping at both ends – that was a sweet benefit.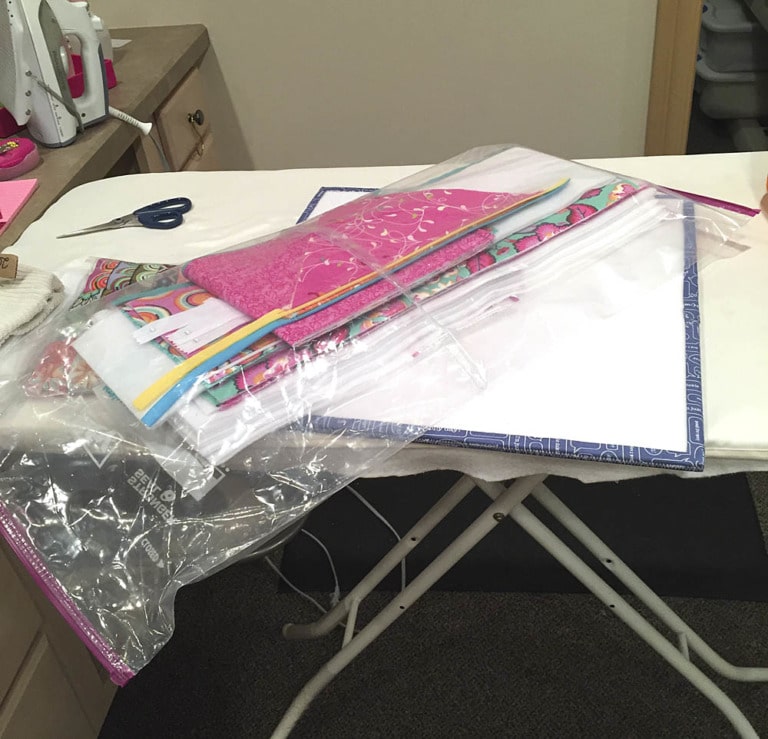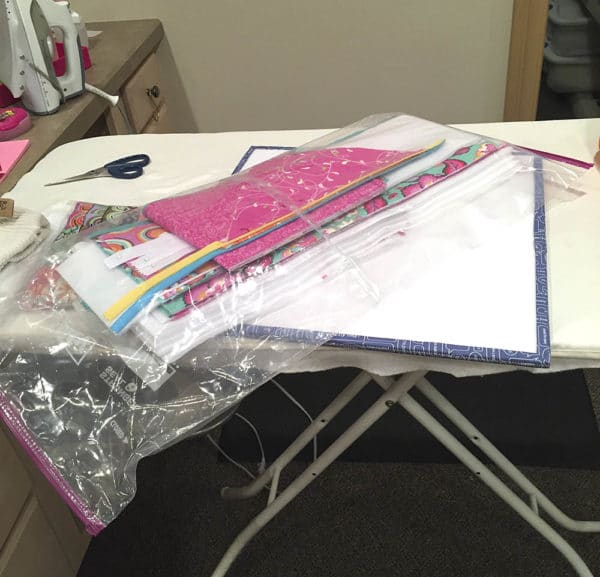 Here is it, my mega bag. Two zip bags sewn together at their butt ends.
Not to be outdone, I needed long, narrow storage for the skinny step-outs of Fobio. Well, if I can stitch two bags together, you can bet I tried dividing one. It's a new math! That's right, I stitched divisions into a bag to make a few narrow channels to fit my Fobio needs. Use a stitch length of 5.0 or longer, keep stitches away from top and bottom edges of bag.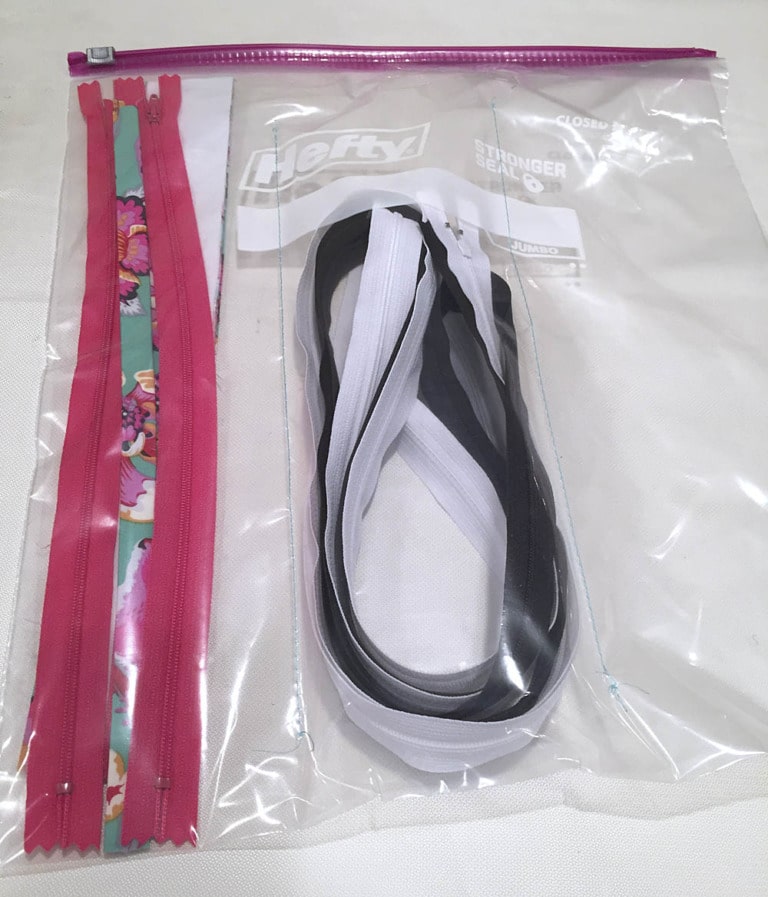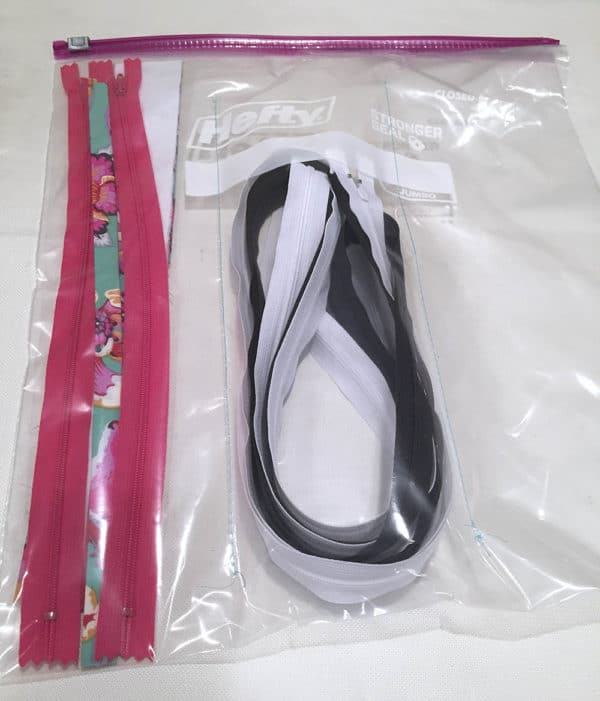 I had nothing to lose by trying to stitch through
these bags. It held up well enough.
My goodies arrived in great shape. The staff at Craftsy were so mystified and taken with my Hefty magic that they took pics of the two bags. I understand – it's a geeky, nerdy, sew-y achievement. Now, neither of these ziplock adventures were meant to be long-term. Think of them as luggage band-aids to protect the contents for that one trip.
Big Bowl of Bits
I brought my big bowl of bits and butts! Why? Because it's real. This represents my history for the success and accomplishment of the One-Zip technique. This class is about a new concept in zippering. I keep all the zipper trimmings from the top and bottom of each zip that I chop to pieces. They are victory badges for every zipper I've installed this way. I don't have a use in mind for these beauties, I just like seeing them. It represents the projects I've accomplished. Oh if they would just compost and grow into new zips!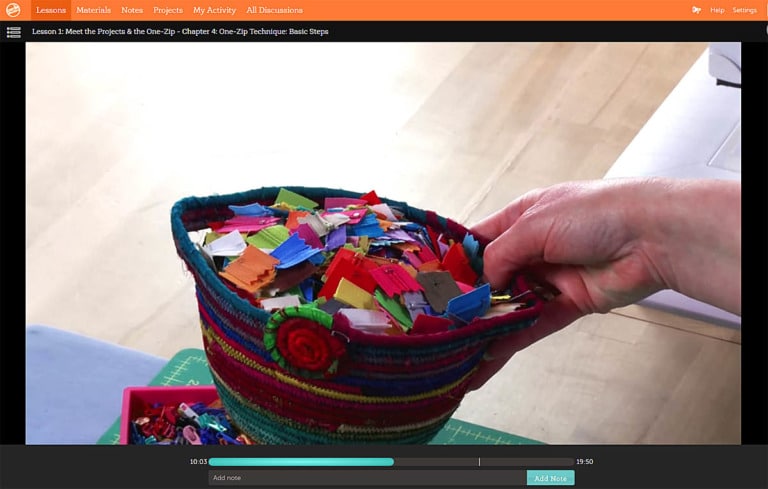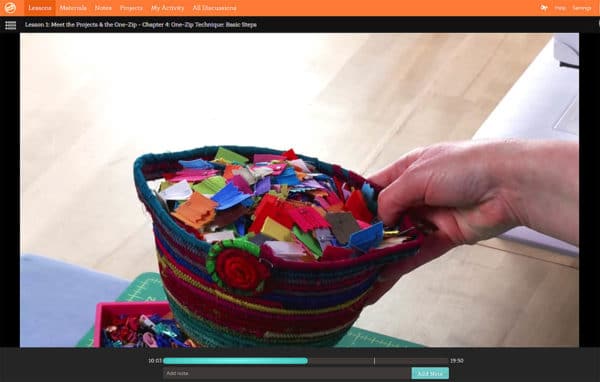 The big bowl of bits and butts. Yep, you'll see them in class.
Bowl: The Two Bobbin Bowl by Carolyn Griffin for Cut Loose Press.
Ask your quilt shop for the pattern and supplies.
Supplies
It's like packing for a sewing weekend with friends, but bigger with more pressure. So, I brought everything, including the rotary cutter I have designated just for cutting zips. And, that isn't exactly true. I use this for all non-fabric cutting. It's my 'bad blade', my unsung hero of cutting things, paper, stuff that you shouldn't use the good scissors for – you know what I'm talking about. Just label it so you know.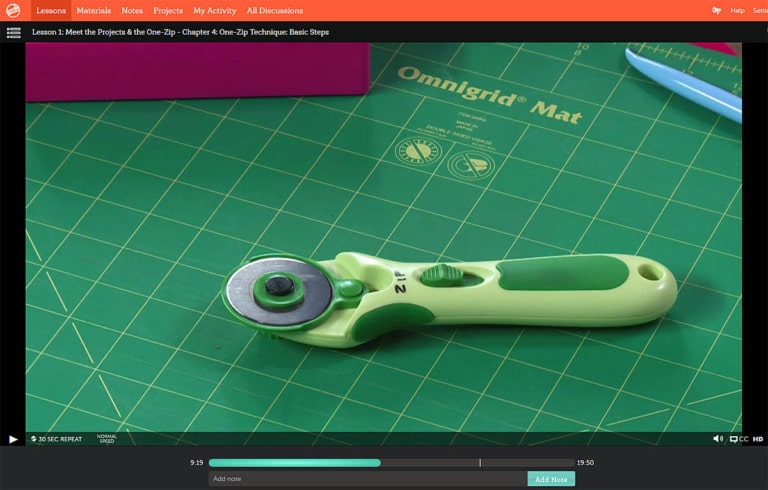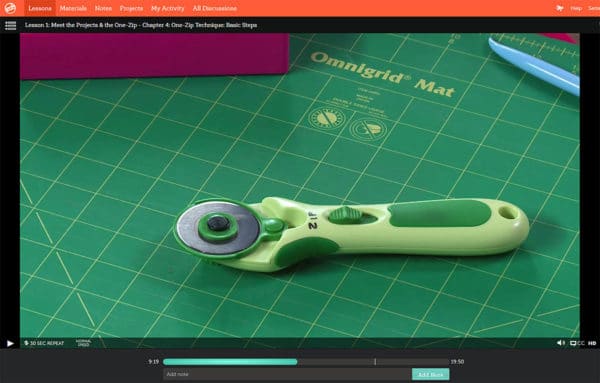 Meet Zippy, my bad blade. Bad, bad blade.
It's just for cutting non-fabric things.
Well, that's about the size of things with regard to getting ready to leave home for the taping. Wow, all of this and I haven't even left the house yet. Next time, Part 2 of the fun. A look at the set, what you don't see, and more.
Enroll + Giveaway
Use this link to enroll in either of my two Craftsy classes by June 14, 2016 to save 50% and you'll be entered in a giveaway to win free enrollment for another class of your choice – sweet!!
Curious about what others have to say? Check out the class reviews for One-Zip here.
I look forward to seeing you in class for some zipper fun!
Enjoy!
Joan
Craftsy Instructor
Instagram @JoanHawley
Facebook Lazy Girl
Pinterest Joan Hawley
Twitter LazyGirlJoan