Sew Your Own Designer Purse With Fabric Made From Scraps
Lazies, Elaine Gentry made this fabulous Chloe Handbag from her fabric scraps for the next entry in our 'Show Us Your Lazy!' project feature. Elaine took her inspiration for creating this fabric from Annette Morgan's article "Layer it On: Making New Fabric From Scraps" from Quilting Arts Fall 2005 issue.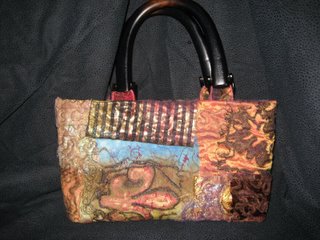 Elaine laid out pieces of her stash and fused them to a piece of Pellon stabilizer. She then stamped on acrylics and metallic luminaries. Next, the piece was covered with multi-colored organzas and tulles. Elaine then free motion stitched around the stamped motifs as well as all over the whole piece.
Finally, Elaine cut/burned off the top layer of sheers within the stamped motifs and snipped the tulle and organza to reveal the areas underneath.
Here's Elaine:
I stitched around the motifs and I can hardly wait to finish the stitching and burn baby burn with my new hot tool! Throw fresh batteries in the smoke detector baby, mom's cookin again! Click on the pictures (above) and feel the excitement I'm feeling with this technique!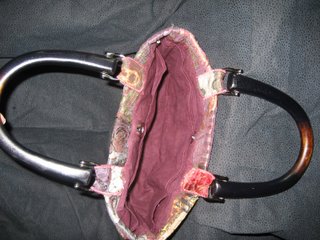 There does come a time when I have to stop the stitching and burning already! I really had no idea what I would eventually do with it and I toyed with making art postcards or just a wall-hanging. That's when I pulled out the Lazy Girl Designs Chloe Handbag (LGD120) pattern and used the pattern template to discover that I had just enough funky art fabric to go for it! I was a bit intimidated about cutting it up and actually constructing something with a dreaded LINING (a former fear of mine).
I'm really proud of it as it's only my 2nd little purse. Aint it kewl! It's lined with little pockets and I even used a magnet closure instead of Velcro. Move over Luis Vuitton!
   – Lazy Girl Elaine Gentry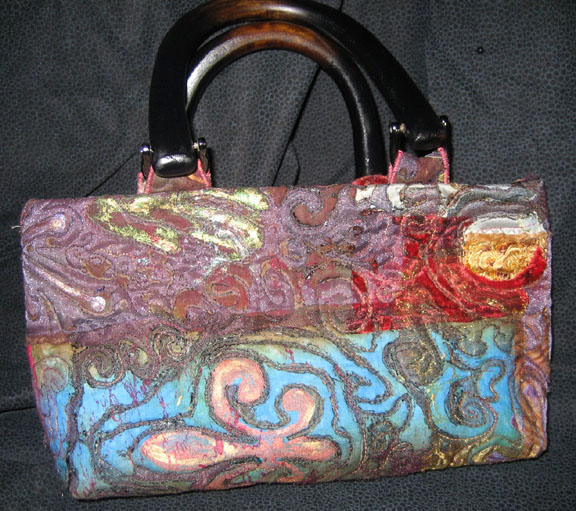 I love Elaine's handbag. I might need to inspect it personally just to confirm its fabulousness.  🙂 Elaine, if you have any fabric left over, consider making a matching Wonder Wallet for your Chloe.
Great job Elaine! Thanks for sharing your creation with us. You can follow along with Elaine's crafting and Lazy adventures at her blog
Recent Posts:
– What Happens To Your Life When Sewing Takes Over? 
– Learn the Lazy Way to Make Flying Geese Quilt Blocks
– The Secret To Our Wonder Wallet Pattern
– If Sewing is Your New Passion, Then Quilt Shops Should Be Your New Girlfriend