Quick Gift Bags For Little Things
Lazies, I'm still making last-minute gift bags using the free With Love Tote pattern that I posted previously.
New to our blog? Subscribe here.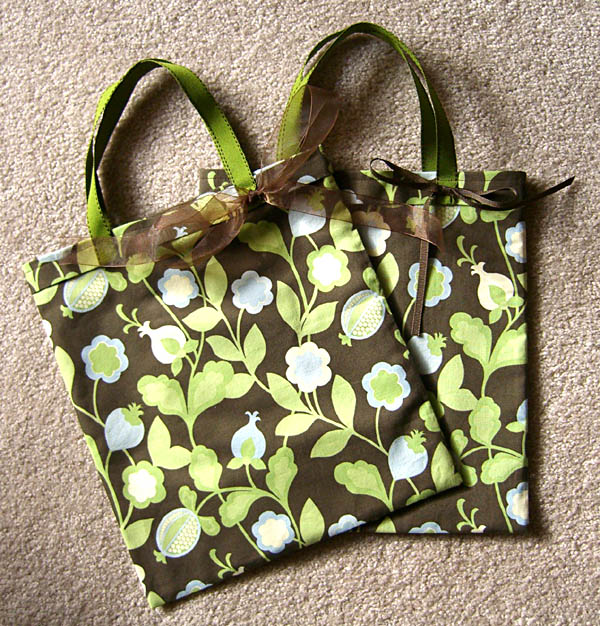 Smaller size of the With Love Tote bag.
Fabric is 'City Girl' by Benartex.
Small Gift Bags
The With Love Tote bag is perfect for gifting anything the size of a shoebox or so. But what about smaller items?
I'm making smaller versions of the same design which turns out to be perfect for little gifting. Or, should I say, things that come in smaller packages.
These little cuties finish to 10 inches wide by 11 inches deep. I used 15-inch cuts of grosgrain ribbon for the handles.
This smaller size bag is wonderful for a one-pound box of chocolate. And they take about 15 to 20 minutes to make. Now that's Lazy.
Make Two Small Bags
You can get two small gift bags out of two-thirds of a yard of fabric. I started with a 24-inch cut, or two-thirds of a yard of fabric, approximately 42 inches wide. I cut the selvages off and cut the fabric right down the middle, or on the fold. That produced two pieces at approximately 21 inches wide by 24 inches long, enough to make two small bags.
Fold each piece in half, right sides together, measuring 10 1/2 inches by 24 inches. Then follow the directions for the With Love Tote to finish the bag from there.
Add A Bit Of Detail
The handles have a little belt loop at the bottom due to the way they are attached to the bag. Here, I've tied a decorative ribbon through one hoop. This is also a nice place to hang a gift tag. You could also feed a ribbon through all four hoops for a simple drawstring closure.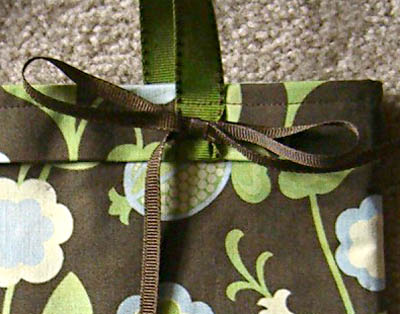 Tie a ribbon around one handle for a decorative bow.
Product Recommendation
One of my favorite finds in the last few years is Res-Q Tape. Oh honey, keep a roll of this handy.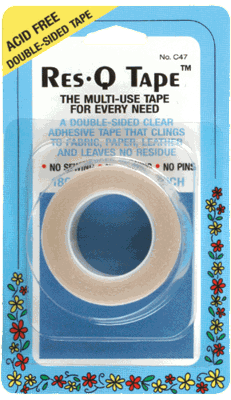 Res-Q Tape from Collins.
Res-Q Tape, from Collins, is a double-sided tape that sticks nicely to the fabric. A five-yard roll sells for between three and four dollars. Check with your local quilt shop for availability.
When adding handles for these totes, I held the ends in place, under the cuff, with a short piece of Res-Q Tape. I simply placed the handle end where needed, then put a two-inch piece of tape across the end of the ribbon just like a band-aid. The Res-Q Tape is completely hidden under the cuff and holds the layers together for sewing.
For this small size, I skipped the step about stitching through the handles below the cuff as shown in last week's post. I stitched through all layers around the top edge of the bag, catching the ends of the handle under the cuff in that stitching.
Edit: Darlene wrote in to say that Res-Q Tape will gum up your needle. Consider trying 'Wonder Tape', also by Collins, instead. Thanks Darlene!
Enjoy!
Joan
Joan's Sewing Group | Pinterest
Like and share this post with your stitchy friends.