New: Patterns, Products, Zipper Obsession!



Lazies, Get ready to change your relationship with zippers forever! Yes, I think it's that big. A game changer. I came up with an easy trick to put a zipper pull back on and it's showcased in my three new patterns.
Let me say that again: I came up with an easy way to put a zipper pull on. Easy. You can do this. With every zipper (see important zipper notes below). All bags, pouches, etc. Every project going forward. Total. Zipper. Liberation. Cut 'em up, swap 'em around, put 'em together again. How-to is included in my three new patterns. You are going to need more zippers!
Let's meet the Girls, the new zip technique, and the supplies you'll need.
Sweetpea Pods
Securely hold treasures like peas in a pod! Tuck inside a bag, attach to your key chain, or add a strap for a mod wristlet. Unzipped pod stands open for easy access. Size: 3" x 6"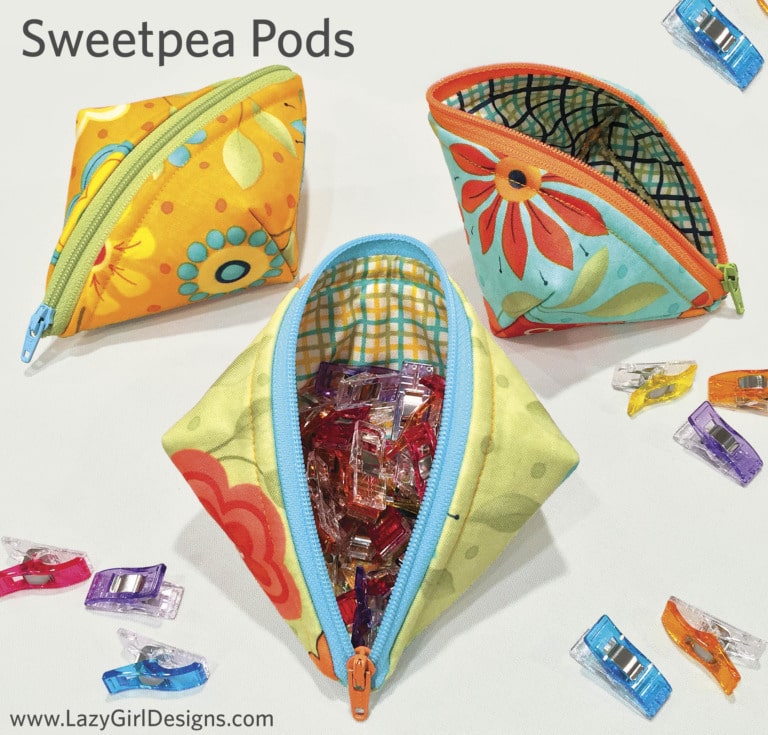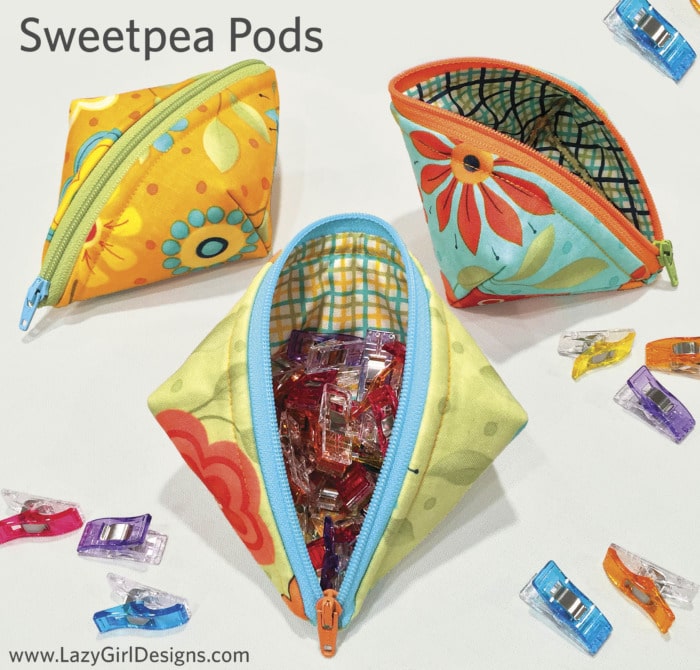 Sweetpea Pods LGD135
Yes, that's one piece of zipper tape that loops back on itself. It's my new One-Zip technique.
Supplies
Two 10″ squares, a bit of fusible fleece and two zippers 16″ or longer makes two pods. I ADORE using mine for Clover Wonder Clips at my workstation, sewing machine, or to take with me. Also nice for candy, buttons, loose zipper pulls (yea, you are going to need some of those, and we've got you covered there, too).
Becca Bags
Handy best friends to stow and go. These big-mouth bags quietly stand open for easy access. One piece of zipper tape goes in straight and flat, then bend and use my trick to easily add the pull. Two sizes.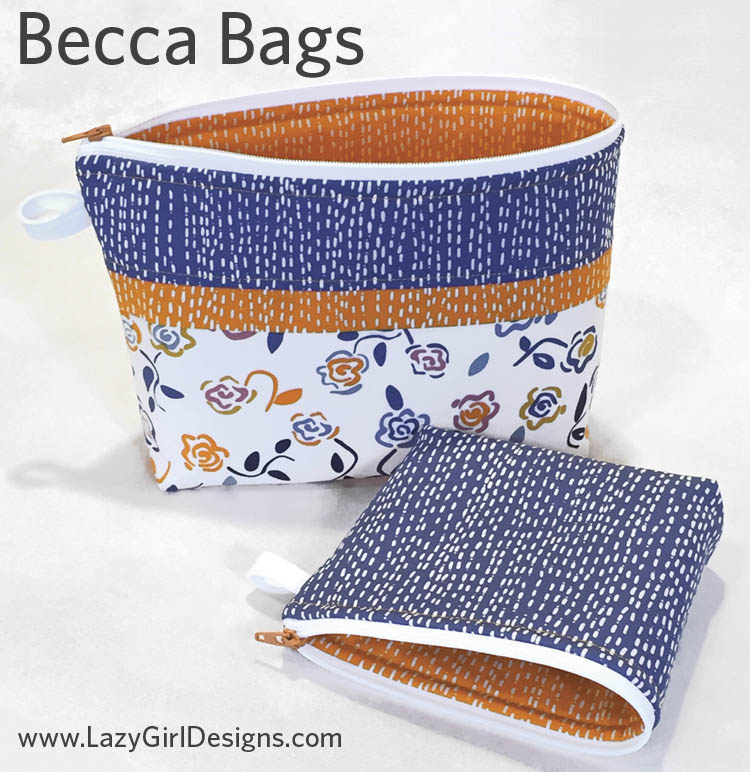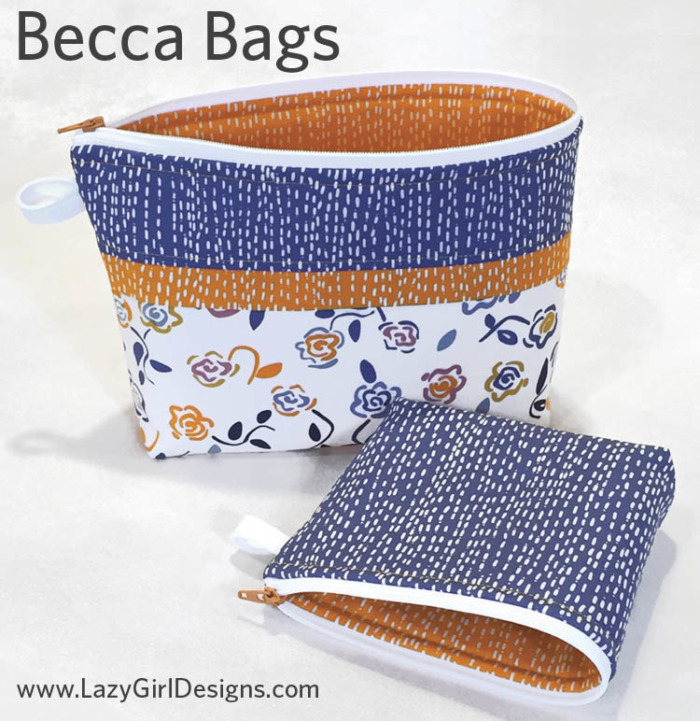 Becca Bags LGD136
These pouch style bags have forever changed how I'll make pouches. My new One-Zip technique allows these bags to stand open wide for easy use.
Supplies: Three fat quarters, fleece, one 14″ and one 22″ zip will get the job done.
Fobio
Lanyard style key fob zips up to your wrist to lock in place! Clip to your keys, or add a pouch to make an instant wristlet. The printed pattern available at your favorite quilt shop includes 2 sets of 1 1/4" key fob hardware. The digital pattern does not include hardware. Fobio size 1 1/4" x 6"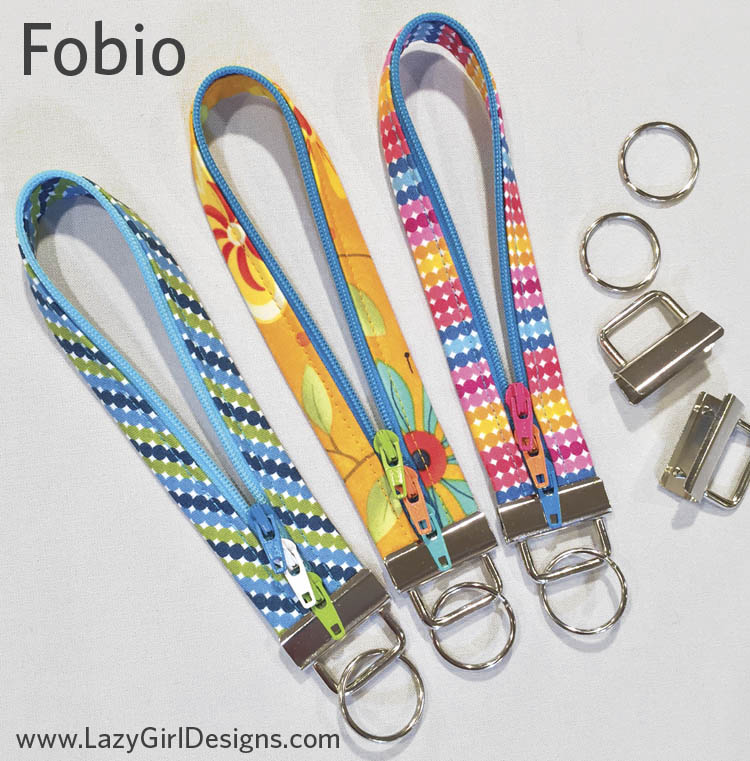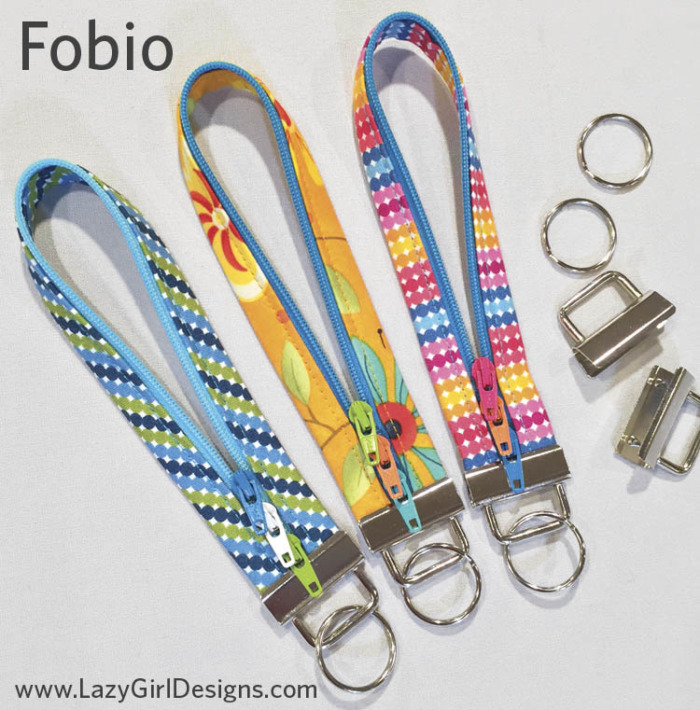 Fobio LGD137
Here we go, loopy zip again! Use my trick to add one or more pulls! The zipper can be zipped, the teeth engage and it's a cool variation on zippers.
Supplies: Two sets key fob hardware included in the pattern, one 14″ zipper, a strip of fabric and interfacing, then go wild or mild with zipper pulls.
Lazy Girl Key Fob Hardware Supplies
Refill pack of 4 sets of key fob hardware LGD711
Party Pack of 25 sets of key fob hardware LGD712
The ideal pliers LGD713 to clamp the hardware onto Fobio.
NEW: One-Zip Technique
All three Girls use my new One-Zip technique. Cut the zipper to pieces, install one length of zipper tape, bend to bring the ends together, use my Easy-On trick to put the pull on, creating a loop-style zipper. Sweet! So, all three new patterns include step-by-step instructions from start to finish for this technique.
Important Zipper Notes
My top recommendation for zips is YKK brand zippers from Atkinson Designs. They are the smoothest and swapping tape and pulls works beautifully with them.
– The One-Zip technique works with polyester, all-purpose, basic apparel zippers (size #3 or #4.5) by YKK, Coats & Clark, or Talon brands.
– All zipper tape and pulls must be by the same manufacturer to work together. Example: only use YKK pulls with YKK zips. Some Coats & Clark zips are actually by Talon and will say so on the zipper pull or package.
– One-Zip technique does not work with invisible, metal, sport weight, or Sullivans brand zippers.
– Test zips and pulls to make sure they work together before installation.
Zips and Pulls and Fun, Oh My!

I invited Terry Atkinson to this party and she said what can I bring? I said, I need longer zips and lots and lots of zipper pulls. Lots.
Atkinson Designs introduces their new line of beautiful 22″ zips and extra pulls we need for these new Girls. Here are the 10 scrumptious colors of the new 22″ long zips. The loose zipper pulls come in a Candy Color Mix of 30+ pulls that work with all of Terry's 14″, and new 22″ zippers. Terry has an incredible eye for color, so you know you are going to love all of these.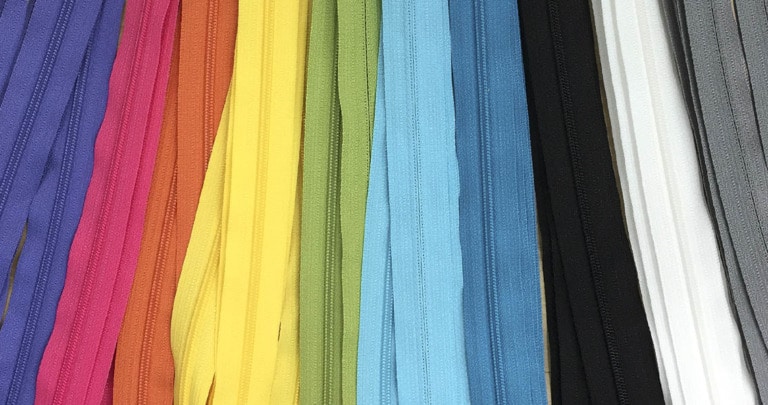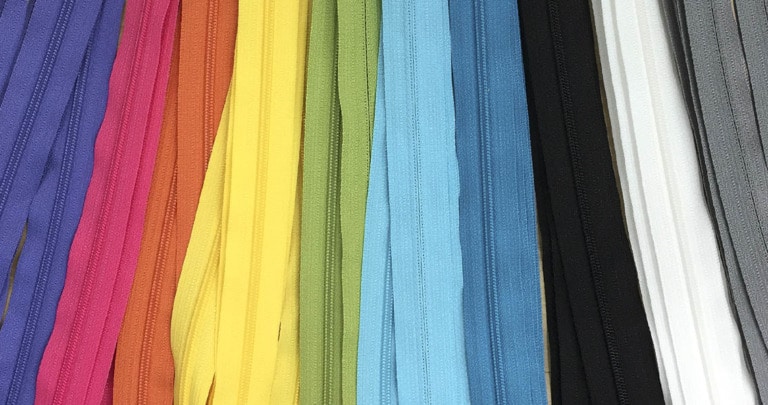 22″ Zippers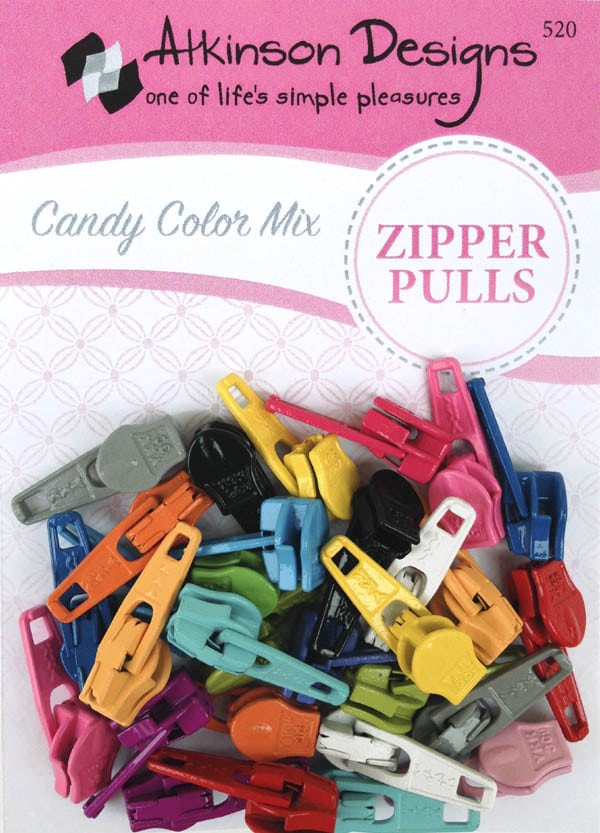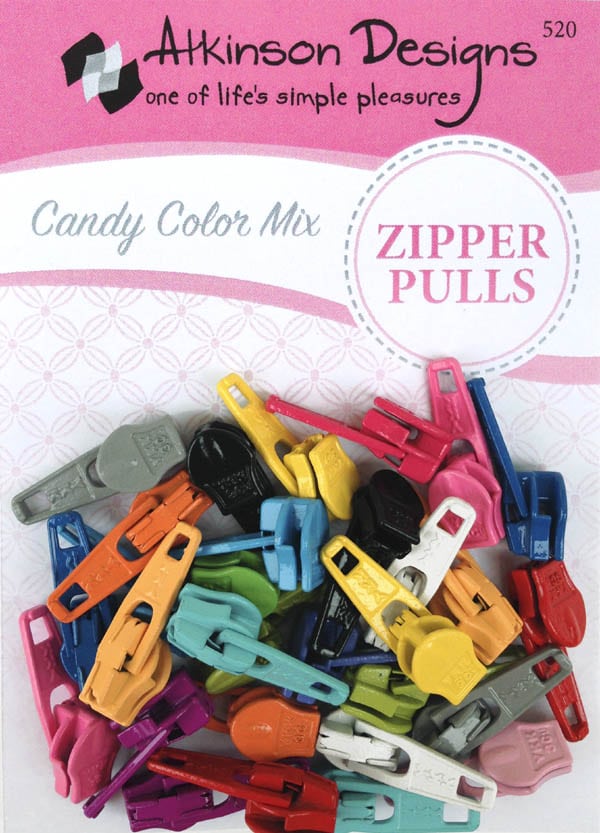 Zipper Pulls, Candy Color Mix, 30+ pulls
For every project you make using the One-Zip, you'll have leftover zipper tape for the next project. You are going to want more pulls. Like a bucketful. Or more. Trust me. My zipper stash has gone cra-cra.
Where to Order
Patterns available in our digital patterns store here: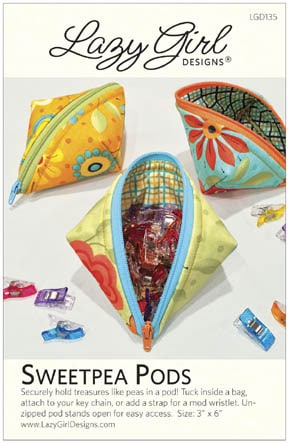 Lazies, what do you think? Are you ready to change things up a bit? Post a comment, I'd love to hear from you!
Enjoy!
Joan
Pinterest Joan Hawley
Instagram @JoanHawley
Facebook Lazy Girl
Twitter LazyGirlJoan
Save
Save
Save
Save