The Joy Of Sewing Can Be Found In Small Projects
Lazies, Susan Gable makes me want to hug my sewing machine. Her enthusiasm and creativity remind me of the sense of joy and fulfillment that comes from sewing. Susan recently discovered the fun of our Runaround Bag, one of our smallest bags and simplest designs.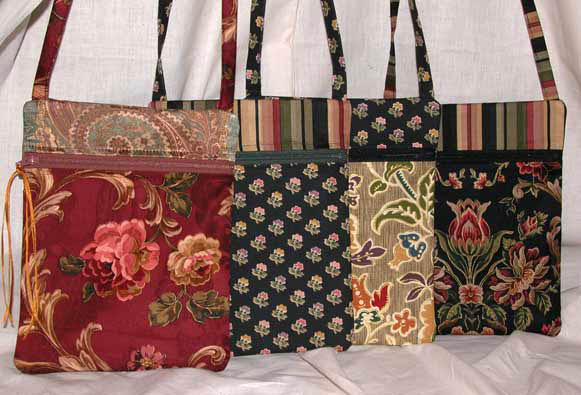 A collection of Runaround Bags made by Susan Gable.
Here's Susan:
I was on a personal mission to find a shoulder bag that was the right size, had at least one zipper closure, a pocket, ability to use leftover scraps of fabrics, and easy to sew. That led me to the Runaround Bag.
I needed the bag to wear for my future sewing classes. The bag had to be light enough to wear for several hours and not get in the way while teaching or demonstrating.
I also needed the bag to wear at work (my full-time job) as I have desk keys, two cell phones, small bills and change that I would like to keep in my immediate possession. I found all this in the Runaround Bag.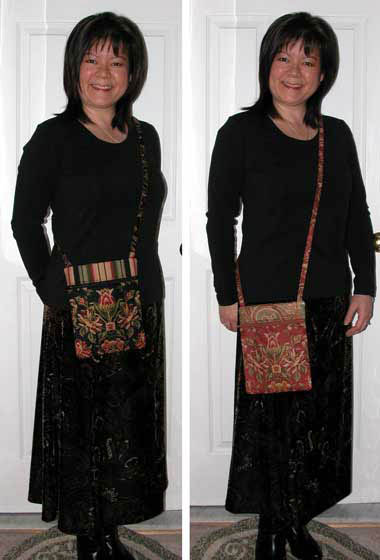 Susan models two of her Runaround Bag creations.
Easy And Great For Gifts
When I first opened the pattern and read through the instructions and diagrams, I realized the bag would be easy to make.
Then a light bulb went off in my head. The bag would make wonderful gifts. I ended up making four bags in one day and gave them to my family members for Christmas. I also made a bag for myself and for a friend. Currently, I am using mine to carry my Blackberry, a small point and shoot camera, and a small wallet.
Materials
I love making bags using home decorating fabrics. I like the durability, the different textures, and colors. I found this type of fabric works wonderfully for this shoulder bag. This Runaround Bag is definitely a dynamite pattern for me.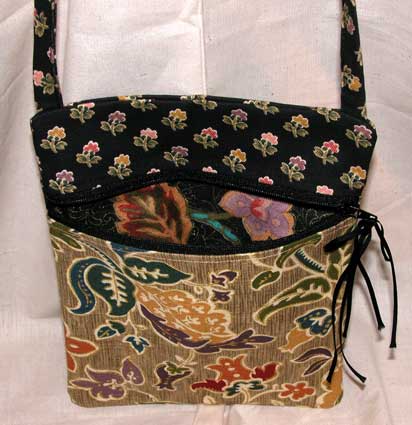 A peek inside the bag reveals more fun fabrics.
Susan's Sewing Aspirations
I love the process of coordinating and constructing fabrics to produce unusual and creative clothing and accessories. I use my experiences from my other hobbies to see the potential in the fabrics.
I have an eye for color and texture, and I like to sew with all types of fabrics and materials. I enjoy the construction process as I learn new techniques and challenge myself to try something different. I always look forward to my end product. Sewing is my passion. I believe everyone should have the opportunity to learn to sew.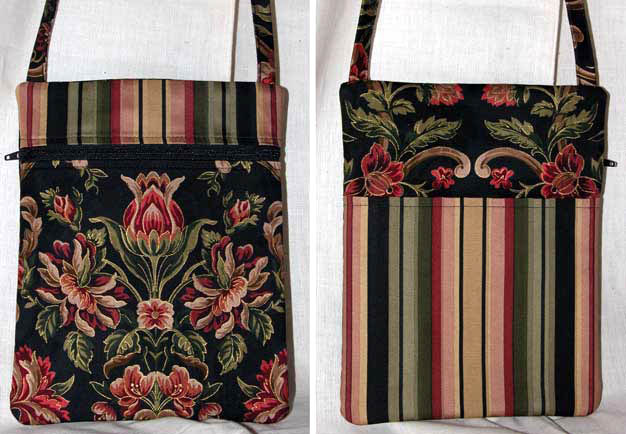 A great use of stripes and florals is
visually dynamic on this small project.
Sewing Experience
I started sewing in Home Ec in high school and I'm self-taught from there. Over the years, I sewed off and on making pillows and simple curtains. I could tackle sewing straight seams on a Singer mechanical hand-me-down. In 2005, I was crocheting some bags and needed to line them. I purchased an inexpensive ($100) White sewing machine as I was not too sure how long this hobby would last.
Well one thing led to another and I started sewing woven tank tops for myself. Then I tackled tank tops with buttons down the front. I had to learn how to make buttonholes manually.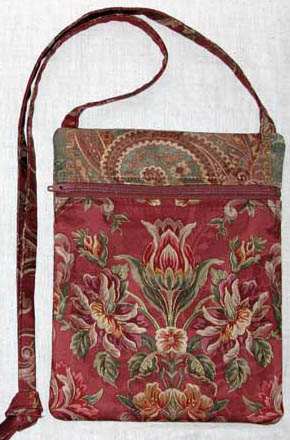 The centered floral motif adds drama and
elegance to this simple design.
Within a month I bought my first computerized sewing machine and I realized there was no limit to the sewing possibilities. Several machines later (upgraded/purchased), sewing is my passion. My other hobbies and interests include computers and gadgets, photography, watercolor painting, machine embroidery, making beaded jewelry, crocheting, learning to knit, and vegetarian cooking.
– Lazy Girl Susan of Manassas, Virginia
Thanks Susan! Read Susan's complete project review at PatternReview.com.
Subscribe to receive emails for my blog and newsletters about new patterns and project ideas.
Enjoy!
Joan
Joan's Sewing Group | Pinterest | Instagram | Twitter
Like and share this post with your stitchy friends.