A Small Square Ruler Can Be Handy For Marking And Cutting
Lazies, I've gotta tell you – I had a notion panic in my sewing room this week. I was working on a Miranda Day Bag and needed to cut the corner notches that form the bottom of the bag and I couldn't find the ruler I've come to rely on just for cutting corners.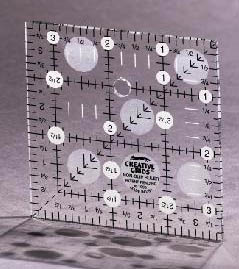 3 1/2″ square ruler from Creative Grids.
After moving heaps of stuff around in a Lazy search for this prized cutie, I remembered that the ruler was still on my desk in the office because I needed it there for something last week. And like a Lazy Girl, I left it there.
Then I realized I haven't told you about this handy item. (Hanging head in Lazy shame for keeping this to myself.)
Small Rulers For Small Jobs
This beloved and elusive notion is a simple 3 1/2″ square ruler. No biggie, literally. But it's perfect for something I do a lot of – marking and cutting corner notches, or trimming small pieces. There are lots of brands available, but I use item #CGR3 from Creative Grids and it retails for a bit over $7.
I use this ruler all the time to make the corner cut out in the picture below.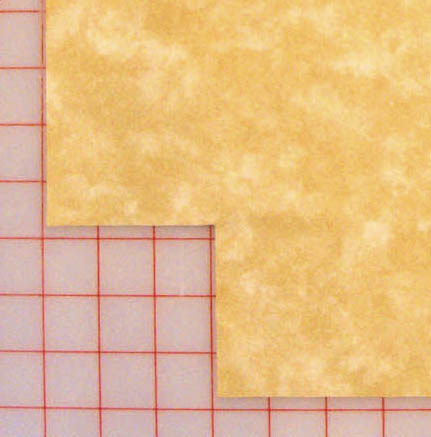 This is a sample of a 3″ corner cut out on one of my projects.
At 3 1/2″ this small ruler is large enough to hold onto, yet small enough to easily maneuver around a project. Many of my bag projects have large pieces. It is a easy for me to position a small ruler on the corner of a large project piece for marking or cutting.
Why It Is Handy
I like this small square ruler because I can measure two directions at once.
Just like using a ruler to square-up a block, I can measure down and over at the same time, mark both edges, then cut. Since I'm cutting into a project piece (rather than trimming away an outer edge) I usually cut most of the length with a rotary cutter, then scissor cut to the inside corner so as to not over cut.
Acrylic rulers can slide around a bit while working on fabrics. One of the features I like about Creative Grids rulers is the embedded gripping surface on the underside of the ruler. The grippy areas help hold things in place while working.
What Size Is Best
I think any square-up ruler about 6 1/2″ or smaller would be just as easy to use as this 3 1/2″ ruler. A ruler designed for squaring a quilt block has several features. The numbering starts at zero in the upper right corner of the ruler in the first picture above.
How To Use
For a 3″ square cut-out, place the zero corner of the ruler on the project. Then slide it into place matching the 3″ measurements on both sides of the ruler to the edges of the fabric. Mark and cut. Easy as pie.
How Many Rulers Do We Need
For me – apparently lots. I don't know how I became such a ruler junkie. For years I used a 6″ x 24″ ruler for all my cutting needs. Now, I can't live without a family of different sizes. I don't know when that happened.
My first thought when I saw this ruler was – oh that's cute, but what would I need a small ruler for? Then, like the notions nut that I am, I bought it anyway. I'm so glad I gave this ruler a try.
There are a number of ruler manufacturers who offer great products in a variety of sizes and shapes. Find a brand you like and trust, then build your ruler stash as the opportunity and your varied cutting needs present themselves.
New to our blog? Subscribe to get emails so you don't miss a juicy morsel.
Like and share this post with your stitchy friends.
Join me in the Lazy Girl community on Facebook here: Facebook Lazy Girl
Enjoy!
Joan
Facebook Lazy Girl
Pinterest Joan Hawley
Pinterest Lazy Girl Community
Instagram @JoanHawley
Twitter LazyGirlJoan