Mother Sews Lazy Inspiration For Writer Daughter
Lazies, This beautiful coffee-themed Summer Tote (LGD122) has a special story behind it. Lazy Girl Susan Fogel sent a letter and pictures to tell us all about this fun bag.
Here's Susan
My daughter Melissa has been accepted into a competitive writer's workshop in Fort Mason Center in San Francisco. She will be groomed to publish her first novel. This Summer Tote bag is a gift to carry along to the 'City by the Bay' and be inspired.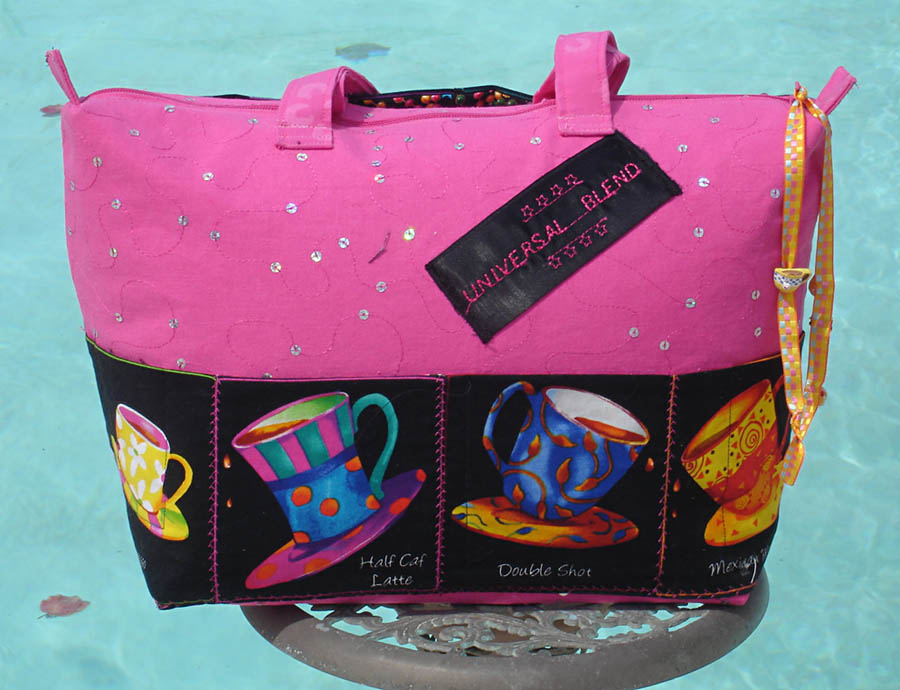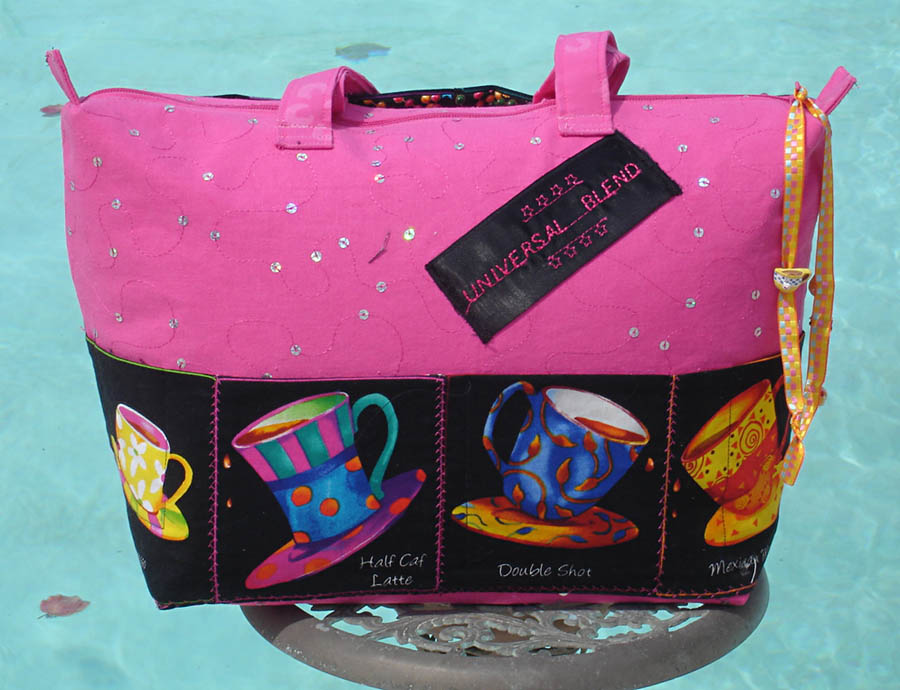 Susan Fogel's 'Universal Blend' themed Summer Tote. Click image to enlarge.
I am an accomplished seamstress and design totes and home dec items, and in my younger days, clothing. Your totes and purses are exquisite, and the Summer Tote pattern caught my eye. The last few weeks have been weeks of obsession, I was enthralled with the process, could visualize my finished product, and loved working on it!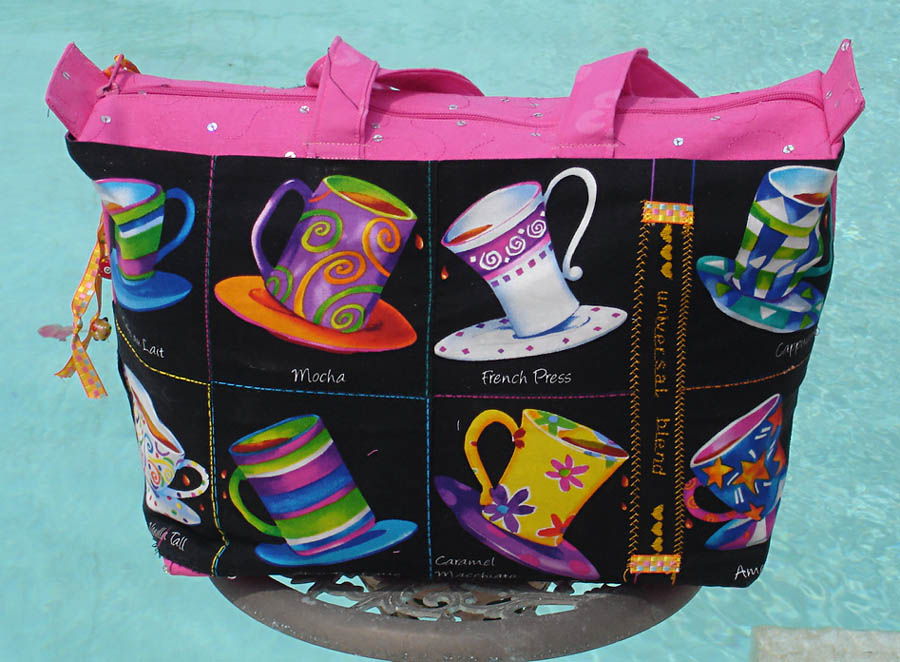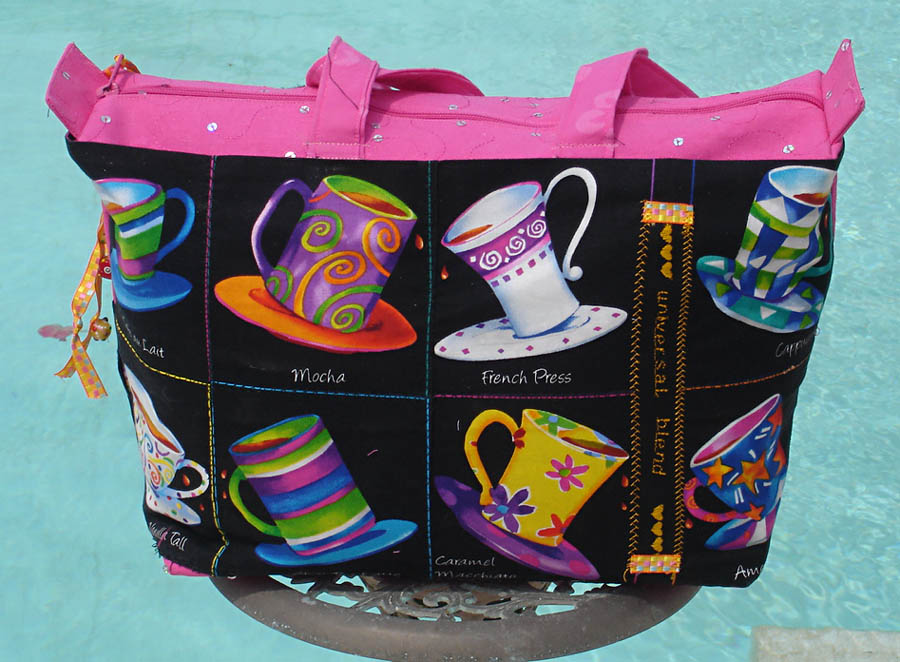 Back of Universal Blend. Click image to enlarge.
The name of Melissa's book is 'Universal Blend'. Espresso and coffee society are important parts of our lives, and we have both left our beloved California to live saner lives, me to Baja California Sur and Melissa to Dallas.
Universal Blend Summer Tote
The outer body of the Summer Tote is linen embroidered with sequins. The lining is a brushed cotton with a stamped 60's style floral.
The inner pockets and the lining of the outer pockets are a print of Mardi-Gras beads with stars and touches of metallic, part of Kaufman's "Celebrations" fabric line.
Coffee Cup Panel Fabric
The outer pockets are from the "Spill the Beans" collection by Barbara Tourtillotte for Clothworks. This fabric is panels of coffee cups. My pockets front and back are sized to show off the cups.
And I could not bear to hide any cups inside, so I lined the pockets with the Mardi Gras fabric. Very un-Lazy-like.
Special Touches
I stabilized some black satin blanket binding and embroidered the name of the book Universal Blend on it. And on the back I did the same with some black ribbon.
Zipper Pull
The zipper pull is decorated with ribbon that reminds me of colored tile in a city coffee shop. And I adorned the ribbon with a coffee cup button and some Murano glass beads.
Today, after inspecting some properties on a sandbar ( big sand bar) a friend and I collected shells for several hours, took the boat back to town, had lunch and a swim in my pool. I showed Melissa's tote to my friend, and told her of my plans to make an identical tote for myself. Now she wants a Universal Blend tote too!
Your designs are wonderful! I love your attitude and I hope you continue to design and be successful.
– Lazy Girl Susan Fogel in beautiful beachy La Paz, Baja California Sur.
Thanks to Susan for sharing the story of her Summer Tote with us. Good luck to Melissa on her writing journey.
Summer Tote Demonstration
Have you had a chance to see the Summer Tote? You can watch a video demonstration of the Summer Tote project at KayeWoodTV.com here.
Enjoy!
Joan
Images courtesy of Susan Fogel.
[tags]zipper tote bag, Lazy Girl Designs[/tags]