A Mini Miranda Made of Boy Scout Fabrics
Lazies, Let me tell you how I altered the Miranda Day Bag LGD123 pattern to make this mini sized Miranda for my friend Kim. Her son just fulfilled the requirements to make Eagle Scout and I wanted to make something special for her to bring to his ceremony.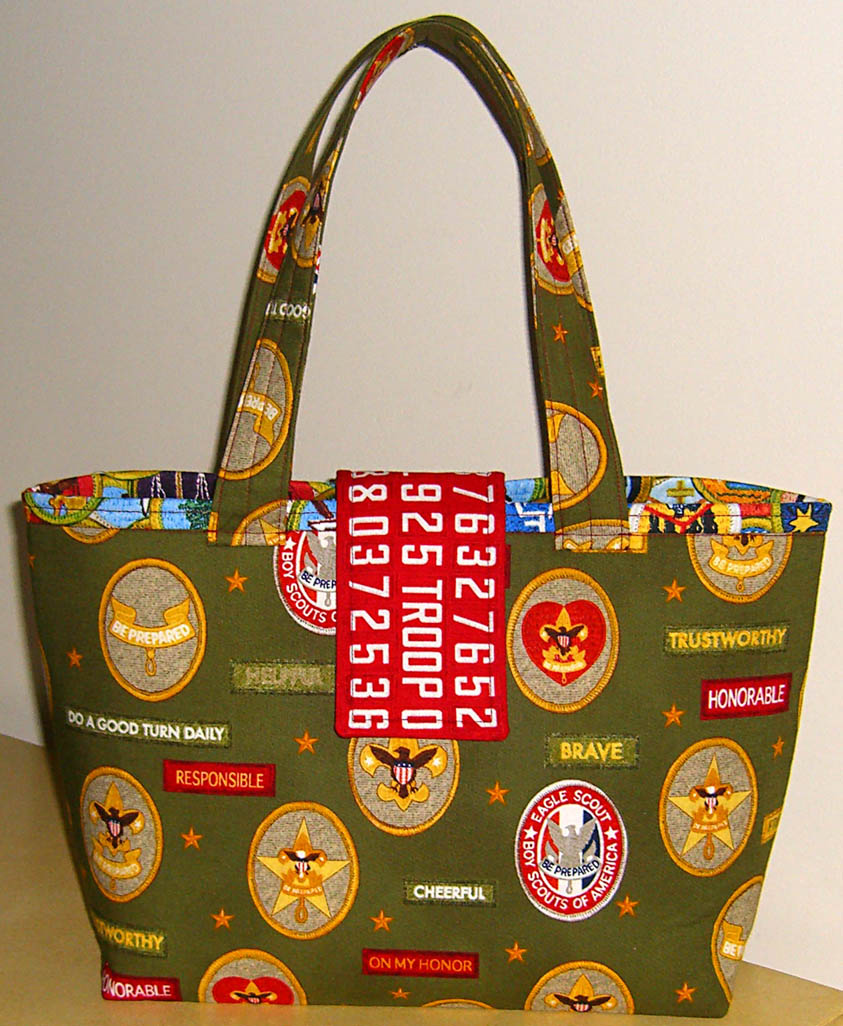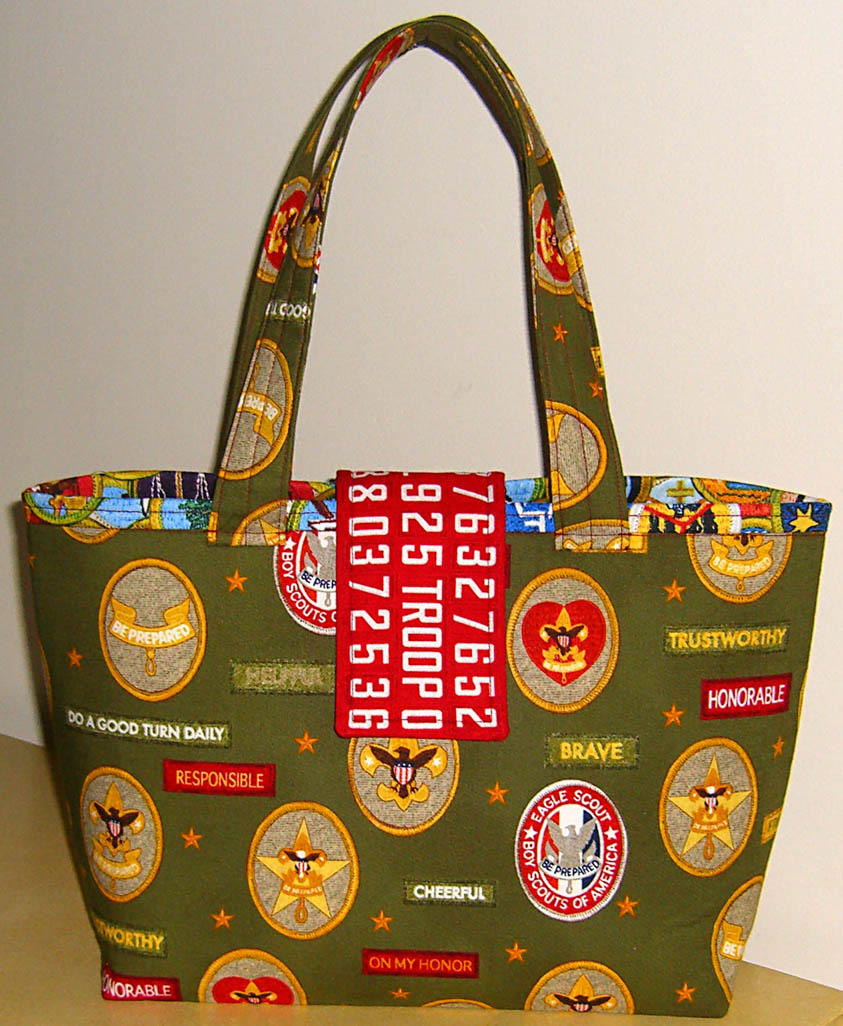 I used Boy Scouts of America fabric from Robert Kaufman. You can see all of the fabric swatches at their website along with a few project ideas.
Smaller Size
This mini Miranda is 11″ wide x 9″ high x 4″ deep. This Miranda turned out to be slightly smaller than a Gracie Handbag LGD118. Width and depth are measured at the base of the bag. It's about 16% smaller than the original which is 12″ x 10″ x 6″.
Recommendation
If you'd like to change the dimensions of one of my designs, I highly recommend that you make the project as written first. Then you'll have a better idea of how all the pieces fit together and where adjustments can easily be made.
Where to adjust the pattern
These are the adjustments I made to the pattern:
– I reduced the width of the cover, lining and interfacing pieces by 3″.
– I reduced the length of the cover, lining and interfacing pieces by 2″
– I reduced the corner notches by 1″.
– I reduced the height of the cut size of the pockets by 1″ and the width by 3″.
Other changes
Instead of cutting, quilting and piecing the cover, I used a single piece for the front and one for the back. I used fusible fleece from Pellon for the batting and fused it to the cover pieces.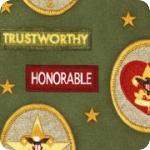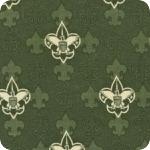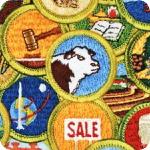 These are the three pieces I used for this bag.
Yardage
I started with 1/2 yard cuts of three different fabrics from this line. I wish I had purchased 3/4 yard cuts instead. I used almost all of the fabric. If I had a bit more, I would have made the straps longer and perhaps some coordinating accessories. The red flap fabric ran along the selvage edge of the green badge fabric. More of this border would have been fun.
Bag support
The size A Bag-E-Bottom just fit inside the bag. I didn't have enough fabric for a sleeve, so I wrapped the acrylic base like a gift, securing the cut edges of the fabric on the underside using Res-Q Tape, double sided tape. I talk a little bit about Res-Q Tape in this blog post.
Where to buy this fabric
The Boy Scouts of America fabric from Kaufman seems to be in stock every where right now. Check with your local quilt shop or do a search online for 'boy scout fabric' to find a retailer.
Other Lazy Scout Ideas:
– PurseNickities LGD117 brick shaped zippered bag
– Wonder Wallet LGD211 without cover decoration for money, first aid kit, etc.
– Perfect Pouches LGD113 small zipped pouches and bags seem universally useful
– Sew On The Go LGD103 for a traveling sewing kit
– Summer Tote LGD122 large light weight zipped tote which folds flat
– Chelsea Tote LGD116 all purpose backpack
– Take Along Bags LGD106 zipped bag great for dopp kit, project supplies/tools
I couldn't wait to give Kim her Scout mini Miranda and she loves it. As soon as this project was finished I wanted to immediately give it to Kim. Are you like that, too? It's a great feeling.
Enjoy!
Joan
Fabric swatch images from Robert Kaufman.