Market Wrap-Up: Ghouls, Girls, Good Times and a Break
Lazies, I'm home from Fall Quilt Market in Houston  and it was a fantastic trip for me. I have just a few pics to share, and you can see a few more posted on our Facebook page. But first up, I must tell you, I've flown on holidays before, and there are usually some decoration around the airport and some staff members may have adorned some holiday attire, but Southwest Airlines took the cake yesterday. Here's what I arrived to at 6 am at the Southwest Air concourse at Houston's Hobby airport: alien ghouls. Nice.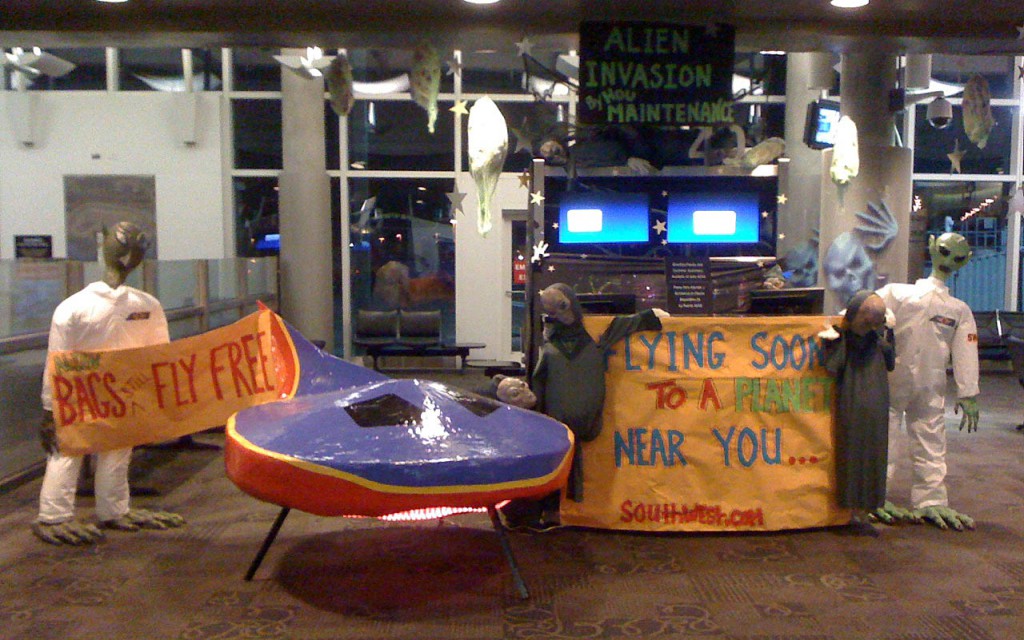 Click to enlarge. My first thought was: Oh how fun! My second thought was: Gee, I have to show my tube of lip gloss for inspection. How did they get all of THIS past security?
NOTE: Lazies, I'm taking a few weeks off. Perhaps more. It's been a gang-buster year and a half of activity without a break including five new designs issued and health crises with both parents (both doing well). I have nothing on my schedule through the end of the year and I'm taking advantage of this opportunity to recoup, regroup, and rest a bit. I do have a few more posts in the next few weeks, and I'll be hanging out a bit at our Facebook Page and Yahoo group, but I'll be away from my desk/phone/email for a while starting today.
On the road
My travels had their usual accompaniment of adventure, surprise, fun, sore feet, a hunt for good coffee, road food (as I call any food I have to scavenge for) and more fun. I have totally given up on keeping track of my very mobile girlfriends. They travel all the time and I stay in one place. I've asked that they all be implanted with a GPS tracker and an app created for my iPhone so I know where they are at all times. So far, no takers on that idea. We were all headed to Houston, but I didn't know what their travels plans were.
So, I'm having my morning cup of Joan at my gate in the Columbus airport and I see these little feet go scuffling by and I say to myself, gosh those look like Jenny's feet. Is it completely weird that I recognize Jenny's feet from behind? Sure enough, Jenny was attached to those swift moving tootsins. The airline changed her flight and she was scurrying. She said my friend Carolyn might be arriving at Hobby airport in Houston the same time I was and we should look for each other and share a ride into town. Sure, no problem finding one little quilter at a huge airport.
Amazingly, I ran into Carolyn and Marci in the little girl's room at the airport in Chicago and we were headed to the same flight. Nice. We sat together. The plane was loaded with more quilters and friends. I got on the plane and someone yelled 'Joan!!!!!' from about 10 rows back. It was the effervescent Sue Hausmann trying to be shy and retiring. What is not to love about Sue? Lots of us were headed to Houston. Baggage claim yielded more friends, new friends (keep an eye on Julie Herman of Jaybird Quilts – she is one to watch!), catching-up and what seems like a slapstick car-chase movie as we all sought our rides into town. They all went to work, I found the nearest Curves and had a workout. That felt great after a day of travel.
Market Re-Cap
Market was great for me. Took care of a lot of business in two days and caught up with most of the people on my list to see. I missed a few – sorry gang! Meeting with people at Market is like a weekend long combination scavenger hunt mixed with speed-dating, where you have a short amount of time with one person, then we all rotate to the next meeting and we go through it all again. Some dates are longer than others, but in general they all kind of go like this: smooches/hugs, what's new, what do I need to know, what is your company up to, what can I do for you, what can you do for me, this did/didn't work, here's my new idea, anything else, your hair looks nice, love that outfit, booth looks great, where'd you get that coffee, what show is next for you, I'll be in touch, see you at the next show, smooches/hugs, take a sample/card/catalog/etc with you. Next!
Here is a re-cap of my market experience and a partial list of my dear Lazy friends with whom I had a date with at the show: Clover, Benartex, Checker, Creative Grids, Starr Fabrics, Far-Flung Quilts, Print Concepts, Martingale, Kaye Wood, Andover, South Sea Imports, Moda/United Notions, StudioKat, Brewer, P & B, Bosal, Therm-o-Web, Cedar Canyon Textiles, By Annie, Brandy's, Sulky, Windham Fabrics, Pattern Peddlers, Pat Sloan, Leisure Arts, Tri State Printing, BoNash, Professional Quilter, FabShop, and more that I can't think of at the moment. Throw in two business dinners, a business lunch, two breakfast meet/greets and schmoozin in the aisles and you might have an idea why I'm pooped. Lazies, it was a great show and a well-rounded trip. I posted a few more pics on our Facebook page here.
I had a SchoolHouse educational session on Friday morning, sponsored by Checker Distributors, one of the main suppliers of product to the quilt industry. We had a full house of Lazies. This pic shows about two-thirds of the room, we couldn't get all that Lazy into one shot.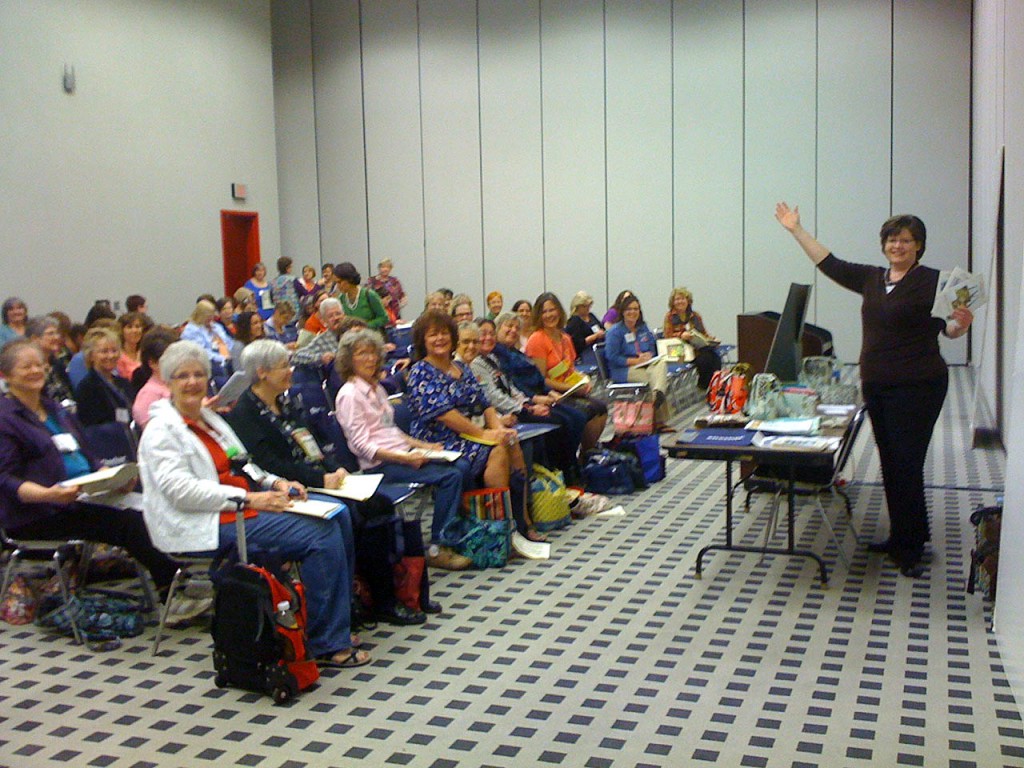 We introduced Suzi, Margo and Lily. We talked about interfacing and supplies. And every attendee walked away with a gift bag supplied by Checker Distributors loaded with info, a coveted smooth-writing Checker ink pen and free patterns for Margo, Lily and Suzi to get their shops started on these Lazy Girls right away.
New purse product
I had a few minutes to catch-up with Annie Unrein of By Annie, and she shared her very exciting and brand-spankin' new 'Soft & Stable' bag support with me. Alright Annie – this is going to be an instant hit with our bag-lovin' crafters. Annie has developed Soft & Stable to use instead of batting in our bag projects. It's a sew-in product, rather than a fusible like I've been using in my bag construction lately. But, it will be easy enough to use in my bag designs, too.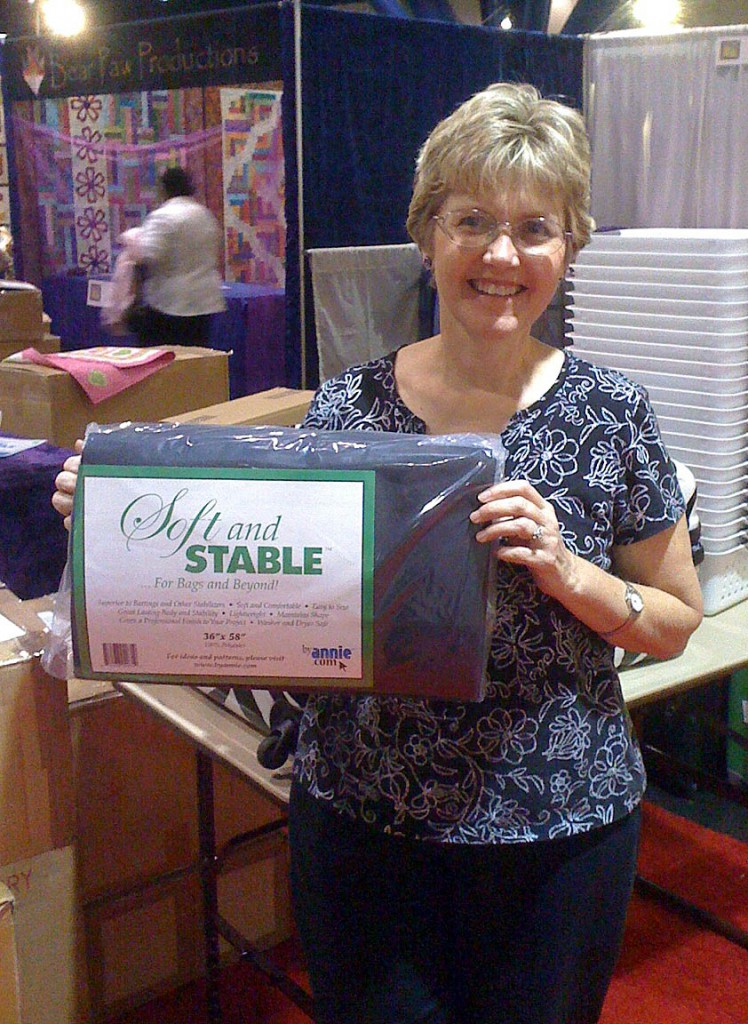 There were Lazy Girl bag sightings everywhere. But it was an especially nice delight to start my day with Lisa Shaw strolling into my SchoolHouse session wearing her brand new Lily. Bonus points Lisa!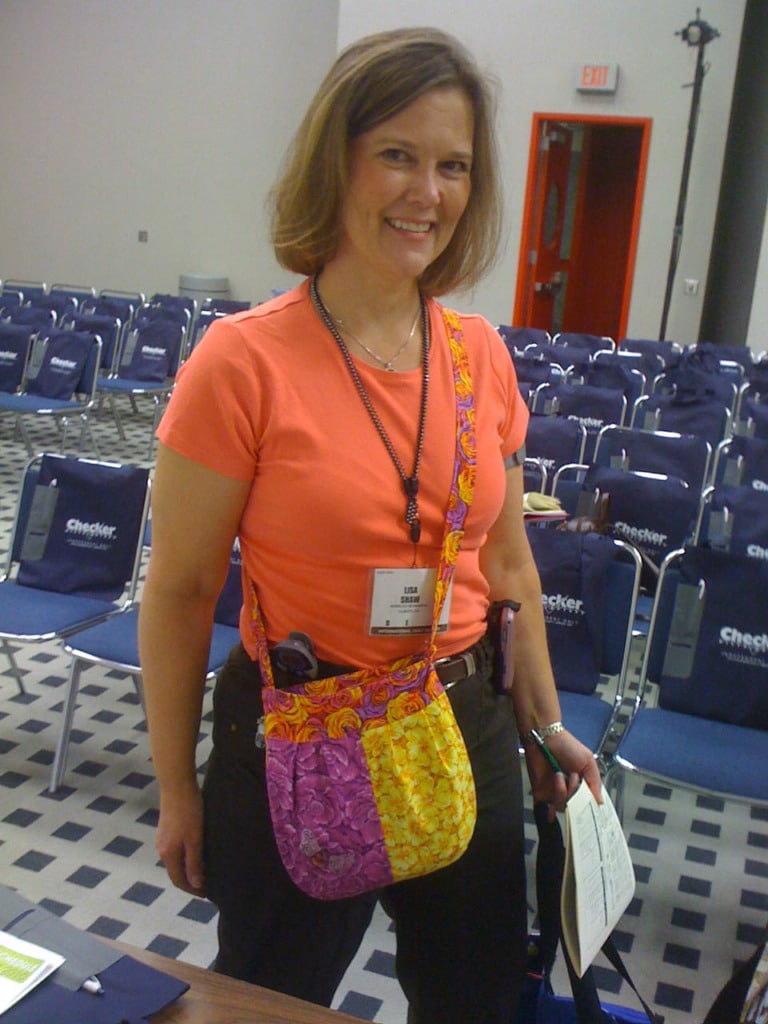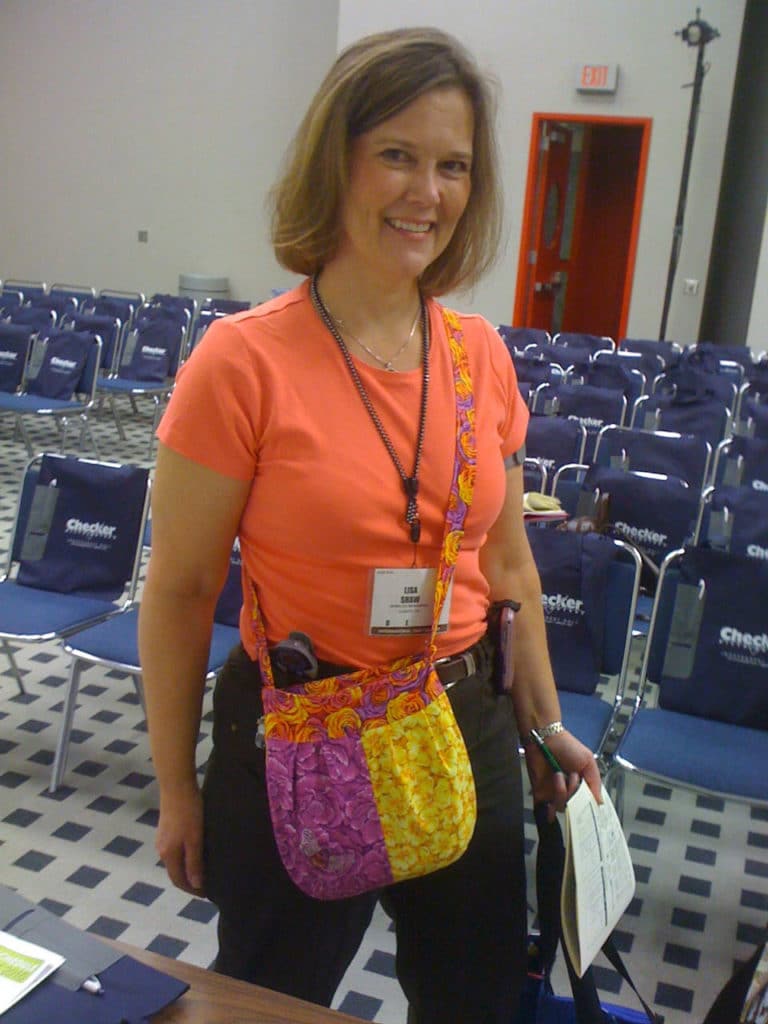 Okay Lazies, I'm off for some R&R.
Enjoy!
Joan