Long Distance Lazies – A Tale Of Two Sisters, Part 2
Lazies, In the first installment of our story, we met Regina and Sue. Two Lazy sisters who stay connected and share their fabric crafting long distance via the Internet.
When last we left off, we met Regina and Sue, and they introduced us to their other crafty siblings.
Let's Continue, From Regina
I have been teasing Lazy Sister Sue on my blog with details about a quilt I am making for her – I let her see a peek of a few blocks, but not the whole thing. This will be the first quilt I have ever done for her, though she has given me a few.
Forgetting that Sue was a member, I did post to the Lazy Girl Yahoo group about the idea of "everyone gets pajamas for Christmas". Now I think she beat me to it and is making me a pair (she is retired with grown kids, and I have a toddler and a full time job, so sometimes it is a challenge).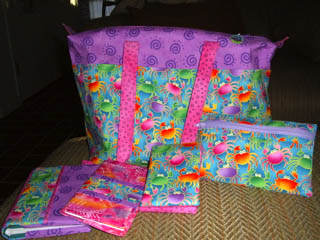 Crab fabric suits this Summer Tote and accessories.
A Crabby Collaboration
This is a Lazy Girl Designs Summer Tote and some coordinating accessories – a 'crabby' collaboration for our Mom (which she takes EVERYWHERE!). I don't have photos of our collaborative quilts – but perhaps Sue does.
I really did not start taking photos of my projects until recently, when my husband put together a website for me http://www.queenbeecrafts.com/ to promote my continuing education class teaching, and then when I started posting to the Lazy Girl group.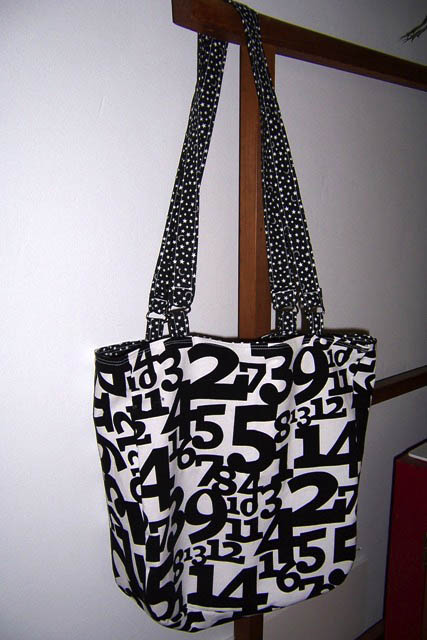 'Little Black Bag'.
Crafting By The Numbers
My son is very fascinated by numbers right now, so I picked this fabric for him. This was a free pattern from Leisure Arts and is supposed to feature their purse handles and have interchangeable handles on a reversible bag. I chose to make the fabric handles, but liked the look of the loops and d-rings, so I kept that in. It is reversible, but I think I will keep the numbers out where the munchkin can see them. And next time I make one -reversible or not- I think I will add some pockets.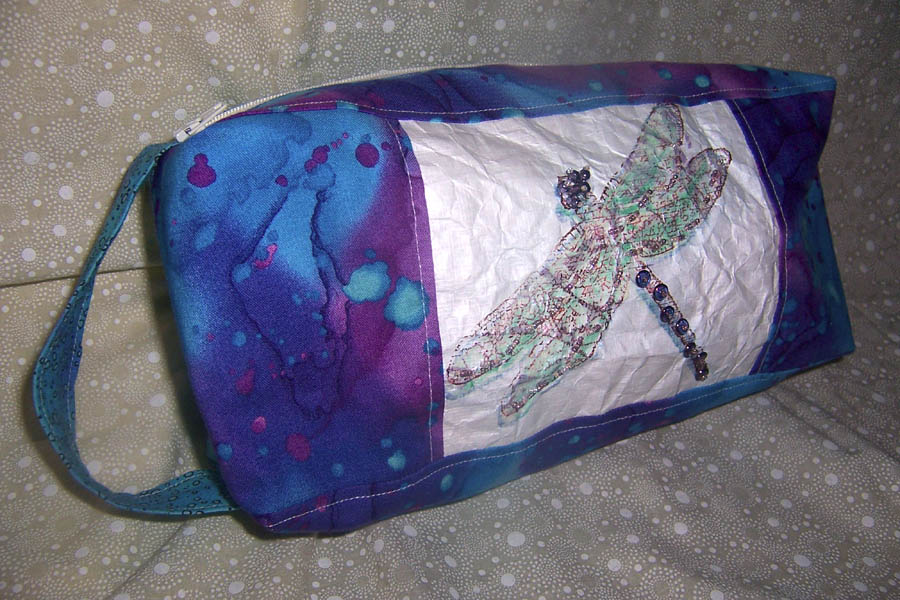 Dragonfly and beading on Tyvek.
Inspiration From Unlikely Sources
My husband and I were working with some Tyvek to make a back yard drive-in movie screen, and he mentioned that he had read if you crumple the Tyvek it gets softer and becomes fabric-like. So my mind started crunching, and I took some crumpled scraps, rubber stamped a dragonfly, and then embellished it with beads. I was able to piece it into a little tote with a Tyvek lining.
The fabric is leftovers from the baby quilt that Sue and I collaborated on for our sister Terri (you never know where those scraps will end up!) and she is the dragonfly lover, so this tote was her Christmas gift last year. And since I am also the verbal one in the family – there is a quote written inside with a sharpie, so she can see it every time she opens it.
From Sue
I had the pleasure of meeting Joan at a trade show session in Houston several years ago and although I was already a Lazy Girl, knowing the personality behind the patterns made me love the patterns all the more.
When Lazy Girl Carolyn Griffin of Far-Flung Quilts lived in Georgia a few years ago, she worked with us several times at quilt shows (I worked with and vended with a friend of mine who owned a quilt shop, now retired).
Getting Connected
Because of Carolyn I joined the Lazy Girl Yahoo group and mentioned it to Regina who, being younger, is much more computer savvy than I. It has been a fun way though for us to keep connected.
Somehow when we can chat online or I can read about her latest project and see pictures, the miles between us lessen.
I admit to making my sister "Lazy" and have converted an aunt to the Lazy side as well. Our aunt has made at least a dozen Towne Purses, had a beautiful City Bag when I saw her last week and asked me to send her a Gracie pattern based solely on my description of the one I made for a class sample.
I teach a monthly Bag Lady class at Aiken Quilt Shoppe in Aiken, SC, and most of the patterns I teach are Lazy. The ladies love them and they are so easy to teach!
– "Lazy Sister Sue" aka "the Matriarchal Sister" (either name is not exactly flattering but they both have love behind them so I'm ok).
Tomorrow, we'll catch up with Regina and Lazy Sister Sue for the last part of this mini-series and see some of the many projects on which they've collaborated.
Notes from yesterday:
If you have a chance, check the blog to see the comments posted at the end of each part of this series. My favorite so far is from Lazy Daughter Karen (Lazy Sister Sue's daughter), recipient of the famous purple apron, hoping that her mom didn't send in any embarrassing pictures of her. Well, she didn't, but perhaps we can embarrass you just a little right now by calling attention to you.
And our story has been cross-posted at iVillage.com in their Home and Garden section.
Enjoy!
Joan Hawley
Lazy Girl Designs