Special Occasion Suzi: Game Day, Holiday, Dog Day
Lazies, Get your fat quarters ready, the Suzi Purse Insert & More pattern (LGD129) will be here soon! I'm headed to Houston for Quilt Market later this week, so I've been busy playing with our new Girl. Here are some of the Suzi's I've made for the Market. I'm finding Suzi to be perfect for more than just organizing my purse.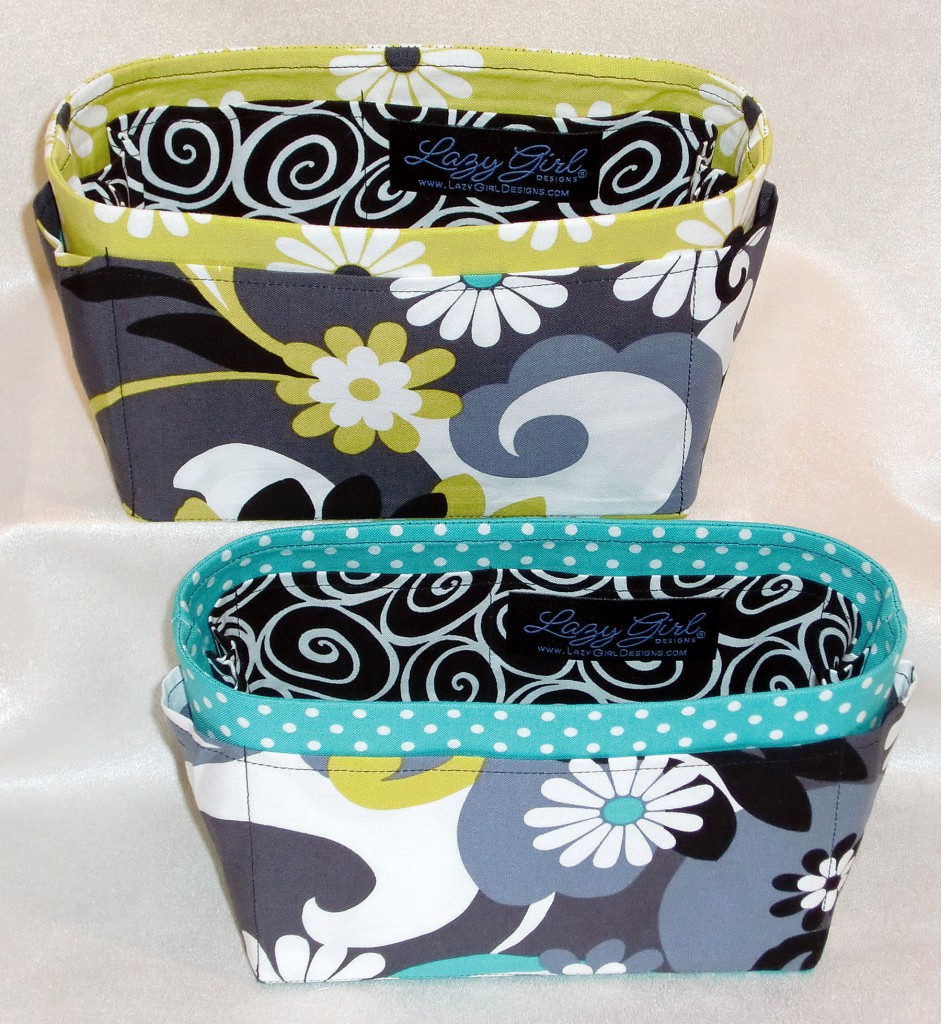 Make a few to go with your party ware and decor.

Suzi done up in 'Daisy Doodle Dandy' by Michael Miller.
Fat quarter pack from Fabric Lovers.
She's so useful and universal that done up in themed fabrics, she's perfect for many occasions and recipients including the hard to sew for men and children in our lives. Suzi might just the thing.  Perfect for a party!
Dog Days
The more time I spend with Suzi, the more uses I find for her. I made a Poodle Doodle Suzi for my Honey dog's chew toys. Her Nyla bones are forever laying in wait to attack my bare feet. Nyla usually wins that battle. So, I made a Suzi to show those bones who is boss.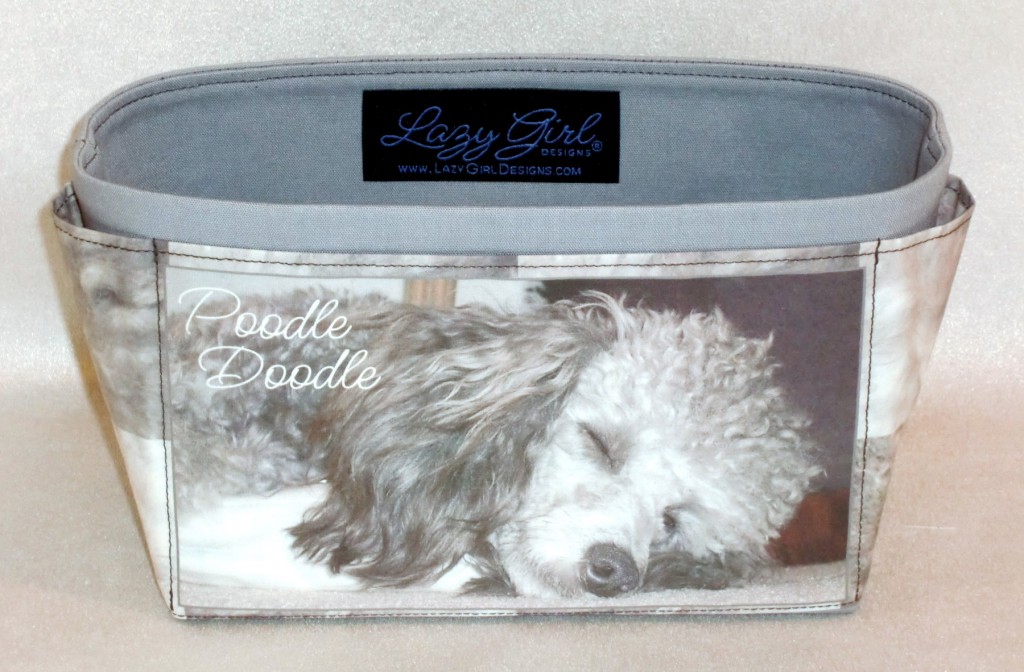 I didn't need any inside pockets, so I left those off and Suzi went together in a blink. The front pocket is cut at 11″ x 8″ so I printed Honey's pic on a sheet of printer fabric paper and used that for the front pocket.
Game Day
Ready for game day festivities? Make a few Suzi's in your team's fabrics or colors. They are great for napkins and utensils or other necessities.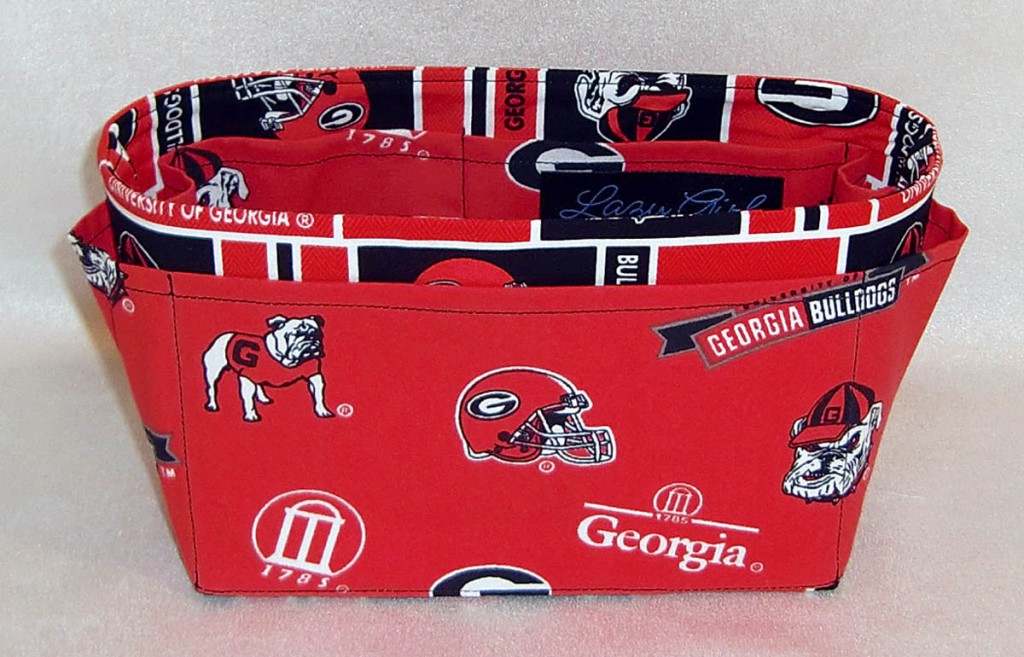 Here's a Suzi made up in Georgia Bulldog fabrics from Print Concepts. Go team!
Pink Ribbon
Suzi is a nice way to show your support for so many things. Karen Combs of Print Concepts designed a beautiful pink ribbon batik collection.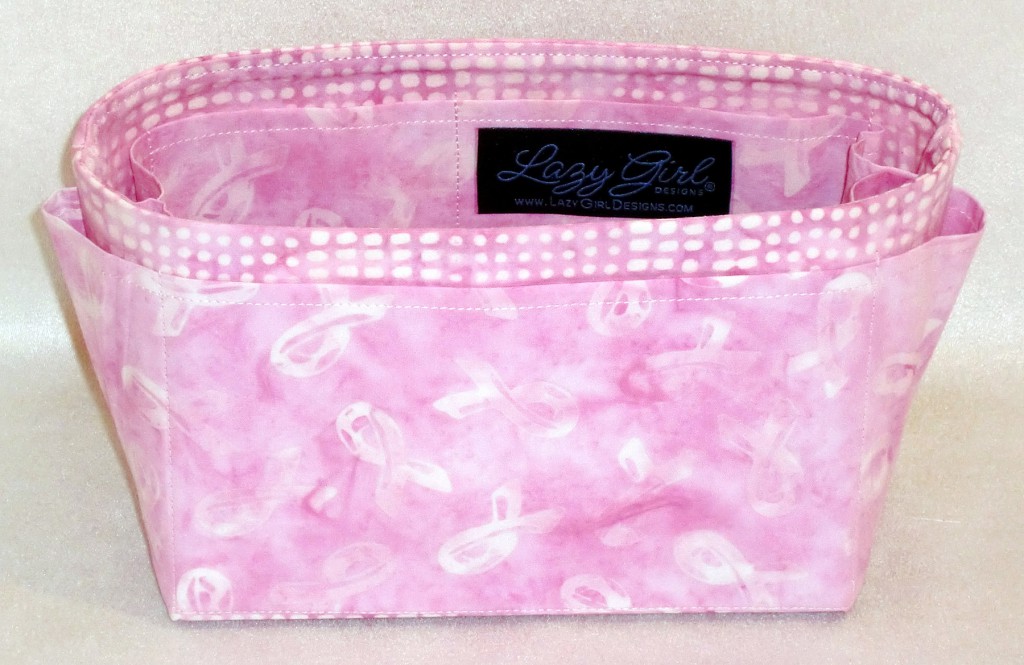 Halloween
I made this Halloween Suzi for my nephew. He can use it for his candy, then use it at his desk to keep his important things organized. He received it last week and immediately started playing trick or treat. I hope his mom has a larger bag for the actual trick or treating.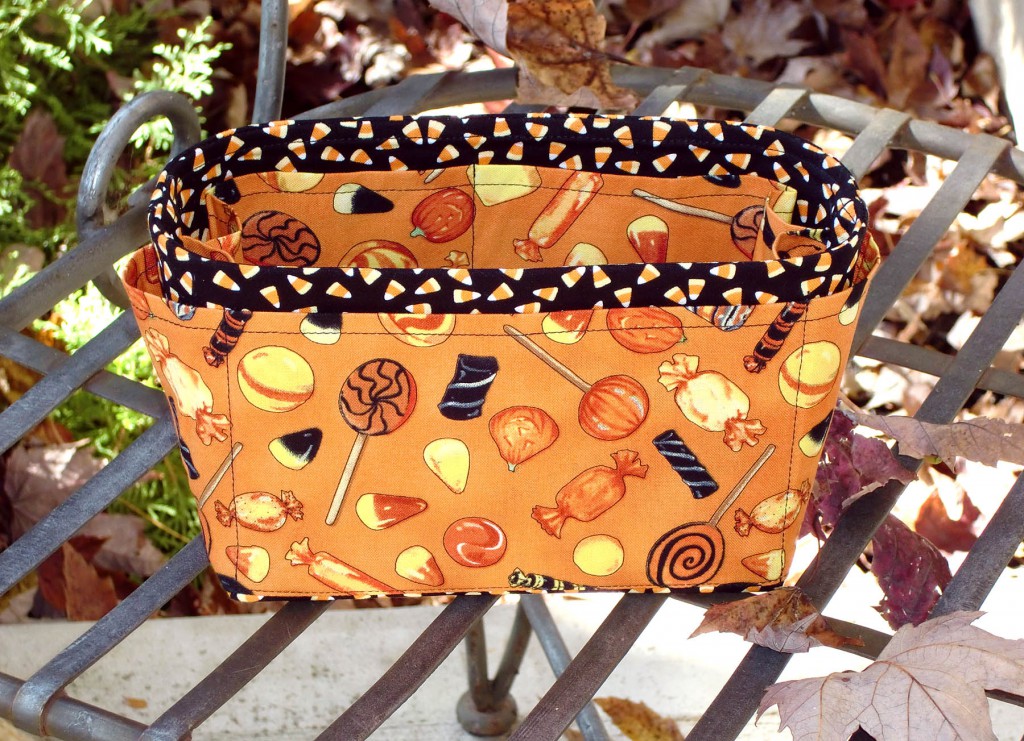 I used a Halloween fat quarter pack from Fabric Lovers.
Get your Fall colors fat quarters and get ready for Thanksgiving with a few Suzi's at your holiday gathering.
Pre-Order Suzi
Lazies, a few stores are offering pre-orders on the Suzi Purse Insert & More pattern. They are taking orders now and will ship when our new Girl arrives. If you know of another store, please post a comment below.
Sew Thankful
Mon Aiguille
Quilter's Warehouse
Rush's Dry Goods
Fabric Lovers
I'll be introducing Suzi, Lily and Margo at my SchoolHouse session sponsored by Checker Distributors at 10:20 Friday morning in Houston.
In future Suzi posts we'll discuss interfacing and perfect pressing.
Enjoy!
Joan