Make The Most From Your Fabric With Easy Coordinates and Gifts
Lazies, I usually have leftover fabric from a bag project. And small accessories are a perfect opportunity to make the most of that fabric investment. Make coordinating accessories to go with your bigger project or tuck these little projects away for sewn gifts when needed. Every time I make myself a purse, I make two coordinating accessories from the leftover fabrics. A Wonder Wallet – which you've heard me go on and on about. And a Perfect Pouches small-sized pouch. Perfect Pouches is a great scavenger project – using sizable scraps from other projects. Just add a zipper and sew.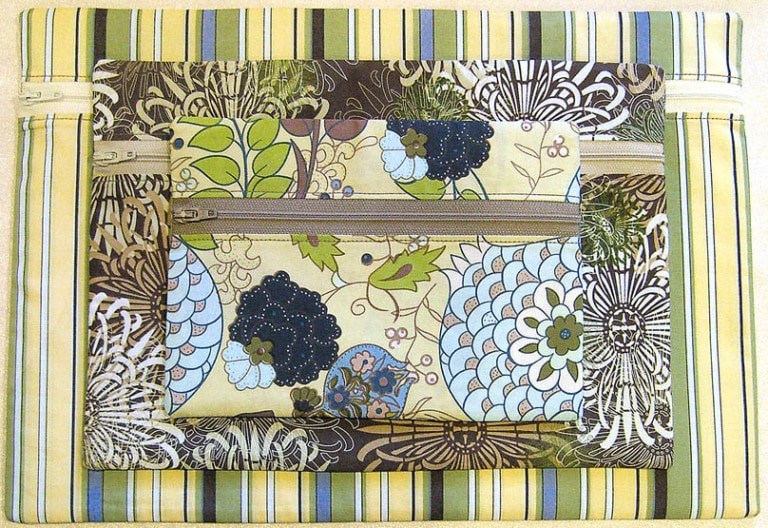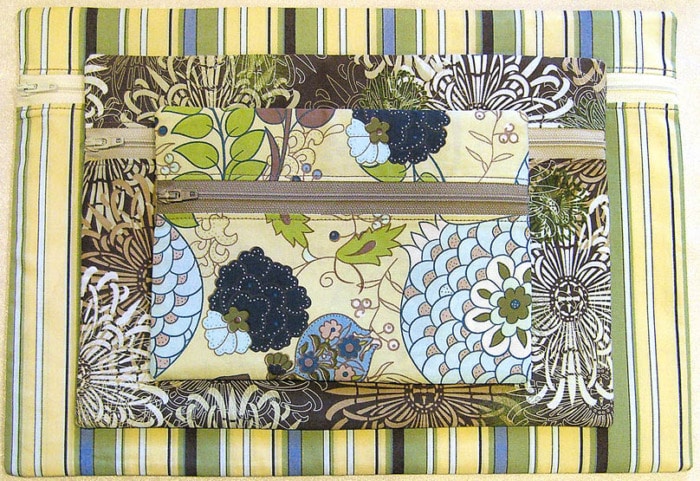 Perfect Pouches in three sizes. Fabrics by Art Gallery Fabrics.
There are two main things I want you to know about this little Perfect Pouches design.
The Easiest Zipper Installation Ever
The zipper installation is to die for. It's one of those oh-my-gosh things. So simple and easy, perfect every time. It's a great first project if you've never tried sewing a zipper. Complete instructions are in the Perfect Pouches pattern #LGD113. It's the same installation used in the Runaround Bag design.
Perfect Pouches for so Many Things
Next, it's a great all-purpose zip pouch. Think of it as an extra pocket where needed. I like the 'small' size which is approximately 5″ x 7″. It's perfect for keeping some of the smaller items in my purse together. It's wonderful for my small digital camera. Or use it to keep all those pesky phone/camera cords and wires together.
They are great for small hand projects. I keep one loaded with a sewing project to go.
I use the largest sized pouches for travel to keep things together and tidy in my luggage.
I made these pouches when I made the Mini Miranda below. You might remember her from an earlier blog post: Meet Mini Miranda Bag Pattern.
Mini Miranda Bag.
Make Accessories From Project Leftovers
When planning a project or buying supplies from a pattern material list, add an extra fat quarter or additional fabric. Doing so will give you some flexibility when sewing the main project and extra fabric to make coordinating accessories.
More Quick and Easy Small Projects
Pinterest Board: Small Bag and Purse Sewing Patterns
Subscribe Now to get news, updates, and exclusive content from Joan.
Enjoy!
Joan
Joan's Sewing Group | Pinterest
Like and share this post with your stitchy friends.