New Pattern: Mini Miranda Bag Debuts at Quilt Market
Lazies, Here is a sneak preview of our newest pattern, the Mini Miranda Bag, a purse-sized version of our popular Miranda Day Bag.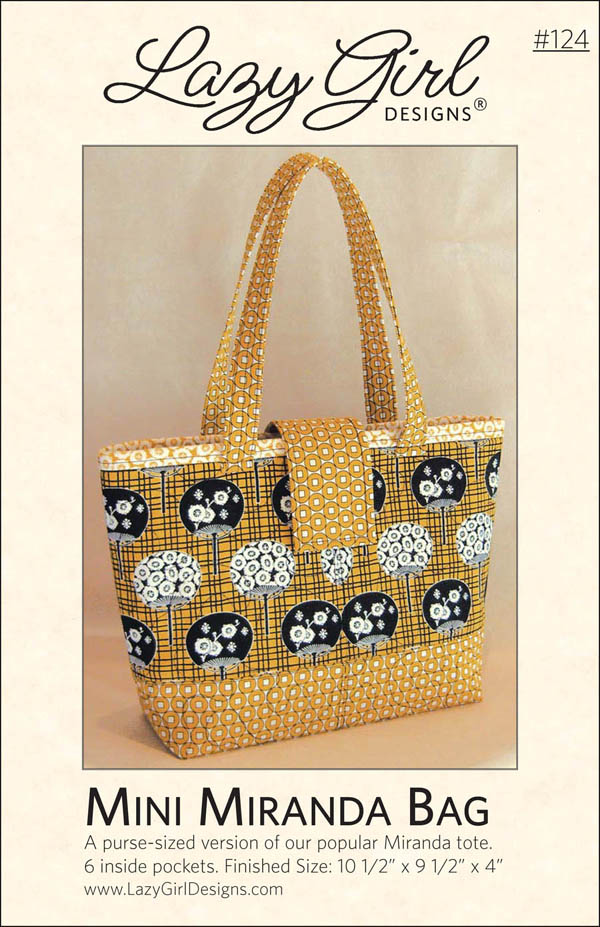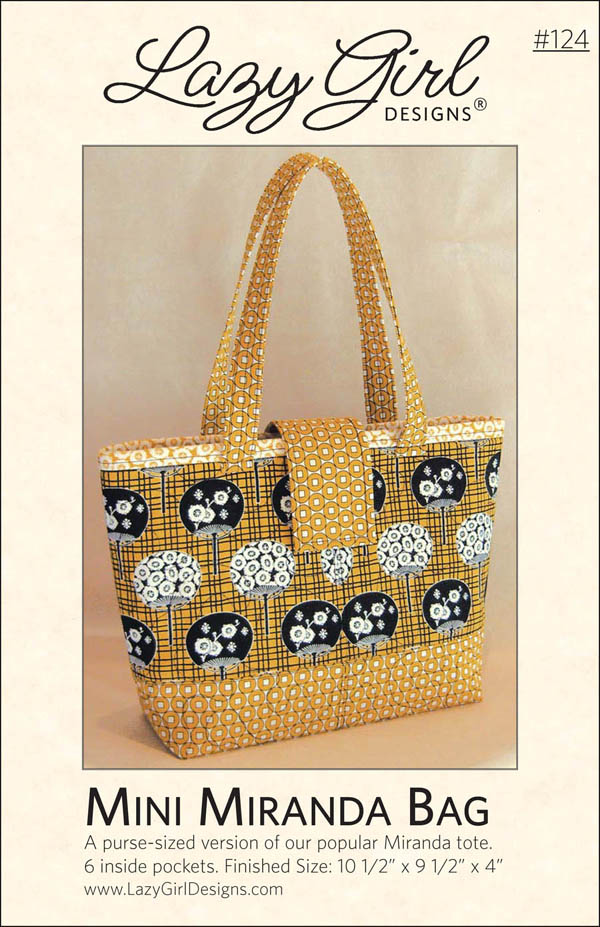 Coming soon: Mini Miranda Bag item #LGD124.
Click image to enlarge.
Coming Soon and see her at Quilt Market
The Mini Miranda Bag pattern will be here in 5-6 weeks, but she will debut at Quilt Market in Houston this coming weekend. She can be found in the Blank Quilting Fabric, Moda Fabrics, Checker Distributors, E.E. Schenck's, and Brewer's booths. Stop by these booths and ask to see her. Blank will have her at their SchoolHouse session, too. I won't be at the show.
Fabrics on the cover shown above
The fabric on the cover is Hoodie's Collection from Blank Quilting fabrics. It is fabulous! I've only seen 7 pieces in this line which includes black, gold, white and red prints. I don't know when it will be available, but it will be introduced at Quilt Market this week.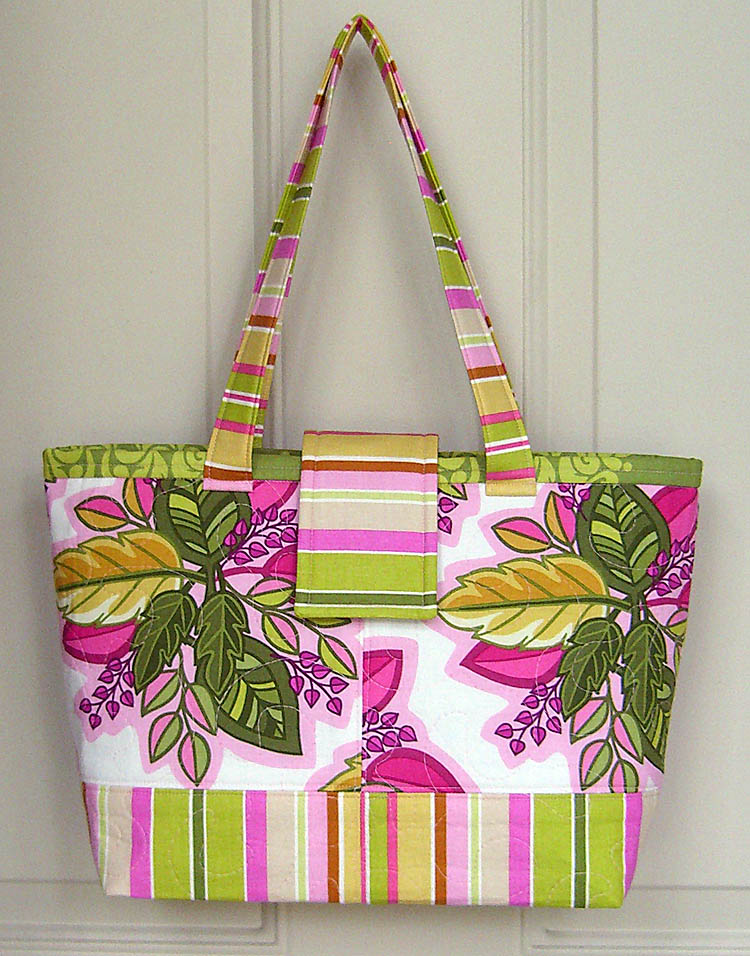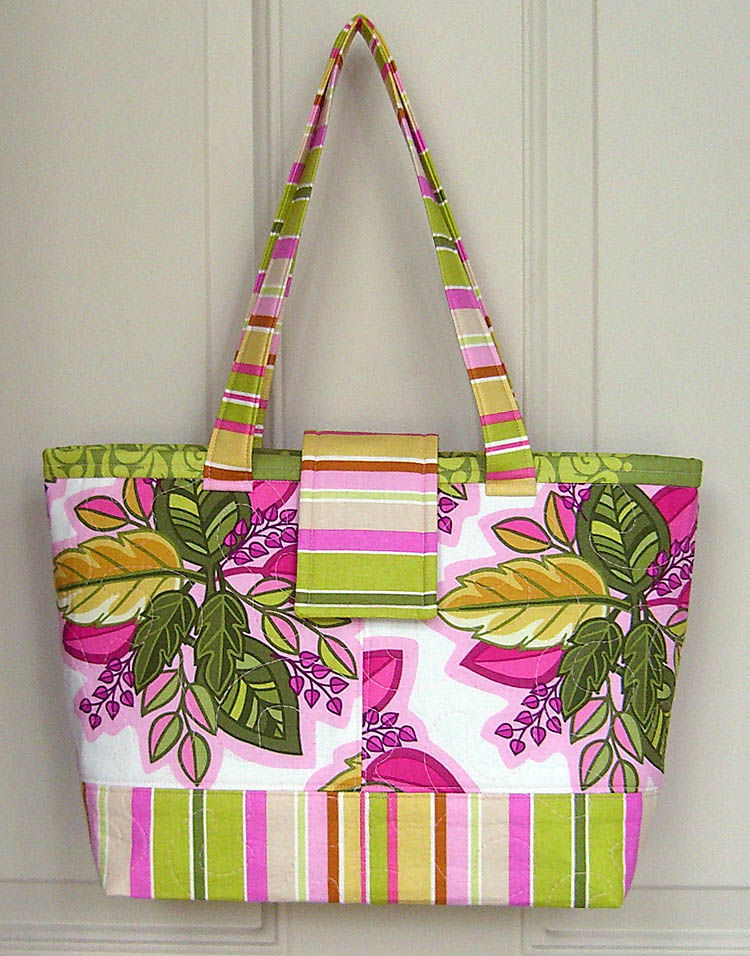 Mini Miranda Bag shown in 'Soiree' by Moda Fabrics.
Click image to enlarge.
How does she compare to the Miranda Day Bag?
While plenty of us have already used the Miranda Day Bag pattern and scaled it down to make a mini – this new pattern takes it a step further. I've had a chance to play with the overall dimensions and she is slightly smaller than the mini Miranda posted at my blog recently.
Details
– Size: 10 1/2″ wide at the base, 9 1/2″ tall, 4″ deep front to back.
– I re-worked the pieced cover to perfect proportions.
– 6 inside pockets, plus a few narrow pen pockets, re-configured for maximum Laziness.
– Narrowed the fabric handles a tiny bit for optimum comfort and usability.
– And last, but not least, she gets a new size 'F' Bag-E-Bottom bag support!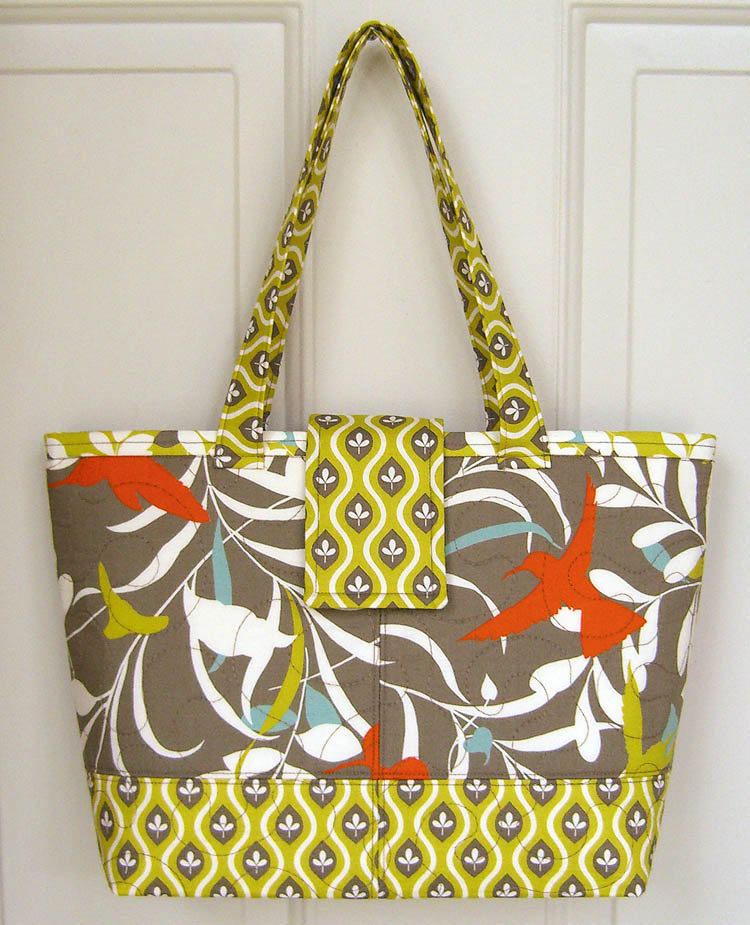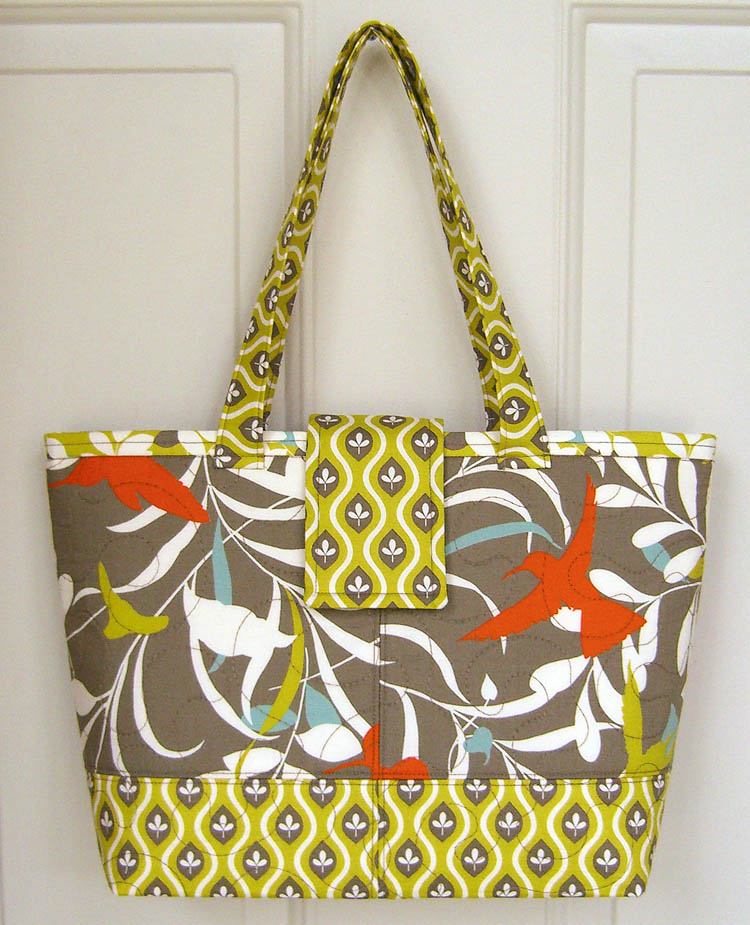 Mini Miranda Bag shown in 'Arcadia' from Moda Fabrics.
Click image to enlarge.
A new bottom!
Bag-E-Bottom size F (stands for – Joan is 'Finished' coming up with new sizes – maybe) will be available at the same time. For you Bottom aficionados', size F falls between our smallest size 'B' (Towne, Veronica) and size 'A' (Gracie, Whimsy). Size F is approx. 3 1/2" x 10" (actual 3 5/8" x 9 7/8"). That means the Mini Miranda is smaller than Gracie and Whimsy, yet larger than Towne and Veronica.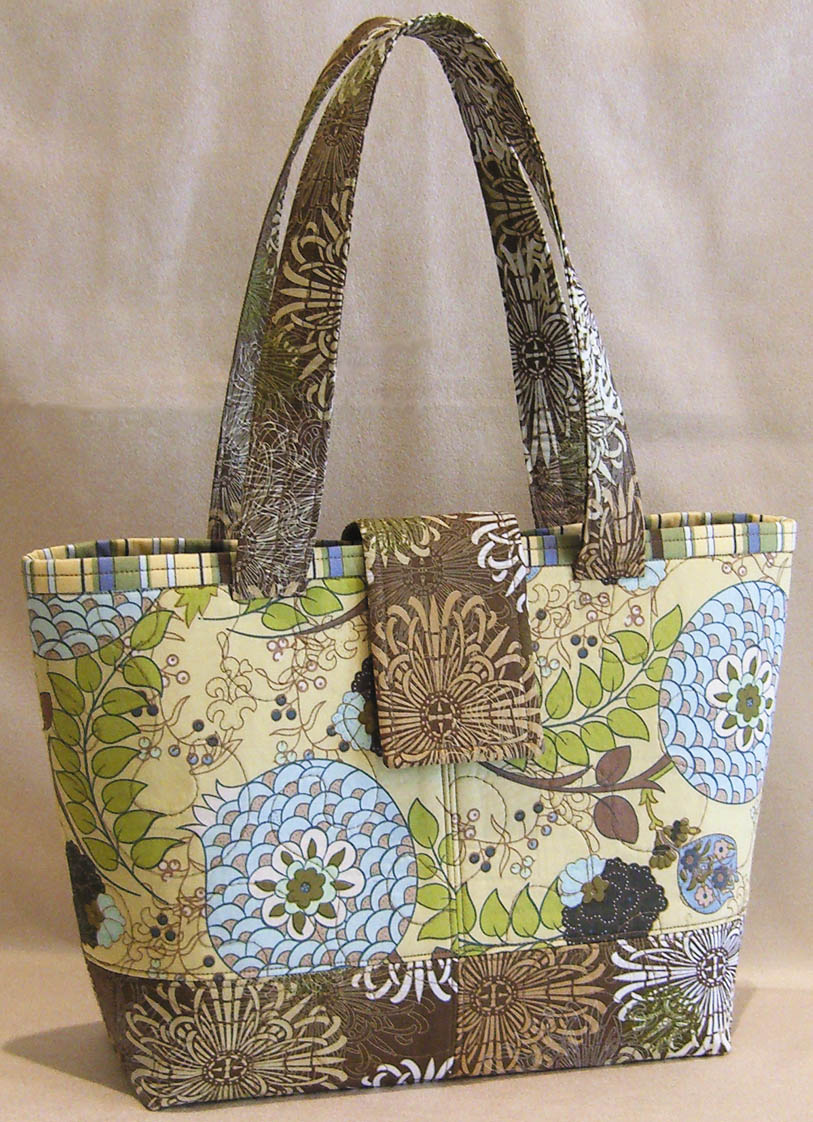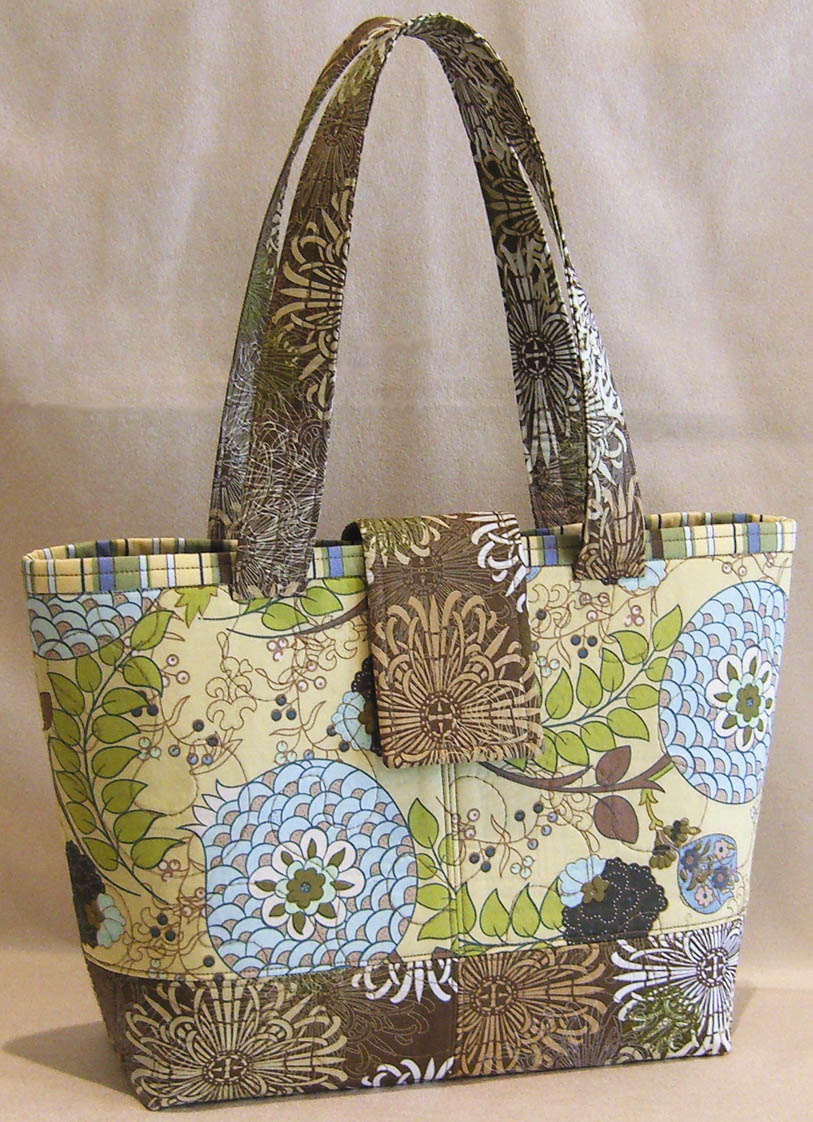 Mini Miranda Bag shown in Art Gallery Fabrics.
Click image to enlarge.
Where to buy
Try the Mini Miranda, the digital pattern is available now!
Enjoy!
Joan