10 Quick Holiday Projects And Ideas
Lazies, I have a collection of links for quick and easy holiday projects, ideas and fun for you today.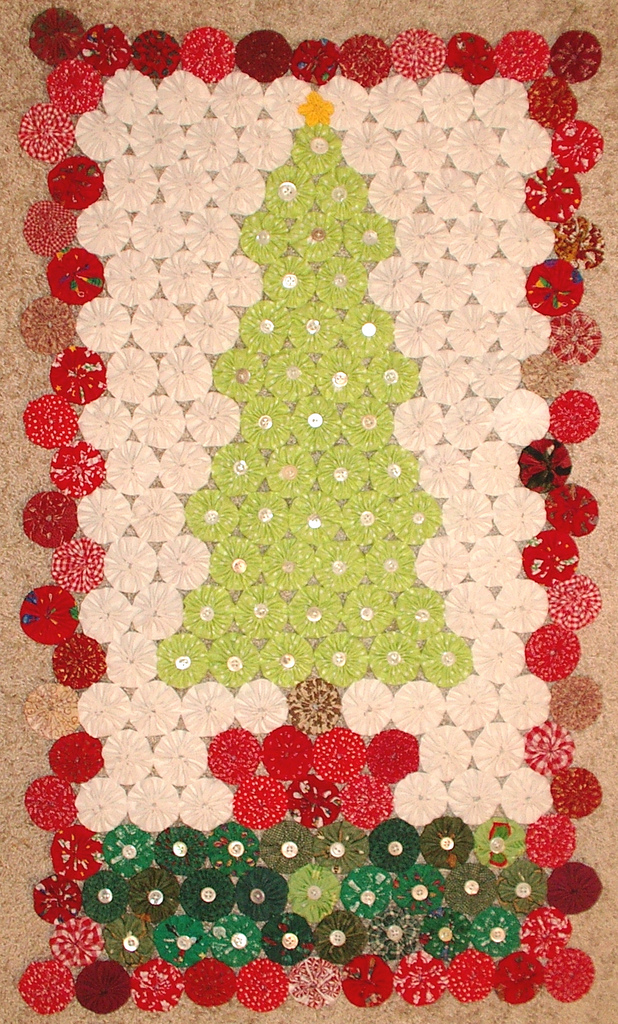 Yo-Yo Advent Calendar project from Sunshine's Creations.
Yo-Yo Advent Calendar
Lazies, get your Clover yo-yo makers out – Sunshine's Creations offers a tutorial for this clever Yo-Yo Advent Calendar. Thanks to Yahoo Lazy Ila from South Dakota for directing me to this project. Don't forget our Clover yo-yo maker tutorial as a resource for this project.
Yo-Yo Garland
Jen B. of the Cre8tive Quilter blog posted a nice yo-yo garland. Jen made this simple and festive garland for her tree. This is a great project to make with friends. Get your friends together along with your yo-yo making supplies, some hot cider, put your favorite holiday music or movie on in the background and yo-yo away!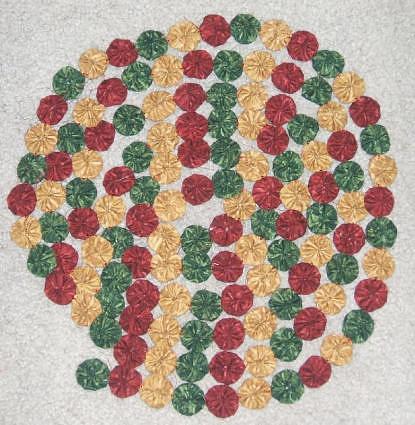 Yo-yo garland from Cre8tive Quilter.
Projects From Fabric Scraps
From one of my new favorite blogs TipNut, Scrap Happy – More Than 50 Fabric Scraps & Remnant Ideas Plus Free Patterns.
Pie Me
I found this at Quilt Market in October and loved it. Jan and Jeanne at Lasting Treasures introduced their Pie Mat pattern. It's a little decorative mat, edged with stacks of yo-yos, to place under a pie. It's like a tree skirt for your pie or any plate/platter of goodies.
I think this is a perfect hostess gift to bring with you on holiday visits. Bring a scrumptious pie, make a pie mat to coordinate with the pie (such as blue for blueberry pie) or coordinate with the hostesses' decor. Two gifts in one.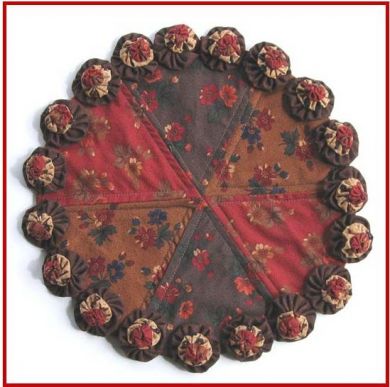 Pie mat by Lasting Treasures.
Button Fairies
Are you a button junkie? I knew you were. Sharon B of the In A Minute Ago blog posted a link to a fabulous Flickr group of Button Fairies. Click here to watch a slide show of these beauties. Makes me want to go play right now. I didn't see any instructions at the Button Fairy group, but these look like buttons, beading wire, some graphics and imagination.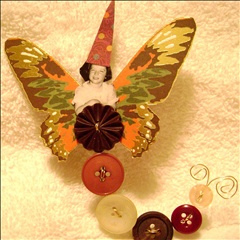 Button Fairy by CindyCrafty.
Inspiration Throughout 2008
Give yourself the gift of creative inspiration all though the year in 2008. Tune in to Sharon B's In A Minute Ago blog for her 'Take It Further' challenge. Go ahead and bookmark or subscribe to Sharon's blog feed now so you don't forget. I followed (and loved) her 'Take A Stitch Tuesday' challenge this year, so I can't wait to see this challenge.
Holiday Projects for Kids
HGTV offers a few Holiday Project for Kids. I especially like the snow globe idea. It's cute, quick, easy, and can be tailored to suit the recipient.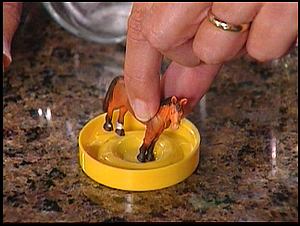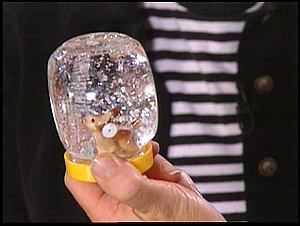 Make a snow globe. Images from www.HGTV.com
Need help with something?
Like more directions for snow globe options, try eHow.com. This is a great site I stumbled upon a while back. Type in 'snow globe', 'sewing' or 'quilting' to see the array of items in these subjects.
Go Elf Yourself
Hey, that's Office Max talking, not me. Go here to make an elf 'thing' that you can email to all of your soon-to-be-annoyed friends. Simply upload 1-4 pictures depending on how many elves you want to make. Then call the special number they give you to make a voice recording for the first elf. Don't worry about your voice, Office Max will Alvin-and-the-Chipmunks it into a delightful, if not creepy, soundtrack for your elf. Then email the link to loved ones.
Make Glitter Ornaments
Craft Critique offers a nice tutorial on making simple and beautiful Glitter Bulbs. Decorate anything from your tree to gifts with these.
Related: Holiday Stocking Stuffers, Fabulous Finds and the Best Online Shopping Tip Ever!
New to our blog? Subscribe to get emails so you don't miss a juicy morsel.
Like and share this post with your stitchy friends.
Join me in the Lazy Girl community on Facebook here: Facebook Lazy Girl
Enjoy!
Joan
Facebook Lazy Girl
Pinterest Joan Hawley
Pinterest Lazy Girl Community
Instagram @JoanHawley
Twitter LazyGirlJoan