Long Distance Lazies – A Tale Of Two Sisters, Part 3
Lazies, In our third and final installment of Regina and Sue's story, let's take a look at some of the projects they've made together. Catch up with parts one and two if you missed them.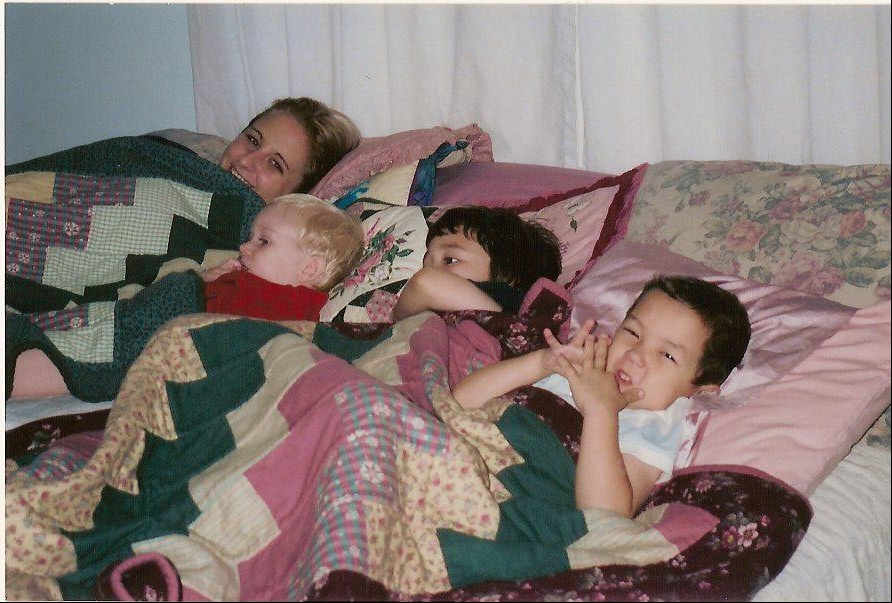 Kids and quilts.
From Sue
This is my daughter, and three of our nephews enjoying the quilts Regina and I made for Mom and Dad. These quilts were made the day before Thanksgiving 1999. It was our last collaboration before Regina moved to NY in December of that year. We picked out some of the fabrics at a quilt show in October right under Mom's nose! Boy was she surprised to open these quilts on Christmas Day!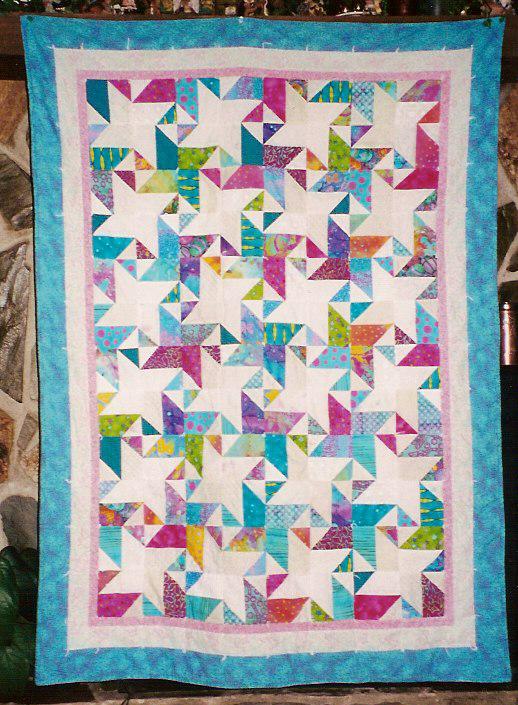 Regina and Sue's first quilt collaboration.
Our First Quilt Collaboration
This was our first quilt collaboration, it was a baby quilt for our nephew. Regina shopped for the brights and I did the lights. I had a few brights in my stash and we ended up having some of the same fabrics. Great minds think alike! Regina came to my house for a sewing weekend and we cut and pieced the entire top that weekend, one sewing machine set up on each end of my dining room table. We gave it to our sister at her baby shower in October 1999.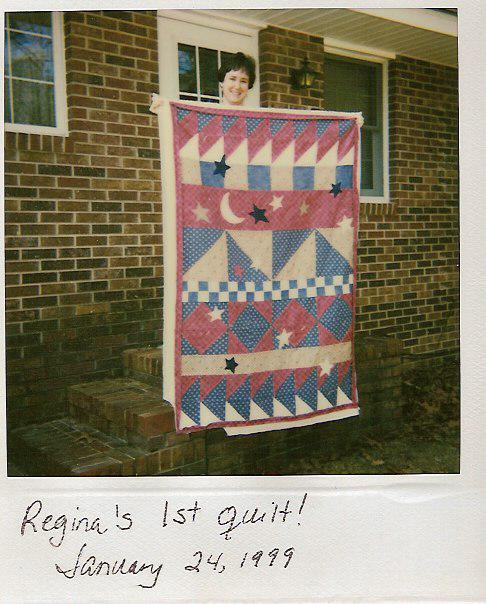 Regina's first quilt, January 24, 1999.
Regina's First Quilt
As the caption states, this is Regina's first quilt. We made a pilgrimage to MaryJo's fabric shop in Gastonia, NC to pick out the flannels and then Regina came to my house for a sewing weekend. We had so much fun! A year later she moved to NY and our sewing weekends came to an end. However, through the magic of computers, our collaborations continue and the times we do get together in person……..stand back because the ideas fly fast and furious!!!!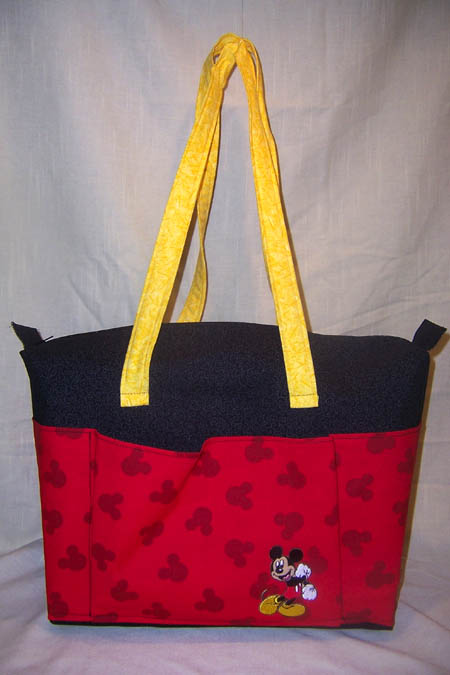 Long distance shopping.
Long Distance Shopping
The Disney Summer tote is one example of "long distance shopping" that we do. Regina wanted to make that tote for her sister-in-law but couldn't find the fabric she wanted anywhere in her area. She IM'd me an SOS and big sister came to the rescue, I found the fabric here in SC and mailed it to her.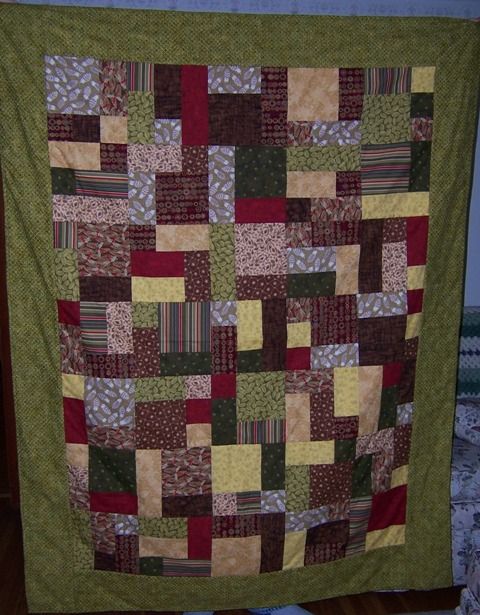 A lifeline helps when oops happen.
Lazy Sister Sue To The Rescue
Likewise on the green quilt, Regina made a cutting and/or sewing mistake and made a frantic long distance phone call for help. I was able to talk her through it and the resulting quilt came out great! Now I'm making a quilt as a wedding gift for my son and Regina searched through her stash to find scraps from HER wedding quilt that I can include in Bob's. I know he and his future wife will be touched.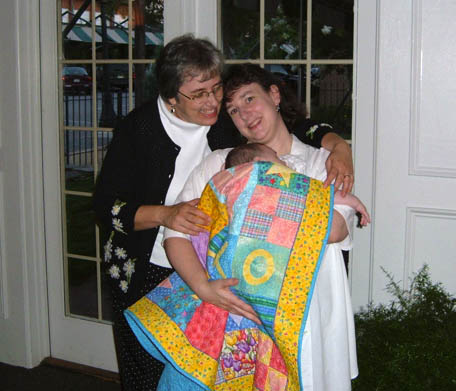 Sue made the quilt, Regina made the baby.
A Perfect Collaboration
Another collaboration – I made the quilt, Regina made the baby! This was two years ago at my daughter's wedding rehearsal and my first meeting of Regina's little "munchkin"! True to form, Regina sent me paint chips to show me her nursery color scheme and I used those to choose fabrics. The final quilt design however remained a surprise.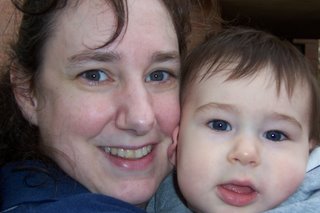 Regina and Nathan, her little munchkin.
Sue
Sharing this story with the Lazies has been fun, makes me miss my little sis all the more. I am looking forward to seeing her again in September! We sure do have fun together, who knows what kind of trouble we could get into if we lived closer together! As far as that picture from Easter 1968, no I did not make any of the outfits and I sure am glad that I outgrew that awkward stage!!!!!
Regina
It has been just another great way the two of us have been able to keep tabs on each other since I moved further away (I used to live about 3 hours away and we would get together for quilting weekends). Since she's the one who taught me to sew (she is the "older" sister) and continues to teach me so many things – it is fun to share this.
Thanks Lazy Sister Sue and Regina for sharing your story and projects with us.
Lazies, feel free to post comments or messages for Regina and Sue here at my blog.
Joan