Traditional Patchwork Makes This Charm Pack Purse Sparkle
Lazies, Have you considered adding a little patchwork to your favorite quilted purse? Kathleen Starr, owner of Starr Designs hand-dyed fabrics, shows us how to use their 'Charm Pack Plus' collection to make this fabulous half square triangle Chloe Handbag (Lazy Girl Designs #LGD120). For a little extra fun, Kathleen added iron-on crystals to accent her beautiful fabrics. Sparkly! Claim the FREE printable tutorial below!
Here's What You'll Need:
– Chloe Handbag pattern (LGD120) from Lazy Girl Designs.
– Batting, fashion handles and magnetic snap closure as noted on the pattern supply list.
– One "Charm Pack Plus" from Starr Designs Fabrics. Pack includes 20 pieces at 6" x 9 1/2", plus one piece at 1/2 yard. Total 1 1/4" yds. Charm Pack Plus includes enough fabric to make additional triangle units to use for pockets or make other Lazy Girl projects such as the Katy Bags #LGD121.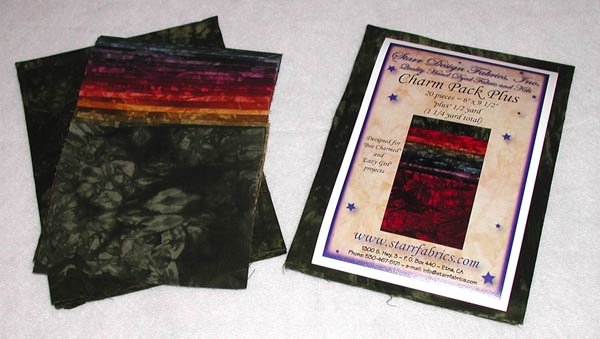 'Charm Pack Plus' from Starr Fabrics. Perfect for Lazy projects.
– Tools/method to make at least 88 half square triangles that finish at 1 1/2″. Use our Flying Geese x 4 No Math ruler or use Triangle Paper (TM) from Quiltime, http://www.quiltime.com/.
– Austrian Swarovski iron-on hot-fix color crystals from Cheri's Crystals.
How-To:
– Complete 88 half square triangle units that finish at 1 1/2″ using the 6" x 9 1/2" cuts of fabric. Follow the directions included in your Flying Geese x 4 Ruler to make half square triangles (use Small Squares cut from the dashed line marked 'D – 1 1/2″ x 3″). Not sure how to use our ruler this way? Watch the FGx4 video at KayeWoodTV.com. Or follow the manufacturers directions for the Triangle Paper (TM) instructions. Mix fabrics of different values for the most contrast. Make a few extra for flexibility in layout.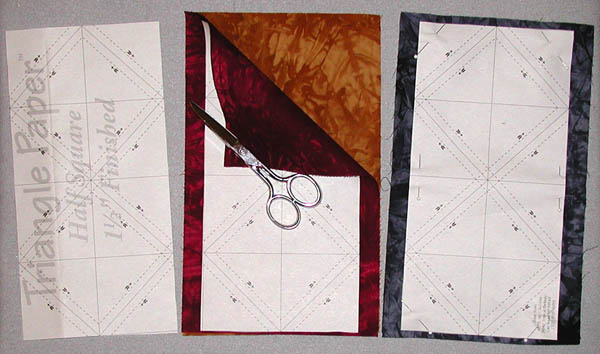 Our FGx4 ruler or Triangle Paper are both efficient ways
to make the most of these fabric cuts.
– Arrange the half square triangles 8 units high by 11 units wide to create the cover fabric for Chloe.
– Take time to arrange the units a few different ways to find a pleasing layout. In our example, all the units are arranged with the diagonal seams going the same direction. Try rotating blocks and moving colors around to create secondary designs.
– When you are happy with the block arrangement, sew the squares together using a scant 1/4″ seam allowance. A scant 1/4″ seam is just a thread or so narrower than a 1/4″ seam. This should result in the correct size cover piece for this project. However, sewing this many pieces together has the potential to be off a bit.
If the sewn units are short by 1/8" to 1/2" in any direction, that's okay – your finished bag will be a bit small. If the width is off, cut your lining and pocket pieces to the same width as the cover. If the length is off, divide the difference in half and take that amount off the top edge of each lining piece. If your cover is off by more than 1/2", consider making one more row of units, cut them in half and attach half to each edge of the cover to widen or lengthen as needed. Then trim to the correct size needed. Do not make any adjustment to the 'notches' on any pieces.
– Locate the embellishment zone using the guide in the Chloe Handbag pattern.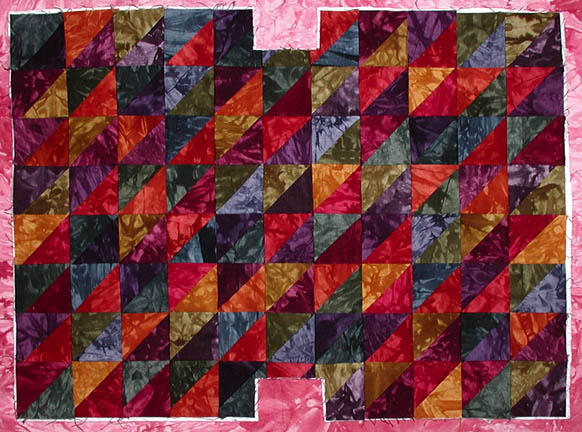 The center of this image will be the bottom of the bag.
Embellish to the left and right for the front and back cover of the bag.
Add Some Sparkle:
– Attach crystals according to manufacturer's directions. Here, we've arranged groups of 7 crystals, scattered around the cover. Keep crystals at least 1/2" from all edges for seam allowances.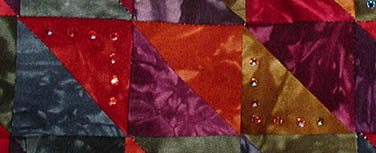 Simple. Elegant. And of course, sparkly.
– Your cover fabric is ready to go. Finish the project according to the Chloe Handbag pattern.
– Cut pocket and lining pieces from the 1/2 yard piece of fabric in the Charm Pack Plus.
Other Ideas:
– Add buttons, beads, fibers or ribbons for dimensional embellishments.
– Make a coordinating Wonder Wallet or Checkbook Cover from the remaining fabrics.
– The Charm Pack Plus (1 1/4 yards total), is perfect for many Lazy Girl projects including the Katy Bags, Veronica Pocketbook, Couch Caddy, Sassy Bag, Runaround Bag, Take Along Bags, A-Door-Ables, and Perfect Pouches.
Enjoy!
Joan
Download this Freebie
Enter your email address below to instantly download this freebie now!
Download this Freebie
Enter your email address below to instantly download this freebie now!