Quilts as Bag Inspiration: Quick Column Quilts by Nancy Zieman
Lazies, Welcome to my stop on Nancy Zieman's Quick Column Quilts book blog tour! When I look at quilts, I see bags. In fact, I find bag inspiration in many places. That's probably no surprise to you. As the name implies, Quick Column Quilts is about quickly making quilts via a column construction. I love this column approach and the result.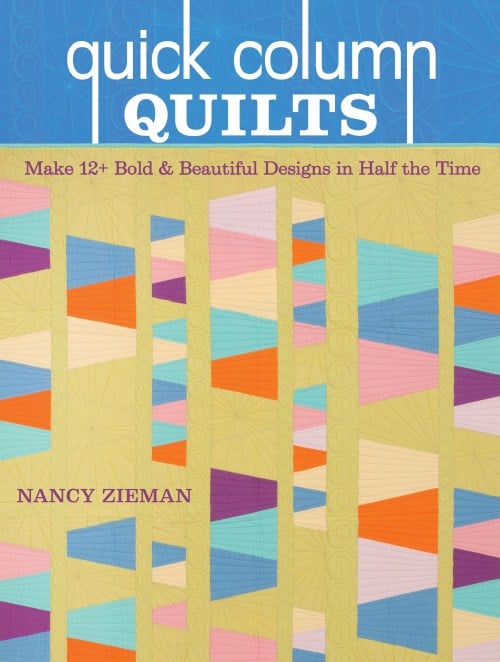 Columns Are Quick
Let's break it down and see where this takes us. Constructing columns is a fantastic approach that allows you to focus on one component of the quilt at a time – just like a quilt block – but this is a long skinny block, if you will. Make your columns then sew them together. Breaking down a project like this makes it easy to approach and accomplish. Making columns instead of blocks is a nice change of pace and keeps things interesting.
As I flipped through the book, I was looking at quilts but seeing bags in my future. Each design is an adventure and the bag lover in me takes over…
Getting Bag-y, 'cuz That's What I Do
Let me show you what I mean. Here's the Heartbeat quilt. The irregular strip play, along with the abrupt meeting of the minds in the middle, plus the color combo give this quilt a lot of strength and visual movement. It's like the echocardiogram Nancy references in the book. It also reminds me of a city skyline reflecting on water, or a lively tune on the radio. Lots going on here and very nicely done.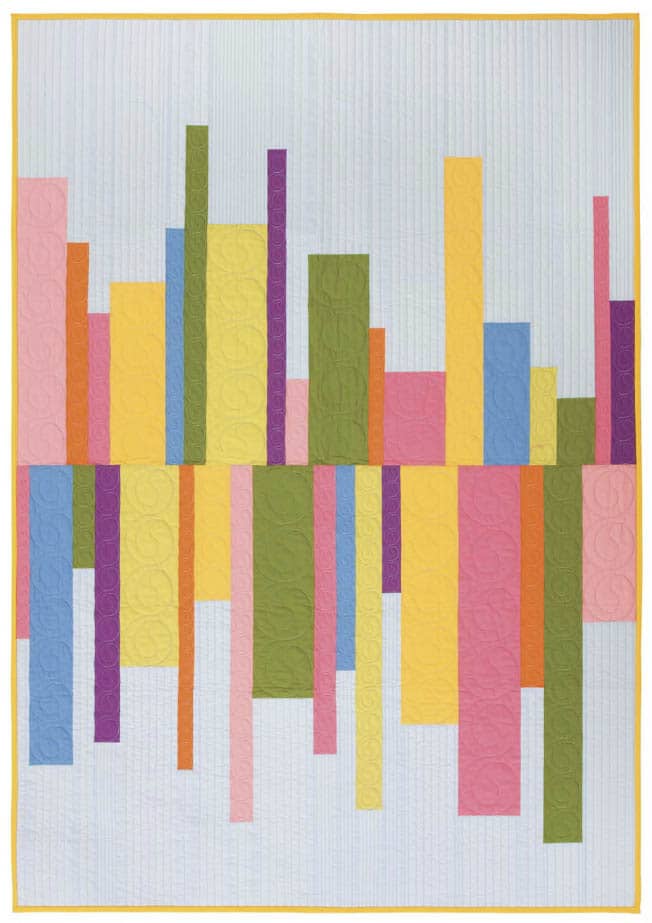 So, in my mind's eye, I take this Heartbeat quilt and it becomes a bag as shown in the mock-up below. How do you get from quilt to bag? I rotate the design, reduce the scale so it fits the bag, and add handles in a complimentary color. Yes, I want to carry that now! If only I could make a bag in the blink of an eye!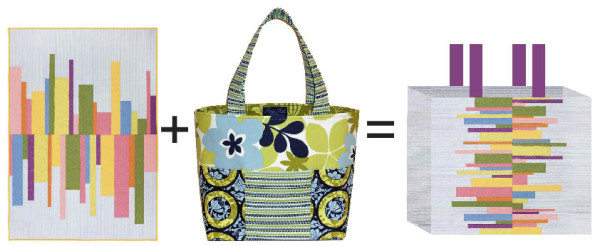 I would need to make the background strips longer to wrap around the sides of the bag. Be mindful of the thickness of the strips at the top and bottom of the bag, trying to avoid skinny strips near seams in order to manage bulk because of seam allowances. Finish the back of the bag in a plain fabric or continue the design from the front.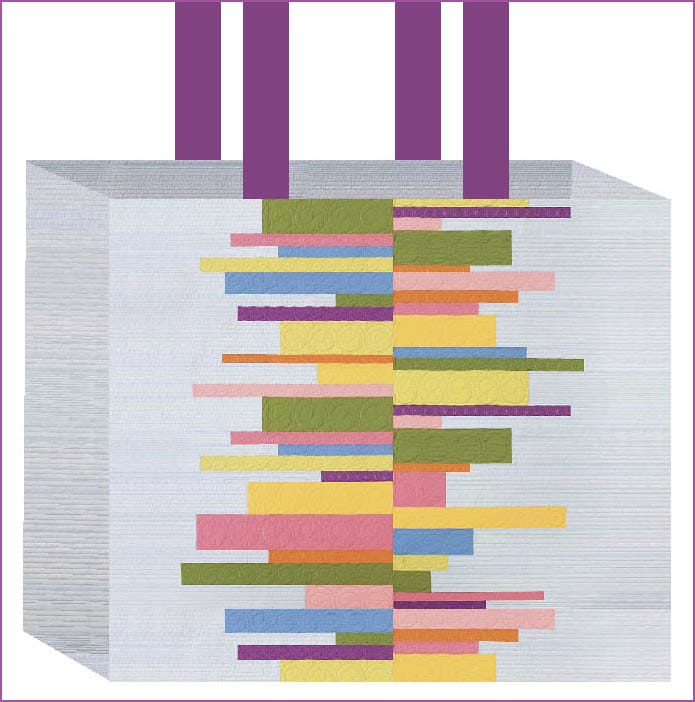 This is the Tumbling Tumblers column quilt. I love this! The different size tumblers, great colors, the ease of how the tumblers are grouped – a lot going on once again, and done very well. Lots of visual play, plenty of interest – I love the quilt and I know I'd love this as a bag. I'm shameless, I know, but it's where my mind goes. The abstract nature and feel of this quilt reminds me of Gustav Klimt's The Kiss.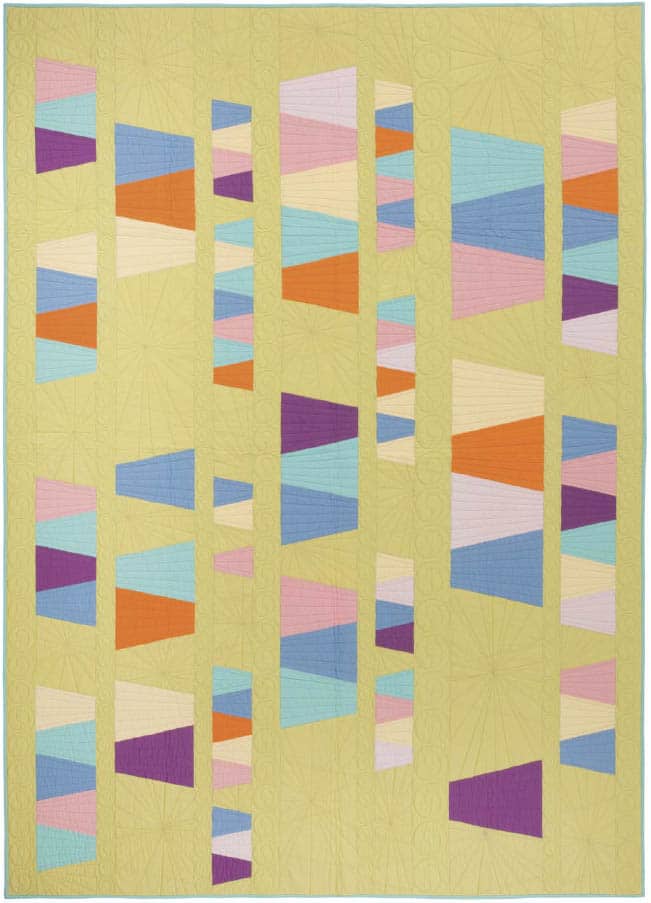 Here's a simple mock-up of how I visualize the Tumbling Tumblers behaving like a bag. Any simple bag design such as this will give you a starting point for how to use inspiration from a quilt or other project and see how it will perform as a bag.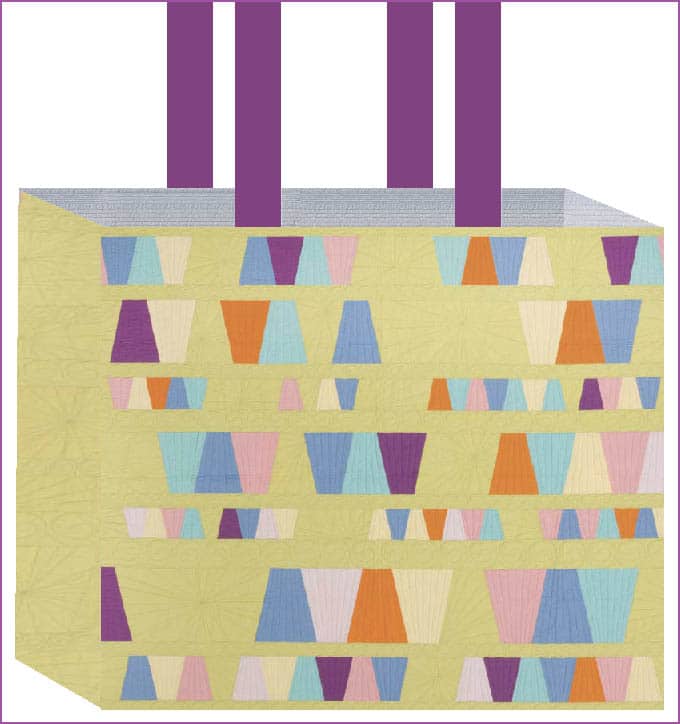 Yes, I want this bag right now, too! So, quilts speak to me as bags – it's a burden I truly enjoy! There just never seems to be enough time to make everything I want. But with Quick Column Quilts, you'll find inspiration and Nancy's speedy techniques to get you to the finish line quickly and happily.
Both of these beautiful quilt designs would look wonderful on our Whimsy or Miranda bags. Start with a basic bag design and a quilt you love, and take it from there.
Giveaway at Nancy's Blog
Nancy is hosting a fantastic giveaway to celebrate her new book. To enter, leave a comment about quilting at Nancy's blog post here.
Sewing With Nancy
Be sure to catch the new 3-part Sewing With Nancy miniseries featuring Quick Column Quilts
online (click here)
or on PBS.
The Book – Sneak Peek and Details
Quick Column Quilts is a full service book offering 12+ designs along with all the resource info/templates needed. Nancy has really packed a lot into this little gem. Do you know how to quickly assess a book? Review the table of contents, index and resources. Hop over to Amazon and use their 'Look Inside' feature to see a bit more of the book.
Enjoy!
Joan
Quick Column Quilt Blog Tour
Please join Nancy and the rest of the talented bloggers on the Quick Column Quilts tour to see all of their beautiful creations.
09/04/14 Nancy Zieman
09/05/14 Quilt Taffy and Simple Simon & Co.
09/06/14 Diary of a Quilter and Stitchin Jenny
09/07/14 A Woman a Day
09/08/14 Jina Barney Designz, Lilac Lane Patterns, and Totally Stitchin'
09/09/14 Esch House Quilts and The Cottage Mama
09/10/14 Designs in Machine Embroidery and Pat Sloan
09/12/14 Happy Valley Primitives, Doohikey Designs, and Quilt in a Day
09/13/14 Quilt Dad and Just Arting Around
09/14/14 Lazy Girl Designs and Marie-Madeline Studio
09/15/14 Always Expect Moore and Polka Dot Chair
09/16/14 Amy Lou Who Sews and Riley Blake Designs
09/17/14 Indygo Junction and Amy's Creative Side
If you're new here, subscribe to our blog feed to keep up with my Lazy antics.
Join the Lazy Fun at Facebook