Quilting, Food, and Fun Abound in 'Mystery Quilts' by Author Rita Fishel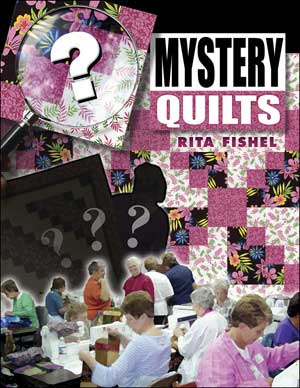 Lazies, My friend Rita Fishel dropped by on Tuesday so we could work on the children's hospital gown pattern (more on that to come) and she brought her new hot-off-the-presses book 'Mystery Quilts' with her.
This is Rita's first book (published by American Quilter's Society, AQS) and it fills a very interesting void in quilting books.
For as long as I can remember shops and guilds have been offering mystery quilt classes. Parts of the project are revealed as you go, with the final overall design being a mystery until the end.
I've seen a host of patterns written specifically for this class structure, but I don't remember a book designed for mystery classes.
From Rita:
'You don't have to make an award winning show quilt that's a masterpiece to make a memory. The journey of the project is important. All you need is a few girlfriends, a quarter inch seam and go have some fun and make a memory.'
I would love to show you some of the quilts from 'Mystery Quilts', but then they wouldn't be a mystery. I can tell you that I thoroughly enjoyed the quilts, recipes and stories included in the book. Some of my friends can be seen at their best amongst the pages. You can actually see the 'girlfriending' that goes on at these events. The photo on page 35 confirms the fun and silliness.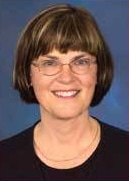 Rita, pictured at left, tells me that she enjoyed creating this book with AQS and that 'Mystery Quilts' isn't just another pattern book. Food is an important element at Rita's classes, so she included some of the most popular recipes from these well-known Sunday events.
More about 'Mystery Quilts from the American Quilter's Society website:
'Keep the projects fun, friendly, and finishable!' It s no mystery why the author's quilt designs are so popular. She has created a series of charming quilts, easily adapted to mystery-quilt events for groups such as teachers, guilds, retreats, cruises, recreation centers, and senior centers.
Looking for fun, food, and fellowship, quilters flock to Rita's Creations SewClever quilt shop in Chillicothe, Ohio, to take her classes. This nationally known speaker and teacher has developed a simple, fun-loving system to entertain and delight quilters and non-quilters alike.
All of the quilt patterns in the book are from her highly successful Sunday Mystery classes. Because they were designed for classroom use, all quilt tops can be completed in one or two afternoons. These patterns are simple enough to ensure success for the beginner, yet they provide easy-to-follow instructions for the more advanced quilter who wants to make a quick gift. Flexible design allows each quilter to choose the pieced quilt pattern she wants to make and select a border from an assortment of possibilities to complete a quilt in the size she needs. When finished, each quilt is a unique beauty the stitcher has made her own.
– AQS
Sign-up for one of Rita's mystery classes through her shop Creations SewClever in Chillicothe, OH. Or gather your fabric loving girlfriends, a few side dishes and stitch-up some mysteries and fun.
Images courtesy of the American Quilter's Society and Creations SewClever.