Long Distance Lazies – A Tale Of Two Sisters, Part 1
Lazies, I just love this story. Two members of my Yahoo group are long-distance sisters who share their passion for fabric crafting via the Internet. One day I saw a post to our group from Regina, referring to her 'Lazy Sister Sue'. Well, it simply tickled my Lazy bone and I wanted to know more.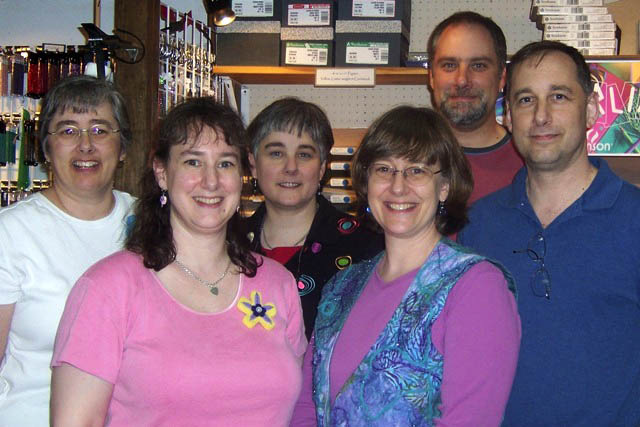 Look at this beautiful family. All six Earl siblings at Easter 2006
Let's meet these Lazy sisters: Susan Congdon of South Carolina is farthest left in the white shirt, and Regina Arlauckas of New York is just in front of her with the flower on her shirt. Now, you see those two girls in the middle – Lazy by proxy I tell ya. Regina and Lazy Sister Sue are working on a full conversion to Lazy.
On With Our Story…
Over time, I saw more references to 'Lazy Sister Sue'. I couldn't help but notice that these sisters were sharing their hobby in my Yahoo group. I thought that was pretty neat. So, I asked Regina and Sue, pardon me – Lazy Sister Sue, to share their story with us.
These two Lazies sent so much good information and pictures that I can't bear to leave anything out. So, we are doing a Lazy Sisters three-part mini-series with Regina and Sue.
Way Back When…
The fabric conversation and dance that Regina and Sue share has been going on for nearly 30 years. It started while they were growing up and today, with the click of a mouse, they can make the 700 miles between them disappear.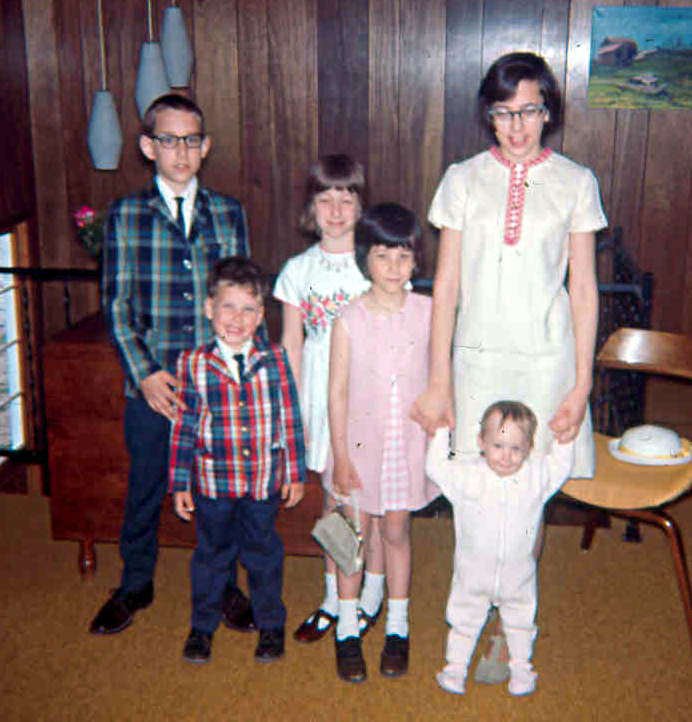 Easter 1968
Regina thought she might be disowned from the family for sharing this photo. This is all 6 of the Earl siblings on Easter 1968. Regina was not sure if Sue had a hand in sewing any of the outfits. Regina is the little one holding onto Sue's hands, so she was too young to remember. I love this photo – don't we all have a photo like this of ourselves?
From Regina: My First Stitches
Sue made an apron pattern out of newspaper for me as a Christmas present when I was 6 or 7 years old. I picked out the fabric – it was PURPLE – and she helped me make the apron. I don't know what ever happened to it when I outgrew it – but I remember all my miniature Betty Crocker cooking utensils fitting in the pockets, and it was kept in my mother's towel and apron drawer. I remember her sewing a lot when I was little – she would make clothes for herself, me, and our two other sisters.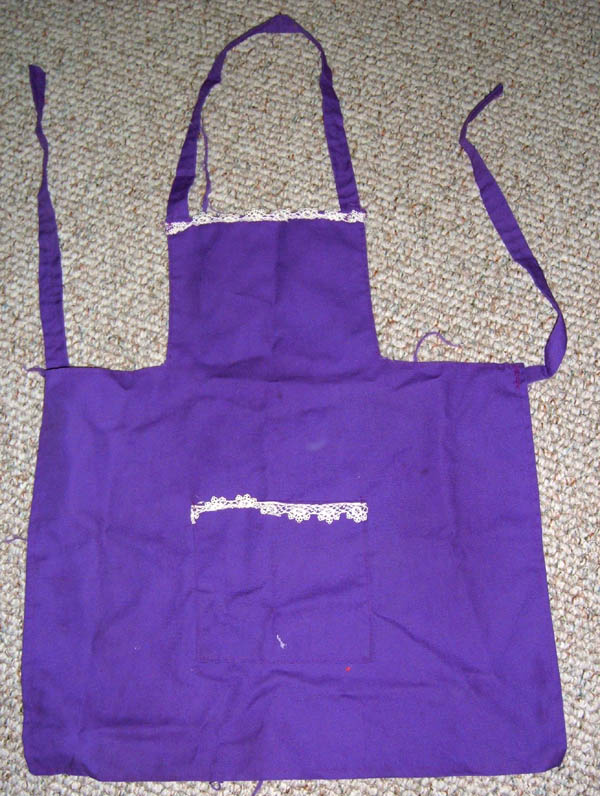 Regina's first sewing project.
From Sue
Here's the famous (or infamous) purple apron that was Regina's first sewing project. Hope she remembers the year but it had to be pre 1978. The apron came to live at my house in SC sometime in the late 80's when she gave it to my daughter (born in 1983).
From Regina
Sue left for college when I started kindergarten, and moved away when I was 11. We reconnected when I went to college near her home and would spend weekends and holidays with her and her family. At the time she did a lot of smocking and cross stitch, but then discovered quilting.
Our sewing reconnection happened after I got married and moved closer to her again, and told her I wanted to make a quilt. Over a few years and a few quilting weekends together we made 4 quilts, and then I moved away again.
Just A Mouse Click Away
This time we managed to keep the sewing collaboration going – through sharing patterns and ideas, online shopping for fabric while Instant Messaging each other to discuss what we liked and did not like, and joining the Lazy Girl yahoo group.
Our most recent connection is my blog, which is a running commentary on my many projects – all in various stages of completion. She's still a great teacher – and we have plans for some face to face crafting when we get together in September for her son's wedding.
A Crafty Lot
Crafting runs in the family – our mom owns a gift shop, The Mercantile Store, that has morphed into a rubber stamp and beading store and classroom, and we have two sisters between us in age who work and teach in the shop. Both are multimedia artists – one does a lot of jewelry and ceramic work, and the other does stamping, drawing, collage, paper art as well as jewelry, but they both do a bit of all of it. Sue and I collaborate with them as well but have not turned them into Lazy Girls – YET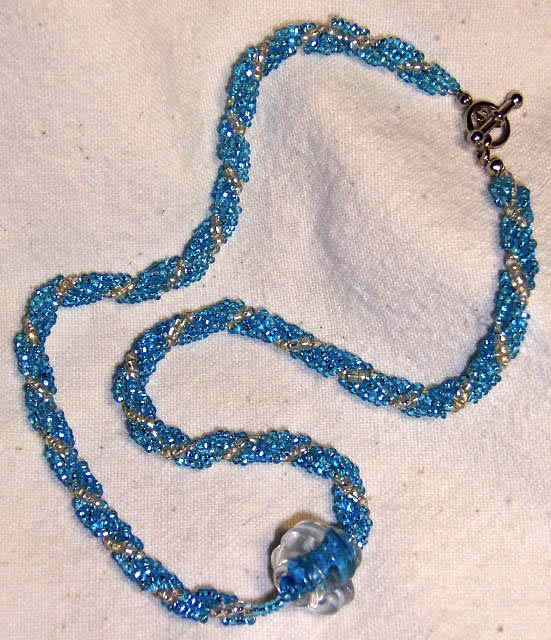 Beading is just one of Regina's vices.
This necklace is something I learned from one of our sisters – and beading has become one of my three main vices, along with sewing and rubber stamping/paper crafts.
Lazy Guys?
We also have two brothers who know their way around a sewing machine (one used to make big huge kites), but now are most known for woodwork, photography and blacksmithing.
Sue is known in the family for her sewing – and I am known for being the "verbal one."
We'll follow-up Tuesday and Wednesday of this week with the second and third parts of this story. We'll hear more about how Sue and Regina make the miles between them disappear as they collaborate long distance on projects.
Enjoy!
Joan Hawley
Lazy Girl Designs