Julie Herman: Negative Space, Color & My Design Process
Our Guest Blogger series kicks off today with Julie Herman of Jaybird Quilts pattern company.

Hey Lazies!!
It's Julie of Jaybird Quilts!
Some background for those of you who don't know me.
A born artist, I've been creating for as long as I can remember. I attended Drexel University and studied design and focused in fine arts. In 2002 I borrowed my mother's sewing machine and never turned back. Through books and magazines I taught myself how to quilt. The path I took was much less traditional than most. Since I did not have any quilters in my life to guide me I often worked from instinct. When things didn't work I took it as a lesson learned and kept on going. This eventually led me to start my blog and design my own quilt patterns.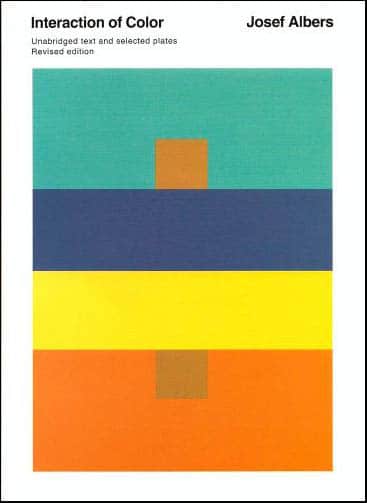 During college I had to purchase many books for classes. Most I have since passed along to others but a few remain permanently in my library. The first is Interaction of Color Unabridged Text & Selected Plates by Josef Albers. This book is considered by many to be one of the most influential books on color theory.
Color Theory
In this print below from Interaction of Color the top X appears yellow inside the gray and the bottom X appears gray inside the yellow. If we look closely where the X's meet at the middle left, we see that both X shapes are actually the same color. The book goes into detail on how every color is affected by the colors around it.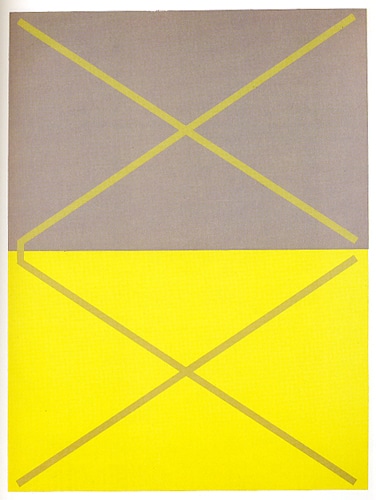 In this version that I made, inspired by the one above, you can see how the weight of the lines diminishes the effect one color has on another. One part of your brain tells you that it is the same color, while another part of your brain still process it as two!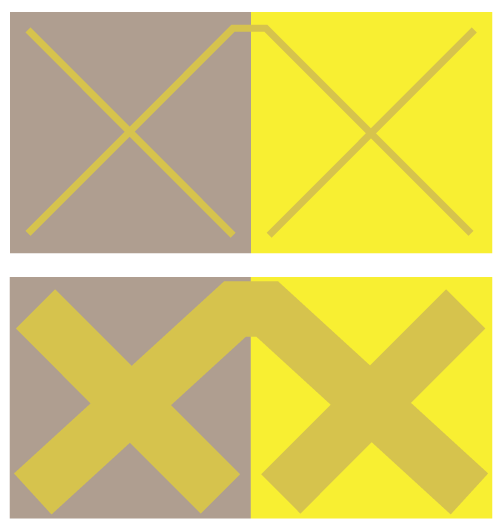 I could go on for days & days about color! Many quilters are afraid of color and the fabric selection process. My #1 piece of advice would be to try anything & everything. You'll learn from your mistakes and your confidence will grow along the way. If you are unsure about a certain color choice make a sample block or two. Attach them to the wall and take a few steps back. You'll see the interaction of the colors in a new light!
Negative Space
Negative Space is often a foreign concept to people that do not have formal art training. When cutting out a paper doll, the doll is the positive and the paper that falls away is the negative. It's very much a right brain/left brain thing and deals with how our brain perceives things.
After finishing my bachelor's in design I got my master's in education. My original intent was to be an elementary school art teacher. One of the courses I took was directed at educating non-artistic people on how artistic people learn. For the class we used many books but one will forever stick out to me. Drawing on the Right Side of the Brain – Betty Edwards. The book has many exercises that help to understand how the Right and Left sides of our brain work. For anyone who wants to learn a lot more about negative space I highly suggest the book. You can also try out the faces/vase exercise online. http://drawright.com/vaceface.htm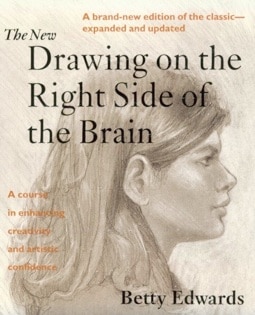 Negative Space in Quilts
To make my quilts pop I've recently been using solid white & solid black as my contrast fabrics. While my choices are at the opposite values they both serve the same purpose of high contrast from the other fabrics I've selected. I especially enjoy playing with negative space in the design of my quilts. Almost all of my quilt designs do not use sashing, which therefore allows the blocks to flow into one another. The secondary shapes created by the background fabric flowing together where the blocks meet are often more interesting than the blocks themselves.
In Hugs & Kisses for example the diamonds are the strongest shape, but they are created from parts of multiple blocks.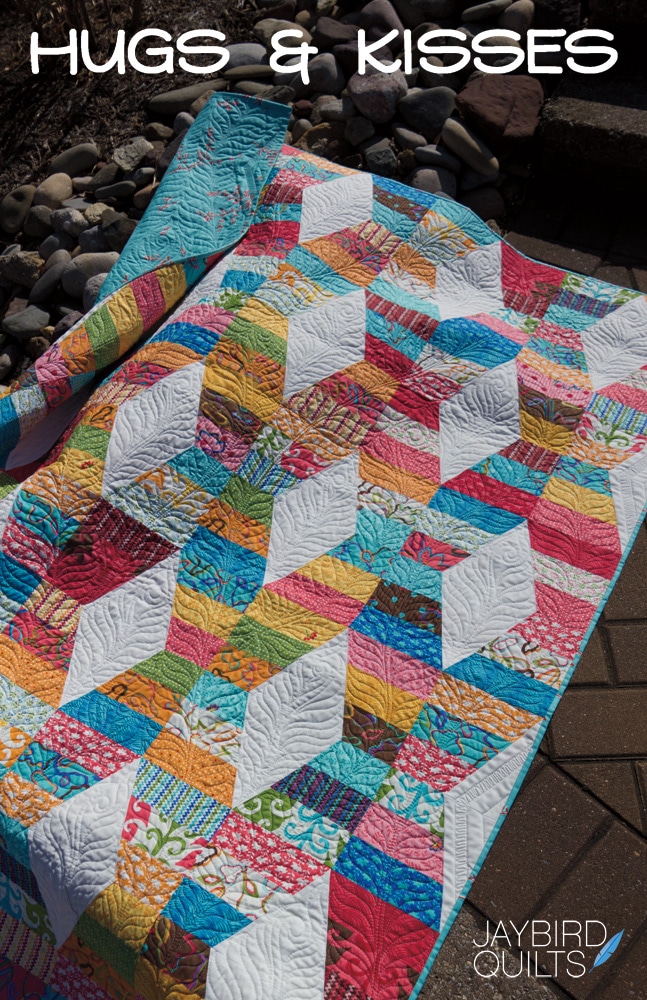 The negative spaces in Firecracker are stretched diamonds.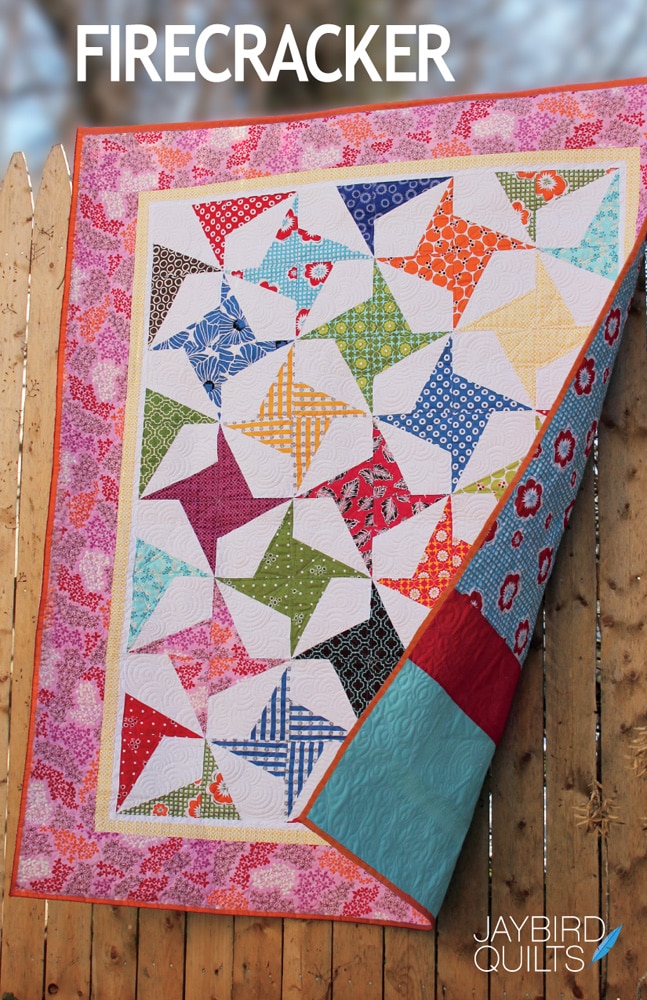 The negative space in Unwind becomes the positive space be creating stars.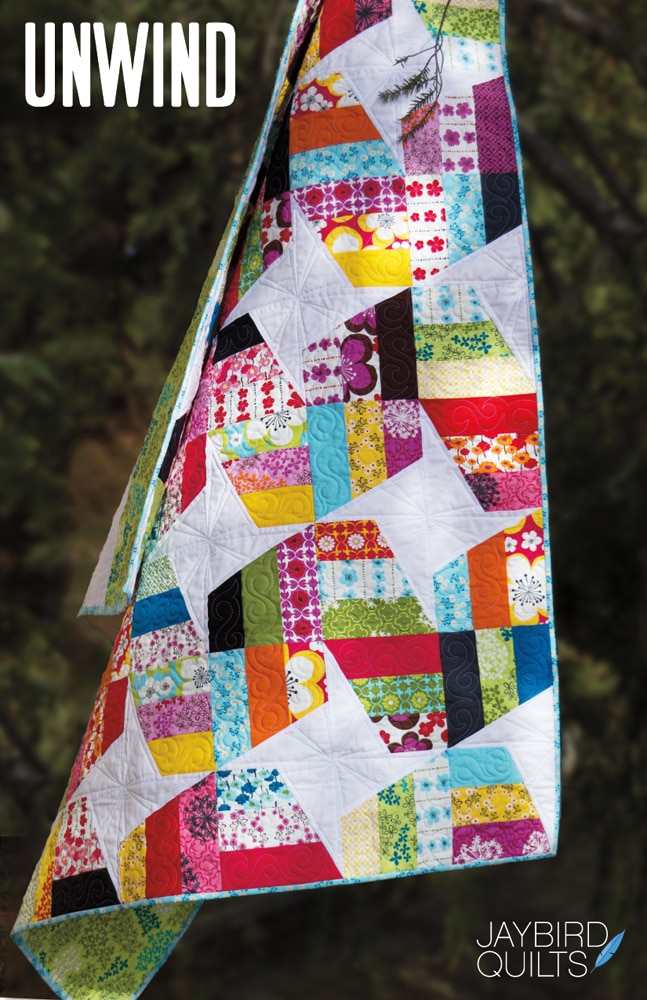 The negative spaces in Carnival look like hourglasses.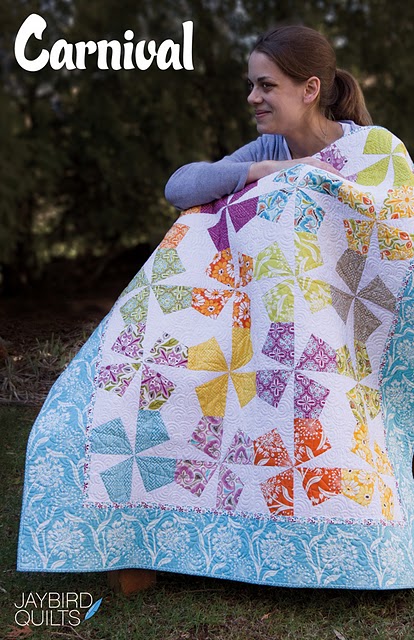 Color Affects Negative/Positive
Color can change what you view as the negative space vs. the positive. The digital images below show a few possibilities with my Hugs & Kisses Pattern.
Drama of Bold Colors
Below, similar to cover quilt with bold colors and white diamonds.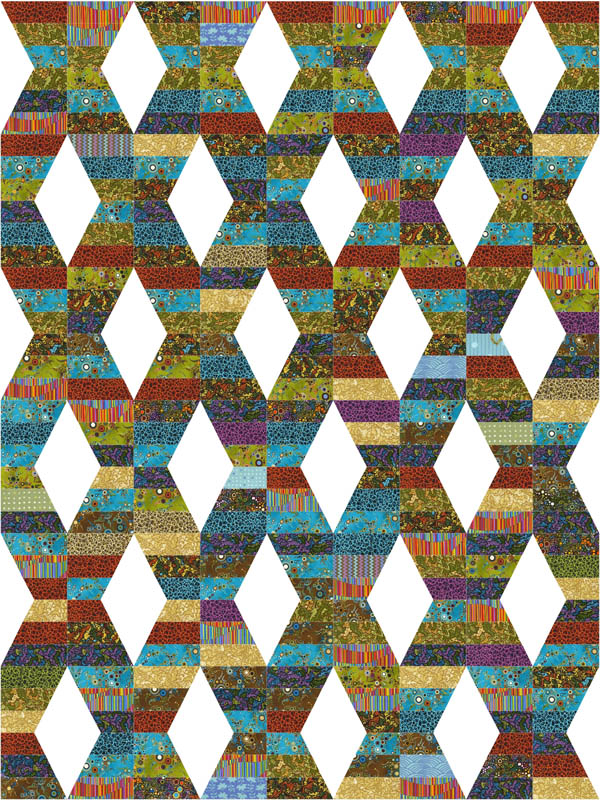 Pieced Fabrics With Similar Value
The brown diamonds fade to the background and the light pieced strips are an even stronger design element since there is not much value change with the fabrics.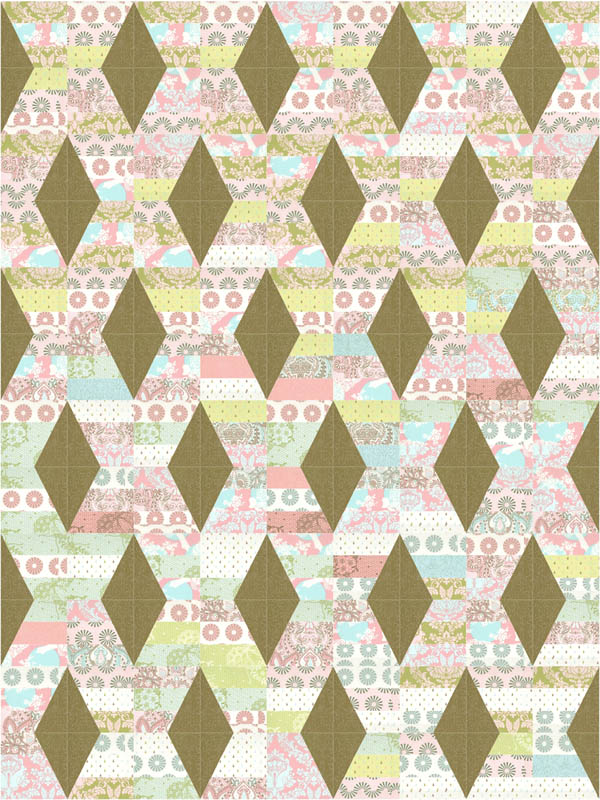 Different Background Options
The following three show how the same fabrics for the pieced strips can look very different with red, dark and light background options.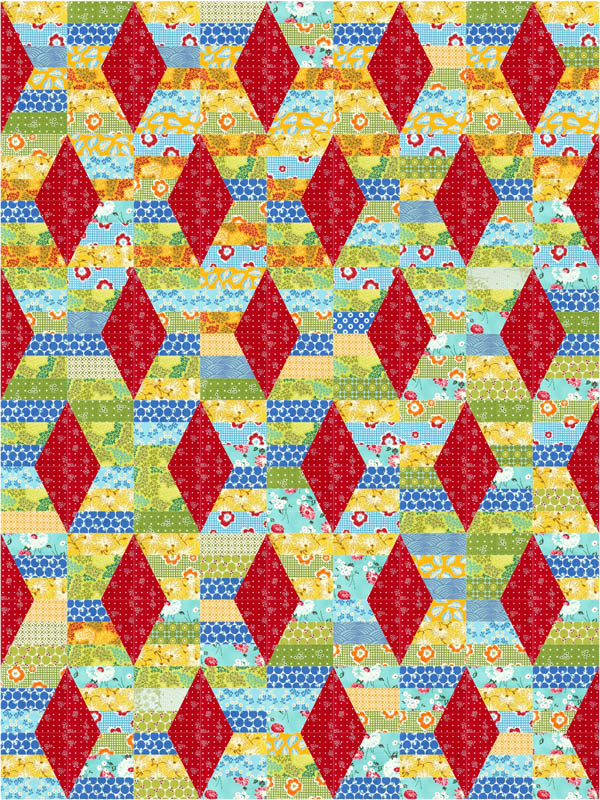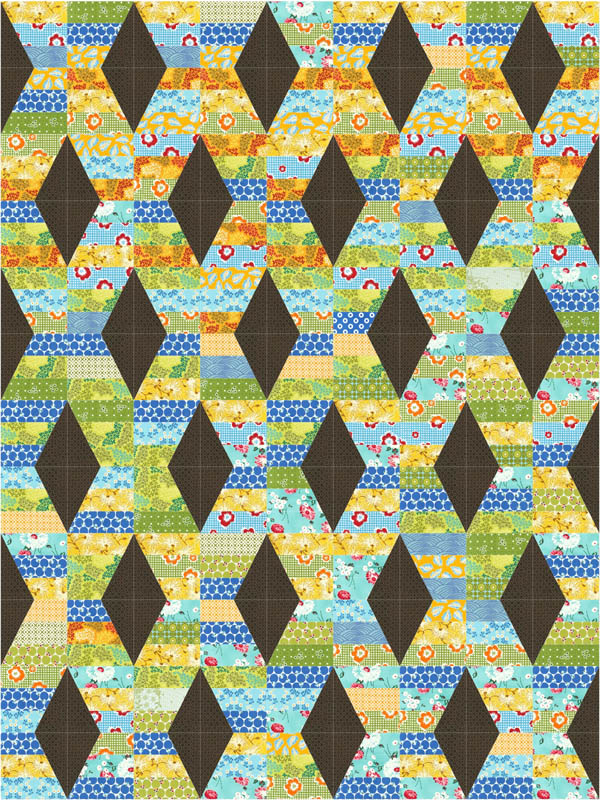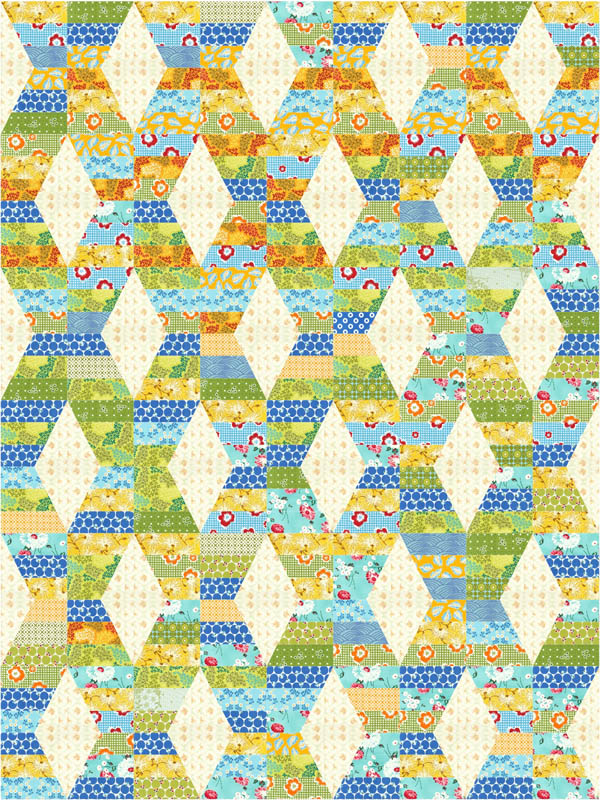 Batiks – The diamonds are still visible but blend more with the pieced strips.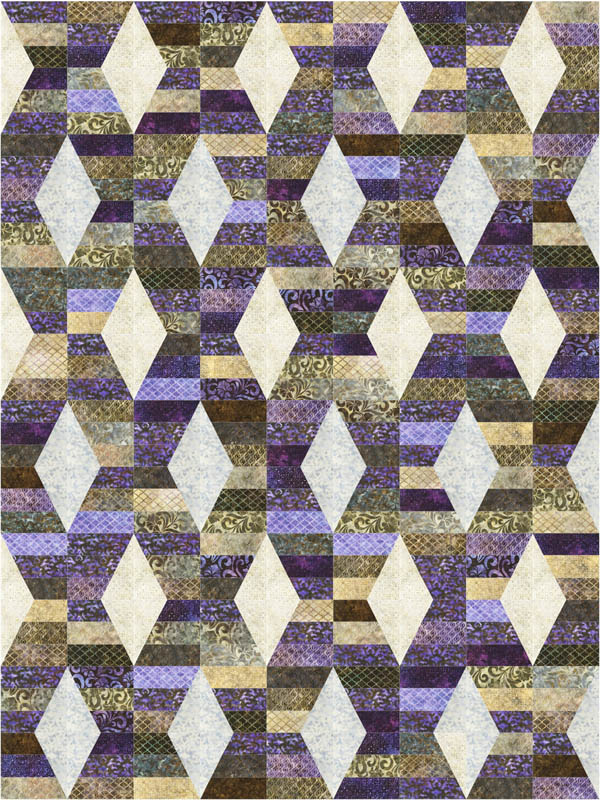 Similar things will occur with all of my patterns. Here are 3 versions of Fast Forward using the same colors for the strips. Look how different white, gray, or dark background changes the quilt!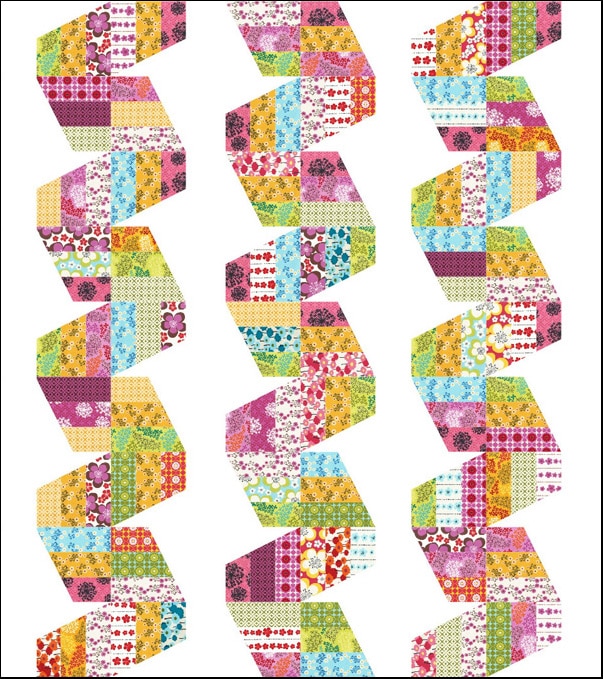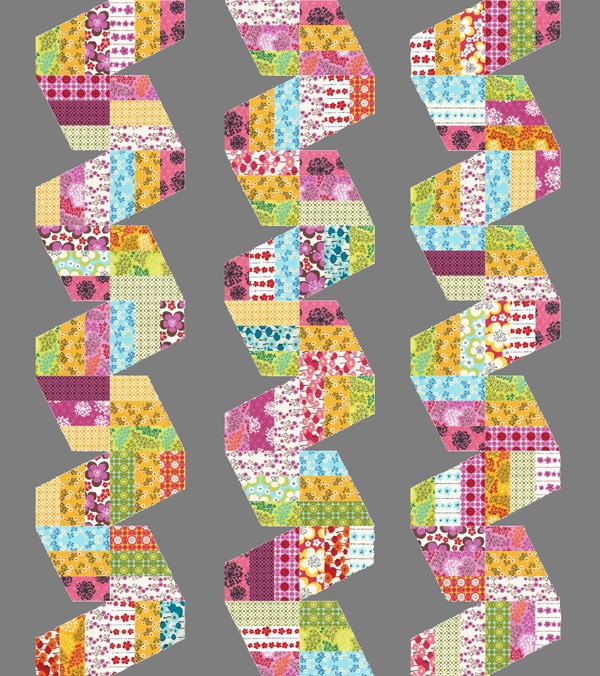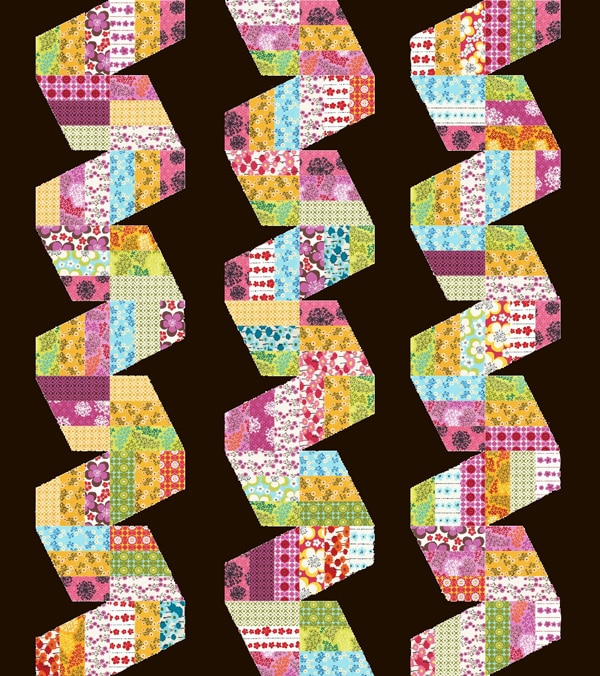 Whether you use solids or prints, I encourage you to try out background fabrics that are not what you would consider your usual go-to colors. Try something that is a bit uncomfortable and you may be surprised at the results. Most importantly HAVE FUN!
– Julie
Join Julie at:
Her blog: http://www.jaybirdquilts.com/
Facebook: http://www.facebook.com/home.php?#!/pages/jaybird-quilts/289369766249
Purchase patterns: http://www.jaybirdquilts.com/p/where-to-buy-my-patterns.html
Books:
Interaction of Color: Revised and Expanded Edition
The New Drawing on the Right Side of the Brain
Michael Update – My hubster Michael had a very successful surgery Friday morning. The procedure to remove two discs in his neck and fuse three vertebrae was uneventful. He's at home and doing very well. Thanks for your thoughts, well-wishes, and prayers.
Thanks Julie!
Joan