Do Fabric Designers Dream of Plaid Sheep?
Our Guest Blogger series continues today with fabric designer Yolanda Fundora.
Do Fabric Designers Dream of Plaid Sheep?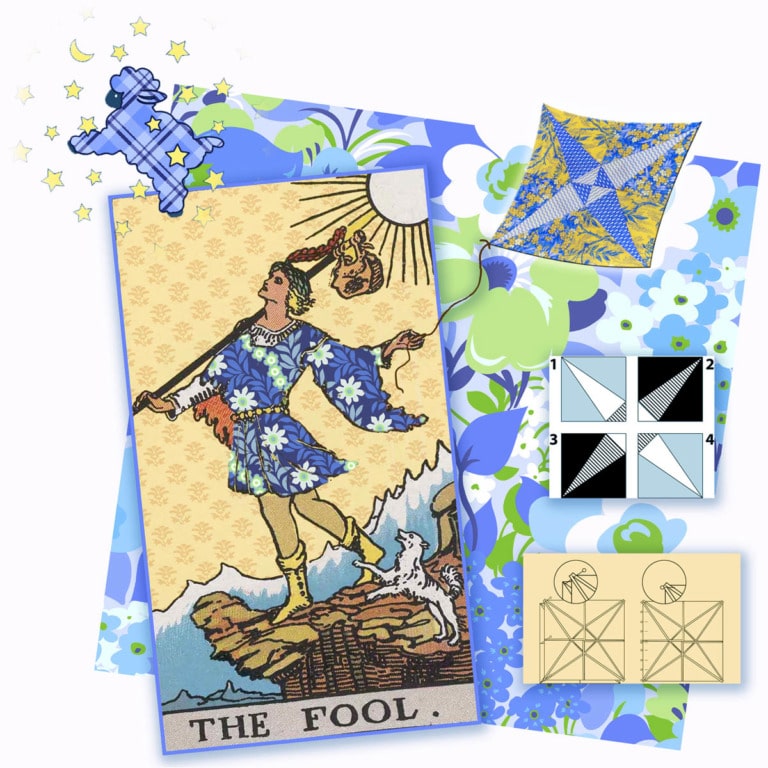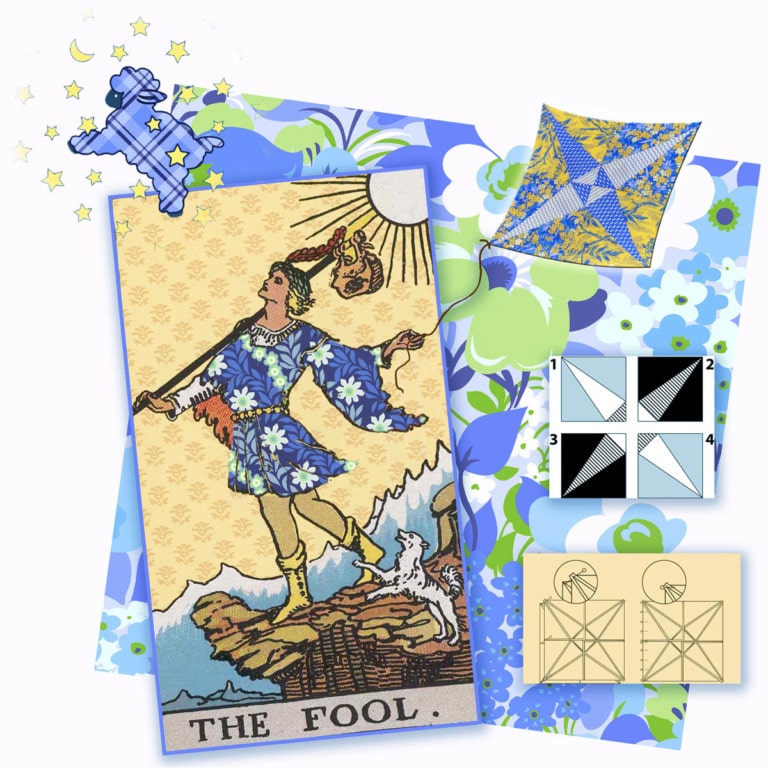 Actually, yes. During a restless night after an intense day of fabric design I have dreamt of fluffy little lambs gamboling about arrayed in patterns of all sorts. And I did enjoy that dream thoroughly.
But what this fabric designer really dreams about is finding time to sew.
My name is Yolanda Fundora.
Most people come to sewing and quilting from having learned to sew as a child. Later in adulthood they rediscover perhaps what an endless source of personal pleasure it can be. This is the case with my partner, Pamela, a computer research scientist by day and an art quilter extraordinaire by night. (www.pamelazave.com)
As a child however I was firmly steered away by family from sewing (and cooking!) in well-intentioned efforts to ensure that I sought out a good paying professional career preferably in the medical field.
However, from day one on the planet, my eyes have ruled me. Pattern, color, shape and form are what my world is made of. After a semester of pre-med I defected to the College of Visual Arts. I proceeded to make my way through an assortment of experiences in both the fine art and commercial art fields. I was outwardly successful but not as satisfied as I had imagined I would be.
Crossed Canoes Block
When textile design found me in the early 90's I knew I had at last found my real calling. And somewhere in the early 00's, textile design gently took me by the hand into the lovely land of piecing and quilt design.
Presently, I work out of my own design studio UrbanAmish (www.urban-amish.com). The icon in my logo is the very old, but seldom-spotted, Crossed Canoes block.


I was first drawn to this block because of its 'simple complexity'. It is dynamically balanced to perfection exemplifying the quintessential qualities of superior graphic design. Crossed Canoes is an exciting blank canvas to a fabric designer if there ever was one.
Traditional vs Art Quilts
As you may imagine, a home where an art quilter and a fabric/quilt-pattern designer reside and moreover, share studio space, is brimming with theoretical and practical discussions of the fabric arts. One of our livelier discussion topics always centers around the merits of traditional vs. art quilts.
From the moment her Bernina hit that first stitched seam, Pamela emerged as a full-blown art quilter. I on the other hand, despite (or perhaps because of) a very experimental fine art background, couldn't get enough of the traditional blocks.
I would spend multiple happy hours (not of the bar variety!) poring over block books or following the googled trail of a block I glimpsed in an old quilt online or at a show. When found, many more charmed hours would follow recreating them in larger-than-traditional scale on my Mac: stepping and repeating and recoloring with my newest fabric ideas just so I could watch the pretty patterns emerge.
How UrbanAmish Lessons Came To Be
One day as Pamela was watching my monitor screen over my shoulder and saw blocks tumbled about in their digital dance stopped me and said:
(What follows is a dramatic reenactment with much poetic license.)
P. : You almost have me convinced that these old blocks might have some merit.
Y. : How can I convince you some more?
P. : Teach me to see them like you do… in this UrbanAmish way you are always muttering about. (Note irreverent tone.)
Y. : Deal!
P. : Not so fast! You also have to write it down for others to see.
Y. : Ok… I guess.
To cut to the chase; that was the beginning of Pamela's life as my very own personal UrbanAmish guinea pig!!! And how the UrbanAmish Lessons came to be. ( http://urbanamish-yolandafundora.blogspot.com/ )
And Crossed Canoes was the block that got us both thoroughly excited about the prospect of collaborating on the UrbanAmish Lessons. So much so that I had to design a book cover with it right away. (I suppose this was some kind of magical thinking at work: hopes that a publication fully laid out, edited and proof-read would emerge if we just added some water.).
How UrbanAmish lessons are structured:
Our lessons consist of my giving Pamela a fabric placement formula for the different areas of a block.
Traditionally, fabrics used in this block are simply blue for the dark areas and white for the light. Variations consist of using two colors with high value contrast such as a deep brown and a soft cream. Rarely patterns are used.
Here's my challenge to Pamela's for the Crossed Canoes block:
– Find two large scale focus fabric prints of contrasting values and/or hues for the larger areas (chocolate and in golden Swedish yellow)
– The Pinocchio and pug-nosed criss-crossed triangles would make a second set of color and textural relationships (green and bright yellow)
– Again, the pair should contain a light and a dark but this time the scales should be at the other end of the size range: small prints or textures
– For super extra credit one or both of these fabrics should be a stripe!
– The hue relationships among all four of these fabrics I leave to her own good color sense.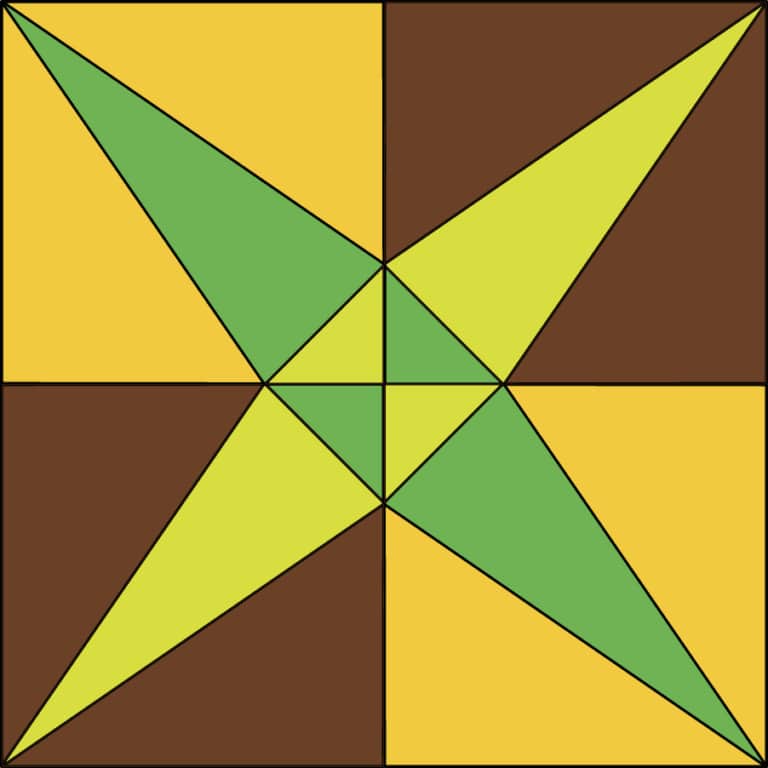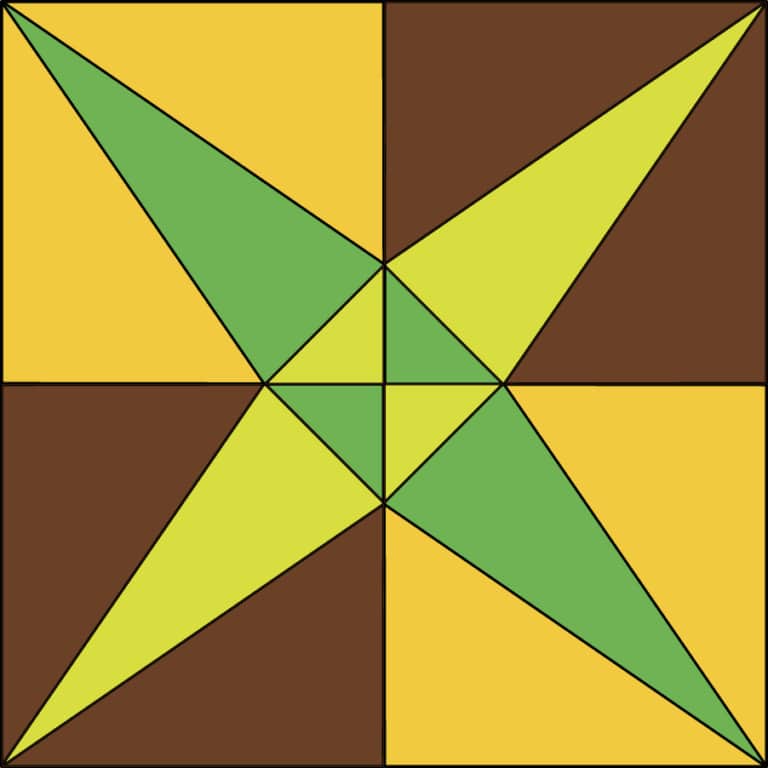 The Result
Look at what Pamela came up with that got us so riled up!
A Crossed Canoe block consisting of a Martha Negley print and one of my own prints, Chelsea Morning, as the focal fabrics. A Jinny Beyer milk chocolate tonal small print combined with a Kaffe Fasset striped weave for the Pinocchio and pug-nosed triangles.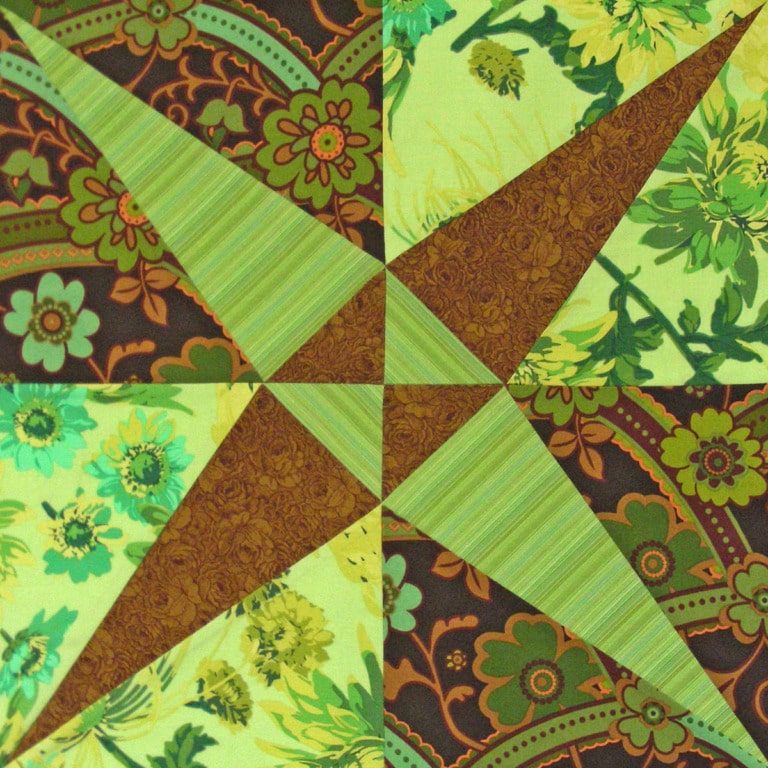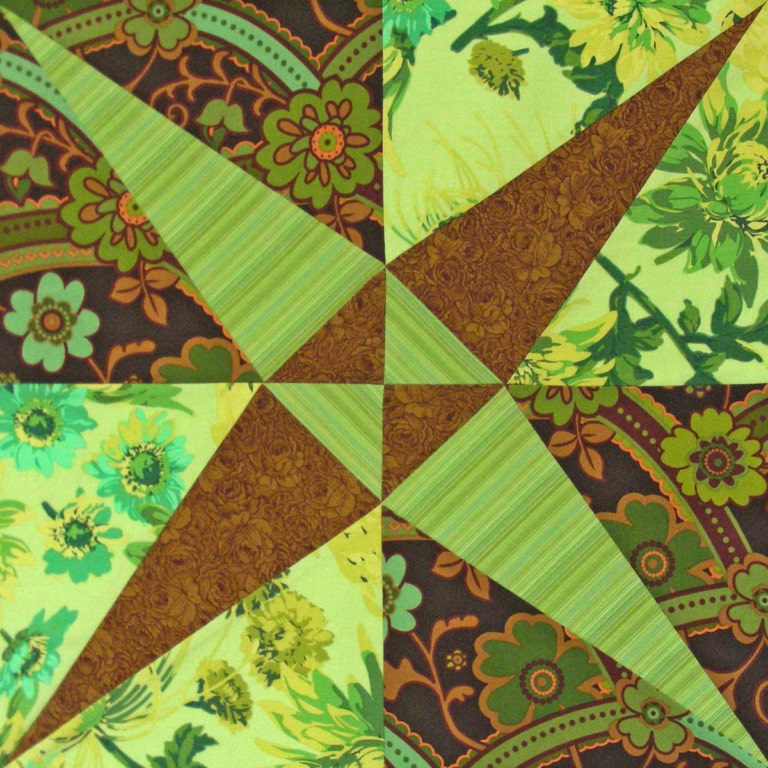 And between the two of us we came up with these too. The blue and yellow one is made up of fabrics from my Dream Garden line. The second one features two of my fabrics from Holiday Splendor, a Marta Negley print and a stripe (designer unknown).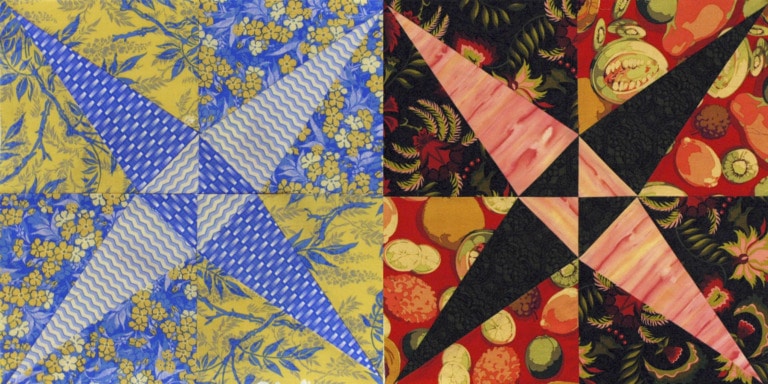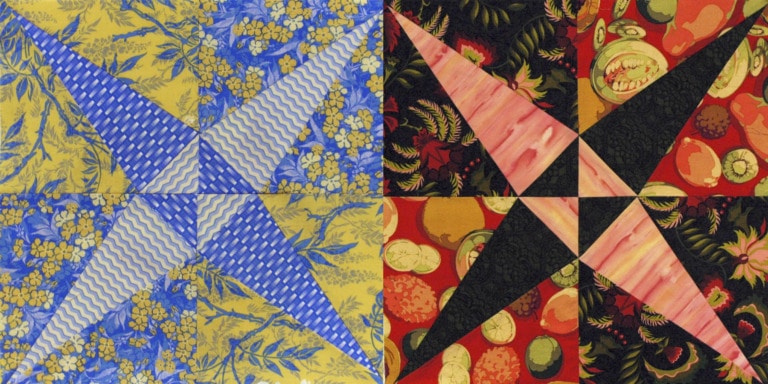 Give Crossed Canoes a Try
But wait! I can hear you thinking all the way across cyber space right now. That block looks really difficult! Seams meet everywhere! And all those bias cuts!!!
In answer to all these web-transmitted thought waves, here's are some powerful reasons for making it.
Reason 1.
All UrbanAmish blocks are (an idiosyncratic) 16" finished size. This means if you make just one you've practically finished a project. That's a great size for a pillow.
And voilá! Add a 4" mitered border and you got yourself a pretty nifty wall hanging.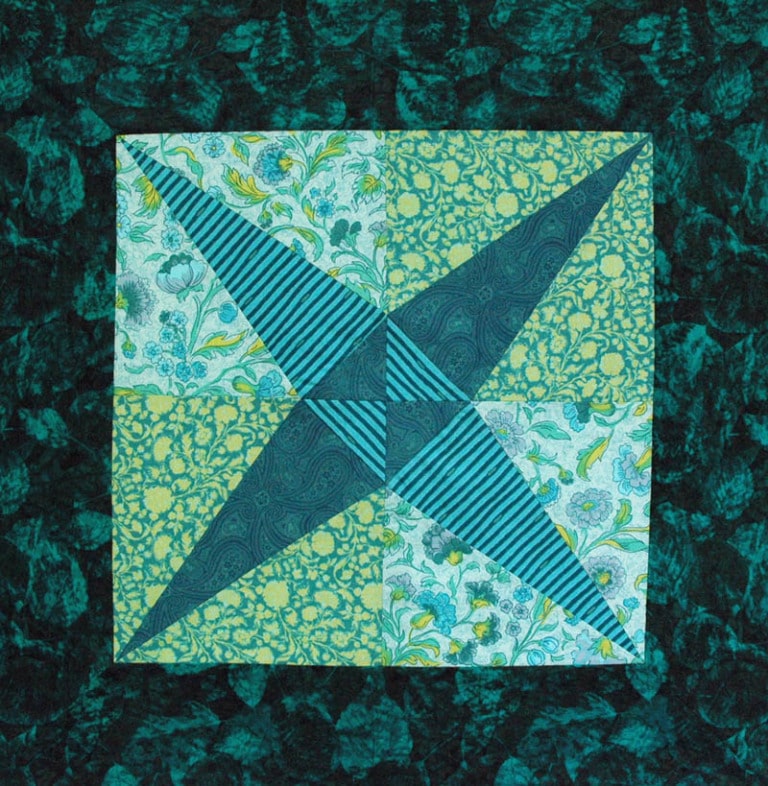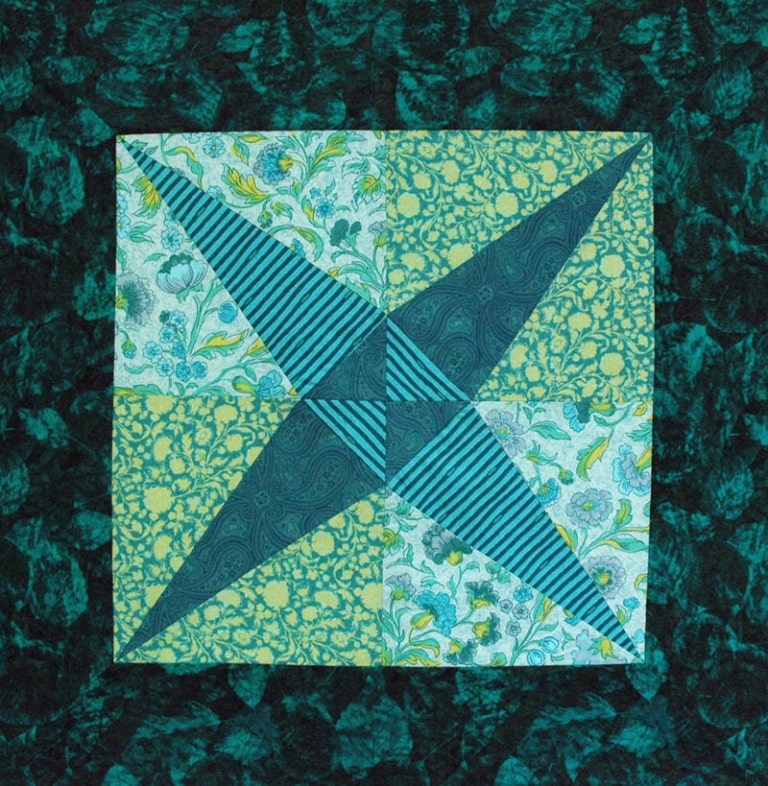 And, of course you could always put a few more together and add some zippy borders to see what happens.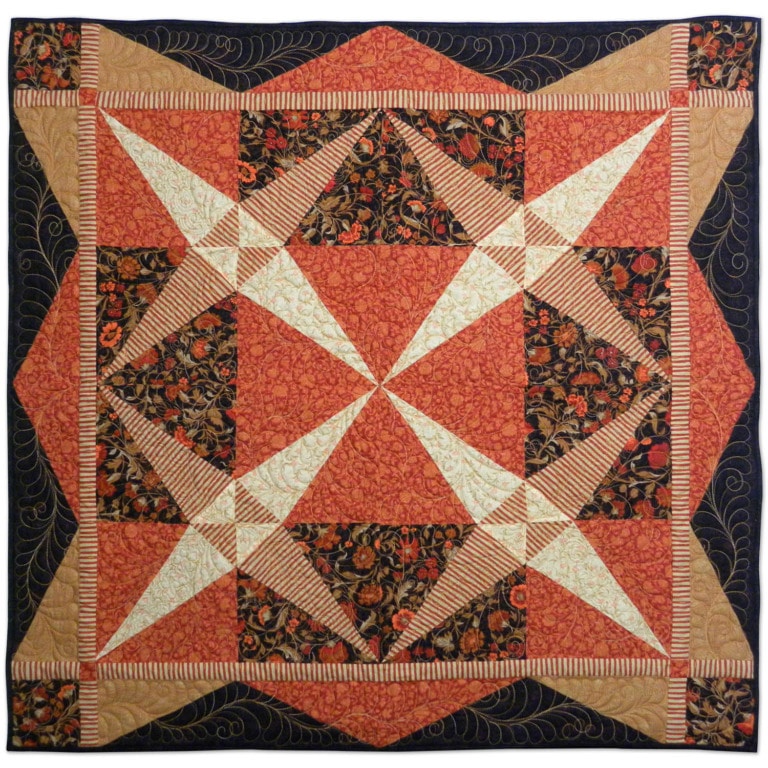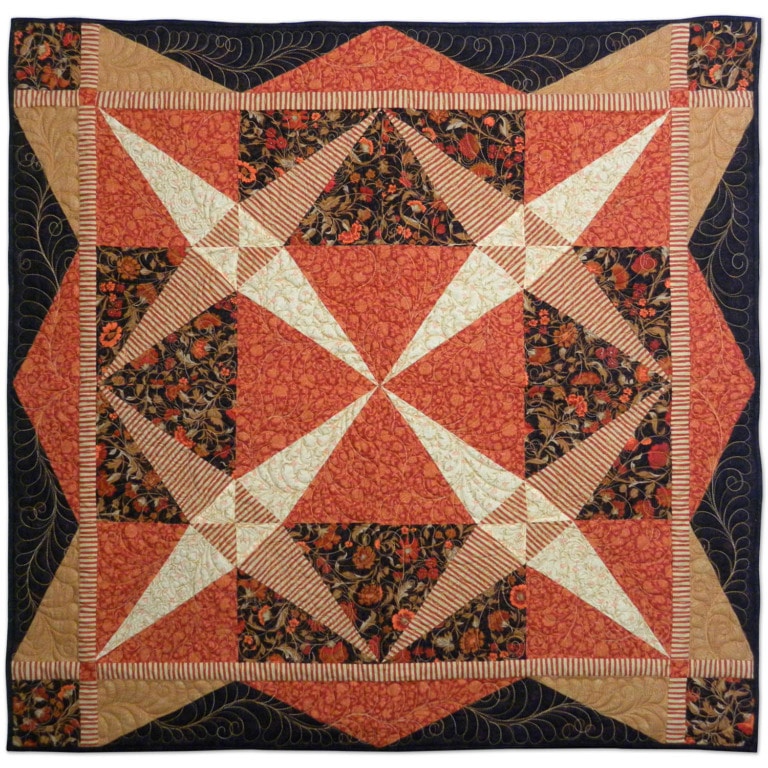 Reason 2.
UrbanAmish blocks though traditional in construction are not traditional in scale. Why? Because fabric designers really hate it when their beautiful large scale prints always get cut up into little bitty pieces. So this fabric designer wanted to do something about it. If you have some beloved large scale print that you've been dreading to put on the fabric guillotine, go do some exploring on the UrbanAmish blog for some lessons and inspiration. And your longarm quilter friends will also really love you because you are giving them room for some fancy needlework. See close-up of Dusty Farrell's (http://www.cscountrystitchin.com/testimonials.html), wild man of the longarm world's work on my Twinkling Star quilt design.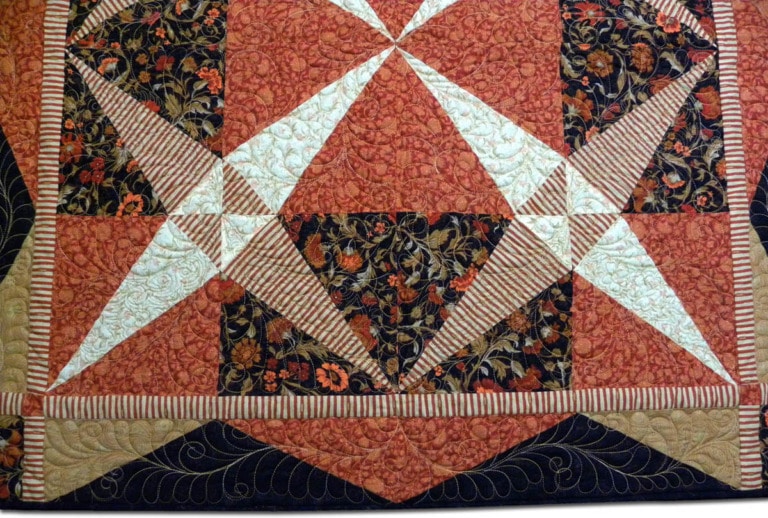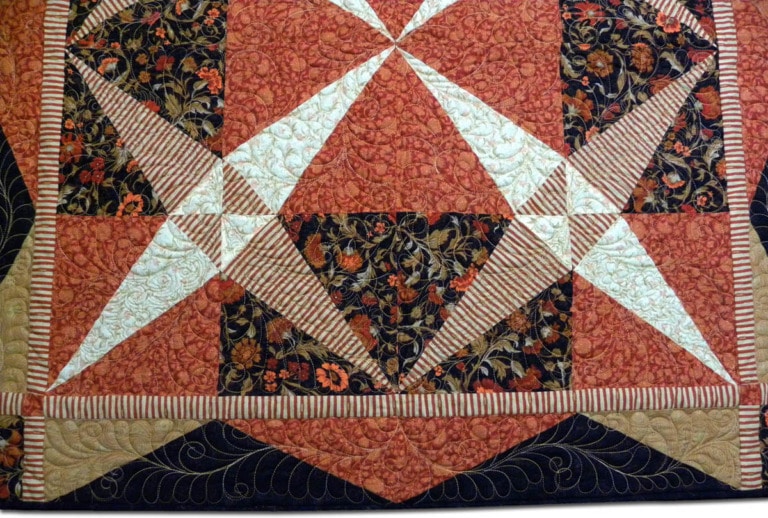 Click image to see quilting.
Reason 3.
Crossed Canoes is a difficult block to piece. So why is this a reason to attempt making it?
Because making just one will nudge you up the ladder from rank beginner piecer to beginner with illusions of grandeur (as it did me.) And if you are not so rank, maybe a promotion into the next quilterly celestial level will ensue. Maybe intermediate advanced or something of equal value to you.
Seriously folks. Easy is great. But once in a while try something more challenging for you – it can be very satisfying. My first crossed canoe pieced under Pamela's exacting but caring tutelage was a bit wonky. It would not have earned any ribbons anywhere. But my second CC was poetry in stitches. Ok, I get carried away. It was more like a decently constructed sentence. But did I feel good after I finished it.
Download Crossed Canoes Lesson
So without further ado, download Crossed Canoes UrbanAmish Style Lesson, set aside some quality time with your sewing machine and enjoy. (Click here for download.)
April 19th is the last day to vote in the AccuQuilt Barn Design contest. Click here to see the block I designed and vote by clicking the Facebook 'Like' button: http://www.accuquilt.com/design-by-yolanda-f.html
And send me pictures of your CC babies please! Email Yolanda here.