Introducing The 'Miranda Day Bag' Pattern
Lazies, I'd like to introduce you to the newest Lazy Girl, the Miranda Day Bag, available this October.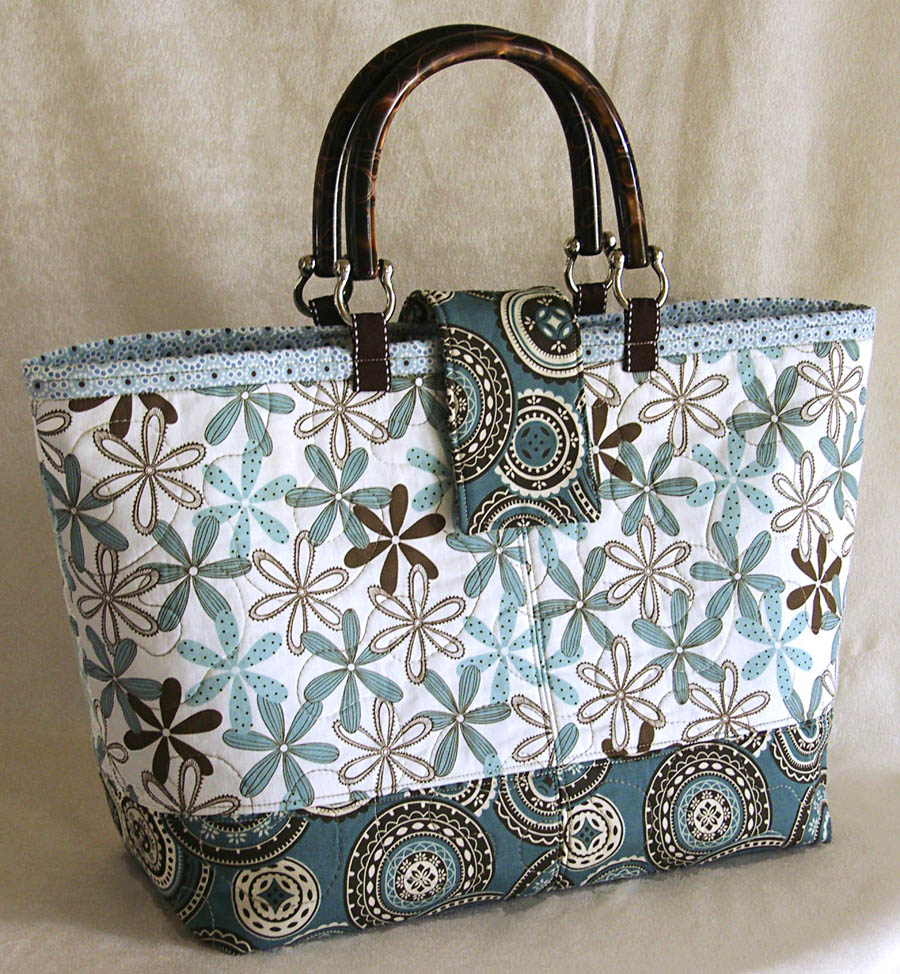 Miranda Day Bag pattern from Lazy Girl Designs.
Details: Miranda Day Bag pattern
Available here
Item – LGD123
Finished Size – 12″ x 10″ x 6″ (width/height/depth)
Bag-E-Bottom Size D, LGD503 (also fits Summer Tote, Newport Tote)
Choose fabric handles, shoulder straps, or use fashion handles.
Some quilt shops are already taking orders for Miranda. Check with your local store or favorite online retailer.
Let's Meet Miranda
Miranda is the perfect girl to tag along for your day on the go. This moderate sized, yet roomy tote doubles as your personal assistant, offering up to 10 inside pockets to keep everything organized. The main compartment comfortably holds large items such as file folders and magazines.
Fusible interfacing gives Miranda wonderful body and posture. Miranda is also ideal for fabrics with large scale prints.
What The Heck Is A Day Bag?
I field test each of my designs to see what I think, discover any issues, make changes, all that good stuff. Miranda and I made several outings together. As we were getting acquainted, I decided the best thing she could do for me was be a companion for a day on the go.
Well, I took Miranda with me on a day trip to see a friend. My hubster Michael was driving, so I had three hours in the passenger seat each way. Woohoo – I could catch-up on a few things while he drove.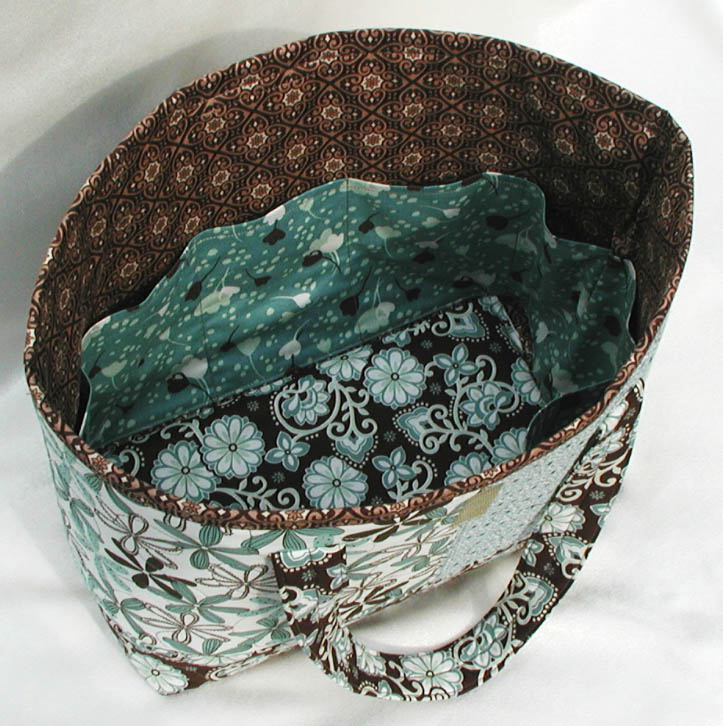 'Pockets in the round'.
I loaded Miranda with my work notes, file folders, magazines, sketch pad, novel, chocolate, and two bottles of water. I also transferred all of my goodies from my purse to the 10 'pockets in the round' surrounding the lining of the bag.
Not only did everything fit, but Miranda stood open and at attention on the floor of the car by my feet for the whole trip. She was the perfect companion. I worked out of her the whole way. Everything I needed was visible and accessible. Easy in, easy out.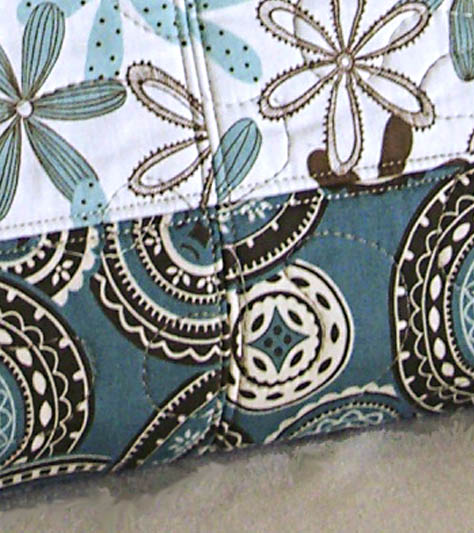 Detail of quilted panels stitched,
then top stitched at front center of Miranda.
She's A Stand-Up Gal
I used a fusible interfacing against the cover and the lining to make Miranda stand tall all on her own. The panel construction for the cover creates a spine, like I-beams creating a hidden skeletal structure of support. The cover is constructed of eight panels. The panels are one layer of fabric and batting quilted together, then cut to size.
I used a 1/2″ seam allowance, then opened and pressed the seams flat. Top stitching next to the seams adds more structural integrity along with a charming finishing detail.
I highly recommend the fusible interfacing for added support. Don't worry about the interfacing adding bulk to the seams. It is trimmed short of the seams where it isn't needed.
I think Miranda will be perfect for your next adventure. Whether she's at your feet on a long flight, on the passenger seat while you run errands, or by your side while on the go.
Get the Miranda Day Bag
Available here
New to our blog? Subscribe to get emails so you don't miss a juicy morsel.
Like and share this post with your stitchy friends.
Join me in the Lazy Girl community on Facebook here: Facebook Lazy Girl
Enjoy!
Joan
Facebook Lazy Girl
Pinterest Joan Hawley
Pinterest Lazy Girl Community
Instagram @JoanHawley
Twitter LazyGirlJoan