Easily Create A New Bag Silhouette In A Cinch!
Lazies, The Miranda Day Bag pattern (LGD123) is available now, link below. Thank you for being so patient in waiting for our new Girl to get here. This open-top tote is easy to customize with this cool trick to create a 'waist', to create a different silhouette.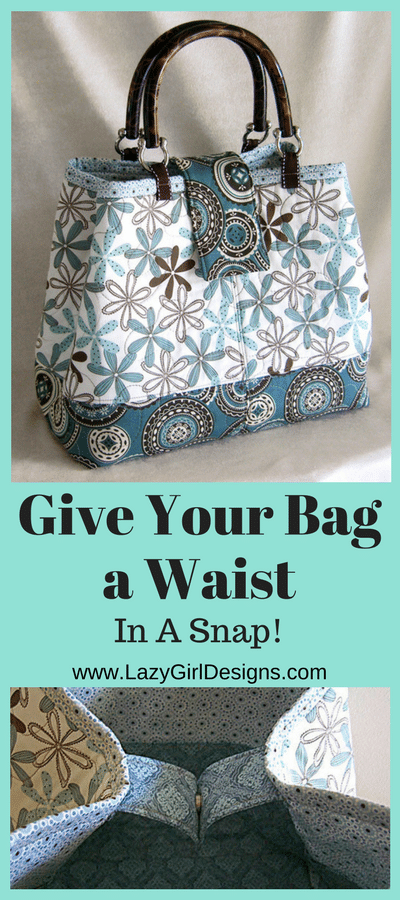 Here's our Miranda Day Bag, side by side, showing her as designed, and then with her waist cinched, using the trick below. She's a cutie!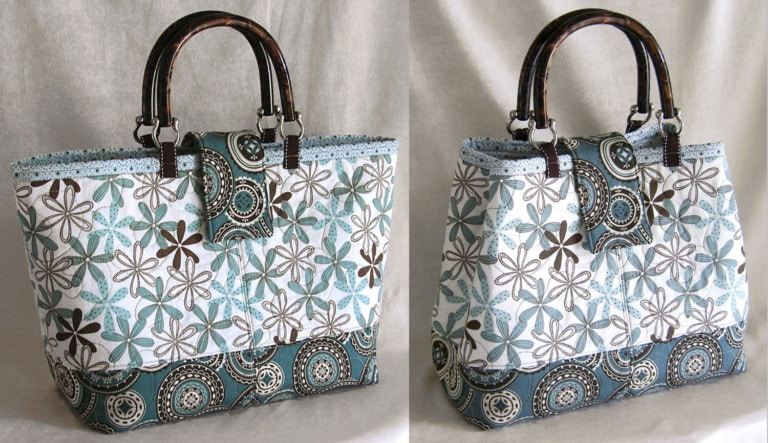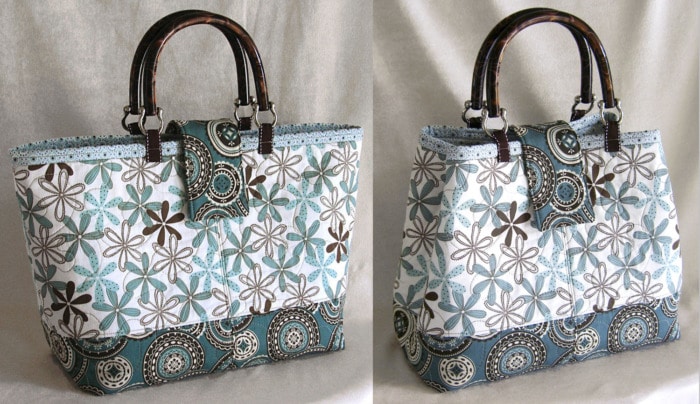 The Miranda Day Bag, LGD123, is one of our most popular designs.
Magnetic Snap Closure
This is a special touch just for this Miranda sample. I used the directions for the flap closure in the Miranda Day Bag pattern, reduced the size a bit, and made two tabs. These two flaps finish to approximately 2 1/2″ x 4″. Insert a magnetic snap closure in place of the Velcro. Stitch tabs to the lining of the bag, at the side seams, snaps facing each other. Attach these flaps to the bag using the same technique shown in the pattern for the flap closure.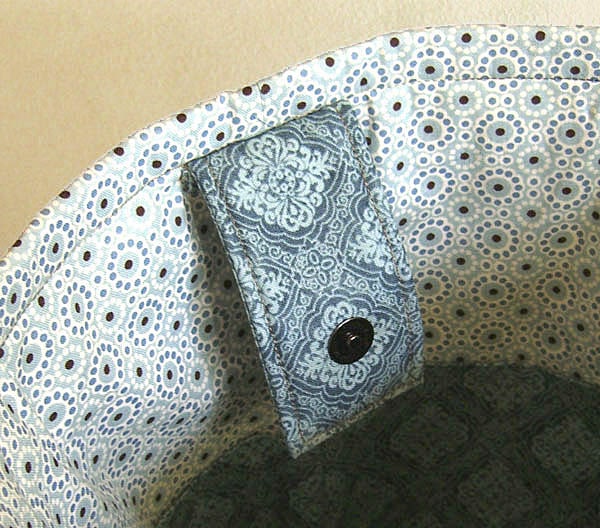 Make two small flaps and insert magnetic snap closure.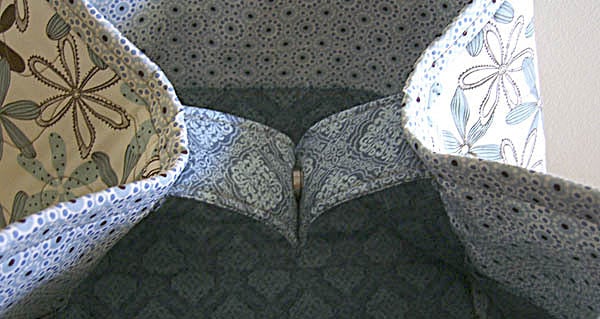 Flaps reach across the center of the bag, pulling the sides in.
I used the 1/2″ size magnetic snap closure in the black nickel finish (item 6241). The 3/4″ size would work well, too.
Another Cinch Option
Swivel clasps can also clip to each other to draw the sides of the bag in for a cool new look. I love the versatility of this design. Fashion handles, optional shoulder strap or tucked and tidy.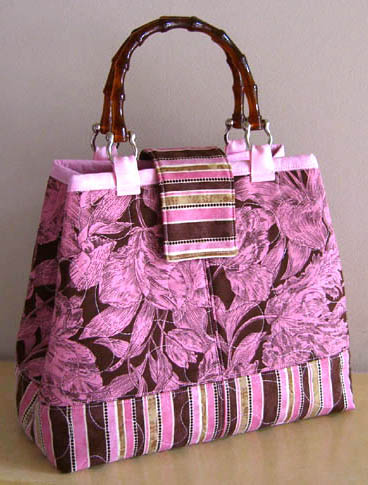 Pretty in pink. Miranda in 'Tulip Nouveau' by Ro Gregg
for Northcott Fabrics. See the line here: 'Pink Chocolate'.
I really do recommend Miranda as the big open-top tote as shown on the pattern cover. But pulling the sides in does have merit and I want you to know about this option. And it's such a cute look. So, here's what you need to know.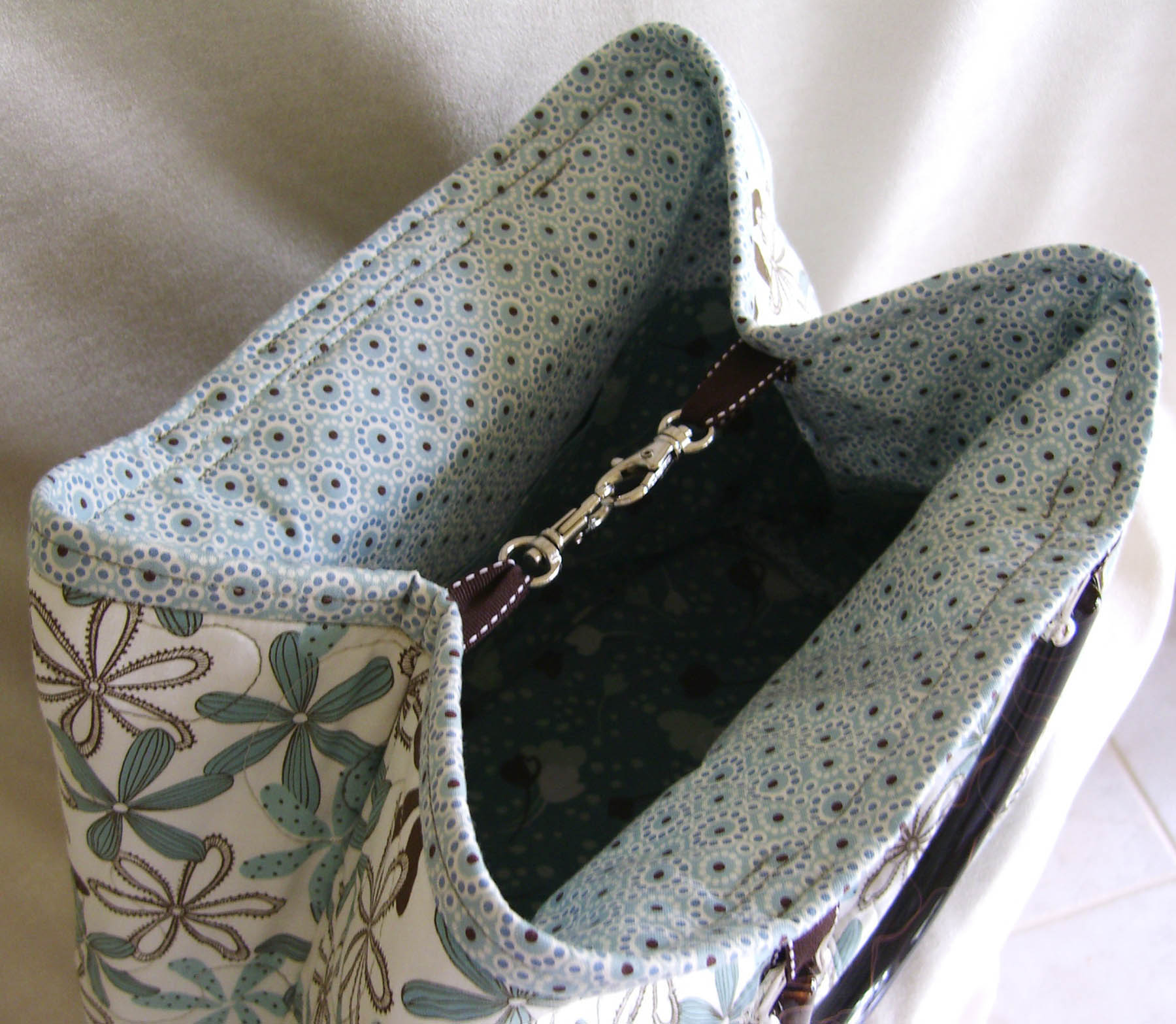 Connect swivel clasps to pull sides in.
Clip It
The clasps can reach across the bag and clip to each other. This pulls the sides of the bag in nicely, creating a fun and funky shape. This is a really nice option if you are traveling light or don't have much in Miranda.
Now, you know I really am a Lazy Girl, so I don't want to fiddle with hooking and un-hooking those clasps. Too putzy for me. And you don't need to. You can still operate out of the bag when the clasps are connected. With the flap open, there is plenty of room to reach in on either side of the clasps and use your bag.
Stow It
And these swivel clasps can be used for other things, too. Imagine having a home for your keys. Clip those little cuties in place!
Want to carry your cell phone on the outside of the bag? Oh baby, clip it and hang it over the edge! Let that bling swing while your strut and stroll.
Move It
Don't like where I located these clips? Don't be shy. Add swivel clasps anywhere you want along the top edge of the bag. Keep in mind that hanging something from the clip will create weight which might make the edge of your bag dip. The side seams offer a bit more stability due to the structure of the seam and curve of the bag.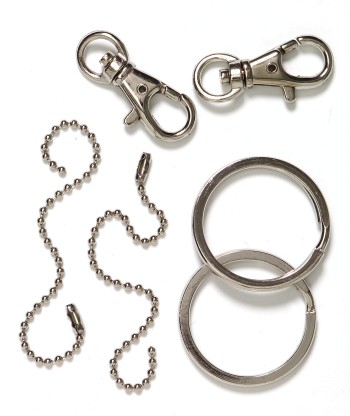 Change It
Remember that cool round key ring thingies are great to use here.
Bling It
Add some bling to the front of my bag by putting the round key ring on the ribbon handle tab. It hangs directly below the fashion handle and looks snazzy. I don't intend to clip anything to it, but I could. Like a tassel, or my cell phone. Lots of things.
Adding these clasps, or another option of your choice, is a nice feature. It gives you an option to gather the bag in on itself if you are travelling light, or attach a shoulder strap when desired.
Snap It
Why not create a more substantial tab and use a magnet snap. Then create a key fob with the other half of the magnetic snap. Snap those keys in place safely inside your bag.
Make the fabric or ribbon tabs as long as you like. I found that 4″ was a good length to allow the swivel clasp to comfortably hang over the top edge of the bag to allow the shoulder strap to rest easily at the side. The 4″ length is the cut length. The ribbon in doubled over to create a loop or tab for the hardware.
Other Add-On Ideas
We have profiled some fun things you can add to Miranda: swivel clasps, detachable shoulder strap, cinch the sides, add pocket flap closure and choose and attach fashion handles. All of these posts can be found here. Most of these ideas can be used on any open-top tote bag.
Where to Buy
Try the Miranda Day Bag pattern now, available as a digital pattern.
Fashion Handles
I used the same beautiful Clover 'U' shaped saddle brown 'marble' style fashion handles (item 6335).
If you're a yo-yo fan, make and add a few as a way to showcase more fabrics or reinforce a color family on the final bag.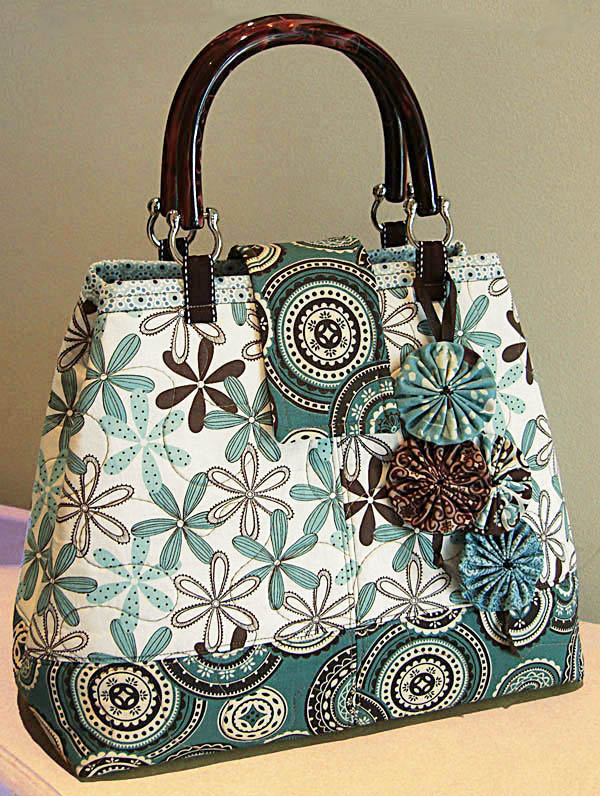 Subscribe to receive emails for my blog and newsletters about new patterns and project ideas.
Enjoy!
Joan
Joan's Sewing Group | Pinterest
Like and share this post with your stitchy friends.