New Pattern: In A Pinch 10 Minute Pillow
Lazies, There's nothing like a quick project that looks awesome and works for so many occasions. That's where the In A Pinch 10 Minute Pillow fits into my life. I've been making these little cuties for family and friends for years so I decided I'd offer it as a pattern for all my quick crafty friends to enjoy, too. Read on for details and a giveaway.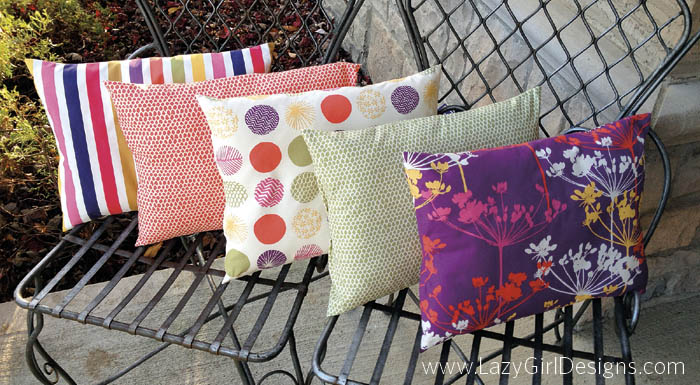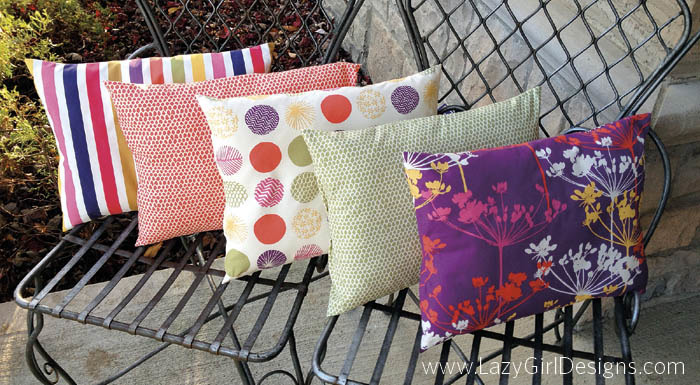 In A Pinch, LGD133
Fabric is 'Piper' by Dear Stella.
Here's the skinny: one piece of fabric, a few seams, a ready-made pillow form and you'll be done before your cup of coffee gets cold.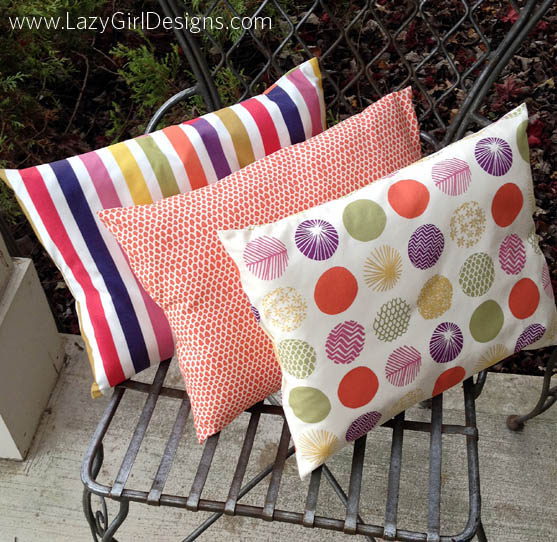 I've made this pinchy pillow using everything from novelty prints for kids to elegant designs, too. A little pillow to tuck here or there can come in quite handy for all the gifty recipients in your life. The fact that it's quick, cute and functional makes it my perfect go-to gift…in a pinch!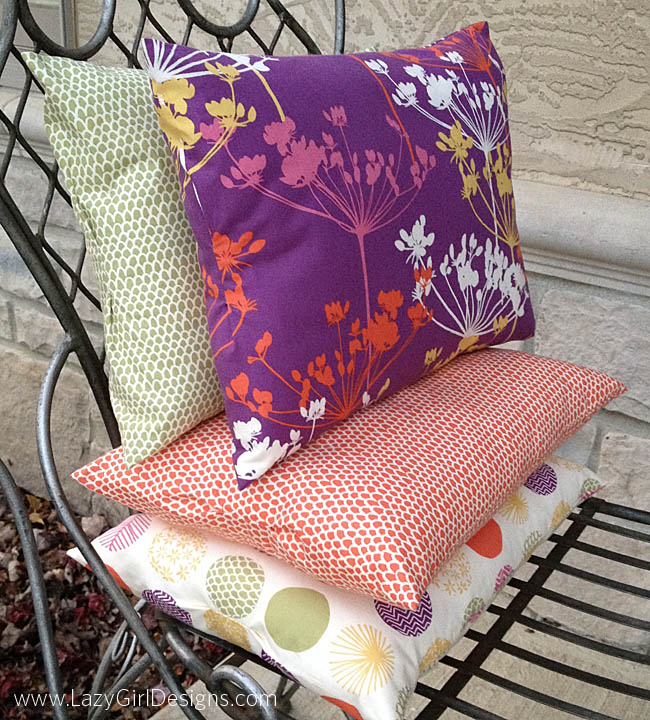 The Pinch
The pinchy part? Well there are two things going on here. First up, there is a fabulous 'pinch' at the waist of the pillow, giving it a touch of elegance and elevating it above your average pillow cover.
Next up, my little sis didn't have a security blanket when she was young, she had a security pillow. It was quite decrepit, having lost a lot of loft over time, resulting in a pliable near-pillow. She was in the habit of pinching it and called it her pinchy pillow. There you have it, this is a tribute to my little sis' childhood companion. I checked with her – she's thrilled about the tribute.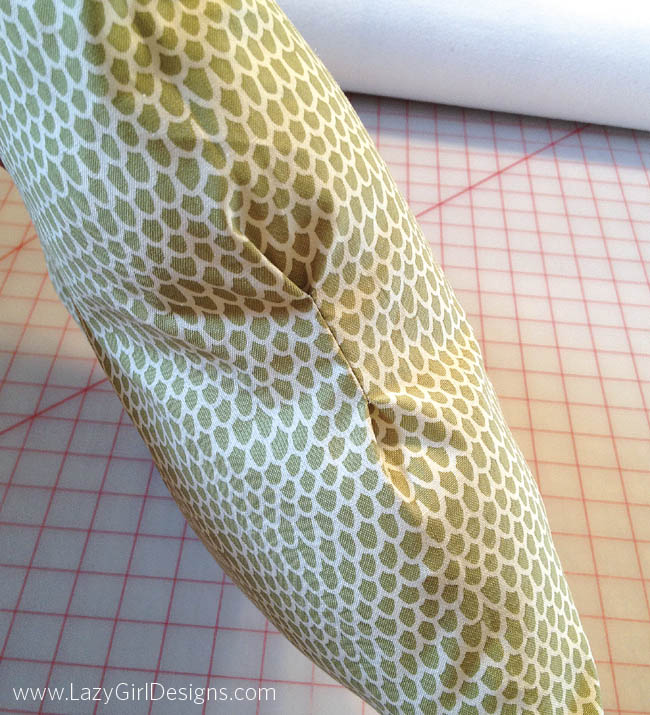 Fabrics
The In A Pinch is ideal for bold dynamic prints, applique, and embroidery. It's probably not ideal for a lot of piecing since I expect those seams would fight the pinch detail at the sides. That's fine, this is intended to be a quick gratification project, so lighten up and don't put too much work into it.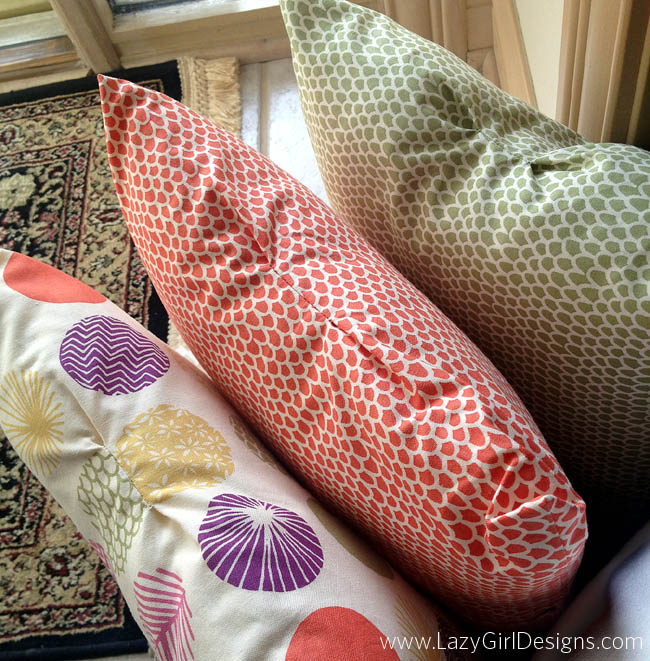 You can dress it up or down as you please. You can tuck a memory in the pillow or make it part of an ensemble. I've added sentimental fabric swatches to the hem and I make these pillows to go with hospital gowns. You'll certainly develop your own special way to personalize this gift.
Supplies
I like to use ready-made pillow forms for this project. I like two by Fairfield in particular.
Pillow Cover
One piece of fabric 12 1/2" x selvage to selvage (40-45")
Rotary cut project, no pattern pieces included or needed.
Pillow Form: Make or Buy a 12" x 16" 'Travel' size
Make
Two pieces of fabric 12 1/2" x 16 1/2" (white fabric recommended)
8 oz bag of 100% polyester fiberfill stuffing (Fairfield 'Supreme' is nice)
Buy
Fairfield 'Home Elegance' Item: XP1216 or 'Soft Touch' Item: ST1216
Both of these Fairfield pillow forms are a nice quality and I love that they have a zipper in the side seam. I take a little stuffing out for a more streamlined pillow. That allows the delicate pinch detail to look its best. An over stuffed pillow would put pressure on the pinch and make it look like a helium balloon ready to burst at the seams. that is not the look we are going for.
Pattern
Get the In A Pinch pattern here.
In A Pinch pattern, item #LGD133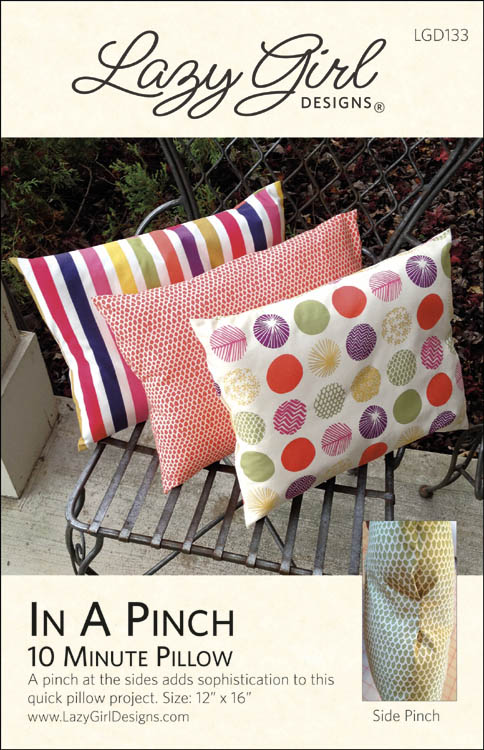 Giveaway
One winner will be selected to receive one 'In A Pinch – 10 Minute Pillow' pattern and one Fairfield pillow form.
Enter To Win
– Enter by using Rafflecopter below.
– One winner will be chosen.
– Giveaway ends Sunday November 24, 2014.
– I'll contact the winner via email.
Pinterest
Join me on Pinterest and follow my 'Pillow' board here. Create a pillow board of your own! Use the 'Like' and 'Pin It' buttons below my name to share pics!
Sew pick out some vibrant fabrics, grab/make a few pillow forms and get pinchy!
Enjoy!
Joan
Note: This post contains Amazon affiliate links. I make a commission when you order items through those links.