How To Install A Zipper And Enjoy It
Lazies, Who the heck created the standard methods for installing a zipper? In all of the apparel sewing I have ever done, I have to say that installing zippers has always been a mysterious and aggravating proposition for me. Successful or not – it's far from fun.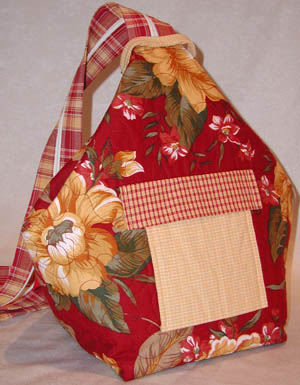 Chelsea Tote LGD116
Why Must We Suffer For Our Zippers
So I've never enjoyed installing zippers. It's more like I've survived the process each time. Finally it occurred to me that I didn't have to follow the hateful instructions that come with zippers. And I developed a new method of my own.
No-Fear Dreams
I have several methods to easily and successfully install a zipper. One of my favorites is my no-fear zipper technique. This was one of those 2 a.m. ideas that got me out of bed one night.
I was working on a project that needed an easy solution for installing a zipper. The problem literally kept me up at night. And when I finally went to bed, the problem worked itself out in my sleep. If I had known that's how to solve problems, I would have gone to bed early and often!
Since that time, I have used this method for installing a zipper in a number of my designs – and I enjoy it. The no-fear method is a fabulous technique that you can use on so many projects, not just my designs.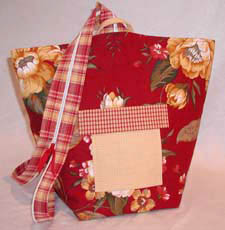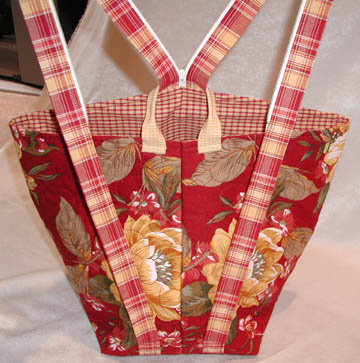 Two more views of Chelsea and the no-fear zipper.
Free Online Video Demonstration
I'm happy to announce that you can see our no-fear zipper technique demonstrated online for free. Our Chelsea Tote episode of Kaye's Quilting Friends has been renewed for another year of airing at www.KayeWoodTV.com.
In this episode, I walk through the construction of our Chelsea Tote, which features the no-fear zipper technique. In this design, the shoulder strap contains a zipper. Keep zipped for one shoulder strap, unzip and you have two shoulder straps.
How-To
Simply put, the no-fear technique is a fabric casing added to the side edges of the zipper, sort of like a quilt binding. Any of our designs which use this technique include the detailed instructions in that pattern. These designs include:
Take Along Bags LGD106
Towne Purse LGD107
City Bag LGD112
Chelsea Tote LGD116
My Favorite Duffle Bag LGD201
Which Zipper To Use
I usually work with Coats and Clark poly all-purpose closed-bottom zippers. They are affordable and come in a wide variety of colors.
If you've let zippers keep you from trying certain projects, go watch the video and then consider getting your gumption up and giving this a try.
Enjoy!
Joan
[tags]quilted tote, how to install zipper, quilt pattern[/tags]