Easily Attach Handles and Accessories Using Handy Tabs
Lazies, This is a sample board I put together recently to showcase some ways to use our line of Handy Tabs.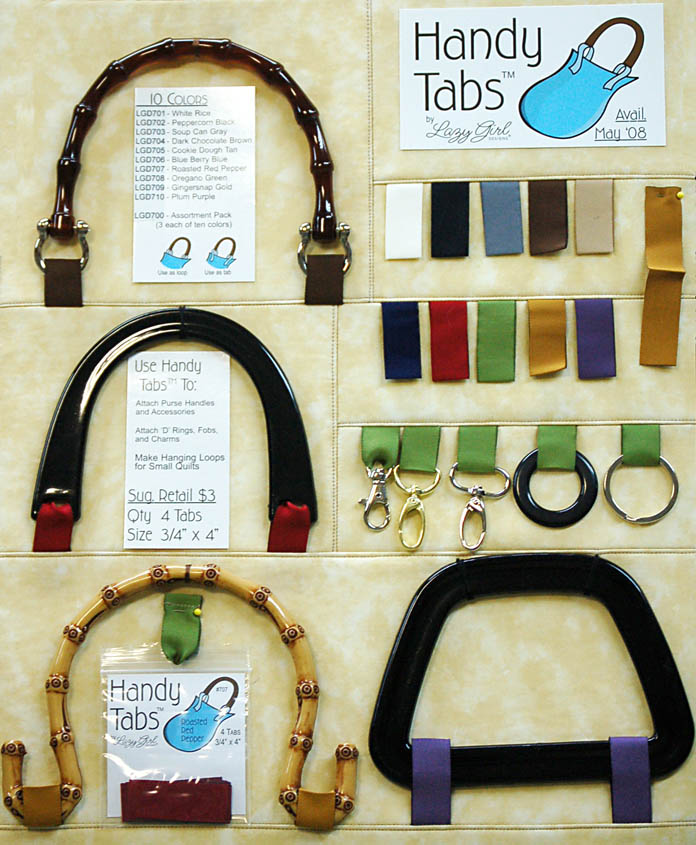 Click to enlarge. Handy Tabs display board.
Here's what's on the board
– You can see all ten colors sewn into two rows just below the `Handy Tabs' logo.
– One unfolded Gingersnap Gold tab is pinned to the right so you can see the full length.
– Four handles (all from Clover) with different connection types/styles.
– Five different accessories (all from Leisure Arts), ranging in size from 1/2″ to 1 1/2″, including swivel clasps and `O' rings.
Handle How-To
Either sew tabs and handles in place at the same time, or sew tabs in place then add handles. The board shows two examples of each.
Place Handy Tabs through handle holes, or around handle. Tabs are sewn in place with handle attached. Sew 1/4″ of the tab into the seam for a long loop, sew more into the seam for a short loop.
– Short loops – Black `U' shaped handle at middle left.
– Long loops – Black `D' shaped handle at bottom right.
Sew Handy Tabs in place to make loops, then attach handles after project is finished.
– Brown handle at top left, attach with hardware.
– Bamboo 'curly hair' handle at bottom left, slide ends of handle into loops.
Accessories
The Handy Tabs are 3/4″ wide, yet they work well with accessories ranging in size from 1/2″ to 1 1 /2″. The three swivel clasps range in size from 1/2″ (left), 3/4″ (middle) to 1″ (right). Place tab through clip or 'O' ring and sew in place. Or sew tab in place then add key ring.
Two examples
Using Oregano Green Handy Tabs, I added a 1/2″ swivel clip to the Wonder Wallet and a key ring to the back of a Sassy Bag. More on these two projects next week.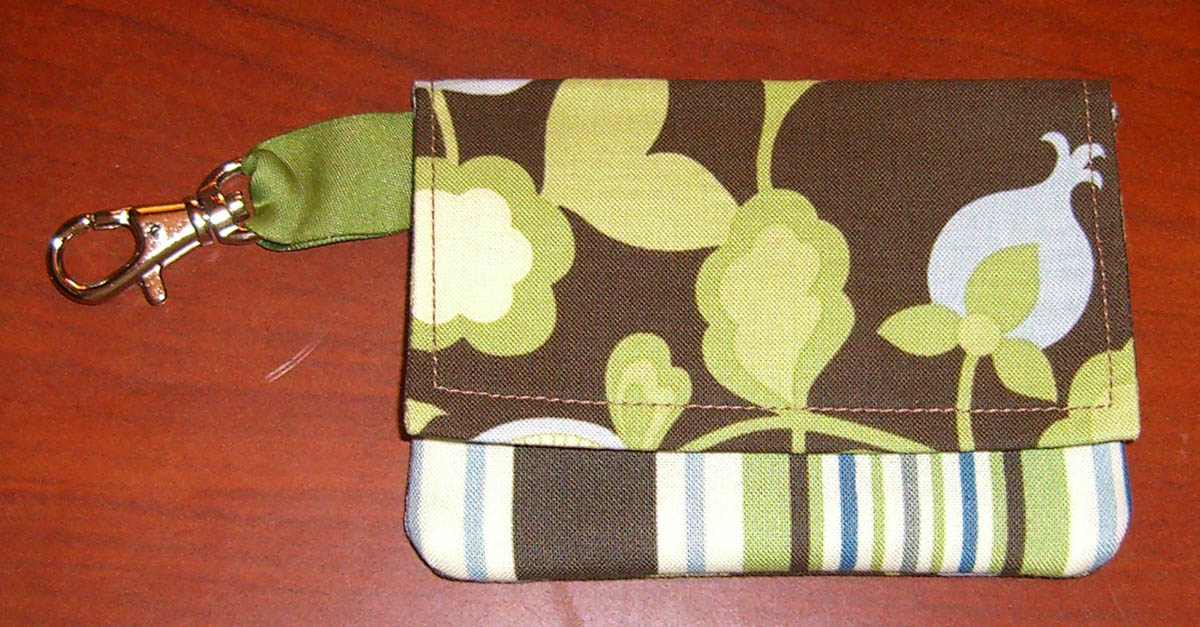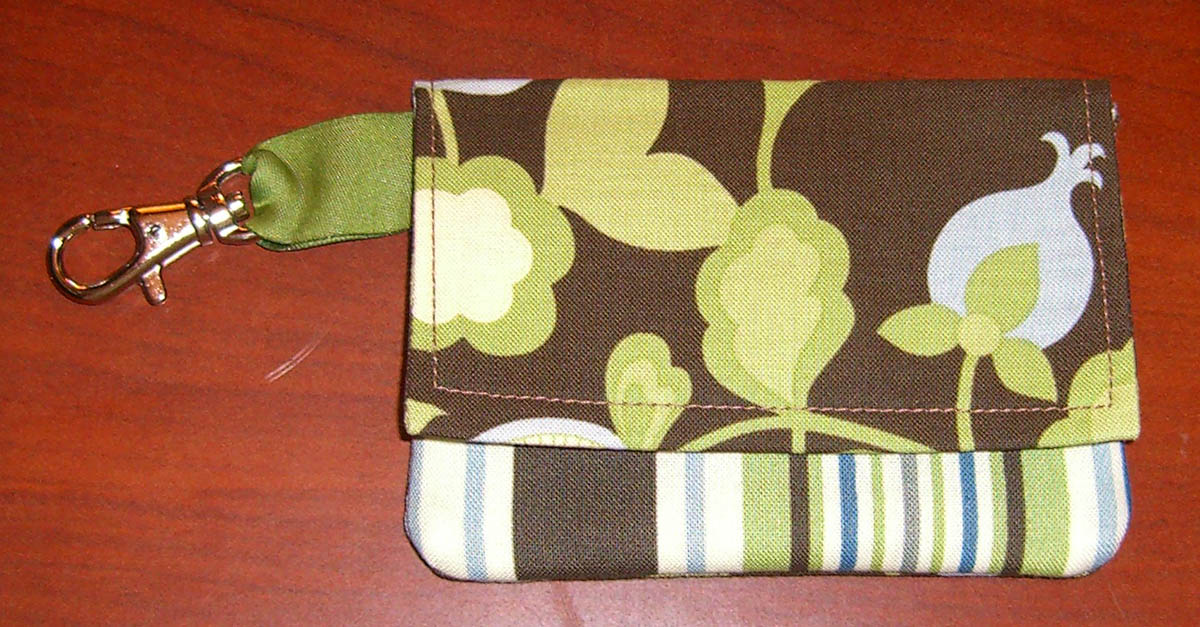 Wonder Wallet with clip.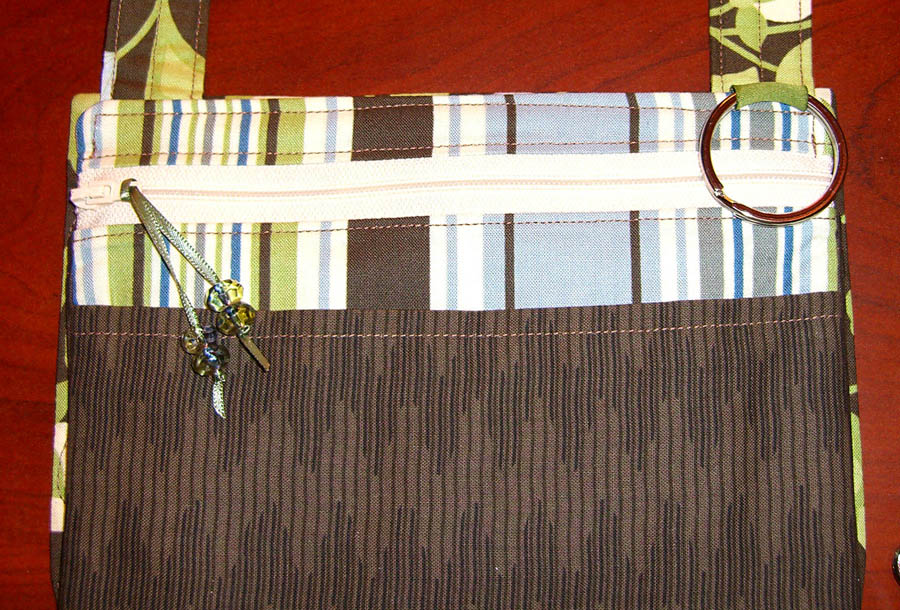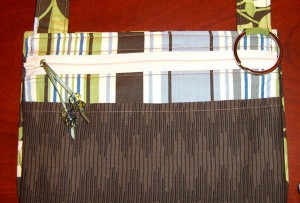 Key ring at base of shoulder strap to the right.
National Sewing Month
September is National Sewing Month and we are still celebrating with our Make2/Give2 challenge using our With Love Tote pattern. Read about it here.
With Love Tote note
Thimble N Thread quilt shop in Richland Center, WI, has a wonderful idea for kitting our With Love Tote pattern. Owner Sharlene McGlynn tells me customers can buy a kit to make their own Thimble N Thread shop bag. You can read about it on Shar's site here. Oh, they've added a pocket to the front, too.
Enjoy!
Joan