Quick and Easy Yo-Yo Keychains
Lazies, Get ready for a hearty dose of cute and smart – an unbeatable combination in my book. Tracy Chapman of Sew Thankful shares her yo-yo keychain project with us today. Tracy combines her love of yo-yo's, buttons, and our Handy Tabs to make this quick and easy project.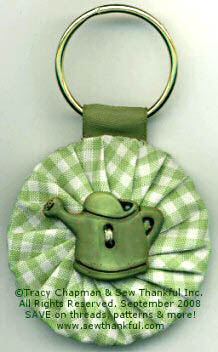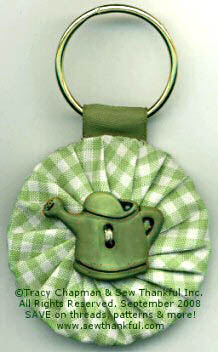 Yo-Yo keychain by Tracy Chapman.
Consider making a few for holiday gifts later this year, or to go with any purse pattern or tote project. This yo-yo keychain is a great way to use up your fabric scraps and play with your beloved button stash.
Here's Tracy:
When Clover came out with the Quick Yo-Yo Makers I was immediately hooked. I mean, what's not to love about fabric yo-yos!!?!
I keep my Clover Yo-Yo Makers (I am guilty of having multiples of each size and style) loaded with fabric on a small table near my favorite chair…sew…on evenings when I have a few minutes to sit with the family before bedtime I stitch up a few yo-yos.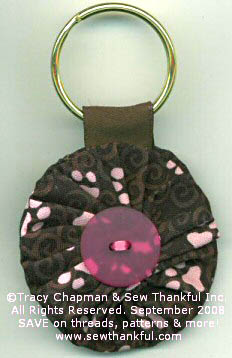 Look at that adorable paw print fabric!
One day I was petting and playing with the yo-yos I'd recently made while at the same time I was looking at my Lazy Girl Handy Tabs. That's when I noticed the color of the Handy Tabs matching so nicely with the yo-yos I was playing with. It really was a lightning bolt moment.
I immediately pulled out my button stash…found one that looked cute with the fabric yo-yo. I quickly laid a button on a yo-yo, placed the tab and the split ring. Then I layered that unit with another yo-yo & button unit…yep…it worked! I thought this would make a fun project to share with our eNews subscribers and others who love yo-yos as much as I do.
– Lazy Girl Tracy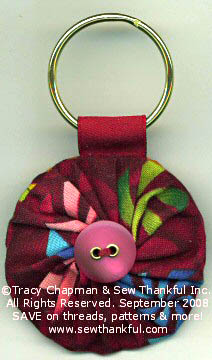 Coordinating thread to attach the button
ties in nicely with the Handy Tab.
Directions and Resources
– Get the directions and links for supplies at Tracy's Let's Get Sewing blog here.
– I have a Clover Quick Yo-Yo Makers tutorial here at my blog.
– See our Handy Tabs here.
Button Tip
When I finish gathering a yo-yo for this project, I tie the threads to the front, right where they are. I leave the thread tails long and trim them to the same length. I use these thread tails to sew on a button. Simply pull these threads through the needle with a needle threader.
Yo-Yo's To Go
I love Tracy's tip about pre-loading her multiple yo-yo makers! I keep my yo-yo making supplies in a Perfect Pouch, so I always have a hand project ready to take with me. Put a kit together by pre-cutting some fabric pieces, I use prewound bobbins for a tidy thread source, hand needle, scissors, and any other supplies you need. Keep them in some sort of project bag.
Lazy Notes
This is my 200th blog post and tomorrow is my blog's 2 year anniversary – isn't that a tidy combination. I can't thank you enough for joining me for a little fabric fun each week. And thank you for posting comments along the way. I love hearing from you!
Next Week
Two must-have product recommendations!
Enjoy!
Joan
Images courtesy of Tracy Chapman at Sew Thankful.