A Quilted Ocean of Fin-fully Easy Fish
Lazies, Look at this fabulous and fun fishy quilt by designer Carolyn Griffin of Far-Flung Quilts. The elegant and dramatic fins are made from Lazy Angle blocks using my Lazy Angle ruler.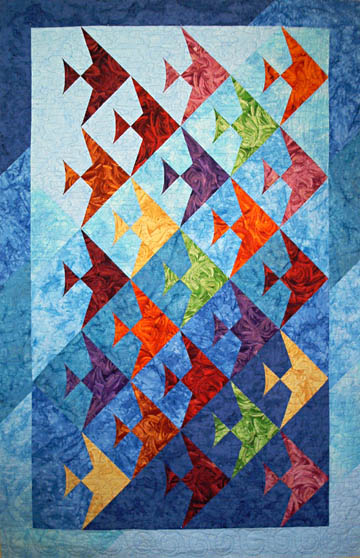 'Up A Lazy River' by designer Carolyn Griffin
of Far-Flung Quilts (Item# FFQ013).
Here's Carolyn
I have made literally dozens of quilts and quilted projects but was always a little intimidated by the angle that goes from one corner to the center of the opposite seam.
I'd used foundation paper to piece these popular angles before but I'm really Lazy and I don't like tearing away the papers.
Finally, I had found a tool to let me cut pieces to perfectly piece that seam any which way I wanted.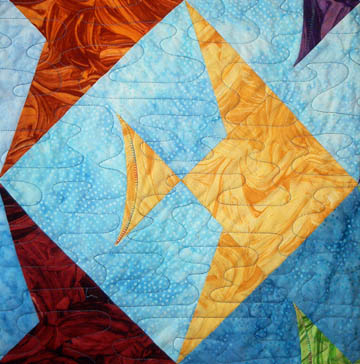 Four simple blocks make this elegant and lively fish.
Wave-like quilting adds a wonderful touch.
The right tool for the right job
I fell in love with the Lazy Angle Ruler the first time I saw Joan demo it. My reaction was to say, "Stop! I MUST go sew!" In the years since my introduction to the Lazy Angle I have written a handful of patterns that play with this angle. More about the tool below.
Gettin' fishy
My latest is a very simple four-patch block. I saw a fish quilt and immediately thought, "Wouldn't that be better with more point-y fins?" and "Wouldn't a peeled back half square triangle make a fun tail?" From those two questions this beautiful quilt was born.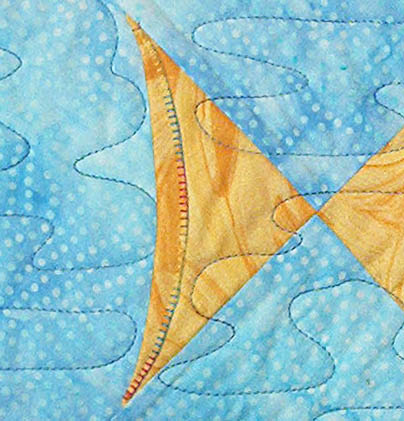 The simple folded edge of a square becomes a fish tail.
About the fabrics
Simply gather colorful fat quarters for the fish and add beautiful blues for a water-y background. Use one blue or find four to six shades to make your river graduate from light to dark. Finished quilt sizes: Lap, Full/queen, King.
The fabric I used for the fish is Fingerpaint by Camelot Fabrics. The background on the cover sample is made from six luscious batiks that I pulled from my enviable collection. Rebecca Smith at Black Hills Quilting added the water-like quilting.
– Lazy Girl Carolyn Griffin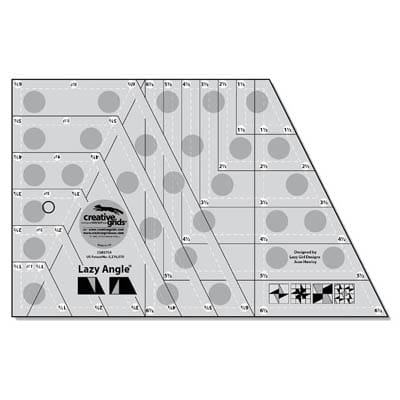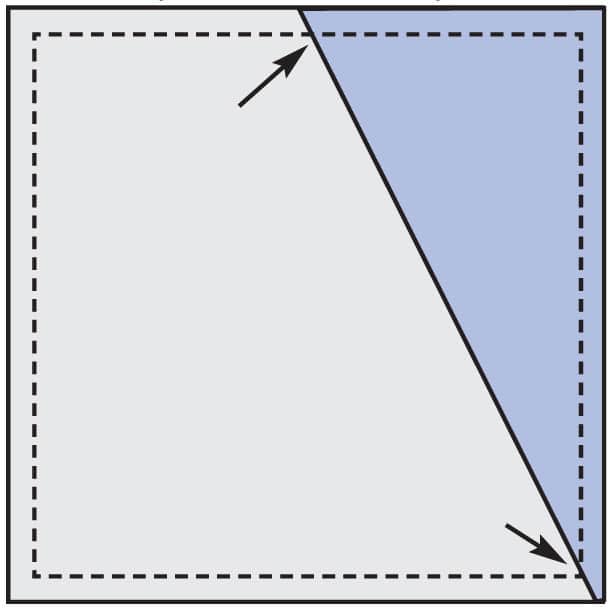 Lazy Angle Ruler from Lazy Girl Designs (item# R3754)
and Lazy Angle block with seam from corner to middle of side.
Final notes
I had the pleasure of seeing my good friend's beautiful quilt at an event last week. It's a wonder the quilt didn't sneak into my suitcase and come home with me! Some of you might know Carolyn from all of our travels and trade shows together.
You can see all of Carolyn's designs at her Far-Flung Quilts website here.
New to our blog? Subscribe to get emails so you don't miss a juicy morsel.
Like and share this post with your stitchy friends.
Join me in the Lazy Girl community on Facebook here: Facebook Lazy Girl
Enjoy!
Joan
Facebook Lazy Girl
Pinterest Joan Hawley
Pinterest Lazy Girl Community
Instagram @JoanHawley
Twitter LazyGirlJoan